Women and men are biologically different in many ways. Women have ample bosom, stretchy vaginas, and spuare rumps, while men have sexy Adam's apples, male penis, and muscly waists. But no matter which gender, there is one thing in common-we all have an anus.
Although the anus is independent of the genital system, it can bring more intense orgasms than your penis.
When it comes to anal sex, we must introduce anal sex toys. Nowadays, there are a variety of anal sex toys designed to please the anus. And one of the most popular anal sex toys is the anal plug.
As a traditional anal sex toy, they are deeply affected by all genders. Those tiny toys can detonate your whole body and achieve the peak of sexual desire.
In this article, we will show you the panorama of butt plugs, and explore the universe Buckle up!
What Is a Butt Plug?
Butt plugs are a type of sex toy designed for the anus. The primary purpose is to insert into your anus and exercise your sphincter. They have many different shapes, such as teared , carrot-like, penis-shaped, etc., and the most important is a flared base to prevent slipping into your rectum.
The anal toys have a large family, except for the widely known glass , you can find vibrating , inflatable , thrusting , and so on.
What Does a Butt Plug Do?
Before investigating why people like this , we should figure out why people enjoy anal sex. As we know, the perianal region distributes thousands of nerve endings. With the numerous nerves, your body can quickly achieve orgasms. If you have trouble with penile orgasms, you really should try anal sex, and anal orgasms are more intense than penile orgasms.
An anal plug is the most commonly used sex toy in anal sex. It is cheap and easy to operate, even a novice can quickly get started. It can help exercise your sphincter and prepare you for bigger challenges later. In addition to relaxing the sphincter, large anal plugs can penetrate deep into the rectum and massage the man's prostate, helping men achieve more intense orgasms.
They can also satisfy your special cravings. For example, a anus plug with an attached animal tail can be used for different role plays. Even the dominators are more than happy to see the metallic glow behind their partner's butt as they do chores. You can even do secret things in public with a plug on.
As long as you have a butthole, you can use it. They are not exclusive to gay men, they belong to all genders. Although men can use it to stimulate the prostate to obtain more intense orgasms, women can still use it to penetrate G-spots.
12 Types of Butt Plugs
For the uninitiated, they are just one sex toy among many, but the sheer size of the plug family may surprise you. Next, let us get to know the members of this family.
SiliconePlugs are sex toys that are designed to be inserted into the anus for sexual pleasure. They are typically made of materials silicone, and they come in a variety of shapes and sizes.
The most common shape is that of a tapered cone, which makes insertion easier, and the base of the plug is flared to prevent it from getting lost inside the body.
Anesidora Hand-Picked Products
Glass anal plugs are the most common and easiest to operate. They are popular among young people for their beautiful appearance and color. Most glass toys have a standard shape, smooth surface, and flared base.
These features ensure that it can be inserted easily and stay out of the body safely. With glass plug, you don't have to worry about which lube to use because none of them will damage the glass. At the same time, the glass anal toy is also an excellent choice for temperature plays.
For more please read:
Anesidora Hand-Picked Products
Metal butt plugs are perfect for those who want a more intense and sturdy anal experience. They are smooth and surprisingly comfortable, considering their sturdy material. Experienced users tend to prefer metal plugs, but beginners can also experiment with them for anal stimulation.
When selecting a metal toy, it is important to ensure that it is made of a safe metal such as 316 LVM Surgical Steel to ensure safety and an optimal experience.
Anesidora Hand-Picked Products
Vibrating toys take anal pleasure to a whole new level by incorporating thrilling vibrations. These plugs feature a small motor inside that generates pulsating or continuous vibrations, providing added stimulation to the anus and surrounding areas.
The intensity and patterns of vibration can usually be adjusted to suit individual preferences. They are an excellent choice for those who enjoy the combination of anal play and vibration for heightened pleasure.
For more please read:
Anesidora Hand-Picked Products
Thrusting butt plugs are a revolutionary type of adult toy designed to provide intense stimulation and pleasure during anal play. Unlike traditional plugs, which rely on manual insertion and removal, thrusting toy feature a motorized mechanism that creates a pulsating or thrusting motion.
This unique functionality adds a new level of excitement and pleasure to the experience.
For more please read: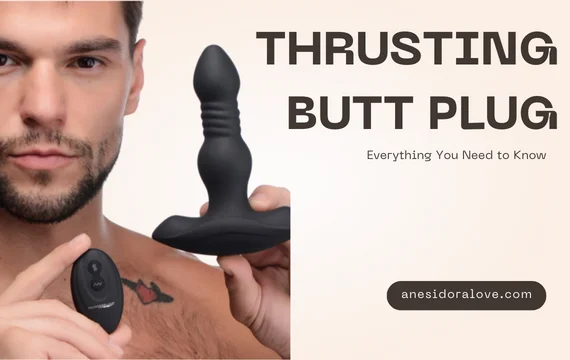 Anesidora Hand-Picked Products
An inflatable butt plug doesn't differ much from a regular anal toy, except for its adjustable size. These toys are designed to be inserted into the anus and then inflated with air using a small pump, providing a satisfying feeling of fullness.
Consist of stretchy materials like silicone or rubber, expanding anal plug are easy to use and anyone can enjoy it with an anus, regardless of gender or sexual orientation.
As the plug inflates, it gently stretches the anus, creating a sensation of pressure that can be highly pleasurable. If you're looking to experiment with anal play or want to enhance your sexual experiences, an expanding anal plug could be an excellent addition to your collection.
For more please read:
Anesidora Hand-Picked Products
Tail butt plugs are a playful and visually stimulating option for those interested in role-playing or pet play scenarios. These plugs have a tapered design for comfortable insertion and a flared base to prevent unwanted travel.
The distinguishing feature of tail plugs is the tail itself, which can be made from various materials like faux fur, silicone, or even real animal hair. Tail adds an element of fantasy and create a visually captivating experience.
You can find the fox tail, raccoon tail, cat tail, bunny tail, woof tail, or other animal tails I didn't mention. Except as an anal stimulator, the tail plug is also a fantastic accessory for sex role-play. The tail you choose can show your inner desire
For more, please read:
Anesidora Hand-Picked Products
Jewel butt plugs are perfect for those seeking a touch of elegance and aesthetics in their anal play. These plugs feature a decorative gemstone or crystal at the base, adding a visual appeal and a sense of luxury to the experience.
Jewel ass sex toy come in different sizes and designs, allowing individuals to choose the gemstone color or shape that resonates with their personal style.
Anesidora Hand-Picked Products
Remote-controlled butt plugs add an exciting element of surprise and exploration to anal play. These plugs come with a remote control that allows a partner or even the user themselves to control the vibrations, patterns, and intensity of the plug from a distance.
This feature can spice up long-distance relationships or bring a new level of excitement to couple play. Remote-controlled ass sex toy often offer wireless connectivity and may even be compatible with smartphone apps for added convenience.
Anesidora Hand-Picked Products
Light-up anal toys are adult toys that combine the pleasures of anal play with an added visual element. These plugs feature embedded LED lights that illuminate the plug, creating a captivating and enticing glow.
The lights can emit different colors, adding a playful and sensual ambiance to your intimate encounters.
11.Cock Ring Butt Plugs
Cock ring butt plugs contain the cock ring and plug. They are designed to provide simultaneous stimulation to the penis and the anal region, offering intensified pleasure and heightened sensations.
The cock ring part of the toy restricts blood flow, helping to maintain a stronger and longer-lasting erection, while the toy component adds a delightful sense of fullness and prostate stimulation.
For more, please read:
Anesidora Hand-Picked Products
A hollow butt plug is a specially designed anal toy with a hollow center, allowing for various uses and sensations. Unlike solid plugs, It provide the opportunity for extra stimulation and unique experiences. The hollow space inside the plug offers endless possibilities, such as:
Allowing the insertion of fingers, toys, or even body fluids through the hollow core.
Providing access to the inner parts of the body while the plug is inserted.
Enhancing the feeling of fullness during sexual activities.
For more,please read:
Anesidora Hand-Picked Products
How to Choose a Butt Plug?
Determine Your Focus
First and foremost, it's essential to determine your focus when choosing a plug . Do you want to stimulate the prostate or the entrance to the anus? Knowing what you want to achieve will help you choose the right shape, size, and material.
Consider the Size
When buying anal toy, the two measurements you need to think about are the insertable length, i.e., how far inside you it will go, and the diameter or how wide it is
Shape is important
Every anal plug consists of four elements: the top, the drop-off point, the neck, and the base.
Choose the Right Material
Butt plugs are manufactured in various materials such as rubber, silicone, metal, glass, and more. When selecting a product, it is crucial to keep in mind the material it is made of, as different materials produce different sensations and results.
For more,please read:
How to Insert a Butt Plug
Ideally, using anal plugs should be comfortable and fun, but the reality is that many people have caused harm due to the inappropriate use of anal toys. To make your anal toy experience more enjoyable, here are some tips:
Relax and Take Your Time
Creating a relaxed and comfortable environment is essential for a positive experience. Take slow, deep breaths to relax your body and ensure you're mentally prepared.
Gently Push the Plug In
Using gentle pressure, slowly push the plug into your anus. If you encounter any discomfort, pause and allow your body a few moments to adjust. Remember, patience is key.
Insert Until Fully Seated
Continue pushing the plug until it is fully seated in your anus. Ensure that the widest part of the plug has passed through the sphincter muscle. This will help prevent the plug from slipping out prematurely.
Give Yourself Time to Adjust
Once the plug is inserted, give yourself a few minutes to get accustomed to the sensation. If you experience any discomfort or pain, remove the plug immediately.
For more,please read:
Can You Wearing a Butt Plug in Public?
Of course you can wear a plug all day long, as long as you take frequent breaks. Many people choose to wear a plug throughout the day to gradually stretch their anal muscles without even realizing it.
Wearing a plug for an extended period can be one of the most comfortable ways to relax your anal muscles, and it often provides a pleasurable experience. Those who wear a anal toy during the day often carry a small plastic bag and a tube of lube with them.
This allows them to remove the plug when necessary, such as during a bowel movement, and then reapply lube before reinserting it. They can store the plug in the plastic bag when they are finished wearing it
But please remember to take it out as soon as you feel uncomfortable!
For more,please read:
How to Discreetly Storing Your Toys?
Choose a Secure Location
1.Locked Drawer or Cabinet
A locked drawer or cabinet can provide an extra layer of security and ensure that your sex toys are kept hidden and safe from accidental discovery.
2.Secret Compartment or Hidden Storage
Some furniture or household items come with secret compartments or hidden storage spaces that can be utilized to hide your items discreetly.
3.Use Discreet Packaging
If you prefer to keep your sex toys in their original packaging, consider using discreet packaging to further conceal their contents. Many sex toy manufacturers, including Anesidora, offer discreet packaging options that do not reveal the nature of the product.
Organize and Conceal
1.Separate and Wrap
Keep each toy separated and wrapped in a clean cloth or bag to prevent them from touching each other and potentially causing damage.
2.Use Dividers or Compartments
Use dividers or compartments in your storage space to keep your sex toys organized and prevent them from shifting or moving around.
3.Camouflage
Consider using everyday items or accessories, such as a shoebox or a decorative storage box, to conceal your sex toys in plain sight.
How to Clean it?
Non-porous anal sex toys
Sex toy lovers and experts agree that non-porous sex toys are safe and easy to clean. A basin of warm water with an antibacterial soap is sufficient for most stains on non-porous sex toys.
Porous anal sex toys
Clean the porous anal toy with warm water and mild soap. Avoid using strong chemical cleaners, as they can damage the toy's surface and leave behind residue. Rinse the toy thoroughly with warm water to remove any soap residue.
Use a toy cleaner specifically designed for porous toys, or a 10% solution of water and white vinegar. Soak the toy in the solution for 5-10 minutes. Rinse the toys again with warm water to remove any disinfectant residue.
Battery-Operated/Charged
Many sex toys have become smart and technological, which makes many people care about how to clean these electronic components. In the case of non-waterproof smart sex toys, you can wipe them down with a damp cloth instead of placing them directly under the faucet.
For more,please read:
How to DIY a Anal Sex Toy?
There are two main categories of DIY ass toy that you can create at home: non-durable and durable. Non-durable homemade anal plug can be fashioned from zucchinis, sweet potatoes, and cucumbers. It's important to note that these types of plugs tend to spoil quickly, so they should be considered as "one-off" plugs. On the other hand, durable DIY plugs can be made from materials such as wood or clay, and these generally have a longer lifespan.
Naturally, it's crucial to choose an item that fits your desired pleasure points. Some individuals may prefer a curvy butt toy, while others may opt for a straight one. The key is to find what works best for you, and that involves experimenting and exploring your own backdoor pleasure points.