Cock Ring Butt Plug is a versatile sex toy that combines the functionality of a cock ring and a butt plug into a single unit. It offers a range of benefits, including prolonged erections and enhanced orgasmic sensations.
Let's delve into the details of why people use them and how to choose the perfect one for you.
Butt plugs are designed to add intensity and extra stimulation to your play. They target the nerve endings around the anal opening, providing a heightened experience. Additionally, depending on the size and shape of the plug, it can also stimulate the prostate, offer a sense of fullness, and create a pleasurable stretching sensation.
Best 6 Cock Ring Butt Plug: From Beginner to Pro
Penis Ring Plug:the Classic Starter
Anal cock ring is an excellent option for beginners. Made of flexible silicone, this toy features a stretchy ring and connector, ensuring a comfortable fit. The plug, also made of silicone, combines firmness and a slight squishiness, allowing for targeted prostate stimulation.
For a tighter fit, you can wear the ring around both your penis and scrotum.
Pros
---
Budget friendly
Beginner friendly
Easy to wash
Simple quality design
Cons
---
If you're experienced, you might not find it filling enough
It's only available in one size.
Might look a bit too cheap
Vibrating Cock Ring Plug: Adding Vibrating Stimulation
If you crave additional stimulation, a vibrating cock ring plug is an exciting choice. Similar to the Ascism, this toy offers a vibrating feature. It comes with a discreet bullet vibe that can be inserted into the toy, enhancing the pleasure with its vibrations. The extended length of the bullet provides extensive stimulation throughout the entire toy.
Pros
---
Good quality black silicone
Easy to put on and use
Price is great
Removable Vibrating Bullet
Multiple vibrating mode
Cons
---
The butt plug's slim design is unideal for anal stretching fans.
Lubricant must be used smart otherwise becomes very slippery
Size can be a bit small if you are big
Anal Bead Ring Plug: The Graduated Pleasure
For those who prefer anal beads over a traditional butt plug, the Fetish Fantasy Anal Bead Set is an excellent alternative. Made of comfortable silicone, this set includes stretchy cock rings and graduated beads
The bead offer easy insertion and a pleasurable squishiness for a comfortable experience. Additionally, you can control the stimulation by moving the beads in and out slowly, enhancing your pleasure.
Pros
---
Fragance free
All silicone,light, comfortable and durable.
Dense, smooth and nonporous structure, easy to clean.
Cons
---
Only one sized beads
Few beads
Prostate Massager:Precise Prostate Stimulation
If precise prostate stimulation is your priority, consider a cock ring plug with a control handle, or joystick. This style features a firm silicone ring that provides limited stretchability. The internal shaft is specifically designed for prostate massage, ensuring focused stimulation.
The joystick enables you to control the intensity of the massage while wearing the toy. Although the slim profile makes prostate stimulation slightly more challenging, the handle greatly enhances maneuverability and control.
Pros
---
IPX 7Waterproof and Noise less than 45db
10 Intense Vibration Modes
Premium Silicone Material
Remote control
Cons
---
No vibration on the cock ring
Remote control looks cheap
If on tight budget, can be a bit expensive
Dual-Loop Butt Plug :for Triple Pleasures
This thrusting cock ring offers a unique double-loop design, providing enhanced pleasure for both the penis and testicles. Made of silicone,it features stimulating nubs for perineum stimulation. Its bulbous plug shape adds a satisfying feeling of fullness.
Additionally, it comes with a removable bullet that offers seven different patterns of vibrations and speeds. Simply plug it in, and you're ready to experience a wide range of sensations.
Pros
---
3 Thrusting and 12 Vibrations Mode
Realistic Glans
Quiet working,IPX7 waterproof
Cons
---
If on tight budget, can be a bit expensive
Low Charging Efficiency
Metal Cock Ring Plug:Best for Temperature Play
For those with experience and a desire for added weight and pressure, metal cock ring plugs are an excellent choice. These toys, made of rigid metal, offer a different level of intensity.
Due to their lack of flexibility, it's important to be flaccid when putting them on or removing them. Metal sex toys provide a unique sensation and can be further enhanced by heating or cooling them before use.
Pros
---
Stainless Steel
Hypoallergenic
Phthalate Free
Perfect for temperature play
Cons
---
lack of flexibility
If you are not a Pro, please do not try it
Pricy
How to Use the Cock Ring Butt Plug: Step-By-Step Guide
Apply a generous amount of lube to your penis, providing a smooth glide during the experience.
Gently slide the penis ring onto the base of your erect penis.
Place a finger condom on your finger, ensuring a hygienic and pleasurable experience.
Apply a small amount of lube to the finger condom, priming it for exploration.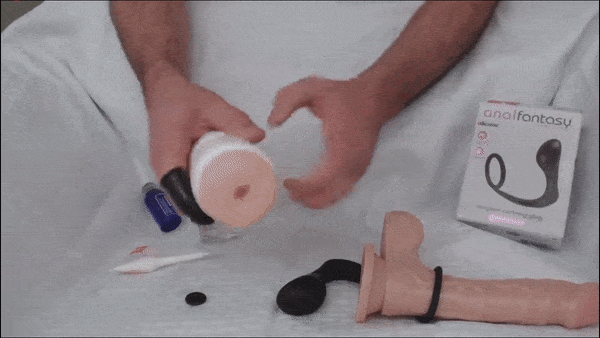 Gradually stimulate the anal area with your lubricated finger, allowing yourself to relax and warm up.
Carefully position the prostate part of the penis ring for optimal stimulation.
Insert the prostate part into the anus, experiencing the incredible pleasures it offers.
Also Read:
Important Considerations for Cock Ring Plugs
Lube is your friend
When engaging in any kind of anal play, ample lubrication is essential. Apply a generous amount of lube to the plug to ensure comfortable and safe insertion and removal.
For more Please read:
Getting the right fit
With stretchy materials like silicone, it's generally easier to put on the toy while your penis is erect. However, with firm materials like metal, it's easier to put on the toy when your penis is flaccid. Remember to choose the right size that fits snugly without causing discomfort or inhibiting pleasure.
You may also like
Do People Wear Butt Plugs in Public?
Homemade Butt Plug: DIY Tips and Ideas
An Indepth Guide of Thrusting Butt Plug