Have you ever considered incorporating glass butt plugs into your intimate play? These exquisite pleasure objects offer a unique experience combining elegance, functionality, and luxury. In this article, we will dive deep into the world of Anal Sex Toys to help you have a better understanding. So, grab a seat (preferably a comfy one) and prepare to discover the fascinating realm of glass butt toys!
Glass is always linked to being heavy and fragile. Compared to toys like silicone, glass sex toys do not have an advantage in terms of portability. So what is it that makes glass sex toys so popular?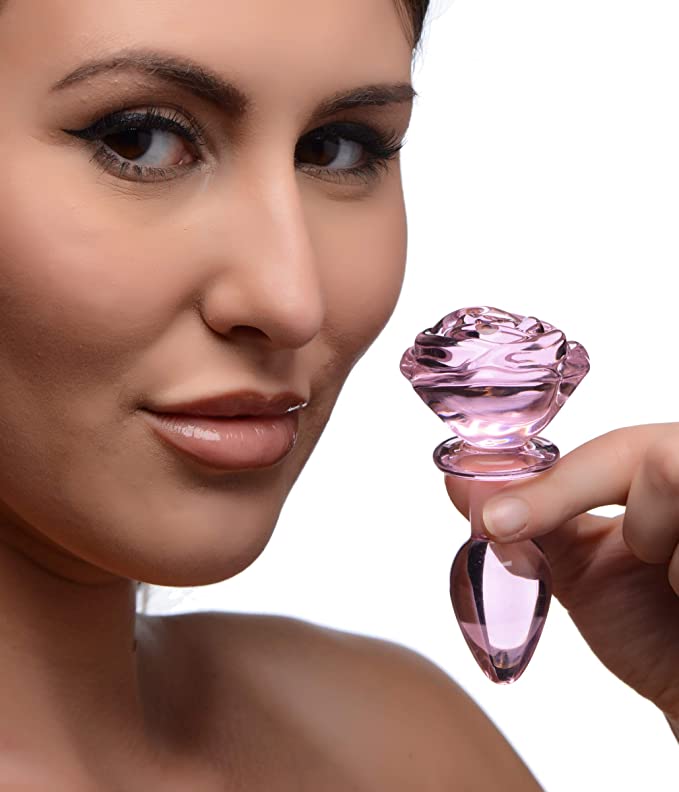 Hypoallergenic
When it comes to sexual sex toys, safety and hygiene are of utmost importance. They are made from high-quality borosilicate glass, known for their durability and resistance to breakage. Unlike other materials, glass is non-porous, so it doesn't absorb bacteria or odors. This non-porous nature makes glass hygienic and easy to clean.
Compatible with all lubes
Glass is compatible with all types of lubricants due to its non-porous nature. Different with other materials, such as silicone or rubber, glass does not absorb or react with lubricants. This means that whether you prefer water-based lubricants, silicone-based lubricants, you can safely use them with a plug.
Temperature responsive
Glass can be easy to warm up or cool down to enrich your anal play. But remember, don't put it in the freezer, or your there will get stuck.
Aesthetics
Glass sex toys are known for their elegant and captivating appearance, which sets them apart from other materials commonly used for adult toys. The transparent nature of glass creates a visually stimulating experience.
When light interacts with the smooth surface of a glass toy, it can produce a beautiful play of reflections and refractions, adding an artistic element to the overall experience. The way light dances through the glass can create a mesmerizing effect that enhances the sensual journey.
Are Glass Butt Plugs Safe?
The sex toy glass is different from regular glass. The glass sex toys that we talk about are made of borosilicate glass, which is superior in shatter resistant and temperature resistance. Therefore, it is safer and more durable than ordinary glass.
But it doesn't mean the borosilicate glass is absolute safey. Borosilicate glass will not break while used; however, if you collide them with a hard surface such as marble or concrete, the glass is prone to cracks and chips. If you find any gaps in the glass sex toy, stop using it and replace it.
How to Use a Glass Butt Plug?
It is not an easy job for novices to insert a butt plug inside the anus. But the good news is that it's not insurmountable as long as you follow the blew tips.
Pick up a butt plug
As an old saying goes: "Good tools are prerequisites to the successful execution of a job." An appropriate size of the butt plug can make you do more with less. If you have never tried butt plugs, then start with a small size. A small butt plug can help you establish self-confidence and go further.
Lubricate your plug
As an old saying goes: "Good tools are prerequisites to the successful execution of a job." An appropriate size of the butt plug can make you do more with less. If you have never tried butt plugs, then start with a small size. A small butt plug can help you establish self-confidence and go further.
Listening to Your Body
Pay close attention to your body throughout the entire experience. Take things at a pace that feels comfortable and pleasurable for you. If at any point you experience discomfort or pain, pause and reassess. Never force the plug or push beyond your limits.
It's also essential to communicate with your partner if you're engaging in partner play. Open and honest communication ensures that both partners feel comfortable, respected, and in control.
Remember, everyone's experience with anal play is unique, and what works for one person may not work for another. Experimentation, patience, and ongoing communication are key to exploring and enjoying the pleasures of butt plug glass.
Also Read:
How to Clean Glass Butt Plugs?
Put the plug into the dishwasher to sterilize it as you wash your dishes, or wash your butt plug with soap and warm water and let it air dry.
Another way to clean it is to drop them in hot water. If the toy is constructed from Pyrex then it's best to sterilize by submerging in boiling water for a few minutes.
Also Read:
How to Choose an Appropriate Glass Butt Plug?
Must Have a Flared Base
A butt plug without a flared base severely compromises the safety of anal play. The absence of a secure base increases the risk of the entire butt plug getting lost inside the anus. Should your butt plug lack a reliable base, it is possible to slide into the rectum and even deeper into the colon, resulting in a dangerous situation that demands immediate medical intervention. Unless you desire the emergency room to become the final destination of your anal play, it is imperative to acquire a butt plug equipped with a flared base.
Choose a Butt Plug Made of Borosilicate Glass
Fortunately, glass is considered as one of the safest materials. But not all glass can be used to make sex toys. Due to lacking regulation, there are many manufacturers that use ordinary glass instead of borosilicate glass to make sex toys.
Although ordinary glass is non-toxic, it is inferior to borosilicate glass in stability and shatter resistance. So for your anus's sake, choose a borosilicate glass sex toy if the glass is your thing.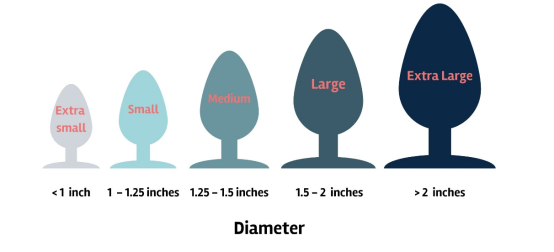 Size Is Matter
Sometimes we like to do things once and for all, so the refrigerator must have large enough, and the washing machine must be large. However, for anal plugs, is it necessary to pursue a large size? Well, the answer varies from person to person, but personally, I do not recommend beginners buying large sizes at the beginning. Big doesn't mean more pleasure, sometimes it will cause pain. Therefore, please choose a small size initially, then gradually build up when you become more proficient.
Different Shapes Bring Different Experiences
Traditional tapered butt plugs are used to exercise the sphincter; probes are used to stimulate the prostate; and butt plugs with jewellery give a feeling of luxury and fancy. You can choose the different shapes with your demand.
7 Best Glass Butt Plugs
To make the process of anal play more fun, I have carefully selected seven distinctive glass anal plugs from different brands for you to choose from. Compared to sex toys, I would rather call them pieces of art.
Booty Buddy is like a craft full of beauty. Its whole body is made of drop-resistant high-quality borosilicate glass, which is smooth to the touch. The beautiful glass can be changed with the temperature to bring a different experience. The slightly curved tip with a raised nodule can better stimulate the prostate. In addition, it has a T-bar base to prevent the anal plug from slipping into the anus when you are in a mood. The booty buddy is the ideal anal toy for newbies.
Crystal Delights anal plugs are made of handmade glass, and you will hardly find two anal plugs exactly alike, which is perfect for those who love unique products. Inspired by a pineapple, these anal plugs have raised dots on the surface that resemble the spines on the skin of a pineapple. These studs can increase the stimulation of the rectal lining and give you more pleasure. The flared bottom is decorated with colorful jewels, so you can not only use it with confidence but also with aesthetics.
Make your booty glow with this glow-in-the-dark anal plug! The luminous butt plug features a swirling pattern of green to light up your backdoor during your nocturnal activities, perfect for adding a light-hearted and kinky splash of light to your booty for your lover. For an intense glow, all you need to do is charge the butt plug with a direct light source – 30 seconds with a flashlight or 2 minutes of ambient light will set these plugs up for a night of booty bedazzlement.
This anal plug features different-sized balls that better match the structure of the human body, giving you different levels of stimulation and can be used according to your personal acceptance. It can be used with lots of lube for an extra wet and wild experience. The T-bar base is convenient for users to hold on to.
Lila is an engaging sight indeed. With its small handle, the piece can be turned while inside. Pleasure buds along the shaft for enhanced stimulation and a specifically contoured tip that will send you into a carnal frenzy, especially while the piece is being rotated inside. Lila is a luxurious pleasure object with sleek and direct lines that lend themselves to erotic stimulation. Amplify your sex play by serving Lila warm or chilled.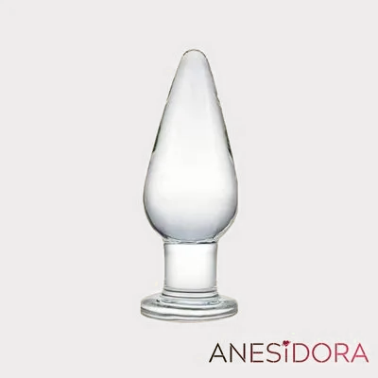 This anal glass plug is best used by someone who's already worked/trained with w/small and medium anal plugs. Its length is about 4.9″, and its diameter is about 1.77″, which can be regarded as a big butt plug. The thickness of the neck does not allow the sphincter to close completely, which can give you the feeling of needing to 'go. So If your sphincter relaxes the least little bit, the weight of this plug can make it fall out. But the price of it is the most bargain among these plugs, so it deserves to invest.
Glow in the Dark traditionally shaped butt plug is made of quality borosilicate glass and is intended for safe and satisfying anal play. Smooth and stylish, this back door treasure is compatible with all intimate lubricants and works great for both men and women. Classic glass booty toy from NS Novelties measures 3.9″ long by 1.6″ in diameter and is easy to clean up and maintain