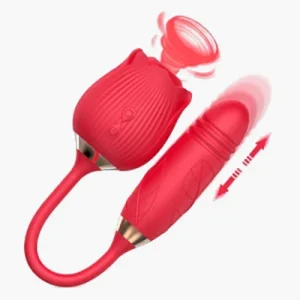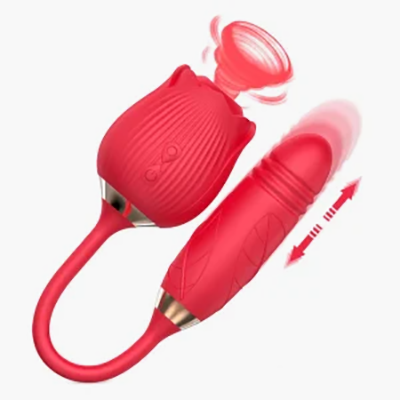 Blue, Green, Red, Rose Red
$

39.99
Introducing our latest 3-in-1 Rose Vibration with thruster! Enjoy the ultimate pleasure of oral sex with its clitoral sucking toy function, which can also be inserted for G-spot stimulation or used anally. The Rose Toy features 10 intense sucking and vibration modes that allow you to switch at will, ensuring you reach orgasm in no time.
Use Code

SAVE15

to get extra 15% off now
3-in-1 clit sucking toy, G-spot vibrator & active thrusting bullet
10 intense sucking & vibration modes switch at will
Medical grade silicone, safe and silky smooth
IPX7 waterproof design for use in the shower or bathtub
USB magnetic charging for long-lasting pleasure
Charging time: 1h; Average use time: 50 minutes.
Mute design with noise index <50db
Discreet shipping with no suspicious tags/words
Responsive customer service for any concerns or questions
The Rose Bud Suction Toy came out of nowhere in the era of TikTok, and for a long time, videos about the Rose Bud Suction Toy were highly sought after on the internet - the #RoseToy and #RoseToyReview hashtags had 45.9 million and 13.1 million views respectively, and it uses air, suction and vibration to stimulate the female clitoris, making it the most popular sex toy of the moment. Sex educator Samia Burton has said that the Rosebud Suction Toy is very effective and guarantees an orgasm within 30s. It uses a gentle jet of air to produce a suction-like sensation. "This new air-pulse technology hardly misses a beat when it comes to orgasms," Burton said.
The original rose toy for women was simply a rose that possessed both sucking and vibrating functions. As demand grew and technology became more innovative, rose toys of varying shapes and versatility appeared on the market. For example, tongue-licking rose vibrating toys, rose vibrators with bullet heads, etc.
Generally speaking, the basic functions of rose toys are two functions: vibration and sucking. There are rose toys with tongue design, mainly to simulate the sexual pleasure brought by oral sex. There are also rose toys with vibrators, toys that can be used inside the vagina, and anus. Rose vibrators are usually used to stimulate the clitoris, but can also stimulate the inner thighs, breasts, and even the armpits as foreplay sex toys.
Rose sex toys come in different grades of vibration levels and suction patterns. The Rose toy can be held directly in your hand, or you can try holding it in place with your thighs for a hands-free experience. Stretch your labia to make sure you get a good "fit" and start by trying the vibration levels you can best pick up in turn. Use with lube to make the experience more comfortable and pleasurable. For beginners, go for the simpler Rose toys, preferably starting with the missionary. Using the missionary style, hold the toy in place while stimulating your partner. Another is the doggy style. Your partner holds the rose in her hand and reaches between her partner's legs. With you pushing behind her, the effect may be something you both may never forget.
Find the rose toy you have in mind
Whether you pick a rose toy or another sex toy, the first shape has to be one that you like.
Function. If you are a beginner, it is recommended that you start with the basic version of the rose toy. If you are not, you can experience various functions of rose toys.
How to clean and preserve rose toys?
You can clean most sex toys with a sex toy cleaner or with warm water. If it comes with an anal toy, we recommend using a neutral soap with warm water for cleaning.
Well, most of the product adopt the magnetic USB charging method, and you also need a USB power adapter to connect the USB cable. Or you can plug the charging cable head into your laptop and the power bank, like how you are charging your iPhone. Three ways to charge rose toys 1. For the magnetic base USB charging The charging port of this charging method is generally at the bottom of the rose vibrator. Put the rose vibration on the round charging base, adjust the 2 charging pins at the bottom of the vibrator, and align them with the pins on the charging base until the rose vibrator indicator light flashes. 2. For the magnetic USB charging The charging port is usually on the side of the rose vibrator, and it is convenient for users to observe whether the pins of the rose are successfully connected to the charging pins. 3. For the Pin USB Charging Usually, pin charger sex toys have a semi-tight charging hole on their bodies. Just insert the pin into the hole, that's it, and it will stay steady until you unplug it.
Benefits of using rose sex toys
Rose sex toys work by sending air pressure and sonar waves to the clitoris. Through these will reverberate pulses to the clitoris, where the nerve endings found get a lot of pleasure, allowing you to explore deeper levels of self-pleasure.
From buyer reviews, it is concluded that people or couples who use rose sex toys have better quality of sleep, pleasurable moods and harmonious sexual relationships.