Dildos
Dildos is referring to a penis that is shaped, sized, textured and hard like a male penis.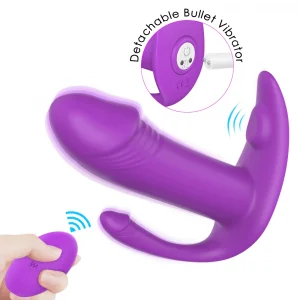 $

89.99
* Wearable dildo vibrator, enjoy orgasm anytime, anywhere * With powerful motor, 9 vibration modes can be switched * The dildo is designed to conform to the vaginal structure and can fit tightly to your private parts * With remote control, you can control your partner remotely * Silky smooth silicone material, IPX7 waterproof * USB magnetic charging, convenient and fast
What is a dildo?
A dildo is shaped like a penis. It is most commonly used as a sex toy in the vagina, anus, or mouth. Dildos can provide internal stimulation to the g-spot, prostate, or other parts of the vagina or anus. If you want to use it anally, make sure the dildo you buy has a base.
How do I choose a dildo size?
Most dildos and docking plugs on the market are between 1 and 2 inches in diameter (approximately 4 to 6 inches in circumference). For someone new to dildos, a toy that is 1 inch in diameter is usually a good starting point. If you are very cautious, consider a size closer to 0.75 inches. If you are really confident, you can even start with a 1.25 inch toy.
Should I buy a dark or light colored dildo?
Dildos generally come in black and skin tone colors. Of course, there are colored dildos as well. If you want a realistic dildo, you can buy black and skin tone because these two colors are the closest to the body's color, while color gives a more vibrant look.
How to try dildos safely?
Unless you know you prefer a wide circumference, start small and work your way up.
Choose a dildo made of non-porous materials, such as body-safe silicone, glass or metal.
Use plenty of lubricant but avoid using silicone lubricant on silicone toys.
If a partner or porous material is used together with a dildo, place the condom on the dildo.
Wash after each use.