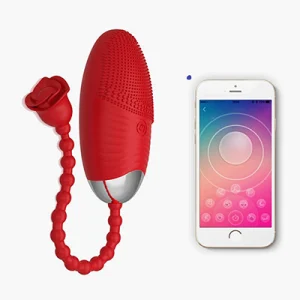 $

59.99
APP-controlled rose vibrating egg, cell phone wireless remote control and remote control in two ways, the control distance of 5-12M
12 kinds of vibration frequency, it can bring a variety of play, straight to the depths of the mind, to orgasm!
IPX7 waterproof rose toy, it can vibrate in water, suitable for various places
Egg Vibrators
An egg vibrator is a small, remote-controlled sex toy that offers exquisite and interactive orgasms in a tiny, discreet, portable package. Whether at home or out and about, vibrating eggs are the perfect discreet sex toys.
An egg vibrator can be used on sensitive areas that include:
Labia, Clitoris, G-spot, Prostate, Nipples, Anus, Inner thighs, Ears, Neck, Stomach
Benefits of Using Egg Vibrators
Discreet
egg vibrators are discreet in all aspects: size, shape, and sound!
Travel-friendly
Thanks to the tiny size and lightweight, egg vibrators are easy to carry out.
Versatile
Not only can it stimulate your clitoris and nipples, but if there is a string for retrieval, the vibrating egg also can be inserted into your vagina or anus.