In terms of sexual pleasure and exploration, there are plenty of accessories and toys available today. One such accessory is the thrusting butt plug.
Designed specifically for anal play, the thrusting butt plug is a unique toy that can provide a pleasurable and exciting experience. This article covers everything you need to know about this intriguing toy.
Table of Contents

What is a Thrusting Butt Plug?
Thrusting butt plug as konw as prostate massager. Is a sex toy designed for anal play. Unlike traditional butt plugs, which are stationary, It feature a motor that allows them to move back and forth or in circular motions. This movement can create a unique and pleasurable sensation that many people find enjoyable.
The toy is made up of two parts: the plug and the motor. The plug is inserted into the anus and is typically made of silicone or other body-safe materials. The motor is located at the base of the plug and is responsible for the thrusting motion.
So, What Is the Difference Between a Butt Plug and a Thrusting Anal Plug?
A butt plug and a thrusting butt plug are different anal toys, even though they may look similar.
A butt plug provides a feeling of fullness, while athrusting butt plug is designed to specifically stimulate the prostate gland for increased pleasure and stronger orgasms.
Both toys must have a flared base to prevent them from getting stuck inside the anus.
A smaller thrusting butt plug requires more skill to use effectively, while larger ones can still stimulate the prostate even if they are not designed to massage it..
Also Read:
How Does Thrusting Anal Plug Work?
Thrusting butt plugs typically feature a motor or mechanism that causes the toy to move. Some models are controlled by a remote, while others have buttons on the toy itself. Many thrusting butt plugs also feature multiple vibration settings, allowing you to customize the experience to your liking.
To use it, you should start by applying a generous amount of lubricant to it and the area around the anus. Gently insert the plug into the anus and turn on the motor to begin the thrusting motion. You can experiment with different speeds and patterns to find the setting that feels best for you.
When shopping for a thrusting butt plug, there are a few key things to keep in mind:
Size
Make sure you choose a size that's comfortable for you. Many thrusting butt plugs come in different sizes, so choosing one that fits well is important.
Material
Look for a thrusting butt plug made from body-safe materials, such as silicone or glass. Avoid toys made of porous materials like rubber or jelly, as these materials can harbor bacteria and are difficult to clean.
Motor
Ensure the toy has a strong, reliable motor that lasts. Cheaper models may have weaker motors that are prone to breaking after a few uses.
Features
Consider what features you want in a thrusting butt plug. Do you want one with multiple vibration settings? A remote control? Take these features into account when making your choice.
What Are the Benefits of Using a Anal Thruster Toy?
Thrusting butt plugs offer a unique sensation that can't be replicated by other toys. The thrusting motion can provide a pleasurable and exciting experience that many people find enjoyable. Additionally, using a plug can help you explore anal play in a safe and controlled way, particularly if you're new to the experience. Many people also find that using a butt plug can help them achieve more intense orgasms.
How to Use a Thrusting Butt Plug
An open mind and a willingness to experiment are important when using it. Here are some tips to help you enjoy your toyto the fullest: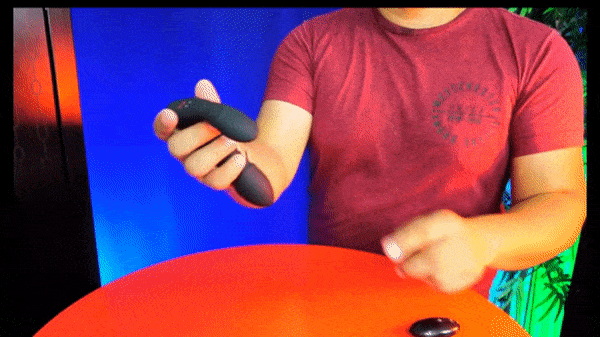 Proper Lubrication
It is always important to lubricate sex toys, but it is especially important when using anal toys. As a water-based lubricant, you can use any type of sex toy safely, and it is also easily cleanable.
Experiment with different speeds and patterns
Most butt plugs have multiple speed and pattern settings, so try them all out to find your favorite.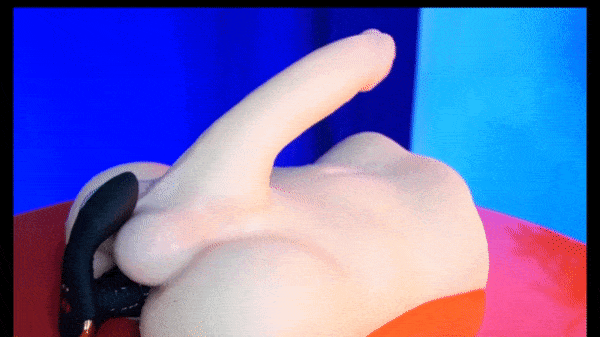 Use it during other sexual activities
It can be used during masturbation, sex, or foreplay to enhance the experience.
Explore different positions
Try using the plug in different positions, such as on your back, on your stomach, or on all fours.
Also Read:
How to Clean Thrusting Butt Plug?
To clean a butt plug, start by removing any batteries or charging cables. Wash the butt plug with warm water and mild soap, using your fingers or a soft cloth to clean the surface. Rinse the plug thoroughly with warm water and dry it with a clean cloth or paper towel.
Boiling the plug in water for a few minutes will disinfect it if it is made of silicone, rubber, or other non-porous material.
Use a small brush to clean any crevices or textured surfaces. Finally, store the butt plug in a clean, dry place away from direct sunlight.
Remember to clean your butt plug after every use to prevent the buildup of bacteria and ensure its longevity.
Also Read:
Are There Any Risks Associated with Using a Thrusting Butt Plug?
Like any sex toy, using a butt plug carries some risk. It's important to choose a toy made from body-safe materials and to use plenty of lube to avoid injury or discomfort. If you experience any pain or discomfort while using abutt plug, stop immediately.
Here Are Some Recommendations for Thrusting Butt Plugs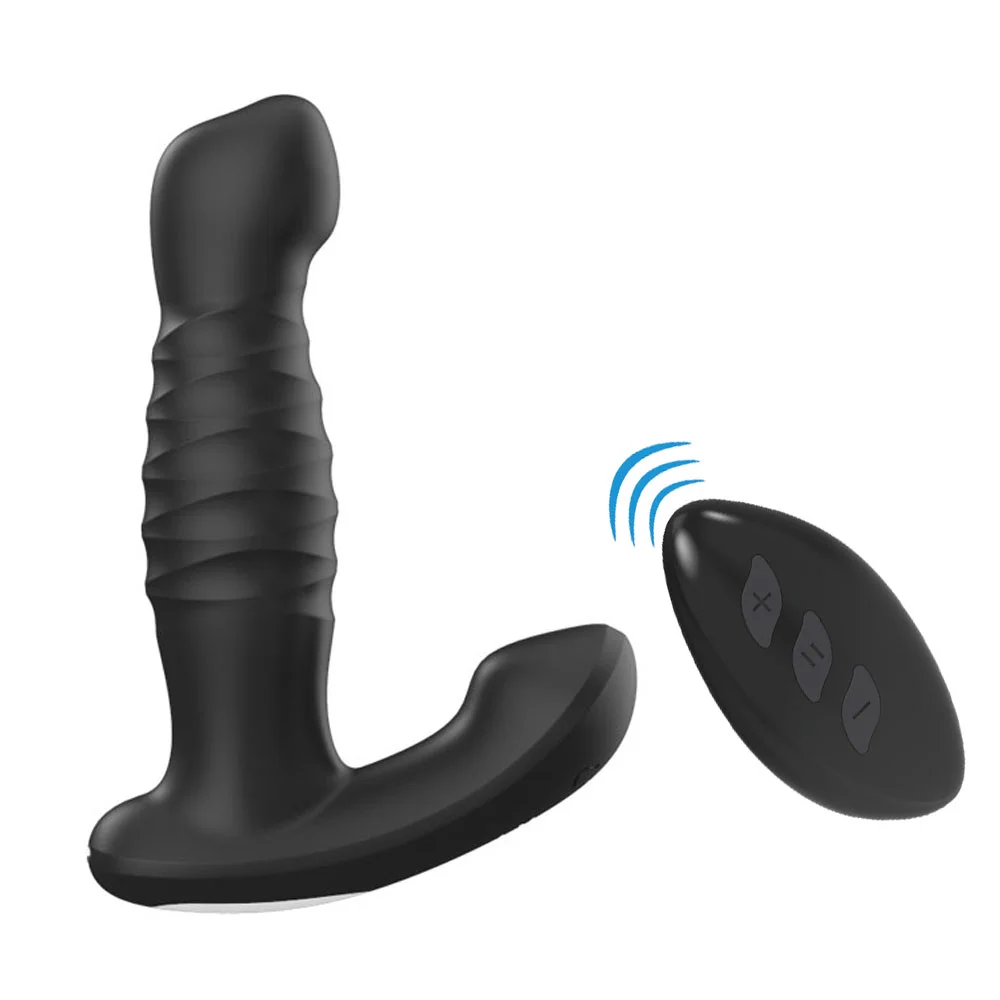 The ultimate pleasure tool designed to take your intimate experiences to the next level. Made from medical-grade silicone, this massager boasts a smooth and silky texture that feels incredible against the skin.
Experience the ultimate convenience with its USB charging feature
ensuring that you never have to worry about running out of battery mid-session. This versatile massager is perfect for both men and women, adding a new dimension to your solo or partner play.
With 7 different thrusting and vibrating modes to choose from
You can customise your pleasure experience to your exact desires. The vibrating prostate massager even stretches up to 20mm, giving you a deep and intense massage that will leave you breathless.
Say goodbye to passive, boring experiences
Hello to thrilling and mind-blowing ones with this incredible massager. Enjoy the freedom of wireless remote control, letting you take charge of your pleasure and take it to new heights. Don't wait any longer to indulge in the ultimate pleasure experience. Add the Wireless Remote Vibrating Prostate Massager to your collection today and discover a whole new world of intimate pleasure that will leave you feeling fulfilled and satisfied like never before. Order now and experience the ultimate pleasure for yourself!
A game-changer in anal and vaginal play! Our thoughtfully designed toy features a firm body and folded wrapping skin that allows the plug body to thrust up and down, creating a unique and exciting experience.
Safety is our top priority
Which is why we've included an anchor-shaped base for secure wear. Whether you choose to wear it anally or vaginally, you can rest assured that our massager will stay in place while you explore its many powerful functions.
The remote control
that comes with the Thrusting Prostate Massager allows for easy navigation through the seven thrilling programs. Whether you're using it for teasing or a warm-up, this massager is sure to take your pleasure to new heights. With the added stretch and fullness, you can create all sorts of sensations with the high-speed telescopic thrusting.
Don't settle for a lackluster solo play or mediocre partnered experience
upgrade to our Thrusting Prostate Massager Vibrator with Remote Control for a more pleasure-packed time. Get ready to explore new realms of pleasure and indulge in sensations like never before. Experience the ultimate in anal and vaginal pleasure – add our Thrusting Prostate Massager Vibrator with Remote Control to your toy collection today!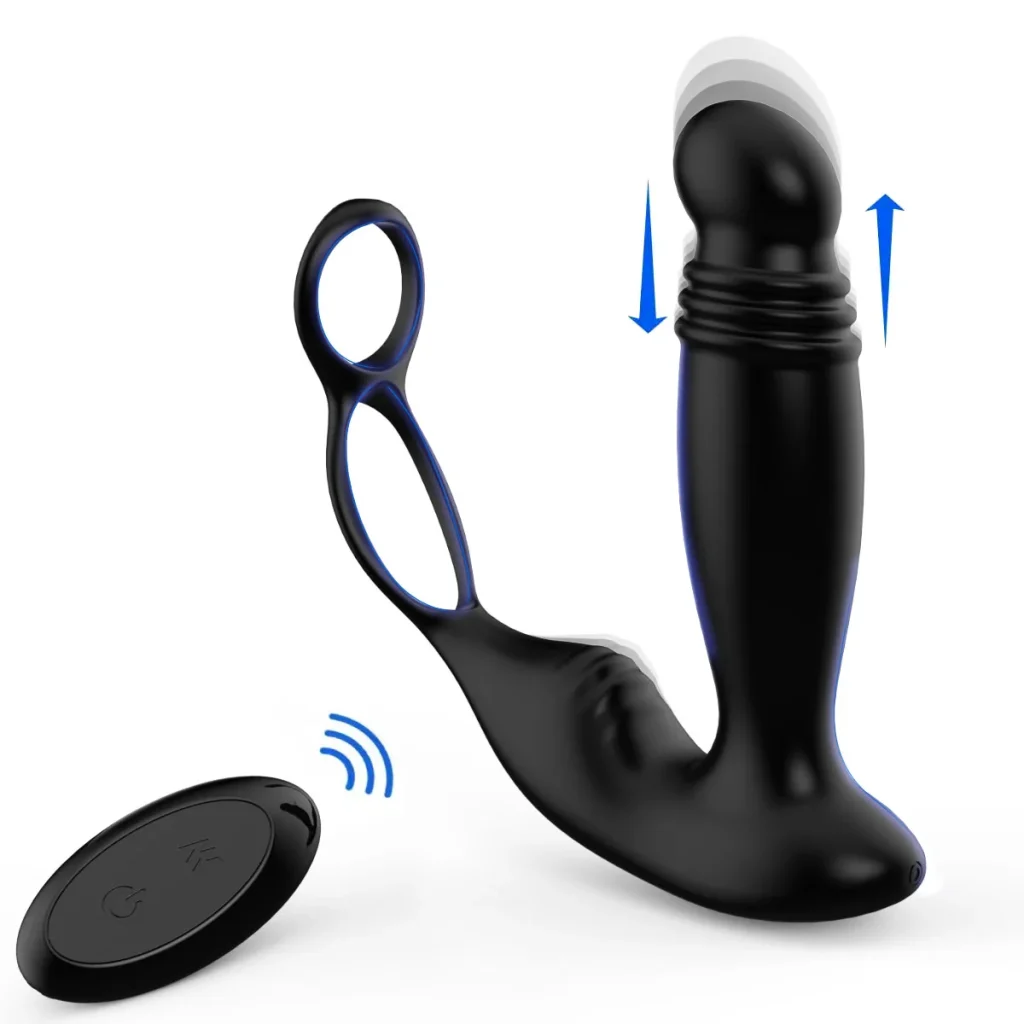 Dual Stimulation for Explosive Orgasms Experience
The ultimate pleasure with the Penis Massage Rabbit Hole Prostate Massager. With its 3-speed thrusting motor and 10 powerful vibration settings, this toy provides continuous and precise stimulation to both the prostate and rabbit hole simultaneously. The dual stimulation can induce explosive orgasms for both men and women, taking your pleasure to new heights.
Prostate Stimulation for Intense Climax
Designed to target the prostate, this massager can bring men to a whole new level of pleasure. The prostate gland is often referred to as the male g-spot, and stimulation of this area can lead to intense climax and even multiple orgasms. With its powerful motors and precise control, this toy is sure to take your prostate pleasure to the next level.
Wireless Remote Control for Hands-Free Fun
Take your pleasure to the next level with the Penis Massage Rabbit Hole Prostate Massager's wireless remote control. With a range of up to 49ft, you can explore new playing ways without worrying about wires or cables. The remote features two function buttons that can be operated independently or concurrently, allowing you to customize your experience for maximum pleasure.
Conclusion
Whether you're new to anal play or a seasoned pro, the butt plug is a toy worth exploring. The ability to customize experiences as well as the potential for intense orgasms make it an increasingly popular sex toy.
Also Read:
Remember, when exploring your sexuality and using sex toys, always prioritize your safety and pleasure. With the right precautions and a bit of experimentation, the thrusting butt plug can be a valuable addition to your sexual repertoire.