App Controlled Vibrators
App-controlled vibrators have revolutionized the world of sexual pleasure, offering a unique blend of convenience, customization, and connectivity. With the help of smartphone apps, users can control and adjust these vibrators' settings remotely, creating a new level of intimacy and excitement.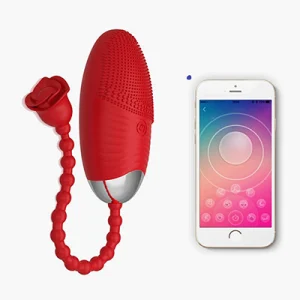 $

59.99
APP-controlled rose vibrating egg, cell phone wireless remote control and remote control in two ways, the control distance of 5-12M
12 kinds of vibration frequency, it can bring a variety of play, straight to the depths of the mind, to orgasm!
IPX7 waterproof rose toy, it can vibrate in water, suitable for various places
What is an App-Controlled Vibrator?
An app-controlled vibrator is a sex toy that can be controlled using a smartphone via Bluetooth or Wi-Fi. By using its dedicated mobile app, you can control various aspects of the vibrator's functionality. Once connected, you can adjust settings such as vibration intensity, patterns, and even create custom vibration modes. Some long distance vibrator even offer features like music synchronization, where the vibrations can match the rhythm of your favorite songs. These vibrators have gained popularity due to their modern twist on traditional vibrators. By incorporating smartphone technology, they offer a convenient way to enhance intimate experiences. The ability to control the vibrator remotely adds an element of excitement and can be particularly enjoyable for long-distance couples.
Convenience and Hands-free Pleasure:
They provide a totally new level of convenience compared with manual and remote-controlled vibes, as they can be controlled wirelessly from a smartphone. You can adjust the intensity, patterns, and speed of vibrations as easily as text a massage, and without needing to manually handle the device. Whether you're alone or with a partner, you can effortlessly explore different sensations and find the perfect settings for maximum pleasure.
Customization and Personalization:
One of the significant advantages of app-controlled vibrators is the ability to customize the experience. Many apps offer even allow users to create their own unique patterns. This feature ensures that you can customize the vibrator's settings according to your personal preferences and physiological features, making each experience truly unique.
Narrow the Long-Distance Relationships:
App-controlled vibrators have become a popular choice for couples in long-distance relationships. These devices enable partners to connect and engage in intimate moments despite being physically apart. With the app's remote control feature, you can give your partner control over the vibrator, creating a sense of closeness and shared pleasure, no matter the distance.
Enhanced Intimacy and Connection:
Using app-controlled vibrators can significantly enhance intimacy and connection between partners. The act of exploring and experimenting with the vibrator's settings together can lead to increased communication, trust, and vulnerability. It allows couples to venture into new territories, spicing up their sex life and fostering a deeper emotional connection.
Sexual Exploration and Adventure:
Long distance vibrator open up a world of sexual exploration and adventure. With their versatile settings and discreet designs, these devices can be used in various settings, such as public places or during couples' play. The thrill of surrendering control or engaging in secret pleasures can bring excitement and novelty into your sexual experiences.
Solo and Couple
Adult interactive toy cater to both solo and couple play. For solo play, you can completely control your pleasure and discover and satisfy your desire at your own pace. Additionally, app-controlled vibrators can be seamlessly integrated into partnered play, introducing a new level of excitement and anticipation. Couples can take turns controlling the vibrator, indulging in the pleasure of giving and receiving pleasure.