Due to the many nerve endings around the anus, this area is considered one of the most sensitive in the body. Many people can't wait to explore this place with different toys like butt plugs, anal beads, and anal dildos for extreme pleasure. From traditional Glass Sex toys to today's vibrating plugs, butt plugs have been a long-established anal sex toy. For the uninitiated, vibrating butt plugs can seem like an out-of-reach mountain.
But the truth is, vibrating butt plugs are actually pretty fun and easy to tame. Seeing this, many newbies may be eager to try it, but before using the vibrating anal plug, you must know how to use it safely.
Table of Contents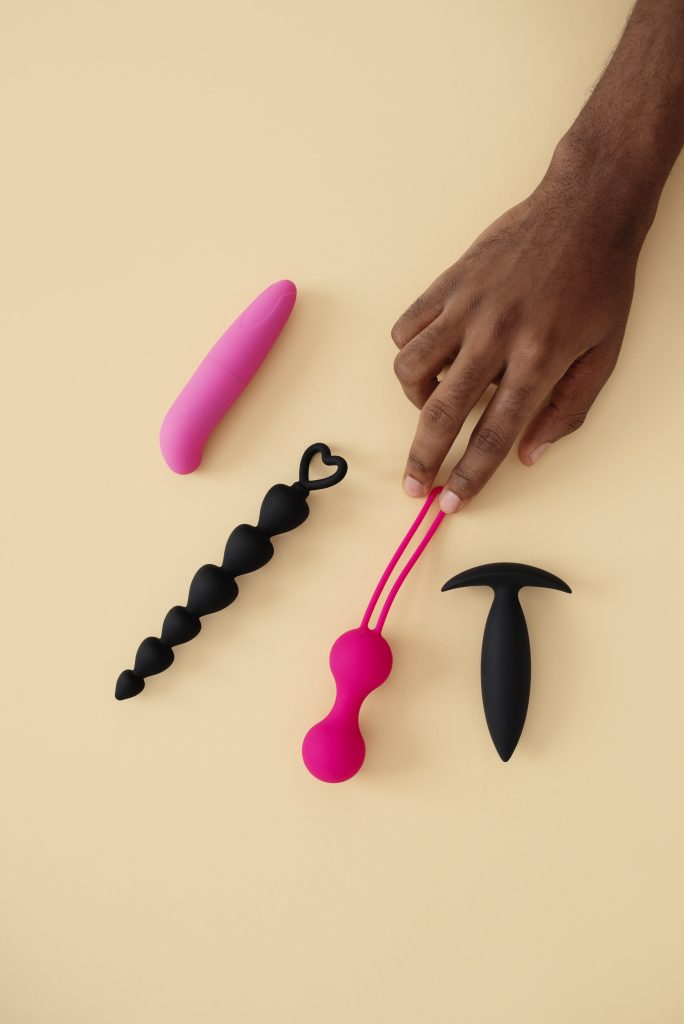 What Is a Vibrating Butt Plug?
A vibrating butt plug is a sex toy used for anal penetration and insertion, usually in the shape of a teardrop or a tapered one with a flared base at the bottom. Unlike vibrating dildos, vibrating butt plugs usually stay in place after insertion.
But it does not simply stay in a place like traditional anal plugs. Instead, it continuously stimulates the rectum and even the prostate through a motor.
Do the Vibrating Anal Plugs Are Safe for Fun?
Butt plugs are safe to use as long as you follow the correct instructions. Proper size and shape butt plug can reduce anal tearing. Anal plugs with a flared base prevent the plug from getting lost in the rectum. If you accidentally drop a plug in your rectum, be sure to seek medical attention.
What Can a Vibrating Butt Plug Offer?
Prepare for Anal Sex
Anal plugs can allow the anus to adapt to the presence of foreign objects in advance and prepare for subsequent real anal sex. It can help you relieve tension and relax the anal sphincter.
Anal Training
Using anal plugs of different sizes can help people exercise the anal muscles and make them more elastic. Over time, the anal muscles will adapt to the size of the plug, at which point you can gradually increase the size of the plug until you reach your ideal size. This process is very important. Using a large butt plug from the start can cause tears.
Enhance Sensitive Pleasure
Numerous experiments have shown that stimulating the prostate gland can lead to more intense orgasms in men. The vibrating anal plug can not only squeeze the prostate to obtain pleasure, but also amplify this pleasure through vibration.
Everyone shows different preferences for sex toys, so I can't list a complete vibrating butt plug for everyone. But there are some key points you must consider when buying a vibrating anal plug.
Material
Among so many materials, silicone has always been the most popular material for sex toys. It is acceptable by most with its hypoallergenic and odorless identity. In addition, silicone is nonporous, which is not easy to cultivate bacteria and hide dust, and easy to clean.
Design
The design is somewhat of an essential point that needs to be considered. The short and thick anal plugs are often used to train the anus, while the long and slim plugs are used to massage the prostate.
Power
The experience varies from product to product. Some like simple and gentle sensations, while others like fancy and strong stimuli. You can choose according to your needs.
Noise
If you are a privacy-concerned person, then the noise is an issue you need to concern. Since the vibrating anal plug needs to rely on a motor to operate, it cannot be as silent as a normal anal plug. But some vibrating butt plugs are less than 60 decibels, perfect for those who prefer quiet enjoyment.
Price
As the saying goes, "you get what you pay for, "which is true most of the time. However, since most sex toys have similar functions and appearances, you can totally get a high-quality product with less money, but the premise is that you need to choose a standard sex toy company.
To explore info about choosing a perfect butt plug please read:
How to Use a Vibrating Butt Plug?
Lubrication
Although anal sex is prevalent nowadays, one thing should be clear the anus doesn't belong to the part of the genital system. So it is unable to produce lubricant like the vagina. Therefore, please pay more attention to lubricating while playing bum intercourse. Not only can the lube protect your anus from tearing or bleeding, but also it can make the butt plug move smoothly
The Sliquid Sassy Water-Based Anal Lubricant is highly acclaimed as extra-thick, vegan, and long-lasting. Sliquid uses plant cellulose as a thickening agent, instead of glycerin or other sugar derivatives that can cause yeast infections, greatly reducing the probability of allergy. If you have an adequate budget, we recommend you buy this one.
Take it easy and start slowly
For beginners who have never used anal toys before, it may be a little bit uncomfortable to use them for the first time. It's not a big deal, and everyone has to go through with it. You can start to train yourself with small regular butt plugs, then gradually develop a larger size.
The main purpose of regular butt plugs is to help you build up resilience. During this time, you only need to pay for patience, and buy a proper anal plug training kit.Once your anus is fully acclimated, you can switch from regular anal plugs to vibrating anal plugs.
When using a vibrating anal plug, you need to keep one thing in mind: slow down. Insert the plug slowly, starting at a low speed, and then slowly withdraw the plug at the end.
Learn how to massage the prostate
The most important reason for men and penis owners to stimulate their prostate glands is to get prostatic orgasms. The prostate is a very sensitive gland and locates about two or three inches up on the anterior (front) wall of the anus. Stimulating this small point can cause the whole body to tremble. If you want to achieve a prostatic orgasm, take some time to learn how to massage this magic gland.
Hygiene and storage
After the orgasm fades away, focus on cleaning things—cleaning before and after can prolong sex toys service time and keep you healthy. You can use antibacterial soap or special cleansers. Don't put your clean butt plugs with groceries, instead, store them in the original packing box or specialized box to prevent dust and bacteria.
Also Read: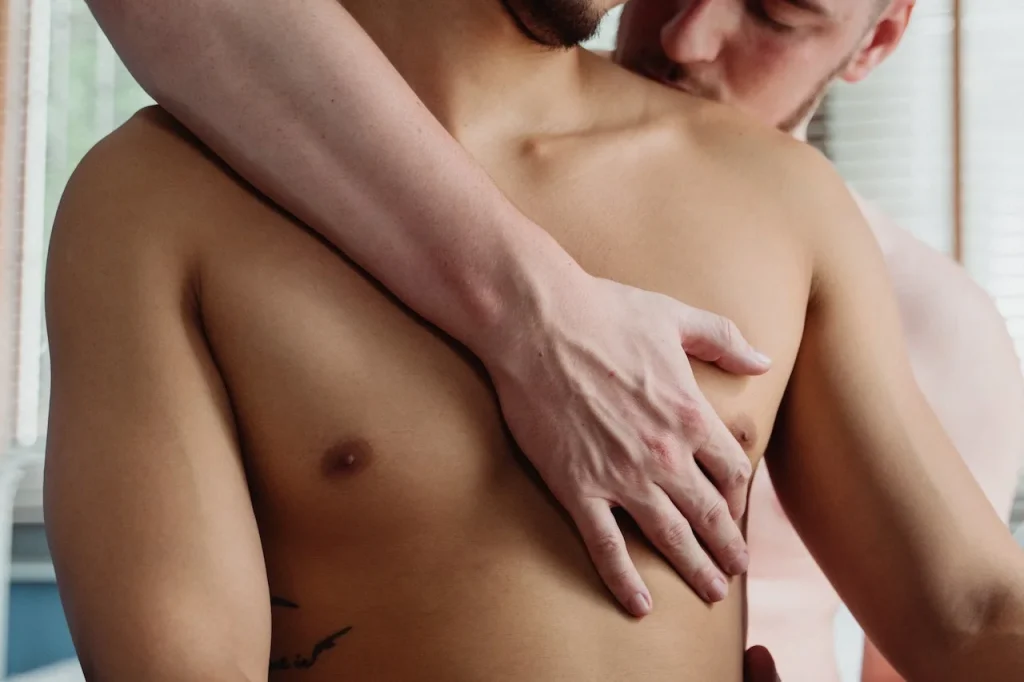 Exploring different anal sex positions can help you have more enjoyment.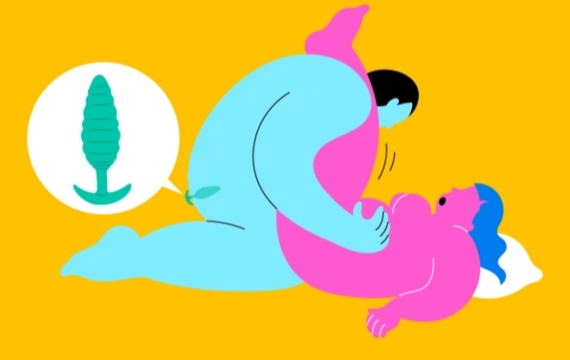 Missionary
The missionary position is admittedly one of the most versatile positions though it was saddled with the reputation as the most boring sex position. But no other position completely exposes your partner to you like a missionary, and you can read all their expressions.
Because of the thin wall between the anus and vagina, you can feel the sensation of the cock and the plug colliding inside you vividly.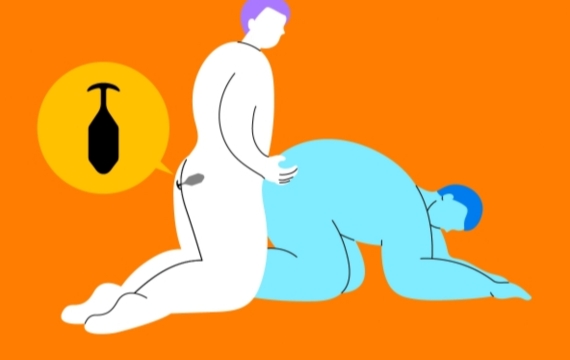 Doggy Style
This is a classic anal sex position. The upper is the giver, and the bottom is the receiver. Generally, you only can feed one hole once at a time. But with a vibrating butt plug, you can get stimulation simultaneously.
When the giver completes each heavy blow, he is also the receiver, waiting for him to be stimulated by the butt plug constantly coming from behind. To get more fun, you can handle the remote control with your partner if necessary.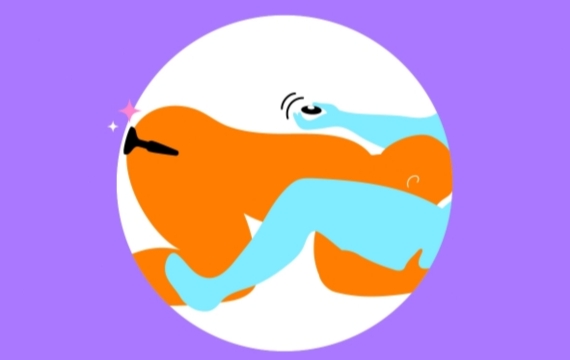 Oral Sensations
If you prefer oral sex than penetration on some nights, you can adopt this position. This position allows both of you to achieve climax at the same time. To perform this position, you need to get down with the knees up to the chest and then put the butt plug into the rectum to get pleasure. Or, insert the plug into your partner's the rest of the hole to create dual stimulation for the receiver.
Reverse Cowgirl
This anal butt position may drive the recipient crazy! The receiver can accommodate much more penis than usual and get more intense anal pleasure. The receiver can go through riding, rocking, and grinding to get more fun. In addition, since the receiver is back to the giver, the giver can manipulate the plug by going back and forth to stimulate the sensitive anal cavity.
Want to explore more positions? Read our latest article
How to Care For Your Anus After Butt Intercourse?
When it comes to anal sex play, many people always focus on the arrangement, but seldom do we mention what to do after anal sex. Interestingly, though, anal sex can be traumatic to the body. If anal sex has become your daily routine, then it is crucial for you to know how to care for your anus.
Take a bath
After an intense orgasm, the anal area will be more sensitive than usual. Under this circumstance, you'd better take a warm bath with Epsom salt. This can relax your nerves and quell the intense muscles. Epsom salt is totally different from fancy bath crystals, and it can be used to treat muscle pains. You can find them in most drugstores, usually around aspirin and laxatives.
Apply Vitamin E
Anal play is very common in porn movies. Many adult actors swear that they often apply vitamin E around the perianal region because it can keep skin smooth and reduce melanin deposits.
Don't use toilet paper
Do not wipe your anus with toilet paper after sex because it may be rough on the sensitive area. Use a bidet to clean the mess. It can offer a spa-like experience for your butt.
Do Kegel exercises
Excessive use of the anus may lead to anal laxity and even prolapse, so Kegel exercise is indispensable. Doing pelvic exercises can help to keep the muscle firm and teach your hole some new tricks. It's easy to practice the Kegel exercise; just three steps: insert a Kegel ball, flex, relax, and repeat several sets. Insisting on exercising every day can be a good way to restore the tightness of the anus.
Best Vibrating Butt Plugs for Beginners and Veterans
"OK, I'm in. But where can I purchase a suitable vibrating butt plug?"
Well, this is a decision between you and your partner. But if you ask for recommendations, I will tell you are in the right place.
The booming of online shopping provides a more discreet and convenient way to buy sex toys. As a developing sex toy company, ANESIDORA has offered so many awesome butt plugs for different genders and ages. Here are five brilliant vibrating anal plugs from ANESIDORA.
The reason why I recommend this anal plug is that it has two functions, vibration, and inflation. Yes, this inflatable vibrating butt plug not only can stimulate your prostate/G-spot by vibrating, but also can stretch your anal/vaginal wall. It is definitely a fantastic butt plug for many veterans.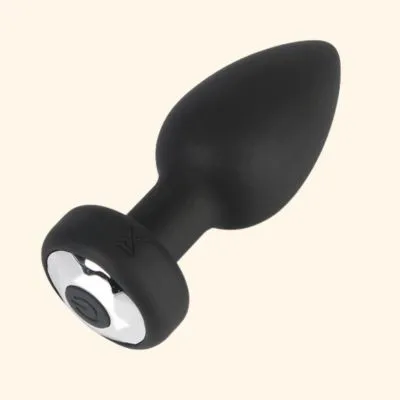 This set of vibrating butt plugs comes in 3 gradually larger sizes, which is perfect for beginners to anal training. The tapered shape is a classic design among anal plugs, and it makes the insertion more easily. Those vibrating butt plugs have ten frequency modes, providing breathtaking vibration.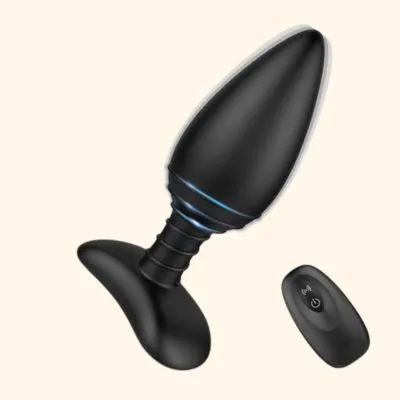 This vibrating butt plug can be used with or without the remote control to tease the rectum with 6 different modes. The 10 cm insertable length can help you to better stimulate your prostate and gain much more anal pleasure.
The characteristics of Skin-friendly silicone material, excellent waterproof performance, and 10 powerful vibrating modes make the ANESIDORA remote control butt plug a prominent choice among other anal plugs. The design with rose elements makes it quite popular among women as well. We also have black color to meet your masculine quality.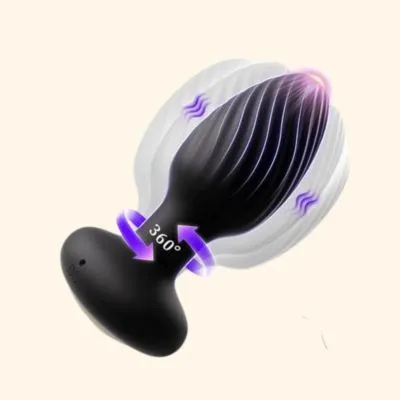 This vibrating butt plug has two vibration motors, one at the top and the other at the bottom. They can stimulate your prostate and anal area simultaneously with a remote device. In addition to vibrating, this anal plug can also rotate in all directions. Seven vibration modes plus seven rotation modes can release your inner desire to the greatest extent and help you reach orgasm quickly.
FAQS
What is the difference between butt plugs and prostate massagers?
Butt plugs and prostate massagers differ in shape, purpose, and target audience. Butt plugs are generally enjoyed by anyone, while prostate massagers are primarily used by individuals with prostates. Prostate massagers have a deep curve to apply pressure to the prostate gland, while butt plugs have a teardrop shape, tapered tip for easy insertion, wide body, narrow neck, and flared base.
What is the importance of a flared base for sex toys?
A flared base is essential for sex toys that are intended for anal use because it helps prevent unwanted travel of the toy inside the body.
What are some examples of prostate massagers sold on Anesidora?
Anesidora sells various prostate massagers, such as the Loki – Thrusting Prostate Massager, High Roller, P-Play, and the Perineum Stimulator.
What is the P-Play?
The P-Play is a static prostate massager sold on Love Honey. It has no moving parts and works by rocking internally to apply stimulation. It has a lovely s-bend perineum stimulator and an indented tip that is specifically shaped to provide perfect pressure and pleasure.
References
Dirty Lola "5 Positions to Get the Most Bang for Your Booty"