Are you an experienced anal zealot? Or are you a newbie ready to explore the fantastic anal world? No matter which situation and gender you are, you can get inspired by this article.This no more than 1.5-thousand words article will show you some interesting anal masturbation position, and make your sexual life lift to the next level. So, buckle up, we are driving to the best anal masturbation position world.
Table of Contents
Best Positions for Anal Masturbation
1.Doggy Style
Undoubtably, the doggy style is one of the most classic anal sex positions. With this position, you can move your hips and booty with ease. You can control the depth of penetration and get higher sexual pleasure.
How to do it:
You can invite a suction cup dildo into your orgy, and it works better than a finger. First, stick the suction cup dildo to the wall or the headboard, and adjust its height. Then, you need to get down on all fours and aim your butt at the dildo. Slowly insert it into your anus. Speed up when you feel comfortable.
Safety tips:
Don't be stingy with your lubricant. If you don't want your anus bleeding, apply as much lube as possible. If you want a more comfortable experience, switch from the floor to the bed.
2.Spooning Position
Spooning is not a dull position. Instead, it is a sex and straightforward position you can build up to make your experience even hotter. When you curl up, your anus will become tight, which is the perfect time to arouse your body.
How to Do It
Lie down on your side with your lower legs curved in front of you, as if you were in a fetal position. Choosing an available tool could be your fingers or an anal sex toy. Then, insert it into your anus, and stimulate your anus with penetration, rotation, or pulsation. Ladies, you can stimulate your clitoris and nipples with your free hand.
As for men, stimulating with a prostate massager is a do-more-with-less job.
Safety Tips:
If you are used to masturbating with fingers, remember to trim your nails or remove your fake nails, which can avoid hurting your fragile anus. If you want to make your masturbation friskier, you can lift your top leg into a wide V to get a broad space. You can also explore the seated spoon position, where you sit with the edge of your ass cheeks on your bed and your upper body leaning forward.
3.Cowgirl/Cowboy Ride
The cowgirl/cowboy ride position allows you to control the depth and speed of penetration. To take this position to full advantage, you might need an anal dildo with a suction cup.
How to Do It:
Lubricate your anal toy thoroughly, then stick it on a smooth surface. Squat over the dildo and slowly insert it into your anus. Up and down your butt repeatedly until getting the climax.
Safety Tips:
Check the dildo to ensure that whether it sucks tightly, this will affect your use.
If you want to remove the suction cup dildo, please remove it from the edge of the suction cup instead of pulling up the shaft directly.
Squatting for a long time can cause numbness in the legs, so you should be aware of the time.
4.Missionary
It is the most popular sexual position. Not only can this position be used in traditional vaginal intercourse, but it also can be used in anal masturbation. It doesn't take much effort and is friendly to beginners.
How to Do It:
Lie on the floor or bed with your face up, open your legs, and relax. If you feel more comfortable bending your knees, do so. Penetrate the anus with lubricated sex toys or fingers. Reach your hand from underneath your crotch until you reach your anus. Gently begin inserting your finger or anal sex toy. You can learn some available skills in advance to have better stimulation.
Safety Tips:
Put a pillow underneath your lower back to support yourself. Doing so can arch your back, which is what you're looking for because your rectum straightens out. You're getting more pleasure when your back is curved.
5.Double Penetration
Double penetration is a great stance to explore your body's bottom line. It is as straightforward as it sounds, where you need two sex toys, one is for the anus and one for the vagina. Stimulating two holes simultaneously sounds intimidating, but if you follow the right guide, you will feel nothing but pleasure.
How to Do It
Double penetration doesn't have a standard position, just follow your heart.
Lying on one side of your body with your legs at a 90° angle. Slightly position the butt towards you and gently put two sex toys or two fingers into the vagina and asshole separately.
Besides that, you can adopt Cowgirl DP. Open your legs and squat, playing your anus and vagina with two sex toys or two hands.
Safety tips
To avoid incidents, please be careful when choosing the size of sex toys. If you think it is difficult to handle two toys at once, you can choose a butt plug to stimulate the anus.
6.Standing Doggy
Standing doggy is a variation to standard doggy that feels even better for someone. The most attractive part of it is that you can try it anywhere, without taking off your clothes. You can do it anywhere as long as you have support for your upper body.
How to Do It
Find a steady surface and lean on the wall, while keep your lower body upright. Open your legs and reach behind and do anal penetration the way you like.
There is another way to play with this position, that is using a suction cup dildo. Attach a dildo on a smooth surface and adjust its height, then stoop down and start penetration. You can keep steady with the help of a chair or a couch.
7.Jazz
This sexy dance perfectly matches the anal play. The only thing you should do is stick on a chair.
How to Do It
Attach a suction cup dildo to a chair, then straddle the chair.
Align the shaft with your butthole and gently insert.
Keep one-third of a shaft in your anus and then move up and down, like dancing over the chair.
Repeat until you reach orgasm.
Squatting on a chair for anal masturbation is also a great thing to try, but be careful not to fall.
Safety Tips
It is important to choose a chair with the right height. You can keep the chair balanced by leaning the back against the wall.
8.Prone (Facedown)
The prone position is perfect for days when you want to relax. This position will save you energy.
How to do it
With your belly against the bed, spread your legs so you are in an inverted Y-shape. Put your hand up to the anus and stimulate the anus by constantly in and out.
Safety tips:
Remember the pillow trick mentioned before? It can be used in this position as well. Prepare a pillow underneath your belly to look like an arch, which can reduce the squeeze on your chest.
How to Anal Masturbate
Getting Ready for Anal Play
Taking a shower before you start is a good idea. You might even want to do something called an "enema," which is a way to clean your bottom. It might sound strange, but some people find it exciting. It's like a little adventure that makes you feel fresh and ready.
Using Lube for Comfort
When it's time to get started, remember that the anus doesn't get wet like other parts of your body. So, it's important to use a special kind of slippery stuff called "lubricant." You can choose one that's gentle and feels good. I like using organic coconut oil, but you can find what works best for you. Just make sure things glide smoothly.
Massaging the Outside of the Anus
Massaging the area around the anus. Put a bit of lubricant on your fingers or the area, and gently touch and rub the edges. You can try making circles, tapping, and even gentle stretching. If you're worried about cleanliness, you can wear special gloves. The important thing is to make it feel nice.
Understanding Anal Sphincters
If you decide to go deeper, you'll meet the "anal sphincters." These are like little muscles that help your anus stay closed. They can tighten up when you put something inside. Don't worry; it's normal. Just remember to go slow and relax. It's a good idea to get in the mood by touching other sensitive parts of your body first.
Staying Safe
While having fun is important, safety comes first. One thing to be careful about is using toys with a wide base so they don't go too far inside. If something gets stuck, don't be embarrassed – just ask for help. Also, be gentle and don't rush; hurting yourself is no fun. If you feel pain or see bleeding, stop. And always listen to your body.
Additional Tips for Guys
If you're a guy, there's something extra special for you to discover. Inside your body, there's a spot called the "prostate." It's not too far inside the anus, and when you stimulate it along with your penis, you can have super intense orgasms. If you're curious, there's more to learn about it.
Also Read: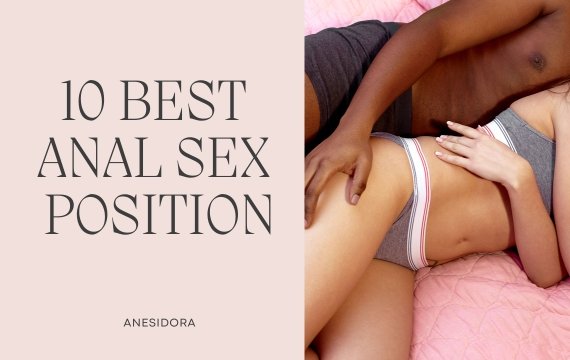 Wrapping Up
All fear comes from the unknown, and learning is the best way to overcome it. Now that you've mastered 8 best anal masturbation positions, it's time to get down to business and start experimenting.
Very few beginners can get the hang of anal masturbation right off the bat, so it's quite normal if you fail at practicing them at the beginning. First, you need to learn to relax your body and get over your shyness. Start with the straightforward missionary position and then slowly explore the spooning, deep squat, and so on.
You can also add some anal sex toys to enhance the pleasure of anal masturbation. Anal sex toys like anal dildos, anal beads, suction cup dildos, prostate massagers, etc., are all great options.
Thank you for your reading! Wish you have a good masturbation night.