Rose Vibrators
The Rose Vibrator, also known as the rose sexual toy orRose Dildo 、Rose Clit Toy, is a clitoral stimulation toy that uses air pulse and pressure technology to suck on the glans head of the clitoris.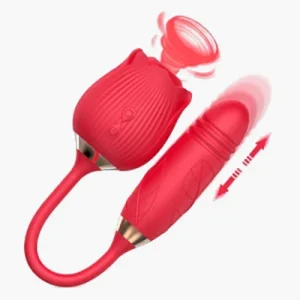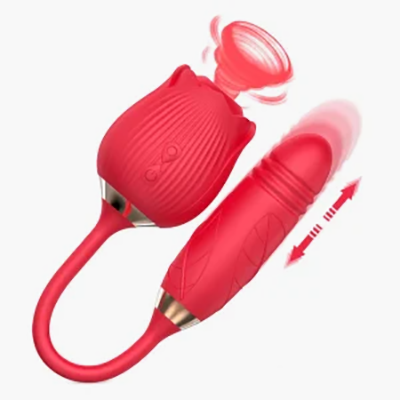 Blue, Green, Red, Rose Red
$

39.99
Introducing our latest 3-in-1 Rose Vibration with thruster! Enjoy the ultimate pleasure of oral sex with its clitoral sucking toy function, which can also be inserted for G-spot stimulation or used anally. The Rose Toy features 10 intense sucking and vibration modes that allow you to switch at will, ensuring you reach orgasm in no time.
Use Code

SAVE15

to get extra 15% off now
3-in-1 clit sucking toy, G-spot vibrator & active thrusting bullet
10 intense sucking & vibration modes switch at will
Medical grade silicone, safe and silky smooth
IPX7 waterproof design for use in the shower or bathtub
USB magnetic charging for long-lasting pleasure
Charging time: 1h; Average use time: 50 minutes.
Mute design with noise index <50db
Discreet shipping with no suspicious tags/words
Responsive customer service for any concerns or questions
The Rose Vibrator, also known as the rose vibrator or rose vibration, is a
clitoral stimulation
toy that uses air pulse and pressure technology to suck on the glans head of the clitoris. It combines sucking and vibrating functions through a suction head to deliver unparalleled stimulation and sustained orgasms. When we talk about the rose vibrator, it is not a metaphor because it really looks like a delicate rose. The layer-on-layer carved petals, the rosy color, and the silky touch all make it deserve praise. Compared with old sex toys, the vibrating rose toy for women is seemly a revolution. It means women have begun to dominate the sex toy world. The manufacturers have begun to pay attention to the needs of women. Since its debut, the praise for this
clitoris-sucking vibrator
hasn't died down, and now there are
updated rose toys
with more new settings and upgrades to explore. Many sex toy companies have also started selling rose-shaped toys, such as the Rose Toy Clitoral Suction Stimulator from Lovehoney and the
Night Rose Sex Toy from Anesidora
.
How Does the Rose Vibrators Work?
There are dozens of sex toy brands that sell rose vibrators on the market. Although they look similar on the outside, the interior is slightly different. Here we take Anesidora
original rose toy
as an example to show how the rose adult toy works. The Anesidora classis rose toy is rechargeable and waterproof. It has nine intense sucking and vibrating modes, so be careful it might blow your socks off. Unlike traditional vibrating sex toys, the rose sucker uses focused, pulsing air suction on the clitoris to create a sensation, providing intense yet comfortable suction stimulation.
We have lots of rose vibes with different appearances and functions, such as rose suction vibes,
rose tongue vibes
, and rose sucker with dildo vibes.
Apply enough water-based lubricant on the rose toy to help reduce the obstruction during masturbation.
Place the rose vibrator where you want to stimulate it and turn on the button.
During use, you can properly adjust the angle and speed of the rose vibrator to get a better experience.
You can also explore new ways to play with rose vibrators by placing them on other sensitive areas of your body for new stimulation.
The Risks and Concerns About Rose Vibrator
Rose toys are so popular and useful, but the biggest issue is where to purchase safe and reliable rose sexual toys.When sex toys become popular, we often see a huge supply on the Internet, with many sellers drop shipping directly without any inspection. Therefore, customers bear the most risk. Dropshipping is where sellers buy inventory from third parties, such as wholesalers or manufacturers, to fulfil orders.Quality is an important issue for the drop shipping business model because consumers worry about product quality, and even merchants don't know the details of the products they sell. Therefore, when you purchase rose toys on the internet, be sure to read the product description and purchaser's reviews as careful as possible. To ensure that what you buy is exactly what you want.If you don't know how to tell a good or bad rose vibrator, you can choose well-established brands if you have a generous budget.Or you can follow the tips below to choose a safe, reliable, low-price rose clit sucker.
No matter what kind of sex toys, being nonporous and non-toxic are the top qualities. Most rose toys on the market are made with silicone which is nonporous. But it would be best to distinguish whether it is medical grade silicone, food grade silicone or ordinary silicone.
Function
If you are a thrill seeker, you can choose rose toy with multiple functions.They can allow you to explore your body fully. But if you are sensitive, you don't need to pay good money for rose sex toys with multiple functions, just simple and easy rose sexual toy that can satisfy your body. But that doesn't mean you cannot purchase multiple-functional rose toys.Waterproof is also an important reference index. It determines whether you can play with the rose sex toy under water circumstances.
Price
The average price of rose toys ranges from $30 to $70, so you can purchase rose toys in this range.If the price is higher than average, which means you need to pay the brand premium. If the price is lower than the average, then you know…
For the magnetic base USB charging The charging port of this charging method is generally at the bottom of the rose vibrator. Put the rose vibration on the round charging base, adjust the 2 charging pins at the bottom of the vibrator, and align them with the pins on the charging base until the rose vibrator indicator light flashes. For the magnetic USB charging The charging port is usually on the side of the rose vibrator, and it is convenient for users to observe whether the pins of the rose toy are successfully connected to the charging pins. For the Pin USB Charging Usually, pin charger sex toys have a semi-tight charging hole on their bodies. Just insert the pin into the hole, that's it, and it will stay steady until you unplug it.
How Long Does the Rose Sex Toy Take To Charge?
Due to the small size of the rose vibrator, it usually only takes about 60mins to charge fully. However, the motor and battery capacity of different rose toys vary from different to different, some may only need 30 mins to be fully charged, but others may take 2 hours.
You May Also Like Our Honest reviews about Rose Toys
Rose Vibe Review and Comparison