In this article, I will approach this discussion from two perspectives: that of a sex expert and educator, as well as from personal experiences. While sharing my own journey with wearing a butt plug in public, I will provide insights, tips, and considerations for individuals interested in exploring this practice. No matter what your sexual orientation or gender is.
Anyway Let's get started!
Table of Contents
My Personal Journey: Discovering the Pleasure
My introduction to wearing a butt plug in public came through my ex-boyfriend(he/him), who would wear one during his workouts. Curiosity piqued my interest when he casually mentioned removing his butt plug after a gym session.
Intrigued, I inquired about his motivation, to which he simply replied, "It just feels good." This sparked my desire to explore the experience for myself, but with a different purpose.
Motivated by the idea of anal training, I decided to wear a plug in public as a means of preparing for a passionate encounter with a well-endowed partner. I wanted to ensure a comfortable experience during our intimate moments.
With a lubricated butt plug in place, I carried on with my day, venturing around Plymouth, where I was spending the summer. Surprisingly, I found the sensation to be pleasurable, particularly during activities such as squats at the gym. As the day progressed, I almost forgot it was there, except for the occasional reminder upon movement.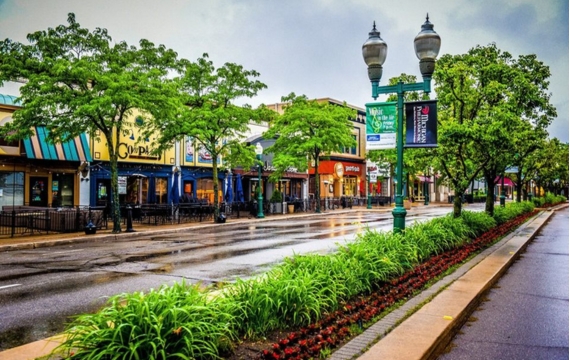 That night, when the awaited rendezvous took place, I was thrilled to discover that the preparation had indeed allowed me to comfortably accommodate my partner. It was an incredible experience that confirmed the effectiveness and enjoyment of wearing a butt plug in public. Consequently, I decided to incorporate this practice into my life more regularly.
How to Safely Wearing a Butt Plug in Public
Based on my extensive personal experiences, here are some valuable tips to consider when engaging in public Anal plugs wear.
Prepare with Anal Training Kits
Although wearing a butt plug can provide some preparation for larger penises or dildos, it is not the most optimal method for effective training. Investing in an anal training kit is highly recommended.
These kits allow gradual progression and simulate the sensations of penetration more accurately. By practicing insertion and removal with the different-sized plugs, you can prepare your body more effectively.
Lube is Essential
Using sex lube is crucial when wearing a anal plug. Opt for a water-based lubricant if your toy is made of silicone to prevent damage. Unlike the vagina, the anus does not naturally lubricate itself. Wearing a butt plug for an extended period can cause the lube to dry out, potentially leading to discomfort or irritation. To address this, carry a travel-sized bottle of lube with you for reapplication throughout the day.
Also Read:
Hygiene Consideration
To maintain hygiene and avoid messy situations, it's recommended to be mindful of your bowel movements. If you have a regular bowel movement schedule, wait until after it occurs to insert the plug.
Remember to remove the plug before any bowel movements to avoid complications. By being aware of timing and incorporating these considerations into your routine, you can effortlessly enjoy the benefits of everyday butt plug wear.
Also Read:
Comfort and Awareness During Wear
it's essential to prioritize comfort and awareness while wearing it. If you experience discomfort, consider removing the plug, applying additional lubrication, and reinserting it to assess the improved sensation. However, if discomfort persists, it's best to remove the plug altogether.
It's advisable to start at home, gradually building up your capacity over time, just like with weight training. By starting small and gradually increasing the duration and size, you can ensure a more pleasurable and comfortable experience.
How to Prevent From Slipping When Wearing a Butt Plug in Public?
Size matter
One common concern when wearing a butt plug in public is the fear of it slipping out. It is important to understand that the sensation of something inside the rectum may feel unfamiliar at first.
However, the design of a well-shaped butt plug ensures it remains securely in place. If you do experience issues with the plug falling out, it may indicate that you need a larger size or a differently shaped plug.
How Much Lube Should You Apply?
Follow these steps to apply lube correctly:
Prepare Your Lube
Choose a high-quality, water-based lubricant specifically designed for anal play. Avoid using oil-based or silicone-based lubes as they can degrade certain materials and cause irritation.
Apply Lube to Your Fingers
Pour a small amount of lube on the tip of your fingers. It's crucial to start with a thin layer of lube to prevent slippage and ensure a comfortable insertion.
Gently Apply Lube to Your Anus
With the lube on your fingers, apply it to your anus in a circular motion. Take your time and ensure the area is well-coated for smooth and easy insertion.
Add a Thin Layer of Lube to the Butt Plug
Before inserting the butt plug, apply a thin layer of lube to its surface. This will help the plug glide in more easily and stay in place during use.
Completely Inserting the Butt Plug
Relax and Take Your Time
Creating a relaxed and comfortable environment is essential for a positive experience. Take slow, deep breaths to relax your body and ensure you're mentally prepared.
Gently Push the Butt Plug In
Using gentle pressure, slowly push the butt plug into your anus. If you encounter any discomfort, pause and allow your body a few moments to adjust. Remember, patience is key.
Insert Until Fully Seated
Continue pushing the butt plug until it is fully seated in your anus. Ensure that the widest part of the plug has passed through the sphincter muscle. This will help prevent the plug from slipping out prematurely.
Give Yourself Time to Adjust
Once the butt plug is inserted, give yourself a few minutes to get accustomed to the sensation. If you experience any discomfort or pain, remove the plug immediately.
How Long Can You Wearing a Butt Plug in Public
Of course you can wear a butt plug all day long, as long as you take frequent breaks. Many people choose to wear a plug throughout the day to gradually stretch their anal muscles without even realizing it.
Wearing a plug for an extended period can be one of the most comfortable ways to relax your anal muscles, and it often provides a pleasurable experience. Those who wear a butt plug during the day often carry a small plastic bag and a tube of lube with them.
This allows them to remove the plug when necessary, such as during a bowel movement, and then reapply lube before reinserting it. They can store the plug in the plastic bag when they are finished wearing it
But please remember to take it out as soon as you feel uncomfortable!
Selecting the right butt plug for everyday wear is crucial to ensure comfort and enjoyment. When it comes to materials, I recommend silicone toys. Silicone is lightweight and adaptable, making it ideal for extended wear.
There are two primary shapes to consider: curved plugs for prostate stimulation and smaller plugs for focusing on the nerve endings around the anus.
Remember to choose a size slightly larger than you initially think, as the rectal walls have more capacity than the eye perceives.
Every butt plug consists of four elements: the top, the drop-off point, the neck, and the base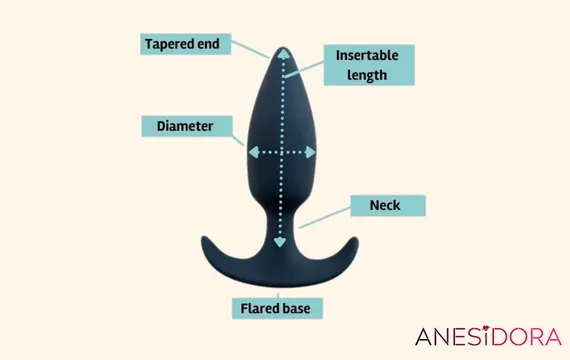 The Top
A tapered design is preferred for easy insertion. However, many plugs have a top that is too pointed, which can be uncomfortable and painful when sitting down.
To avoid discomfort, it is better to use a smaller plug or finger to stretch your anus before using a longer pointed one.
The Drop-off Point
This part is essential, and it should be tapered. A tapered drop-off point will allow you to remove the butt plug easily and comfortably. If the drop-off point is too flat, your sphincter muscles will squeeze the plug shut, making it challenging to remove.
The Neck
The neck should be at least 1.5cm long, but ideally around 3 to 4cm. This length allows your internal and external sphincter muscles to fit onto the neck of the plug comfortably.
A shorter neck will result in the internal sphincter being partially on the bulb, which can make it challenging to relax and keep the plug in place.
The Base
The base should be a T-shape to prevent the plug from being sucked in by the sphincter muscles. Should be wider than the neck, and there are two types: round and straight.
The ratio of the bulb, neck, and base is essential to consider when selecting a plug. A thinner neck will allow your sphincter muscles to relax, which can make it more comfortable to wear the plug for longer periods.
However, a thicker neck will provide more pressure on your sphincter muscles, making it more stimulating.
For more please read :