Description
Rose butt plug comes with a remote control for convenient and hands-free fun.
With 10 different vibration modes, this remote control butt plug offers a wide range of sensations to suit your mood and preferences. You can experiment with different modes to find the one that works best for you.
Remote control allows your partner to take control of your pleasure, adding an exciting element of surprise and intimacy to your play. It's a great way to explore power dynamics and trust in your relationship.
Whether you're flying solo or playing with a partner, this vibrating anal toy is perfect for enhancing your pleasure and adding some extra excitement to your playtime.
USB rechargeable means you don't need to worry about running out of batteries in the middle of your play. You can simply plug it in and let it charge for a hassle-free and enjoyable experience.
Waterproof design makes this butt plug suitable for unrestricted play, whether you're taking a relaxing bath or exploring the depths of the ocean. It also makes cleaning the product a breeze.
Super-smooth silicone and tapered tip make insertion easy and pleasurable, even for beginners. You can enjoy the sensation of being filled up and stretched in a comfortable and enjoyable way.
Whisper-quiet means you can use it with confidence even in shared houses. You don't need to worry about anyone hearing your pleasure, which adds an extra layer of privacy and security to your play.
Be sure to use water-based anal lube too, for maximum comfort.
Don't miss out on our limited-time sale on this Anesidora vibrating anal toy! Order now and experience a new world of pleasure.

Material: Medical Grade Silicone
Allergens: Latex-Free, Phthalate-Free
Features: Waterproof, Rechargeable
Vibration Mode: 10 Vibrating Modes
Waterproof: IPX7 Rating, Submersible
Power Type: Magnetic USB Rechargeable
Charging Time: 1 hour
Run Time: 90 minutes
Circumference: 1.6 inches / 4 cm
Length: 5 inches / 12.5 cm
Insertable Length: 3.9 inches / 10 cm
Flexibility: Firm
Women and men are biologically different in many ways. Women have ample bosom, stretchy vaginas, and spuare rumps, while men have sexy Adam's apples, male penis, and muscly waists. But no matter which gender, there is one thing in common-we all have an anus.
Although the anus is independent of the genital system, it can bring more intense orgasms than your penis.
In this article, we will show you the panorama of butt plugs, and explore the universe Buckle up!
Are you considering buying a butt plug but don't know where to start? With so many options on the market, it can be overwhelming to choose the perfect one for your needs. Luckily, we've got you covered with these 5 essential tips for selecting the right butt plug for you…
Every time we learn more about the erotic industry, our moral boundaries are pushed. As the 'movement' progresses, anal sex is no longer taboo, let alone limited to homosexuals. This inspired me to write a guide on how to use anal toys for a beginner
Anal toys is becoming more and more popular among heterosexual and lesbian couples. There are so many pornographic films featuring anal sex, and search engines are full of information about anal sex.
Still, there's no denying that men are more obsessed with anal sex than women, and women are more fearful of it.
Anal toys are an excellent way to add new dimensions of pleasure and excitement to one's sexual experiences. It's important to know how to clean anal toys While most people are aware of the need to clean their anal toys, not everyone knows the best way to do it. Educate users on the best practices for cleaning them, to reduce the risk of infection, STIS, skin irritation, and other health problems.
The tail butt plug world is a fascinating one, and you're in the right place to learn more! In this article, we'll guide you through the process of DIY a tail plug, starting from choosing the right plug and tail, to drilling a hole, shaving the hair, and wrapping it up. We will show you how to make your own tail . So let's get started!
Customizing a tail for butt plugs can be a fun and creative process. Here are some DIY tips to help you get started: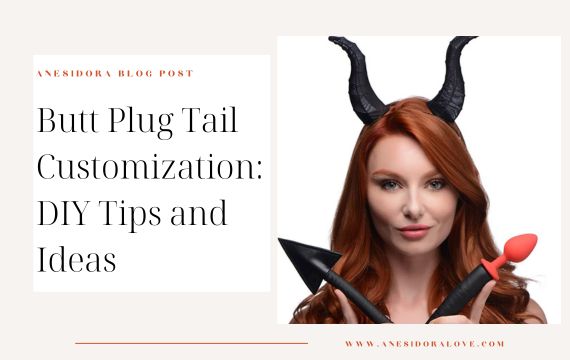 Frequently Asked Questions