Clitoral Sucking Toy
Clitoral Sucking Toy are vibrators with suction cups. It can use to stimulate sensitive areas such as nipples and clitoris.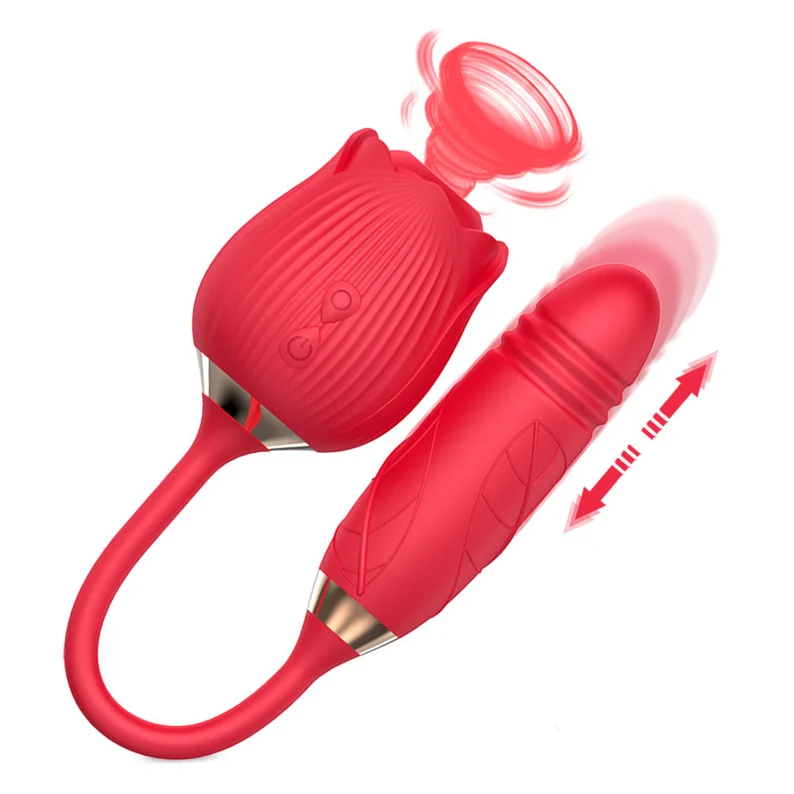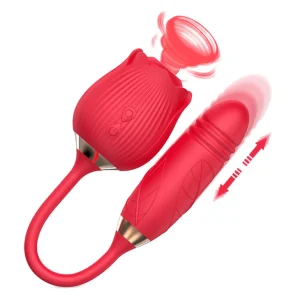 Blue, Green, Red, Rose Red
$

89.99
Introducing our latest 3-in-1 Rose Vibration with Thrusting Bullet Vibrator! Enjoy the ultimate pleasure of oral sex with its clitoral sucking toy function, which can also be inserted for G-spot stimulation or used anally. The Rose Toy features 10 intense sucking and vibration modes that allow you to switch at will, ensuring you reach orgasm in no time.
Use Code

SAVE15

to get extra 15% off now
3-in-1 clit sucking toy, G-spot vibrator & active thrusting bullet
10 intense sucking & vibration modes switch at will
Medical grade silicone, safe and silky smooth
IPX7 waterproof design for use in the shower or bathtub
USB magnetic charging for long-lasting pleasure
Charging time: 1h; Average use time: 50 minutes.
Mute design with noise index <50db
Discreet shipping with no suspicious tags/words
Responsive customer service for any concerns or questions
What is a clitoral sucking toy?
Clitoral suction toys are toys that help a woman's clitoris to have a stimulating experience. They create airflow and pressure around the clitoris, which promotes blood flow to the area. This leads to increased sensitivity and brings about orgasm.
How to use clitoral sucking sex toys?
Clitoral sucking toys can be used alone or with a partner.
Relax your mood, mind and soul. Do anything that helps you relax, such as music, watching pornography, lighting candles to create a relaxing atmosphere.
Explore your sensitive areas. Before you use it on your clitoris, try using the clitoral sucking toy on your other sensitive areas such as your armpits, inner thighs, feet, etc.
Use it together with lubricant. Lubricants can reduce friction and increase pleasure, creating the conditions for you to reach orgasm faster and stronger.
Debug the mode that suits you. Start slowly and try all the functions as well as the intensity of the vibration. Try positions that work for you from different angles.
Start your work. As you guide the toy to your sweet spot, you can also slowly switch the vibration frequency to rub your clitoris for greater stimulation.
By this time, you should have mastered instant orgasm. If you want to delay your orgasm, you can try stimulating yourself until you get close to orgasm, then back off and let yourself cool down. Stimulate yourself again and then cool down. Repeat this process until you can't take it anymore.
Once you're done, don't forget to clean your clitoral sucker properly.
Dermatologists and sexologists agree that sex toys can spread STDs if they are not properly cleaned and disinfected, especially if they are used by multiple people. Even if you use a clitoral sex toy alone, you should take the time to clean and disinfect it.
Wash sex toys with fragrance-free soap or toy cleaner Since the clitoral suction cup is electric, you can't put it in water. You can use a non-fragranced soap or toy cleaner and then wash the soap off with warm water. The ingredients in scented soaps can interfere with the natural pH balance of the vagina and increase the risk of yeast infections, so a fragrance-free soap is best.
Wash dry or dry naturally After cleaning your clitoral sucking toy, dry it again with a soft towel. Make sure the towel or cleaning cloth does not stick to the surface of the toy, or you can choose to dry it naturally.
Storage Sex toys need air and breathing space, so an airtight, humid environment is not suitable for storing sex toys. Satin and silk are highly breathable materials that will keep your sex toys dry while ensuring plenty of air circulation.
How to choose a sex toy?
Silicone is widely considered to be the best body-safe material for sex toys. Sex toys made of metal or glass are the next best. As a general rule of selection, you should avoid sex toys made of porous materials because they have microscopic holes that can harbor millions of germs and bacteria. Non-porous materials are the best because you can easily clean them without worrying about germs and bacteria hiding in the microscopic pores.