Anal toys are genderless. Their appearance may be because of men, but with the advancement of social ideas, anal toys are becoming more and more accepted by people of different gender. So, if you're interested in anal toys, just go ahead, no matter which gender you are. In this Article,we will provide an indepth guide on what is and how to use anal sex toy.
Table of Contents
What Are Anal Sex Toys?
Anal toys are sex toys that designed to please anus. They have nothing about gender, as long as you have an asshole, you can use them.
Anal toys encompass a variety of options such as butt plugs, anal beads, anal dildos, prostate massagers, and more.
Most anal toys have a flared base, which is for security reasons. Without a safe base, the rectum will suck the toy into deeper due to its vacuum effect. If that should happen, you would seek the professional doctor for help.
There are many anal toys on the market that can satisfy the preferences and experience of women. Let us discuss some popular types:
If you're new to anal play and want to explore at your own pace, an anal training kit is an excellent starting point. These kits include a range of butt plugs in different sizes, allowing you to gradually stretch and train your body safely.
Begin with the smallest plug, and as you become more comfortable, move on to the next size. This gradual progression helps prevent overstretching and promotes a pleasurable and comfortable experience.
Anal dildos resemble traditional dildos, but they are specifically crafted for anal play. They feature a sleek and tapered design, facilitating effortless insertion and maneuverability. Available in a range of sizes and materials, anal dildos cater to diverse preferences and experience levels.
For more please read :
One popular type of anal toy is anal beads. These toys consist of a chain with graduating beads of various sizes and shapes. Yhey are particularly suitable for beginners as you have full control over how far you insert them.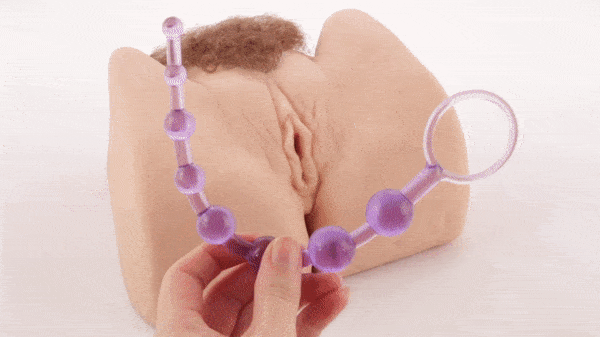 Even one or two beads can provide a pleasurable experience. Designed to stimulate the nerve endings at the opening of the anus and the sphincter muscles, anal beads can be left in place, moved in and out during play, or inserted at the point of orgasm for heightened pleasure.
Butt plugs offer a different sensation compared to anal beads. Instead of moving the toy in and out, you insert a butt plug, and it stays in place, providing a sense of fullness, stretching, and pressure. Butt plugs can be used in conjunction with other toys or during oral sex and partnered activities.
They come in various sizes, from petite options to larger ones. Remember, regardless of size, a butt plug should have a bulb, a thinner neck, and a flared base to ensure safety and prevent any mishaps.
For those with a prostate, they offer targeted pleasure. While various anal toys can indirectly stimulate the prostate, these specialized toys are designed specifically for that purpose. Look for a prostate massager with a bulbous or curved tip, as it will provide optimal stimulation.
Size isn't as important as the right shape and direction. You can find prostate-specific toys that are small and non-intimidating, making them suitable for beginners.
To add an extra layer of pleasure, consider vibrating anal toys. Vibrating butt plugs, anal beads, and prostate massagers can intensify the stimulation by reaching deeper into the body and activating more nerve endings. Moreover, the vibrations can help relax the anal muscles, allowing for easier insertion of larger toys or enhanced partner play. Experiment with different vibration settings to discover what works best for you.
For more please read :
Inflatable anal toys offer the ability to adjust the size to suit individual preferences. These toys have a bulb or pump that inflates the toy once inserted, providing a customized experience. Inflatable anal toys are popular among individuals who enjoy experimenting with different sensations.
For more please read :
Strap-ons are versatile toys that can be used for both vaginal and anal penetration. By utilizing a harness and a compatible dildo, anyone can engage in strap-on play, regardless of their anatomy.
Strap-ons are particularly popular for anal stimulation and can be a powerful tool for stimulating the prostate. Whether you're exploring with a partner or engaging in solo play, strap-ons offer a thrilling and fulfilling experience.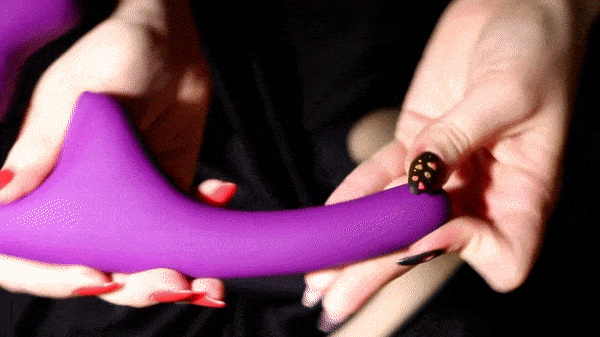 For more please read :
Benefits of Using Anal Sex Toy
Physical Pleasure and Sensation
One of the key advantages of using anal toys is the physical pleasure and sensation they offer. The anus possesses numerous nerve endings, and when stimulated, it can elicit intense and pleasurable sensations. Anal toys, such as butt plugs or anal beads, can enhance stimulation and contribute to more satisfying sexual experiences.
Exploration and Self-Discovery
Engaging in anal play with toys allows women to explore their bodies and discover new erogenous zones. It presents an opportunity for self-discovery and exploration, enabling individuals to discern their preferences and discover what brings them pleasure. This exploration can lead to a deeper connection with oneself and a better understanding of personal desires.
Intensifying Orgasms
Using anal toys can intensify orgasms for women. The stimulation of the anus can create a unique sensation that can lead to powerful and more intense orgasms. Adding anal toys to one's sexual repertoire can bring a new dimension of pleasure and excitement to intimate moments.
Enhanced Stimulation for Both Partners
Anal toys can also benefit couples by providing enhanced stimulation for both partners. During penetrative sex, the presence of an anal toy can add a new level of excitement and pleasure. It can stimulate the vaginal walls and increase clitoral stimulation for the receiving partner, while the giver can experience heightened pleasure through the added tightness and pressure.
Strengthening Pelvic Floor Muscles
Certain types of anal toys, such as Kegel balls or anal beads, can help strengthen the pelvic floor muscles. The insertion and retrieval of these toys require the engagement of the pelvic floor muscles, which, over time, can help improve muscle tone and enhance sexual satisfaction. Strong pelvic floor muscles also have additional benefits, such as improved bladder control and postpartum recovery.
How to Choose Safe Anal Toys?
When choosing anal toys, there are some factors should be considered:
Size and Shape
Choose a toy size and shape that matches your experience level and personal preferences. Beginners should start with smaller toys and gradually work their way up to larger sizes. The shape should be designed for easy insertion and optimal stimulation.
Material
Anal toys are available in various materials, including silicone, glass, metal, and rubber. Among these materials, the nonporous and hypoallergenic is the most important factors.
And silicone toys are a popular choice due to their body-safe, nonporous, smoothness, and compatibility with water-based lubricants.
Safety and Comfort
Always prioritize safety and comfort when choosing an anal sex toy. Look for toys with flared bases to prevent accidental insertion. Additionally, using high-quality lubricants designed for anal play will ensure a smooth and pleasurable experience.
For more :
Dr. Rena Malik is a urologist and pelvic surgeon who has expertise in the diagnosis and treatment of conditions related to the urinary tract and male and female reproductive systems.
She has given talks and lectures on various topics related to urology and sexual health, including masturbation.
How to Use Anal Toys
If you're inexperienced with anal play, it's crucial to approach it patiently, while maintaining a relaxed state and promoting open communication. Here are some helpful tips for beginners:
Relaxation and Communication
Create a relaxed and comfortable environment before engaging in anal play. Engage in open communication with your partner about desires, boundaries, and expectations. Building trust and establishing consent is crucial for a pleasurable experience.
Gradual Exploration
Start with smaller toys or anal beads to gradually introduce anal stimulation. Don't ignore any signal sent by your body. If at all you feel any discomfort or pain, pause and reassess. It's important to proceed at a pace that you feel comfortable.
Proper Lubrication
Using an ample amount of lubrication is key to a pleasurable and safe experience. The anal region does not naturally lubricate like the vagina, so a water-based lubricant is essential to reduce friction and enhance comfort. Reapply lubrication as needed during play to maintain smoothness.
For more please read :
How to Clean and Maintain Anal Sex Toy?
Most people think cleaning sex toys is a last step in sexual experience, but actually, it is the first and most important step. Since the anus is delicate, maintain good health habits can help women away from bacterial infections. Apart from that, promptly cleaning can prolong the sex toys' lifespan and save you the cost of buying sex toys.
Cleaning sex toys is easy, but the cleaning methods with different materials are different. For nonporous materials like glass, stainless steel, just clean them with warm water and mild soap, then thoroughly rinse and dry them to maintain their hygiene.
Silicone anal toys can be sanitized by boiling them in hot water for approximately five to ten minutes. Alternatively, you can seek a dishwasher for help. Remember to use antibacterial soap and wipes to maintain cleanliness.
For electrical toys, please ensure they are unplugged before cleaning. Use a damp cloth with mild soap to wipe the surface. Do not submerge any electrical parts in water. Allow the toys to dry completely before using them again.
For anal toys made of porous, you can sanitize with special cleaner to thoroughly clean them, otherwise it may grow the bacteria.
By following these cleaning practices, you can enjoy your toys with peace of mind, knowing they are safe and sanitary.
For more please read :
Conclusion
Always keep in mind to explore and savor your anal sexual encounters in a manner that brings you comfort and pleasure. Anal toys have the potential to introduce excitement, pleasure, and intimacy into your life, but it remains crucial to prioritize your well-being and maintain open communication with your partner. Happy exploring!