For the past year, ANESIDORA has been focusing on individual pleasure by introducing masturbation toys for different genders and ages. While we have always emphasized not sharing these personal sex toys with partners for health reasons, we recognize that many believe sharing sex toys can enhance their relationships. That's why we launched several sex toys this year that can be shared with partners, including strapless strap-on dildos.
What is a Strapless Dildo?
But what is a strapless strap-on, you ask? Let's start with traditional strap on harness. Since their inception, strap-ons have been a popular choice for many lesbians who want to penetrate their partners but lack a penis. However, traditional strap-ons typically have only one shaft, leaving one partner unsatisfied. If you're tired of using multiple sex toys, consider switching to a strapless strap-on.
A strapless strap-on, a Types of Dildos. Also known as a double-ended strap-on, is a kind of couple's sex toy that can stay in your vagina without harnesses or straps. The Kegel muscle controls the device instead.
Good pelvic muscle can help strapless dildo stay more stable. If you want to learn more about Kegel muscle, please see our Unleash Your Inner Strength: A Guide On How To Use Kegel Balls
In addition, a double-ended strap-on has two shafts, which allows you to stimulate your partner simultaneously.
There are plenty of strapless in the market at present, which provide comprehensive options. But choosing a suitable one for oneself is overwhelming for customers, and all you depend on is luck. So, to let consumers have a quick understanding of our strapless strap-on, we have done a comprehensive evaluation of Teicu- strapless dildo , hoping to help you.
What Will We Test Strapless Dildo?
Our tests are including these aspects:
Design
Material
Size and weight
Power
Waterproof
Design
Teicu has a sleek design with a shape that resembles a seahorse. Each part of the toy is designed for a specific purpose, with the shaft tip for flattering the partner and the back end for massaging the wearer's clitoris and vagina. Each stimulation point has some slightly raised ridge lines to enhance pleasure.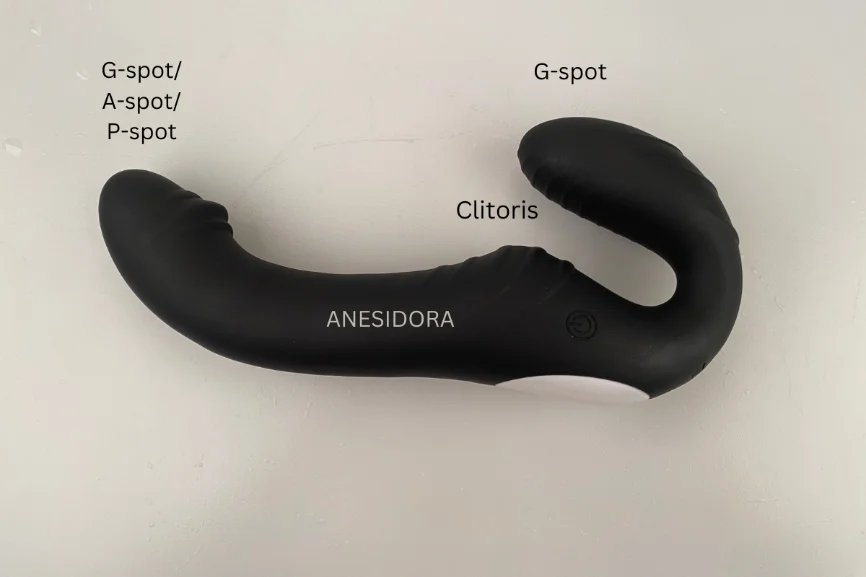 Material
The entire body is consist of high-quality medical-grade silicone, which is safe and odourless. The adjustable angles help get the right fit for you both.
Side note: Real silicone can withstand fire and will not melt or break. Real silicone can withstand fire and will not melt and break. It may blacken but will return to its original state when wiped with a damp cloth.
We burned the Teicu with a lighter for ten seconds, and it was still intact!
Size & Weight
Size is another important consideration when choosing a strapless strap-on, and Teicu offers a moderate size that is suitable for a range of different body types and preferences.
The total length of the Teicu is 19 cm, of which the size for stimulating your G-spot is about 7 cm, and the length of the shaft for stimulating the other person is 11 cm, which can effectively stimulate the sensitive points of you and your partner. Its size and width are wonderful for optimal stimulation and comfort, making it a great option for both beginners and experienced users.
In addition, many people are very concerned about the weight of the strapless strap-on. As there is no harness to help, it is only your pelvic muscles that can hold the vibrator. This is where the weight size of the sex toy becomes particularly important. This vibrator weighs 204 g. If you are not sure whether you can stand with the weight, you can find an equal-weight banana at home to try out.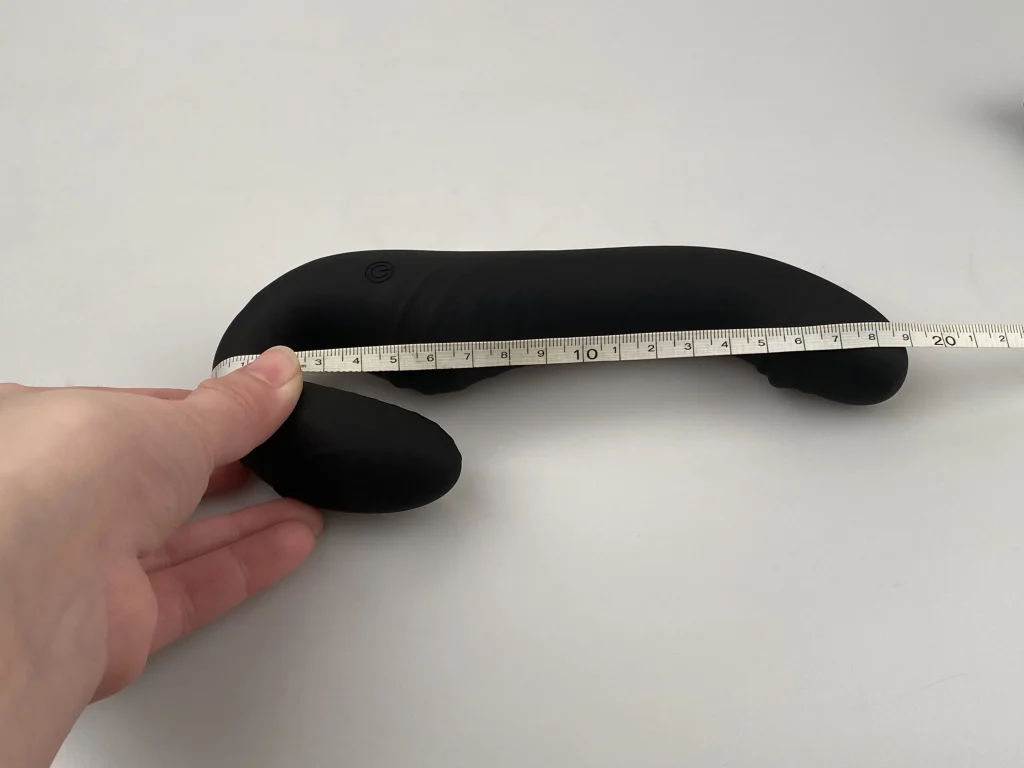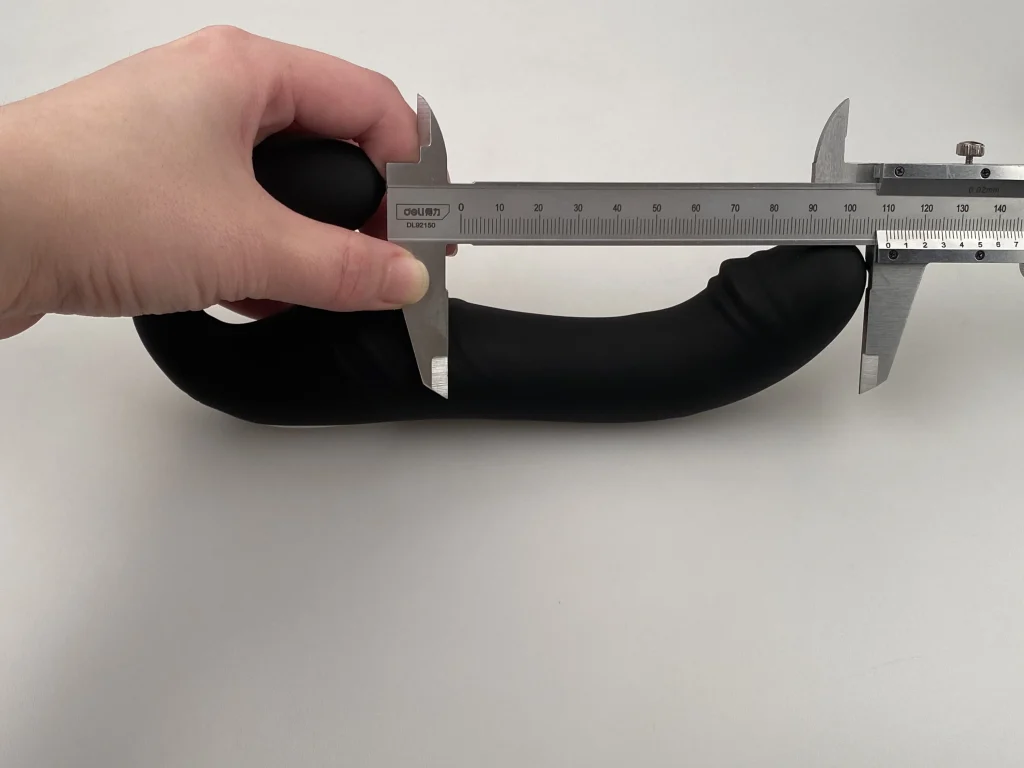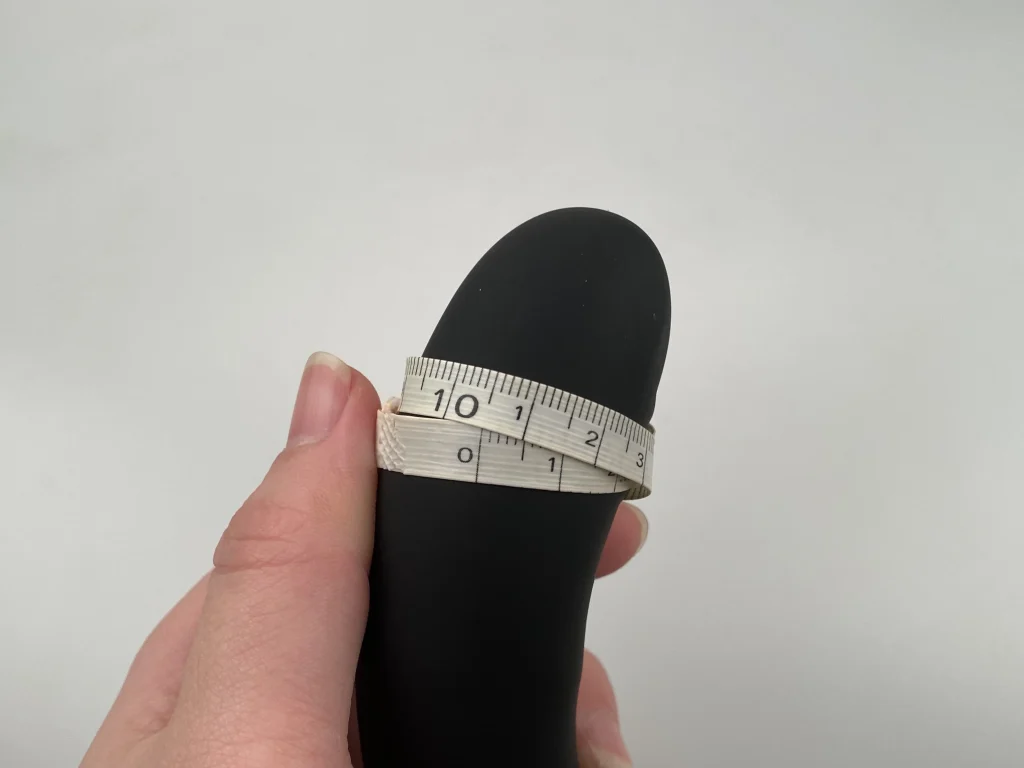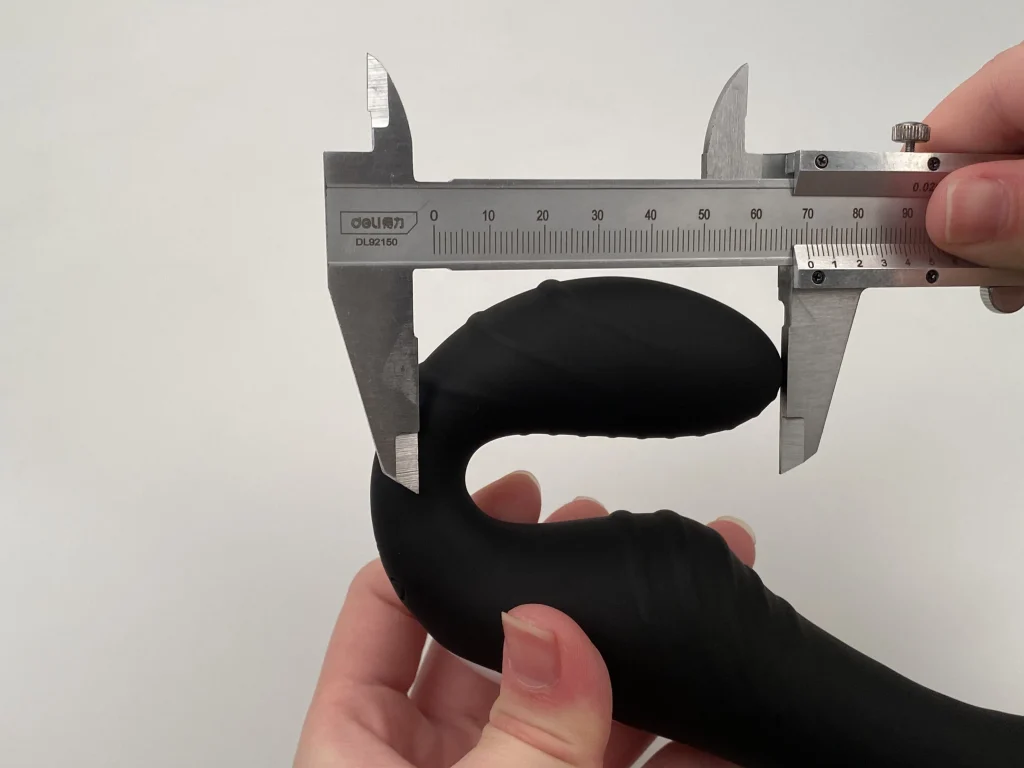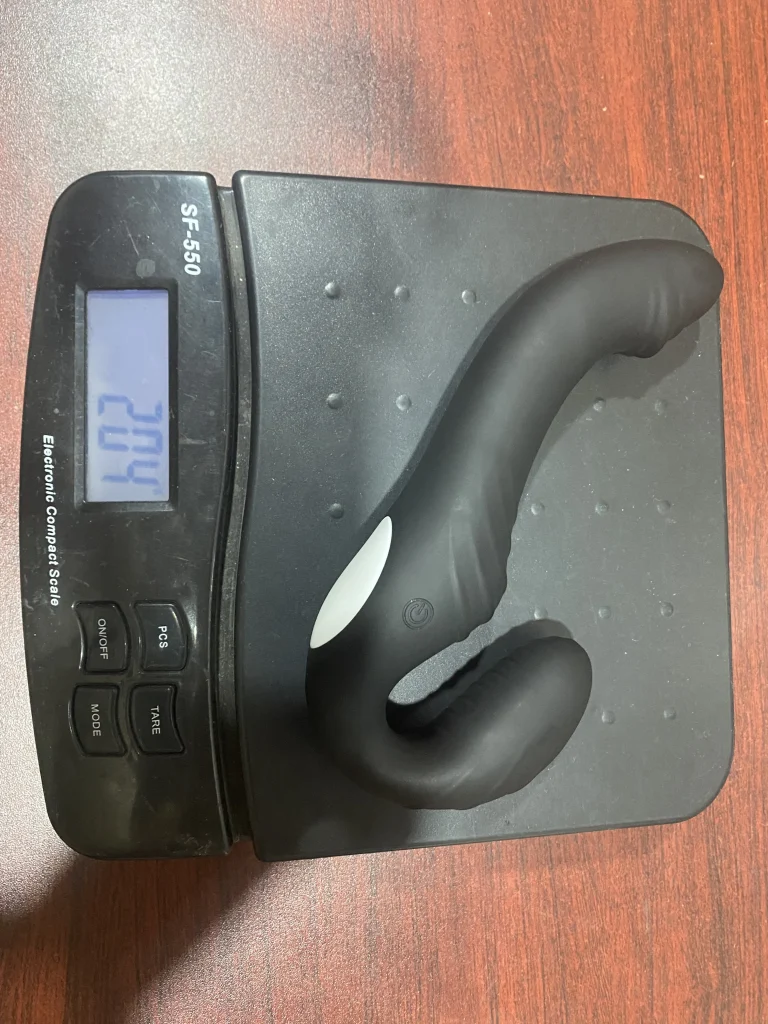 Power
The toy is an excellent choice for those couples who like to be efficient. As you can see from the GIFs, this toy has powerful motors both front and rear. But it can also be very gentle for those who like to be gentle.
Waterproof
The one-piece body makes it excellently waterproof, and the non-porous nature of the silicone material makes it fearless of moisture in the bathroom or sauna, so you can use it in water with confidence. Although it is waterproof, do not leave it submerged in water for long periods of time. This will reduce its lifespan in the long run.
How to connect with the remote control?
This strapless dildo equips with a small remote control that can help you easily switch the vibrating modes. Firstly, install the battery. Next, double click the on/off button, and you will see the indicator light on. Last but not least, press the vibrator button to activate it.
Preparing for Use
Before using a strapless strap-on, it is important to prepare both yourself and the toy.
Communicate with your partner
Using a strapless strap-on requires communication and trust between partners. Make sure to communicate your needs and desires with your partner before and during play. This will help ensure that you both have a pleasurable and enjoyable experience.
Keep Hygiene
Many partners think that sex toys only need to be cleaned after use, but they do not realize that cleaning before use is equally important. Cleaning sex toys before usage can effectively remove the dust accumulated on the surface of the toy during storage, and protect the safety of you and your partner.
For more,Please read:
Lubrication is Key
Lubricant is essential when using a strapless strap-on to reduce discomfort and enhance pleasure. Apply a water-based or silicone-based lubricant to both ends of the toy before use. It is also recommended to have extra lube on hand in case you need to reapply during play.
Getting Comfortable with the Strap-On
It is crucial to get comfortable with the strapless strap-on before using it for penetration. Try wearing it around the house for a few minutes to get used to the weight and feel of the toy. You can also practice thrusting motions to ensure that you can control the toy during intercourse.
How to Wear a Strapless Dildo?
To wear a strapless strap-on, you have two options, either insert the shorter end into the vagina or your butt. And hold it in place with your pelvic muscles or anal muscles. Ensure the longer end points upwards towards your partner's body. If you have difficulty keeping the toy in place, you can lie down and ask your partner to take the ride-on position.
Hands-free: Strapless dildos are designed to stay in place without the need for straps or harnesses, allowing for a more natural and intimate experience. This can be particularly appealing for couples who want to engage in penetration without the distractions or restrictions of straps.
Shared pleasure: With a strapless dildo, both partners can experience pleasure simultaneously. The wearer can enjoy the sensation of being penetrated while also being able to penetrate their partner, creating a more intimate and connected experience.
Variety of positions:Offer greater flexibility when it comes to sexual positions. Since there are no straps or harnesses to get in the way, couples can experiment with a wider range of positions and angles.
For more Please read :
Disadvantages of Using Strapless Dildos
Stability: Can be more difficult to keep in place than traditional strap-on dildos. The lack of straps or harnesses means that the wearer must rely on their pelvic muscles to keep the toy in place. This can be challenging, particularly for those who are new to using strapless dildos.
Size and weight: Strapless dildos can be heavier and bulkier than traditional dildos, which can make them more challenging to maneuver and control during sex. They may also be more difficult to insert or remove due to their size and shape.
Comfort: Some people may find that are less comfortable than traditional strap-on dildos. The pressure and friction caused by the toy rubbing against the wearer's pelvic area can be uncomfortable, particularly for those with sensitive skin.
For More Please read Strap-on vs Strapless Double Dildo: Which One Is Right for You?
Detail Information of Teicu – Strapless Dildo Strap On
Teicu is a strapless strap-on designed by ANESIDORA that is specifically crafted to offer a unique and pleasurable experience for both partners. A versatile option for a range of different sexual experiences, this innovative sex toy stimulates the G-spot, clitoris, and P-spot.
With 10 different vibration frequencies and 3 different speeds for each frequency, users can easily customize the intensity and sensation of their experience. This allows for a more personalized and enjoyable experience, whether used alone or with a partner.
It has two control modes: button and remote control. The remote control makes it easy for you to switch vibrating modes during intercourse and enhance the enjoyment of sex.
Anesidora strapless pegging toys
Conclusion
Strapless strap-ons are most suited to f/m and f/f couples. If you still haven't owned one, it is time to get one. There are two best times to buy it, one is ten years ago, and the other is now. Purchase strapless strap-ons with our special EASTER code now!
If you are also interested in other sex toys, welcome to visit ANESIDORA online store. We provide a wide range of sex toys that can definitely meet most of your needs.
FAQS
Can I use a strapless dildo for anal play?
Yes, some strapless dildos are designed for anal play, but you should make sure to choose one with a flared base to prevent it from getting lost inside your anus. Also, always use plenty of lube and go slow to avoid injury.
Do I need a partner to use a strapless dildo?
No, you can useit by yourself for solo play or masturbation. However, using a strapless dildo with a partner can enhance the experience and make it more intimate.
Can I share my strapless strap on with my partner?
Yes, you can share your toy with your partner, but you should make sure to clean it thoroughly before and after use to prevent the transmission of bacteria or STIs.
How do I clean it?
You should always clean your toy thoroughly with soap and warm water or a specialized sex toy cleaner before and after use. If your toy is waterproof, you can also submerge it in water for a more thorough cleaning. Avoid using harsh chemicals or abrasives that could damage the material.
Can I use silicone-based lube with my strapless strap on?
It depends on the material of your toy. If it's made of silicone, you should only use water-based lube to prevent the material from degrading. If your toy is made of a different material, you can use silicone-based lube, but always check the manufacturer's instructions to make sure.
What if the dildo keeps slipping out?
If your strapless dildo keeps slipping out, try using more lube or experimenting with different positions to find one that works better. You can also use your hands to stabilize the toy during use, or consider using a strap-on harness for added security.
How do I store my strapless strap on?
You should store your dildo in a clean, dry place away from direct sunlight and heat sources. Avoid storing it with other toys that could damage or contaminate it. If possible, keep it in its original packaging or in a specialized storage bag to protect it from dust and debris.