Are you upset when you realize you cannot completely satisfy your female partner? Or have you ever longed to peg your male partner from backward? I should admit that these thoughts have been buried in my heart like seeds for a long time, and they are just waiting for the right time to germinate. Thankfully, the sex toy industry creates some best strapless strap-ons to help my seeds become saplings. As a sex toy that can satisfy the sexual desires of both at the same time.
Strapless dildos are in favor of many users for their marvelous design. If you are interested in this type of sex toy, let's dig deeper.
Trust Us – Here's Why
To provide comprehensive and reliable information for this article, We collaborated with renowned sex experts from Anesidora.
Their extensive knowledge and experience, with a remarkable record of reviewing over 50+ strapless dildos, set them apart from the rest. The panel of experts conducted rigorous testing on numerous strap-ons, prioritizing essential factors to ensure an exceptional pegging experience.
From the quality of the dildo material to the inclusion of unique features and overall versatility, every aspect was meticulously evaluated.
Table of Contents
10 Best Strapless Strap-Ons of 2023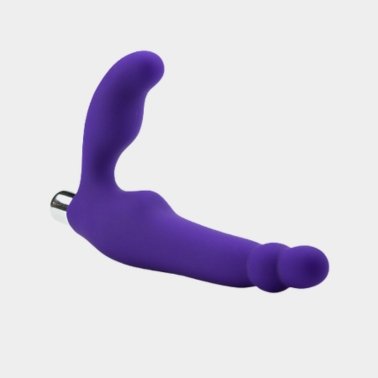 The Beginner Strapless Strap-On is made from high-quality silicone, ensuring an exquisite experience with every use. The bulged design of the toy creates fulfilling G-spot pressure, amplifying your pleasure to new heights.
Its smooth texture allows for effortless gliding, reducing the need for excessive lubrication. Additionally, this strap-on prioritizes your safety and comfort with its food-grade material, hypo-allergenic properties, and latex-free and phthalates-free composition.
Moreover, the non-porous material ensures that no bacteria will be harbored, making it easy to maintain and clean. The captivating purple color adds a touch of elegance to this already remarkable product.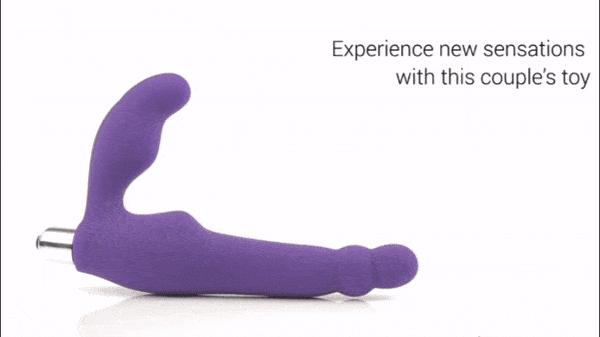 For added convenience, this toy comes with a removable bullet, allowing you to experience buzz-free play whenever desired. The inclusion of batteries ensures that you can start enjoying your toy immediately.
Price:$19.99
Cons
---
Budget friendly
Rookie friendly
Non-porous material
Switching roles easily
Easy to clean
It has a removable bullet vibrator.
Pros
---
Might be too small for experienced user
The vibrations are faint
This strapless strap on is available in two colours, pink and black, which means it can suit your aesthetic preferences whether you are male or female. The Tara strapless strap on is made of high-quality silicone that is smooth to the touch. The bulbous tip and the slightly raised coronal ridge can give you a more realistic experience.
For the wearer, the girth at the shorter end is slim but long enough to stimulate the G-spot. Also, the smaller pony will not cause mobility difficulties.
The T-ara has a posable joint, which allows you to adjust the shaft to achieve the perfect angle. So no matter what position you will take, it's very flexible. In addition, T-ara distributes many small particles near the clitoris. These raised dots can increase friction, allowing the wearer to get double excitement.
The T-ara strapless strap on has 3 built-in motors and 10 vibration frequencies, detonating your sensitive nerves in all directions. The remote-control design frees your hands and allows you to devote all your attention to sex. This is a strapless strap on that no matter novices or experienced veterans can master.
Price:$49.99
Pros
---
Waterproof for bath games
G-spot, P-spot stimulation
Powerful 9-vibration settings
Firm but flexible
Handy controller
Cons
---
Attracts lint and dust
No storage bag
When it comes to strapless strap-ons, Teicu stands out with its sleek and seahorse-shaped design. Each element of this toy serves a specific purpose, ensuring an unforgettable experience for both partners.
The shaft tip is designed to please the receiving partner, while the back end focuses on stimulating the wearer's clitoris and vagina.
To enhance pleasure, each stimulation point features slightly raised ridge lines.
Crafted from high-quality medical-grade silicone, Teicu boasts a body that is safe and odorless. Its adjustable angles allow for a customized fit, ensuring maximum satisfaction for both partners.
Size is a crucial consideration when selecting a strapless strap-on, and Teicu delivers with its moderate dimensions, catering to various body types and preferences.
The overall length of Teicu is 19 cm, with approximately 7 cm dedicated to stimulating the G-spot and 11 cm for pleasuring the partner.
This effectively targets sensitive areas for both individuals involved. The size and width of Teicu are carefully designed to optimize stimulation and comfort.
Weight is another critical factor to take into account when choosing a strapless strap-on. As there is no harness to rely on, the vibrator relies solely on the user's pelvic muscles for support. Hence, the weight of the sex toy plays a crucial role. Teicu weighs in at 204 g, striking a perfect balance between efficiency and gentleness.
Teicu's one-piece body design ensures excellent waterproofing, making it fearlessly enjoyable in bathrooms or saunas. The non-porous nature of the silicone material adds an extra layer of durability and peace of mind. While it is waterproof, it's important to avoid leaving Teicu submerged in water for extended periods as this can reduce its lifespan.
Price:$49.99
Pros
---
Firm but flexible
Powerful vibrations
Handy wireless remote control.
The curved design enhances precision.
It's 100% waterproof.
Cost-effective
Family
---
The dildo could be longer
For more,please read: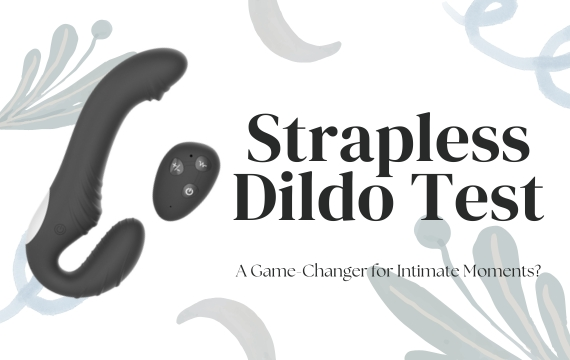 Tyche is an outstanding option specifically designed for those new to strapless strap-ons. With its non-realistic design, this dildo features a smooth texture along the shaft, accompanied by a few strategically placed lumps. While the bulbous pony might require a slight adjustment, its soft consistency ensures a beginner-friendly experience.
One of the standout features of Tyche is its vibrator, equipped with a bullet vibe that slides into the base, delivering maximum pleasure through vibrations.
Notably, this vibrator offers an impressive range of options with 10 vibration patterns, allowing for an exciting exploration of sensations.
Like other strapless strap-on dildos, getting the toy to remain securely in place may take some practice and patience. Additionally, some users may find the width of the pony to be slightly challenging at first, as it requires a period of adjustment and familiarity.
So, why is Tyche considered the best strapless strap-on for beginners? First and foremost, it offers exceptional ease of use and retention compared to other strapless strap-ons we reviewed. The affordable price of $49.99 makes it an accessible choice for newcomers to the world of strap-ons.
Furthermore, the removable bullet vibrator gives you the freedom to decide.
Price:$49.99
Pros
---
Multi-speed bullet vibrator
Posable
Budget friendly
Soft material for easy use
Quite
Cons
---
Requires some practice and patience
Can't choose color
Bulb is too small for some
Are you in search of an unparalleled and realistic experience? Look no further than Lifelike Lover Luxe, the finest strapless strap-on available! Crafted from velvety-smooth silicone, this 9″ double-sided dildo is designed to provide an incredibly lifelike feel. Featuring human-like veins running from the tip to the base, a tapered head, and a well-defined coronal ridge, it embodies the authentic characteristics of a natural penis.
As its name suggests, Lifelike Lover Luxe introduces an innovative posable joint that connects the shaft and the internal pony. This unique feature allows you to effortlessly adjust the angle and position of the dildo with a simple squeeze. Its exceptional flexibility ensures that individuals of all body shapes and sizes can relish the pleasure of dual stimulation.
With a circumference of 4.25″ and a usable length of 3″, it strikes the perfect balance between size and comfort. The contoured design ensures that it delivers exquisite internal stimulation, making the experience enjoyable for both the wearer and the receiver.
While Lifelike Lover Luxe excels in various aspects, it does have one minor drawback. The dildo does not stay securely in the set positions, which can be somewhat frustrating. It may test your patience at times, requiring occasional readjustments during use.
Price:$59.99
Pros
---
Realistic design
100% waterproof.
Precision is enhanced by the curved design.
Fully posable
Cons
---
Flexible core can lose shape when in use
Limited choice of skin tones
If you're searching for an exceptional sexual experience, the Happy Rabbit Dual-Stimulating Strapless Strap-On is the ultimate choice. This innovative silicone-made sex toy offers a unique design that combines thrilling clitoral stimulation with satisfying G-spot pleasure.
The Happy Rabbit Dual-Stimulating Strapless Strap-On features a remarkable set of bunny ears beyond the shaft-pony joint. These bunny ears deliver intense clitoral stimulation, providing you with mind-blowing orgasms.
Unlike traditional rabbit vibes, this strap-on allows the wearer to enjoy dual stimulation of the clitoris and G-spot simultaneously, elevating your pleasure to new heights.
The Happy Rabbit Dual-Stimulating Strapless Strap-On is equipped with a range of vibration settings to satisfy your every desire. The penetrative shaft features three vibration speeds and nine patterns, allowing you to explore a variety of sensations. On the other hand, the pony offers three vibration speeds, further enhancing your pleasure.
While the Happy Rabbit Dual-Stimulating Strapless Strap-On offers an exceptional range of features, it's worth noting a minor consideration regarding the rabbit ears. Some users have mentioned that the ears can be slightly stiff, lacking adjustable positions.
Furthermore, the ears do not possess the same rumbling vibrations as the pony and penetrative shaft. However, these minor drawbacks are easily outweighed by the overwhelming pleasure and satisfaction provided by this great sex toy.
Price:$99.99
Pros
---
Soft bunny ears for clitoral stimulation.
Multiple vibration
Easy-to-use and control
Position can be easily adjusted due to the flexible shaft.
Tapered tip promotes precise stimulation
Cons
---
I would have preferred a rechargeable remote control.
Buttons tricky to reach when in use
It's pricey – $99.99.
Vixskin Peacemaker, the largest strapless strapon on the market, offers an unparalleled experience for those seeking excitement and pleasure. With its impressive dimensions and lifelike design, this remarkable toy caters to experienced users who crave intense sensations.
Measuring a staggering 13 inches, Vixskin Peacemaker is a force to be reckoned with. The 6.5-inch insertable shaft provides a satisfying depth, while the 1.9-inch diameter offers a formidable test of one's limits.
The textured surface, adorned with pumped veins, a pronounced head, and a well-defined coronal ridge, enhances stimulation and intensifies pleasure.
At the tip, a lifelike penis head awaits, ensuring a realistic encounter. Although some individuals with sensitive vaginas may find it firmer than desired, the Peacemaker's design facilitates G-spot stimulation for the wearer, adding an extra dimension of pleasure to intimate play.
Vixskin Peacemaker, like other silicone strapless dildos, quickly adapts to your body temperature, providing a more natural and lifelike encounter. Within seconds, it warms up, seamlessly blending with your warmth for an immersive experience.
Additionally, the non-porous silicone material ensures hygienic usage, as it can be easily sterilized by boiling, giving you peace of mind during your intimate moments.
However, the price may be a significant factor that prevents people from buying Vixskin. It is essential to note that Vixskin Peacemaker falls on the higher end of the price spectrum, retailing at $132. While its quality and performance justify the investment, it may be considered steep by some potential buyers.
Price:$132.00
Pros
---
Realistic feeling
Lifelike textural and details
Handmade product
Unique
Cons
---
Can feel slightly tacky
Will most likely need a harness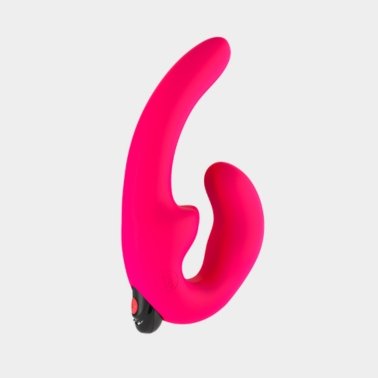 The Sharevibe designed to fit your curves perfectly, this vibrating double dildo becomes an extension of your own body. Delivering intense vibrations and heightened pleasure.
One of the distinctive features of the Sharevibe is its shorter bulb, specifically designed to provide exquisite G-spot stimulation and a sense of deep fullness.
With a touch of lubrication, you can easily insert the bulb and prepare to give your partner an unforgettable experience.
As an added bonus, the ridge at the base of the toy rests against the clitoris, delivering precisely the friction and vibration you desire. This dual stimulation ensures both partners experience an unparalleled pleasure.
The receiver of the Sharevibe is treated to a smooth and slim shaft, gently curved to target the G-spot or prostate effortlessly. The ergonomic design makes exploring new sensations and angles easy, allowing for a truly tailored experience.
Whether you're new to G-spot, prostate play, or a seasoned enthusiast, the Sharevibe's receiver shaft guarantees a satisfying journey every time.
The Sharevibe includes a removable rechargeable massage bullet vibrator that adds a layer of pleasure to your experience. The vibrator boasts five unique settings and is completely waterproof, allowing you to explore both internal and external erogenous zones.
Even when penetration isn't the primary focus, you can still indulge in the vibrating sensations and delight in the versatility of Sharevibe.
Price:$129.00
Pros
---
Design follows natural body contours
Made of smooth hypoallergenic silicone material
Powerful and quiet
It is easy to use and get the hang of
Completely waterproof.
Cons
---
Comes in at a high cost
Too big for first-time anal use
Attracts lint and dust
Might slip out without a harness
The Gal Pal Strapless Strap-On boasts an optimal length, crafted to cater to your deepest desires. Its design ensures that every thrust is both comfortable and satisfying.
With this remarkable toy, one partner can indulge in stimulating their G-spot.
while the other experiences pure pleasure from the remaining six inches.
Activate the Strapless Strap-On effortlessly with a simple switch located at the back. As it springs to life, you'll be captivated by the arousing vibrations that resonate throughout your body. This feature elevates the experience, intensifying pleasure for both partners. Discover the immense joy that awaits as the toy expertly enhances every intimate encounter.
Enhance your playtime beyond the bedroom with the Strapless Strap-On's waterproof design. Immerse yourself in a steamy shower or a luxurious bath while indulging in pleasure.
The versatility of this remarkable toy knows no bounds. Let your imagination run wild as you explore thrilling possibilities in various settings, taking intimacy to exhilarating new heights.
Price:$44.00
Single
---
Is an affordable price
Firm but flexible silicone
Beginner-friendly dildo size and shape
Great Material
Family
---
No vibration
Will be too small for more experienced users
Too short
Slips out without support
In the realm of strapless strap-on dildos, Desire Luxury reigns supreme as the epitome of pleasure and connection. With its impeccable design and innovative features, this deluxe double dildo will take your intimate experiences to new heights.
The first thing that sets Desire Luxury apart is its contoured design. With a bulbous consistency, it offers enhanced retention, ensuring a secure and pleasurable fit. The raised sections of the dildo provide excellent grip, allowing you to maintain control even during intense moments of passion.
Additionally, the curved head of the pony amplifies precise internal stimulation, heightening pleasure for both partners.
One of the standout features of this remarkable toy is the incredible closeness it brings between partners during penetration. Unlike harness models, a strapless dildo allows for a more intimate connection, intensifying the bond shared between lovers.
The tapered shaft of Desire Luxury ensures effortless insertion, catering to both experienced users and those new to the world of strap-on play. The dipped middle section, complemented by an overall curved design, facilitates targeted G-spot stimulation, making each encounter a euphoric journey.
Boasting an impressive 180˚ pony adjustability, this feature ensures optimal comfort and pleasure for individuals of varying body shapes and sizes.
While Desire Luxury shines brightly among its competitors, we must acknowledge a few minor issues we encountered during testing.
The size of this strapless strap-on can pose a challenge, requiring time and Kegel exercises to become fully accustomed to its dimensions. Additionally, the inability to operate each shaft independently might be disappointing for partners seeking different types of stimulation.
Price:$119.00
Pros
---
Impressive range of vibration combinations.
The flexible pony suits people of different body shapes and sizes.
Handy wireless remote control.
Ideal for aquatic play.
Cons
---
For experienced users
Expensive
What Is a Strapless Strap-On?
Strapless strap-on is different from the traditional strap-on. It does not rely on the harness to fix on the wearer.
But inserts the bulbous end of the strap-on into the vagina, and relies on the strength of the wearer's pelvic muscles to control the strapless strap on move.
The insertion design at both ends allows the wearer and the recipient to feel the stimulation brought by the strapless strap on together.
But it also requires the user to strengthen the pelvic floor muscle training to achieve a more perfect use effect.
Why Should You Use Strapless dildo?
One of the reasons to use strapless strap ons is that it can kill two birds with one stone.
When you and your partner use the double-end dildo, you don't need to scramble to find a sex toy to relieve your libido after serving your partner. A strapless strap on can satisfy you and your partner at the same time.
Another reason is that it can help you work your pelvic muscles. Every use of strapless strap on is an exercise for the strength of the pelvic muscles. A strong and firm pelvic floor prevents organ prolapse and helps you have a better sex experience.
Besides that, using a strapless strap on can also help you get rid of uncomfortable straps. Most straps are made of nylon or faux leather, which can be very uncomfortable to wear.
Moreover, during the pegging process, it will inevitably cause skin friction, affecting the sexual intercourse experience. When straps are removed, you and your partner can have more intimate skin-to-skin contact
Is It Safe to Use Strapless Strap-Ons?
Don't worry, the strap dildo itself will not cause any harm to the user.But improper use may cause harm to yourself or the other party.
Improper wearing posture may cause the shaft to be inserted at an incorrect angle, which may cause damage to the inside of the vagina.
Apart from that, since a strapless needs the strength of the pelvic muscles to stay in the vagina stably. It may cause poor muscle condition if worn for a long time.

Therefore, if you want to use toy on safely, please follow the manufacturer's instructions.Or consult related articles, which can help you avoid unnecessary dangers.
Tips of Choosing a Strapless Strap-on
Material
Material can really affect your choice of strapless strap on. Since the wearer needs to rely on the strength of the pelvic muscles to control, strapless dildo are made of metal and glass, which is challenging for novices to operate.
This is why most of the strapless strap ons currently on the market are silicone. In addition to being lighter in weight than glass and metal, silicone is harder than jelly and rubber, which can effectively stimulate the G-spot and P-spot.
Size
Size is an important factor that must be considered. Strapless dildo have two shafts of different lengths, one end is used to insert into the partner's body, and the other is worn on the wearer. Since there is no strap, the wearer must consider the length of the shafts.
The average length of the penis is 5 inches, and the circumference is 4.59 inches, which can be referred to when purchasing.
Design
If you want a more realistic sexual experience, a lifelike strap on is a great option. If you're more inclined to want to have a good visual experience, then turn your attention to those exquisitely shaped strapons.
Functionality
Another essential factor is the vibration. Dildo without vibration rely on the wearer to control the speed and strength of each insertion, which can be a challenge for novices.
But at the same time you can go at your own pace.
Those toys with vibrating motors have vibration modes at different speeds. Allowing you and your partner to feel the pleasure of sex easily.
Price
Material, size, function, and brand reputation all determine the price of strapless strap ons. So, choose the perfect strapless strap on according to your budget.
How to Use a Strapless Toy?
Before using a strap on, you need to exercise your Kegel muscles first because weak pelvic muscles cannot stabilize the strap on.
Exercise pelvic muscle with Kegel balls can help you strengthen the weak muscle.
Well, after that, it's time to get into the topic.
Firstly, let's welcome our old buck, the lubricant. Apply a generous amount of water-based lube to both ends of the toy and around the vagina. I think you know the significant of the lubricant.
Then, slowly insert the shafts into the vaginas. Insert the shorter end of the toy into the wearer's body first. Then slowly penetrate longer end towards your partner's vagina or asshole. Remember to ask your partner how they are feeling during penetration.
There are many poses that can be used for strapless strap on, such as spoon, doggy style, and so on. If interested, this guide of sex positions may help you.
For More Please Read:
How to Clean a Strapless Dildo?
When you're done, place the strapless strap on in the sink and wash it with warm water and mild soap. You can also use a professional cleaner for a thorough cleaning.
Then, rinse with running water, and wipe with a clean lint-free towel. Finally, place the strapless strap on in a well-ventilated environment to air dry.
Conclusion
With so many information, you must already have a mind mapping about the strapless strap on. Now, the relay baton turns to your hand, and it's your turn to decide whether to try the strapless strap-on or not. If you have decided to step into the world of strapless strap on, please don't forget the above safe tips.
Enjoy your trip!