So you have decided to try out anal play but don't want to spend a penny on any anal toys, or you have no access to get a reliable anal beads but are eager to experiment the pleasure. You've stumbled upon the perfect resource.
This guide is your ticket to starting your journey into anal pleasure with DIY options, providing you with smart, safe methods for your exploratory endeavors.
Some Semi-Safe Anal Beads ideas
If you currently don't have access to a regular anal sex toy, homemade toys may be a practical way to provide you with anal pleasure. But if you just want to challenge your hands-on skills, you're only going to get your butt in trouble.
Safety should always be your priority when making handmade anal beads. Hence, we compiled a list of some semi-safe ideas you can try.
1.Balls from Craft Store with Holes
For crafting homemade anal beads, the preferred approach is to visit a craft shop and select pre-made spheres with pre-drilled holes. These spheres allow you to customize the size and form to your liking for intimate exploration. If spheres with holes are not available, choose ones that are simple to pierce.
Once you have your beads, string them together with a robust, body-safe string like nylon or silicone. It's critical to tie a secure knot between each bead to maintain their position and prevent them from clustering too closely.
Moreover, it's vital to use a cord that is both long enough to handle comfortably and strong enough to avoid snapping during use. For added safety and ease during removal, consider fashioning a loop at one end of the string. Always prioritize safety in your design!
2.Acorns
Acorns can be a suitable alternative for crafting homemade anal beads if you don't have access to the real thing. The acorn shell's natural strength and smooth texture can provide a similar sensation to traditional anal beads.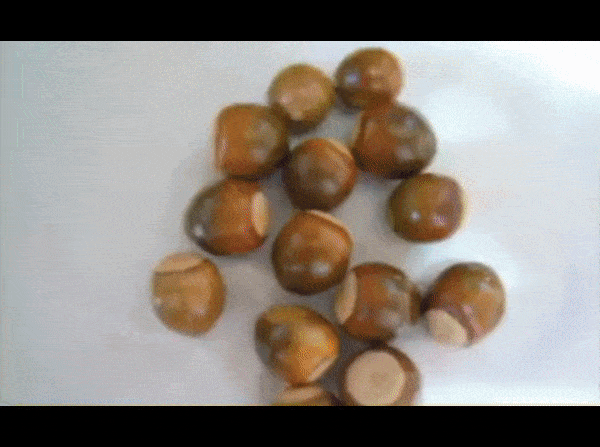 To create your own anal acorn beads, you'll need a few different-sized acorns, a piece of string, a knife, and a tool for making holes. Start by using a knife to carefully remove the prickly tips from the acorns.
Then, create holes in each acorn using either a vise or a gimlet.
For a neat and clean hole, it's best to make openings from both sides.
Once you've pierced the acorns as needed, thread the string through them, ensuring that the smaller acorns are positioned at the top for easier insertion.
Finally, tie a knot in the string, and your homemade anal acorn beads are ready to use.
When you no longer need them, you can simply bury them in the ground, as they will naturally biodegrade without causing harm to the environment.
3.Ice Cube
If you're into temperature play, you might want to explore the sensation of using anal toys made from ice. It's essential to use ice cubes made from clean, safe drinking water, as untreated water can contain harmful bacteria. Freeze the water into ice cubes of varying sizes to create different levels of sensation.
For those feeling adventurous, experimenting with different shapes of ice cube molds can enhance your experience. For example, using an ice cube mold shaped like the number 8 can resemble traditional anal beads due to its curved design, providing a similar sensation.
If you find the cold sensation too intense, you can consider placing a condom over the ice. This not only helps mitigate the cold feeling but also facilitates smoother insertion of the ice cube.
A word of caution: While ice cubes themselves are generally safe, if your chosen mold has sharp edges, make sure to smooth them out to prevent any potential scratching of the rectal lining. If you opt to use a condom, remember to secure the lower edge of the condom during use to prevent it from getting lost in the rectum as the ice cubes melt.
3.Natural Aromatic Candles
If you're an enthusiast of aromatic candles, there's an inventive twist to consider: they can double as a DIY material for crafting anal beads. It might surprise you, but those fragrant candles that create a cozy ambiance can serve a dual function.
Utilizing scented candles for this purpose is reasonably practical—they can be easily molded into an assortment of shapes when warmed to the right temperature. For a safer and eco-friendly option, opt for candles composed of soy or coconut wax since these are derived from organic plant sources.
Be mindful that candles can break or soften with use. While both soy and coconut wax are non-toxic, if you have safety concerns, sheathing the candle with a condom can be a preventative step. This not only helps to safeguard against any potential melting but also prolongs the candle's utility.
Are DIY Anal Beads Safe?
The short answer is no! Why? Let's put it this way: Attempting DIY anal beads is akin to using a hairpin to crack a high-security safe—a scenario often glamorized in movies. Yet, bringing this to life isn't as straightforward. Instead of unlocking pleasure, using the wrong materials might only lead to discomfort or harm.
It's not a question of your capability, but professionals in the craft of anal beads have the expertise to create products that align with your desires safely and effectively. Store-bought beads are designed to deliver stimulation and enjoyment that homemade alternatives might not match.
For beginners, judging the appropriate bead size can be challenging and may result in discomfort or insufficient stimulation. The material choice is equally critical; some materials might be safe but unsuitable for anal use. Porous materials, in particular, are ill-advised as they can harbor bacteria, potentially leading to infections.
Safety Tips for Homemade Anal Beads
Flared Base
No matter which material you choose to use to DIY anal beads, the first thing you need to agree on is: your homemade anal beads must have a flared base or a loop. It can prevent you from inserting the entire thing into your anus.
No Sharp Edges
The anus is more fragile than you think. It can be scratched with your fingernails, not to mention objects with sharp edges. Metal spoons or unsanded wood are not allowed to be inserted into the buttocks.
Smooth Surface
It makes sense that almost all anal toys on the market have a smooth surface. Objects with rough surfaces may also injure the lining of the rectum, making sex less pleasurable.
Firm Materials
Since the anus will produce contraction force, please do not use fragile objects, such as grapes, glass, etc. to insert into the anus. The glass toys on the market are all made of high boron glass, which is durable, not fragile, and can be used with confidence.
Tapered Design
Shaping homemade anal beads into a tapered design can make insertion easier.
Also Read
Conclusion
Creating your own anal beads can be an intriguing project. But for safety and assurance, it's best to purchase them from reputable adult toy manufacturers. When experimenting with homemade anal toys, prioritize your well-being by carefully considering the safety and cleanliness of the items you use.