Blowjob Toys have become increasingly popular among both men and women and offer a range of exciting experiences. In this article, we will explore everything you should know about it, including their types, how to use them, and the benefits of incorporating them into your sex life.
Table of Contents
A blow job toy is a type of sex toy designed to mimic the sensation of receiving oral sex. These toys typically consist of a sleeve or tunnel made of soft, flexible material shaped and textured to simulate the feeling of a mouth and tongue.
Some male sex toy may also include vibration or suction features to enhance the experience. They are often used by individuals or couples as a form of solo or partnered sexual activity.
20 Best Blowjob Sex Toys to Blow Your Mind
You may need to spend some time feeling this toy before you get a reward. After all, it is not an instant thing. LELO F1S V2 combines LELO patented cruise technology and sonic waves to offer powerful and steady stimulation.
It can also help you improve the masturbation experience by analyzing your post-use experience via a mobile APP. But since the end of the masturbator cup is closed, it may make some unpleasant sounds during thrusting.
The inner sleeve is made from soft, flexible silicone, which can be removed for cleaning. Moreover, This automatic male masturbators comes with a charging cable that can be used to recharge its battery. It's worth noting that the device is not compatible with other LELO accessories, such as the SenseMotion remote control.
Price: $ 229
Pros
---
Improved motors for more intense and rumbly power
Customizable modes and pleasure patterns through the app
Softer silicone sleeve for comfort and ease of use
Stylish and sleek design for an enhanced user experience
Cons
---
Noisy motor
Limited app functionality beyond setting up modes and pleasure patterns
High cost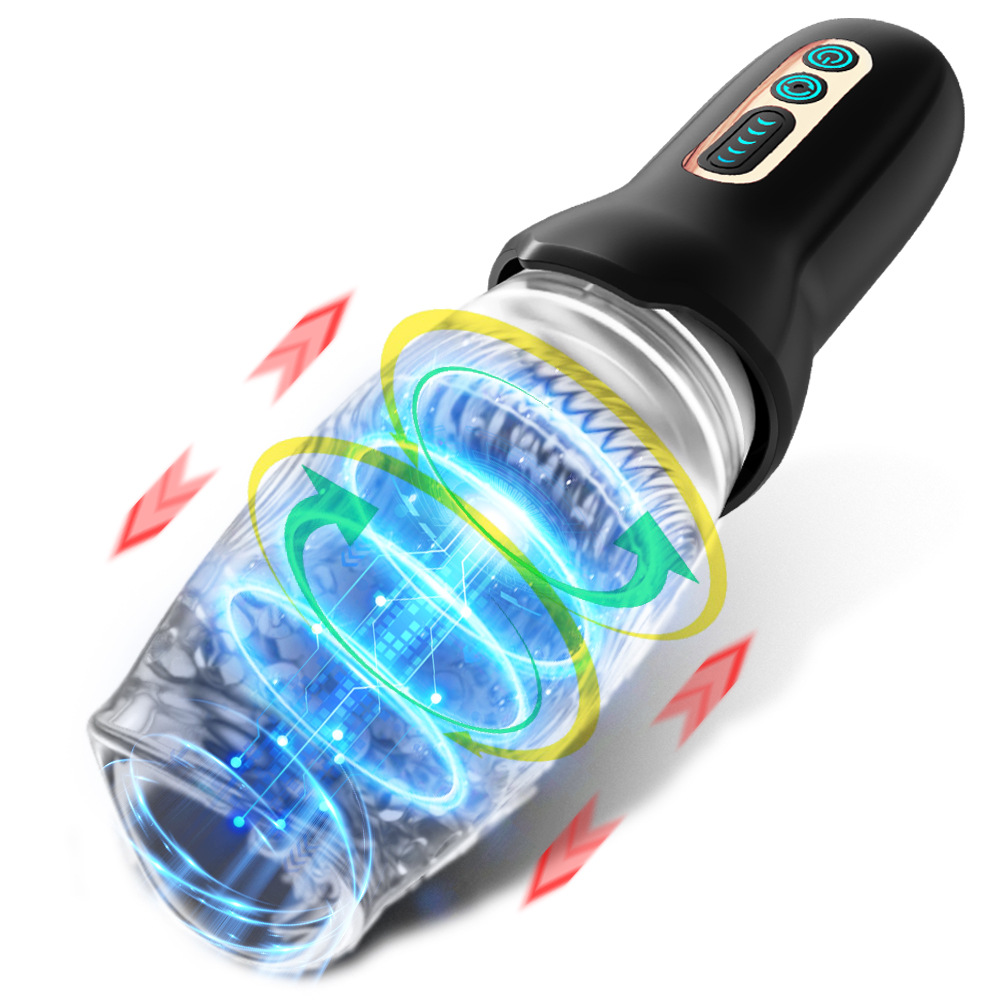 Just by its name, you might be confused about what exactly the Male Rose is, but when it comes to male masturbators, you must no strange with it.
Alias Gawk Gawk 3000 toy or Male Rose,is the upgrade of the traditional Male masturbator.
This Bj toy abandons the manual mode and adopts an automatic motor so that you can achieve orgasm easily.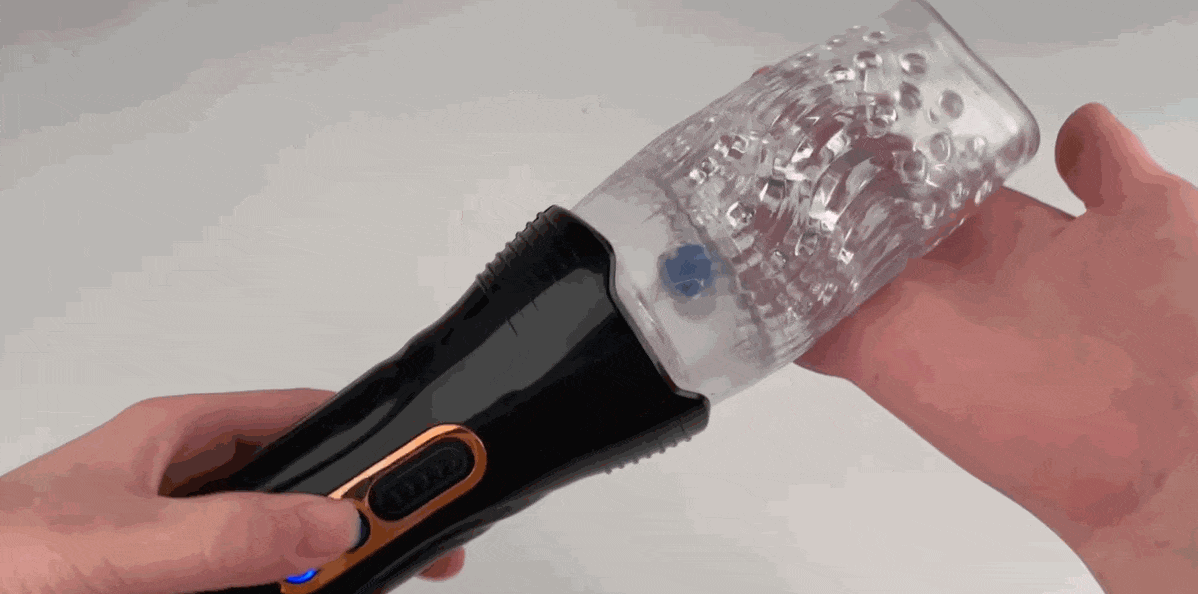 Compared to this stroker, the traditional masturbator cups need strong arms to operate them. But our Male Rose has a powerful motor inside, which allows you to use it without effort.
Although the toy sets the internet on fire, it is still a novelty toy to many customers. So to give you guys a thorough knowledge of this sex toy, we tested and reviewed this product.
Price: $ 59.99 (Extra 10% OFF In Anesidora)
Pros
---
Poweful oral sex- Strong multi-frequency rotation mode, makes it convenient to use.
10 vibration& thrusting modes-Strong electrical vibration, drives you to the absolute climax
The super-stretchy design-features internal 3D particles and projections. that create friction and drive you crazy with pleasure.
Cons
---
Wasn't deep enough for long size Gentlemen
A bit Noisy, we recommend playing some sweet tunes
The Tenga Flip Zero Black Strong Edition's elaborate texture, comprising four distinct areas of stimulation, stands out as a testament to its innovative design. By simply sliding off the outer case, users are exposed to a world of pleasure and exploration. The silky soft material enhances the sensory experience, providing a gentle and luxurious touch against the skin.
To ensure an optimal experience, it is recommended to use the provided lubricants or a water-based alternative for added comfort during use. It also offers customizable pressure points, allowing users to tailor the intensity according to their desires.
Price: $ 99.00
Pros
---
Attractive, discreet design
Tight sucking sensation
it enables convenient application of lubricant
Detailed Inner Sleeve
Cons
---
Excessive lubrication can cause leaks
Water exposure causes padding to fall off the bottom
There is a risk of side clips breaking
Cleaning can take a while
The Satisfyer Men vibrator is a high-quality sex toy designed specifically for male vibration pleasure. Made from silicone and ABS plastic, it stimulates the head of the penis, providing intense sensations.
With its compact and ergonomic design, the toy offers a comfortable grip and is suitable for men of all sizes. The interior of the toy is structured to gradually increase stimulation as you go deeper.
The vibrator features eleven vibration settings, allowing users to customize their experience. From continuous patterns to waves and pulsations, the toy offers a range of options to satisfy individual preferences. Even at the lowest setting, the vibrations are powerful and deeply satisfying.
Charging this toy is simple and convenient with the magnetic USB cable included. A full charge takes around two and a half hours and provides up to sixty minutes of pleasure.
Based on personal testing, the toy proved to be highly effective, even for individuals who are new to sex toys. It can deliver pleasurable experiences from a flaccid state to orgasm quickly and effortlessly.
Couples can also enjoy this cock vibrator by introducing it as a surprise during intimate moments. The element of surprise and the toy's stimulating capabilities can enhance shared pleasure and add excitement to the relationship.
Price: $ 69.95
Pros
---
Dozen stimulation intensity modes
Only stimulates the head, so don't need to worry about penis length
Easy-to-grip
Magnetic charger that stays in place firmly.
Cons
---
Not intense enough vibrations.
A Bit louder
Narrow tunnel make it difficult to clean
The Banana Cleaner is a discreet and innovative masturbator designed for men's pleasure. Despite its name, it has nothing to do with cleaning bananas. Instead, it offers a unique and exciting experience. it was a viral in the Tiktok last year.
The toy is made of high-quality materials, including ABS, POM, and a soft, elastic TPE sleeve. The sleeve features various nodules that provide an exhilarating tactile sensation.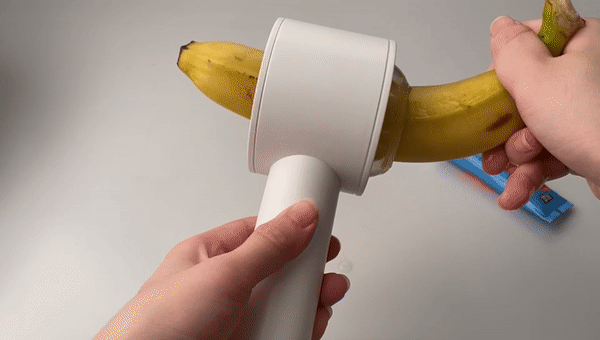 With its hair dryer-like design, the Banana Cleaner is inconspicuous and can be easily hung up or stored without arousing suspicion. It also has a user-friendly layout, with a long handle and a cleverly positioned button for easy access.
In terms of functionality, the Banana Cleaner offers six vibration modes, providing a wide range of sensations. It can stimulate the entire penis, offering a full massage experience. Its size is compact, making it travel-friendly.The noise level of the Banana Cleaner is generally acceptable, although it may exceed the manufacturer's claim of being below 60 decibels.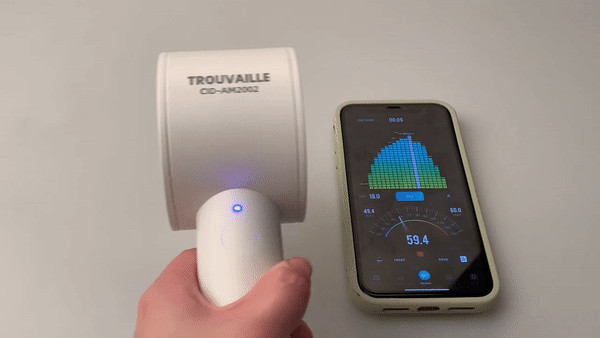 Overall, the Banana Cleaner is a budget-friendly option compared to other sex toys. It also offers hands-free masturbation and includes a suction cup base for added convenience.
For more,please read:
Price: $ 39.99 (Extra 10% OFF In Anesidora)
Pros
---
6 different vibration modes
Whole penis massage available
A low-key look
Compared with other toys it is budget friendly
Hands-free masturbation available
Cons
---
Suction cups are only suitable for smooth surfaces such as glass or metal. Otherwise there is a risk of falling off
If you don't like rubber material
If you cannot stand the TPE's odor
If any machine can surpass Autoblow AI, it is probably its upgraded version, Autoblow AI+. This incredible male masturbator has a dizzying array of features. Not only does it have more than 10 different preset functions for oral sex, but it also allows users to customize unique
functions through the APP. And you can use voice commands to adjust the tempo you want. And all of this is thanks to artificial intelligence.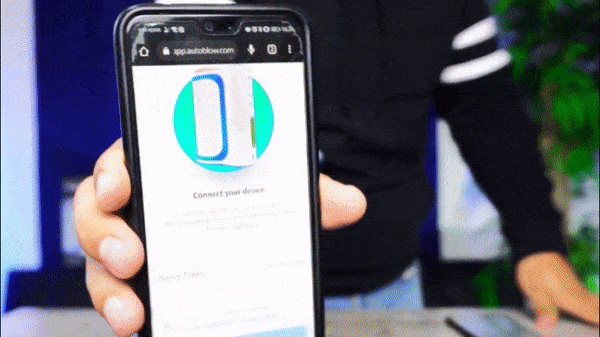 One five-star review reads: "I completely say this is one of the best products I have got. If you're a man like me who doesn't get many girls & ending the night with a hand job, this will have your toes curling."
Price: $ 39.99
Pros
---
Interchangeable silicone sleeves for customizable sensations
Power cord for uninterrupted sessions
Improved motors with new modes and pleasure patterns for experimentation
Soft silicone sleeve for comfort and easy use in water
Cons
---
Motor can be quite loud
Could improve physical appearance to be more sexy
Limited app functionality beyond setting up modes and basic analytics
Pricey
This toy's sleeves are made from a skin-soft, intensely-textured material, and it doesn't have the constraints of a plastic case, so size isn't an issue. You can control the strength and angle of the sleeve with your own hands and find the most satisfying posture for you. In addition, the finger holes on the side make it easier to control.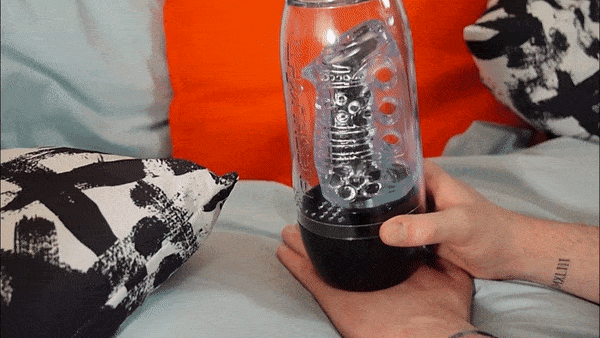 Although the Custom Drying Case makes the toy look large, the actual length of the sleeve is only about 5 inches. This size may not be able to fully wrap the penis, but my partner still had fun when using it.
Price: $ 39.95
Pros
---
The finger holes make it easier to use.
Custom Drying Case can extend the lifespan of the sleeve.
Affordable price.
Compact in size, easy to carry out.
Cons
---
Its size might not be suitable for well-endowed guys.
One positive feature of the OTOUCH is its Heating Sucking Mouth. This Masturbation Cup adds an extra layer of realism to the experience, complementing the use of lubrication. Combined, they create a more immersive feeling compared to using your hand alone. With its ridges and shape resembling a woman's vagina, the Old Touch Masturbator aims to enhance the overall sensation.
This toy offers an array of customizable settings to suit your desires. With five distinct sucking functions, six vibration settings, and two warming functions that can reach a maximum of 45 degrees Celsius, you have endless possibilities at your fingertips.
To activate the vibrations, simply press and hold the top button. Changing the vibration settings is as easy as tapping the button. For the sensational sucking motion, press and hold the second button, and again, a gentle tap will allow you to choose the desired setting.
To activate the warming function, press and hold the bottom button, and experience a gradual and pleasurable rise in temperature. Turning off the device is as simple as pressing and holding each button. It's all within your control.
Price: $ 79.95 (Extra 10% OFF In Anesidora)
Pros
---
6 vibration patterns, 5 suction modes, and 2 heating levels
Whisper-quiet
Affordable price.
Sleek Design
Soft and comfortable suction cup
Cons
---
Don't give it a bath like a cat, unless you want it to turn into a soggy paperweight
The Jerk off Machine ÁRēS is a revolutionary male masturbator that is designed to provide you with an immersive and stimulating experience. It features 10 frequencies of stroking and rotating modes that let you choose the speed that best suits your needs.
The base of the machine also comes with a suction cup, which allows you to attach it to any surface for hands-free use.
It very easy to use. Simply attach the machine to any surface using the suction cup and turn it on. You can then choose from 10 different frequencies of stroking and rotating modes to find the speed that works best for you.
The machine is also equipped with built-in erotic audio, which adds to the overall stimulation and immersion.
Price: $ 79.99 (Extra 10% OFF In Anesidora)
Pros
---
Soft Skin-Friendly Sucking Cup
Unique Edging Thrust Mode
High-Quality material soft&comfy
10 different stroking and rotating modes
Erotic audio
Cons
---
Toy case is plastic,be careful when using it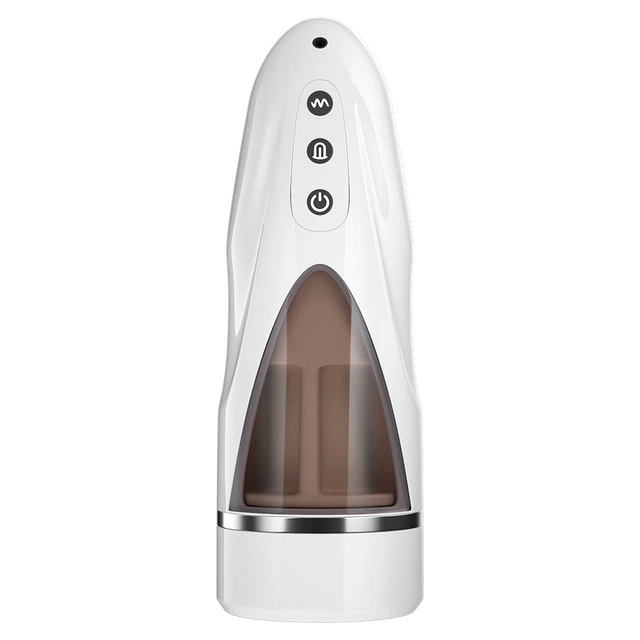 The Stella Masturbation Cup boasts an impressive array of features, including 10 distinct Licking Modes and 10 Vibration Modes. Crafted from the softest, most lifelike silicone material, this device provides an unparalleled experience, faithfully replicating both vaginal and tongue stroking sensations.
Prepare to indulge in the ultimate pleasure, as this product elevates male gratification to new heights by emulating the realistic touch of female genitalia and the gentle caress of a tongue.
Crafted from soft and secure TPE silicone material. Cleaning the pump stroker is effortless—just remove the silicone sleeve and wash it with lukewarm water and mild soap.
Price: $ 79.95 (Extra 10% OFF In Anesidora)
Pros
---
10 distinct Licking Modes and 10 Vibration Modes
silicone material
Life like warm and moist feeling
Real vagina feeling
Quite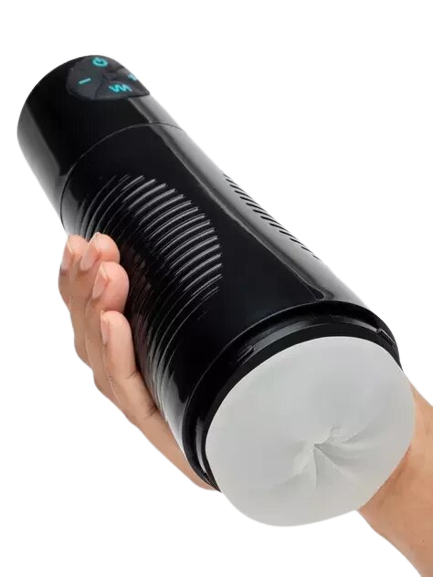 This masturbator has 8 vibration modes and 7 frequencies, helping you cross the edge. The masturbator also has a slot on the top of the lid for your smartphone, allowing you to bring entertaining videos into your session.
It comes with a travel lock, so you don't have to worry about unexpected situations, even on bumpy trips.
Price: $ 89.95
Pros
---
Vibrator and pulsation functions have six different settings, allowing for a customizable experience.
Warming feature can provide a more realistic experience, simulating a mouth.
Splashproof, making it easy to clean.
Cons
---
Highest pulse setting is loud and may not be discreet
Warming function cannot be used without the pulsation function.
No way to control the temperature of the warming function.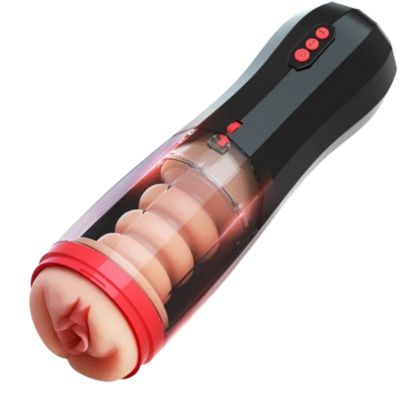 One notable feature of this masturbator is its see-through cover, allowing you to indulge in visual delight. You have the option to remove the cover effortlessly, enabling convenient and thorough cleaning of the toy. It's as simple as a quick pop-off.
The exterior of the masturbator features a realistic vulva,and TPE sleeve can be easily removed for cleaning purposes. It's important to note that the sleeve itself is not waterproof, but worry not – cleaning is a breeze thanks to its detachable nature.
Inside the masturbator, you'll discover stimulating ribs that guarantee a pleasurable experience. The soft and supple texture offers a lifelike feel.
Equipped with five thrusting modes, this masturbator allows you to tailor your pleasure experience. The thrusting or stroking action generated by these modes intensifies the stimulation.
Price: $ 74.99 (Extra 10% OFF In Anesidora)
Pros
---
Vibrator and pulsation functions have six different settings, allowing for a customizable experience.
Warming feature can provide a more realistic experience, simulating a mouth.
Splashproof, making it easy to clean.
Cons
---
Highest pulse setting is loud and may not be discreet
Warming function cannot be used without the pulsation function.
No way to control the temperature of the warming function.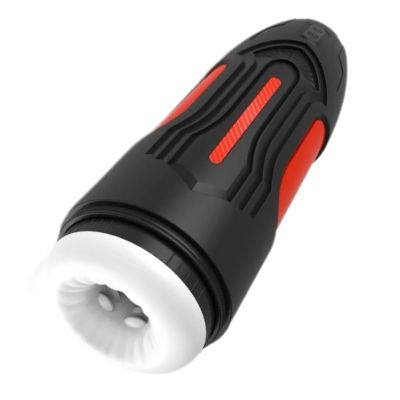 Price: $ 74.99 (Extra 10% OFF In Anesidora)
Equipped with two buttons on the front panel and a convenient side charging port. However, it is essential to note that the Apollo is not waterproof, so avoid submerging it. Fortunately, it is incredibly easy to clean, ensuring hassle-free maintenance.
Its 360-degree suction feature provides an immersive experience, lasting up to five seconds with each activation. The device also includes a travel cap, allowing you to conveniently store it in your toy box or bag while keeping it safe.
Inside the Apollo, you'll discover a fully removable TPE soft cup that offers a remarkably realistic feel. With its internal ribbed texture, this cup provides heightened stimulation. To cater to your unique desires, the device offers seven different suction and vibration modes that can be controlled together or independently.
This toy offers an impressive seven-inch insertable length, accommodating users of various sizes. With its generous depth, you can explore the full range of sensations this device has to offer.
Pros
---
Vibrator and pulsation functions have six different settings, allowing for a customizable experience.
Warming feature can provide a more realistic experience, simulating a mouth.
Splashproof, making it easy to clean.
Cons
---
Highest pulse setting is loud and may not be discreet
Warming function cannot be used without the pulsation function.
No way to control the temperature of the warming function.
Turbo can provide you with the most authentic and satisfying blowjob experience. The fleshlight is uniquely designed with three initial insertion points, allowing you to experience exciting sensations with each insertion.
Whether you like to stimulate just the tip or you prefer the tight, spine-tingling sensation of deep throating, the Turbo provides you the tease and the thrill to get to the finish line.
It has an 8.5″ insertable length which can satisfy most sizes of penis.
When the translucent sleeve is matched with the transparent shell, it will cast a hazy veil for your masturbation and give visual stimulation.
Price: $ 69.95
Pros
---
Great sucking
Soft & comfy
Visual stimulation
Cons
---
The case cap is not flat and easy to tip over.
The floating front makes it harder for insertion.
The 8″ of the Fleshlight makes it light and compact and very suitable for daily use or going out. The realistic-feel sleeve of the Light Pilot is made of skin-friendly materials, which can effectively reduce the possibility of allergies and intense pleasure.
It has 4 different chambers, and each chamber is distributed with different textures. When penetrating, you can clearly feel the bumps, ribs, and finger massage.
Besides, the Light Polit is a good option for men who are small in size. The 0.5-inch opening is very tight, allowing you to easily feel the feeling of being squeezed, and the insertable length of 6 inches is enough for small guys.
For more please read our latest Article: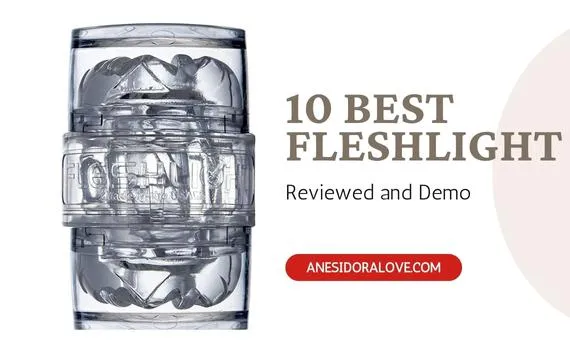 Price: $ 54.99
Pros
---
Tight with only .5″.
The bottom screw cap can adjust the opening size.
Different chambers offer different experiences.
Cons
---
Not suitable for well-endowed guys as it only has a 6″ sleeve.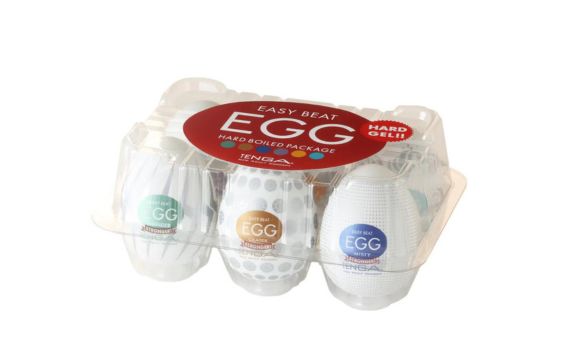 If you're searching for the ultimate in discreet male masturbators, look no further than the Tenga Egg Wonder sex toys set. With its exceptional design and functionality, this product will surpass your expectations.
One of the standout features of the Tenga Eggs is their small and discreet size. Whether you live in a shared space or prefer to keep your personal pleasure experiences private, these eggs offer the ideal solution.
They fit perfectly in the palm of your hand, ensuring effortless maneuverability and discreet usage. The "silence" operation feature also allows you to enjoy the Tenga Eggs anywhere without worry or disturbance.
The Tenga Egg pack introduces you to a world of pleasure with its six distinctively textured eggs. Each egg offers a unique sensation, ensuring a diverse and thrilling experience every time.
Wind – Dive into the depths of pleasure with its deep wavy texture.
Stud – Experience intense pleasure with the massiveness of its nodules.
Mesh – Enjoy the intricate sensations provided by its elaborate mesh texture.
Tube – Delight in the ribbed consistency that offers exquisite pleasure.
Curl – Indulge in the steady bumps that create waves of sensation.
Ring – Explore the swirls that provide a mesmerizing experience.
Price: $ 59.99(6PACS)
Pros
---
Different varieties and textures. You have a wide choice of
Can stretch to accommodate all types of manhoods in length and width
Easily carry
Budget friendly
Cons
---
One time use only
Pulled at tester's foreskin
One of the standout features of the TENGA Original Deep Throat Onacup is its ingeniously designed canal, adorned with a variety of differently sized nubs. This strategic arrangement creates a captivating vacuum pressure sensation as you stroke back and forth.
Unlike conventional smooth-textured Onacups, the added pressure introduces a delightful resistance that enhances the overall play experience, leading to intensified sensations and heightened pleasure.
While the TENGA Original Deep Throat Onacup offers an exceptional experience, it's worth mentioning that the price point may be a concern for some. Priced at $14.99, some individuals may find it relatively steep for a one-time-use toy.
However, for those who prioritize quality and are willing to invest in a premium product, this male toy is an excellent choice.
Price:$14.99
Pros
---
Pre lubed and ready to go
Incredible BJ-like sensations for entire shaft
Fast and easy cleanup
Budget friendly
Easily carry
Cons
---
Cost for a one off use
Pulled at my tester's foreskin
The Quickshot Vantage's alluring transparent design. Not only does it add a touch of excitement and anticipation, but it also allows you and your partner to enjoy an intimate visual experience.
You'll both revel in the sight of your member embraced by this sleek sleeve, heightening arousal and deepening your connection.
One of the standout features of the Quickshot Vantage is its unique wavy texture that envelops your shaft from every angle, ensuring an exquisite and evenly distributed sensation.
The waves, varying in size, provide a delightful range of resistance, enhancing both the instroke and outstroke for an unforgettable experience.
Price:$ 39.99
Pros
---
Easy to wash, easy to use and very soft inside
Able to watch directly rather than through a reflection would certainly be a new experience.
Neutral design
Budget friendly
The compact design of the Galaku TRAIL II Male Pleasure Cup makes it an ideal companion for your travels. Its perfect size allows it to fit effortlessly in your travel bag or fanny pack, ensuring pleasure is never out of reach.
Additionally, its discreet nature allows for convenient storage in a sock drawer or even a Sports Drink Cup. Wherever you go, the Galaku TRAIL II is ready to satisfy your desires.
For a truly unique experience, remove the sleeve from its hard plastic case and take control of your pleasure. By adjusting the pressure with your grip, you can increase the tightness and tailor the sensations to your liking.
Price:$ 29.99(Extra 10% OFF In Anesidora)
Pros
---
Easy to wash, easy to use and very soft inside
Able to watch directly rather than through a reflection would certainly be a new experience.
Neutral design
Budget friendly
The Galaku Touch In features a compact size of 70*180mm, making it convenient and easy to handle. It is made from high-quality materials such as ABS, PETG, and TPE, ensuring durability and a comfortable feel.
With a working time of 1 hour and a charging time of 2 hours, this masturbator is ready to provide you with extended pleasure sessions. It has a built-in rechargeable battery with a power capacity of 300mAh, and you can conveniently charge it using the included USB cable.
Featuring 20 different vibration modes. This pocket pussy offers a wide range of sensations to suit your preferences. Whether you enjoy gentle vibrations or intense pulsations, this masturbator has got you covered.
It also offers five different types of vagina textures, providing variety and enhancing your stimulation. One unique feature of this product is the gradient training option. With this mode, you can gradually increase the intensity of the vibrations.
Price:$ 39.99(Extra 10% OFF In Anesidora)
Pros
---
Easy to wash, easy to use and very soft inside
Able to watch directly rather than through a reflection would certainly be a new experience.
Neutral design
Budget friendly
For more please read:
How Do Blowjob Toys Work?
With the development of technology, the variety of BJ toys has become diverse. Depending on the type of BJ toy you choose, technology differences exist.
The most widespread BJ toys are handheld devices where you control both the speed and the intensity, and your pleasure comes from your hands.
They usually have either a pair of sexy lips or a small hole, the other end of which is usually closed. This creates a vacuum effect and gives you the ultimate sucking sensation.
Another type of BJ toy has a built-in bullet vibrator with multiple vibration settings to enrich your options, giving you speed and stimulation that your hands can't reach, providing dizzying pleasure.
Why Does a Man Need a Blowjob Toy?
Masturbation is a natural and healthy part of sexual exploration, and owning a male masturbator can enhance the experience.
Contrary to popular belief, masturbation has been found to have numerous mental and physical benefits. Here are some of the surprising benefits of owning a blowjob toy for men.
Performance Anxiety-Free Experience
With a toy, you don't have to worry about your performance in bed. It's a safe and anxiety-free kind of sexual experience that can help you relax and enjoy yourself.
Stress and Tension Relief
Masturbation with a male masturbator can help you relieve stress and tension. It's a great way to please yourself and, at the same time, reduce anxiety and stress in your body.
Improved Mood
Masturbation, including with a male masturbator, can help alleviate some symptoms of depression. While it won't cure depression completely, it can help improve your mood and bring about a sense of tranquility for a period of time afterward.
Better Sex and Self-Discovery
Using a blowjob toy can help you achieve intense orgasms after a successful training period. This can help you better understand your body and what works for you sexually.
It can also help you recreate those feelings with your partner during intimacy, resulting in better sex.
Sexual Awareness
Using a masturbator can help you connect with your body sexually and increase your sexual awareness. You can discover what feels good and what doesn't, helping you communicate your desires and preferences to your partner.
How to Choose a Blowjob Toy?
When it comes to bj toys, there are many options on the market, making it difficult to choose the perfect one for you.
Choosing the right one depends on various factors, including material, size, and price. In this guide, we'll walk you through everything you need to know to choose the best toy for you.
Size Matters
Choosing the right size is essential when selecting a blowjob toy. You'll want to ensure that the toy is comfortable and easy to use. It's best to start with a small size and work your way up if you're a beginner.
Medium to large sizes are ideal for those with more experience. So, before purchasing a hands-free masturbator, take a moment to consider the size that will be most comfortable for you.
Material Makes a Difference
The material of the toy is another important factor to consider. The most commonly used materials for hands-free masturbators are silicone and TPE.
However, silicone is the preferred material because it's body-safe, nonporous, and durable. It's also easy to clean and maintain. TPE is a good alternative to silicone, but it's not as durable and can be porous, which means it may not be as easy to clean.
Price
The cost of a hands-free masturbator can vary significantly. It's important to choose one that fits within your budget.
Some hands-free masturbators can be expensive, but they may come with additional features, such as vibration or heating elements.
If you're on a tight budget, you can still find an excellent hands-free masturbator without breaking the bank.
For more please read: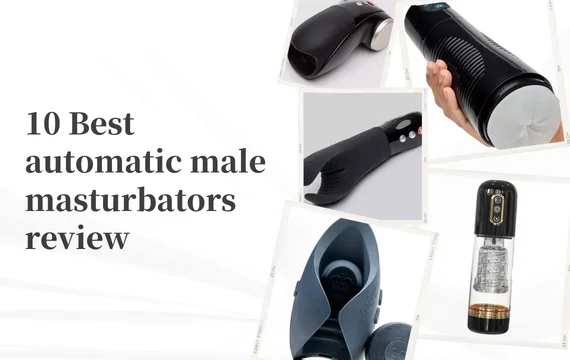 How to Make a Blowjob Toy
Are you tired of spending money on sex toys or waiting for someone else to provide oral pleasure?
With a little creativity and resourcefulness, you can make a homemade sex toy for men that will deliver the same sensations as a blowjob.
For more please read:
Tips for Using Blowjob Toys.
Lube
Using lubricant with your toy can enhance your sexual experience and prevent discomfort or injury. However, it's important to know how to apply it properly to ensure maximum effectiveness and safety.
Here are some tips on how to use lubricant with your masturbator:
Spread Inside the Hole
Before using your blowjob toy, you need to lubricate the inside of the hole completely. This can be difficult to do by hand, so it's best to use a pump-type bottle or lubricant applicator to inject the lube deep inside.
Lubricant applicators are easy to use and widely available in the market. Simply insert the tip of the applicator into the hole and squeeze the bottle to release the lube.
Spread Outside the Hole
In addition to lubricating the inside of the hole, you also need to lubricate the opening of the masturbator and external vaginal walls if your toy has them.
This will help provide a more realistic sensation and prevent any discomfort or chafing. Apply a generous amount of lube to the opening and walls of the toy and spread it evenly with your fingers.
Spread Over the Penis
When using a toy, men typically stroke their penis up and down repeatedly to achieve orgasm. This can cause friction and dryness, which can lead to discomfort and even injury.
To prevent this, apply enough lubricant over the entire penis, from the testicles to the glans. This will provide a smooth and comfortable sensation and allow you to stroke for a longer time without any harm.
To apply the lubricant over the penis, take a few drops of lube in the palm of your hand and gently spread it over the entire penis in a circular motion.
This will ensure that the lube is evenly distributed and provide a more pleasurable experience.
For more please read:
Clean.
How to Clean Your blowjob sex toy. for a Safe and Hygienic Experience Keeping your masturbator clean is not only important for your health, but also for the longevity of your toy. A dirty toy can harbor harmful bacteria and viruses, which can lead to infections and illnesses. Therefore, it's crucial to know how to clean your toy properly to ensure a safe and enjoyable experience every time.
Use Warm Water and Soap
The first and most important step to cleaning your masturbator is to use warm water and soap. This will help remove any bodily fluids, lubricants, or other debris that may have accumulated on the surface of the toy.
Simply rinse the toy under warm water, apply a generous amount of soap, and gently scrub the surface with your hands or a soft-bristled brush. Be sure to clean all the nooks and crannies, including the internal tunnel if your toy has one.
Use an Anti-Bacterial Sex Toy Cleaner
In addition to warm water and soap, you can also use an anti-bacterial sex toy cleaner to disinfect your toy. These cleaners are specially formulated to kill bacteria and viruses, which can help prevent infections and keep your toy in top condition.
However, make sure to choose a cleaner that is safe for use on your toy's material and human skin. You can also check the label for any warnings or precautions before using it.
Check for Any Damage After cleaning your masturbator
it's important to inspect it for any damage or wear and tear. Look for any cuts, tears, or punctures in the material, as these can provide a breeding ground for bacteria and other harmful organisms.
If you notice any damage, it's best to either clean the affected area thoroughly or replace the toy altogether. This will help prevent any potential health hazards and ensure a safe and pleasurable experience.
For more please read:
Talk to your partner
According to sex expert Eleanor, communication is crucial when it comes to incorporating sex toys into your sexual experiences with your partner. Research has shown that couples who openly discuss their sex lives have more satisfying sexual experiences overall.
If you are interested in introducing sex toys into your partnered sex life, it is essential to have a conversation with your partner beforehand.
This conversation can be a natural and organic one. You can start by mentioning that you recently read an article about how sex toys can enhance pleasure and that it piqued your interest.
Alternatively, you could ask your partner if they have ever used a sex toy before and if they would like to try it with you.
Remember that communication is key, and it is essential to have an open and honest conversation with your partner about your desires and boundaries.
By doing so, you can explore new sexual experiences together and enhance your pleasure in the bedroom.
Conclusion
Blowjob sex toy can be a great way to enhance sexual pleasure and provide a more satisfying experience. When choosing a toy, consider factors such as material, size and shape, features, and price.
Proper maintenance and cleaning are essential to ensuring the longevity and safety of the toy. When introducing a blowjob toy into your sex life, communicate openly with your partner and work together to choose a toy that enhances your sexual pleasure.