Male sex toys have always been highly sought after, and various related products are on the market, including many expensive ones. But plenty of affordable masturbators are still out there that satisfy the masses. Hence, to help newbies with a limited budget but who want to try masturbators, we will introduce 7 best cheap sex Toys for men.
Table of Contents
What Is an Cheap Sex Toys for Men?
An affordable sex toy for men, which is mostly under $50. Those best cheap male masturbators may not be as flashy and durable as expensive sex toys, but their low prices offer great value for newbies who want to try masturbators.
Buying affordable male toy is a wise option for beginners who don't want to spend lots of money on male masturbators but just want to have fun. The low price makes you feel no pressure when using them, and even if in the future you don't like them or don't use them, you won't regret it.
In addition, cheap male masturbators allow sex toy collectors to collect a variety of sex toys without breaking the bank. Although the value of these products is not high, you can experience the fun of different sex toys.
7 Best Cheap Sex Toys for Men
Priced at just $34, this compact marvel is the perfect companion for those constantly on the go, seamlessly fitting into your travel plans and delivering mind-blowing sensations.
Indulge your visual senses with the Quickshot Vantage's alluring transparent design. Not only does it add a touch of excitement and anticipation, but it also allows you and your partner to enjoy an intimate visual experience. You'll both revel in the sight of your member embraced by this sleek sleeve, heightening arousal and deepening your connection.
One of the standout features of the Quickshot Vantage is its unique wavy texture that envelops your shaft from every angle, ensuring an exquisite and evenly distributed sensation. The waves, varying in size, provide a delightful range of resistance, enhancing both the instroke and outstroke for an unforgettable experience.
Price:$39.99
Pros
---
Easy to wash, easy to use and very soft inside
Able to watch directly rather than through a reflection would certainly be a new experience.
Neutral design
Budget friendly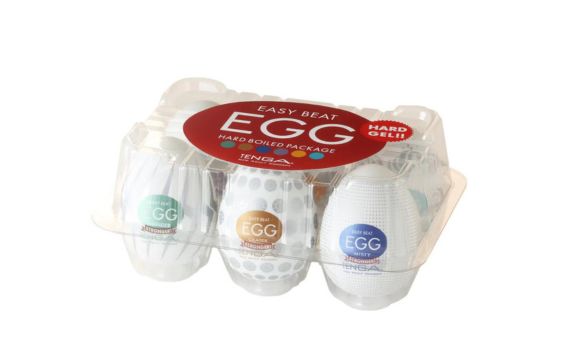 If you're searching for the ultimate in discreet male masturbators, look no further than the Tenga Egg Wonder sex toys set. With its exceptional design and functionality, this product will surpass your expectations.
One of the standout features of the Tenga Eggs is their small and discreet size. Whether you live in a shared space or prefer to keep your personal pleasure experiences private, these eggs offer the ideal solution. They fit perfectly in the palm of your hand, ensuring effortless maneuverability and discreet usage. The "silence" operation feature also allows you to enjoy the Tenga Eggs anywhere without worry or disturbance.
The Tenga Egg pack introduces you to a world of pleasure with its six distinctively textured eggs. Each egg offers a unique sensation, ensuring a diverse and thrilling experience every time.
Wind – Dive into the depths of pleasure with its deep wavy texture.
Stud – Experience intense pleasure with the massiveness of its nodules.
Mesh – Enjoy the intricate sensations provided by its elaborate mesh texture.
Tube – Delight in the ribbed consistency that offers exquisite pleasure.
Curl – Indulge in the steady bumps that create waves of sensation.
Ring – Explore the swirls that provide a mesmerizing experience.
In addition to the textured tunnel that delivers remarkable sensations, the Tenga Eggs' unique no-case design allows you to adjust the intensity according to your preference. Simply regulate the pressure with your grip, giving you complete control over your pleasure. To add an extra layer of excitement, experiment with twisting the egg during strokes to enhance and vary the sensations, providing an intense and distinct experience with every use.
Price:$9.99
Pros
---
Different varieties and textures. You have a wide choice of
Can stretch to accommodate all types of manhoods in length and width
Easily carry
Budget friendly
Cons
---
One use only
Pulled at my tester's foreskin
Are you in search of an exceptional one-time-use masturbation sleeve that offers incredible vacuum pressure? Look no further than TENGA's Original Deep Throat Onacup. With its unique design and sensational features, this male toy is sure to take your intimate experiences to new heights.
One of the standout features of the TENGA Original Deep Throat Onacup is its ingeniously designed canal, adorned with a variety of differently sized nubs. This strategic arrangement creates a captivating vacuum pressure sensation as you stroke back and forth. Unlike conventional smooth-textured Onacups, the added pressure introduces a delightful resistance that enhances the overall play experience, leading to intensified sensations and heightened pleasure.
While the TENGA Original Deep Throat Onacup offers an exceptional experience, it's worth mentioning that the price point may be a concern for some. Priced at $14.99, some individuals may find it relatively steep for a one-time-use toy. However, for those who prioritize quality and are willing to invest in a premium product, this male toy is an excellent choice.
Price:$14.99
Pros
---
Pre lubed and ready to go
Incredible BJ-like sensations for entire shaft
Fast and easy cleanup
Easily carry
Budget friendly
Cons
---
Cost for a one off use
Pulled at my tester's foreskin
If you're searching for a top-notch masturbator that combines functionality and aesthetic appeal, look no further than Fleshskins Blue Ice. This outstanding male sex toy is not only well-designed but also comes at an incredibly affordable price of just $39.85.
One of the key features that set Fleshskins Blue Ice apart is its innovative canal design. The interior is lined with a series of cross-sectional bumps and tantalizing nipples, strategically placed to create a massage-like effect on your shaft. This unique texture enhances pleasure without overwhelming sensations, providing an exciting and pleasurable experience for users.
The open-ended design of the Blue Ice masturbator ensures effortless cleaning and maintenance. This means that after each use, you can easily rinse it with water and mild soap, ensuring that it remains hygienic and ready for your next adventure. Say goodbye to the hassle of complicated cleaning processes and hello to blissful simplicity.
Fleshskins Blue Ice proves that quality doesn't have to come with a hefty price tag. This affordable male sex toy not only delivers exceptional performance but also boasts several remarkable features that make it stand out from the competition. From the convenient finger loops that simplify handling to the transparent material that adds an element of visual excitement, every detail of this masturbator is designed with your pleasure in mind.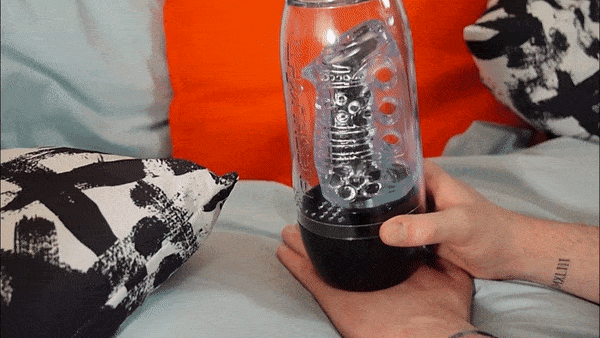 Price:$39.85
Pros
---
"real" feel that makes these toys top-notch
Doesn't require any special maintenance
Simply control the tightness by hands
Lightweight
Cons
---
Might be disappointed with the length of the sleeve,If you have a long penis
You want a choice of textures
When it comes to male masturbators, the Hot Octopuss JETT stands out from the rest as the top choice. Not only is it an exceptional device, but it also comes at an unbeatable price. At just $69, this hands-free cock ring offers an incredible experience that won't break the bank.
The Hot Octopuss JETT boasts a unique design with two vibrating bullets attached to the underside of the shaft. These bullets are strategically positioned to target the frenulum and glans, two highly sensitive areas that are rich with nerve endings. By focusing on these key pleasure points, the JETT delivers intense and satisfying sensations.
One of the standout features of the JETT is its treble and bass technology, which generates high-frequency vibrations and deep, powerful waves. What sets it apart is the ability to control the vibrations independently. This level of customization allows for a tailored experience that suits individual preferences.
The controller is thoughtfully designed with multiple buttons, enabling easy regulation of the bullet's bass and treble vibrations. With a choice of 10 speeds and functions, this versatile toy opens up a world of possibilities for exploration and pleasure.
Thanks to its stretchy silicone loop, the JETT is compatible with almost any penis size. The penis chamber can stretch up to 2.9″, accommodating the majority of men comfortably. This versatility ensures that users of all sizes can enjoy the JETT's exceptional features.
£49.99
Pros
---
Customisable vibrations
Snug fit that allows vibrations to penetrate deeply.
Hand free pleasure
Cons
---
Absolutely not a quiet device
Battery-operated and not waterproof
Penis ring isn't ideal for lager girth penis owner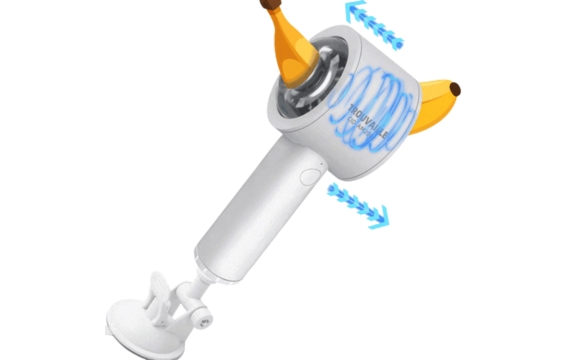 If this product appeared with a kitchen utensil, you wouldn't think there was anything wrong with it because it sounds a lot like a device specially designed for washing bananas. But when it shows up in this article, you need to know that things are not that simple. The Trouvaille banana has nothing to do with cleaning bananas as it is a sex toy used to please men.
Banana Washer Sex Toy is a blowjob toy that is used to massage the penis. It has a built-in innovative pressure sensing module. The more pressure it is subjected to, the more frequency and amplitude it vibrates. The machine looks nothing to do with sex toys, but it is. And because of its discreet look, it is popular among many fellows.  
The open ends of this toy break the confines of the penis and allow the penis to travel freely through it. Compared to masturbators that close at one end, This toy is much easier to use.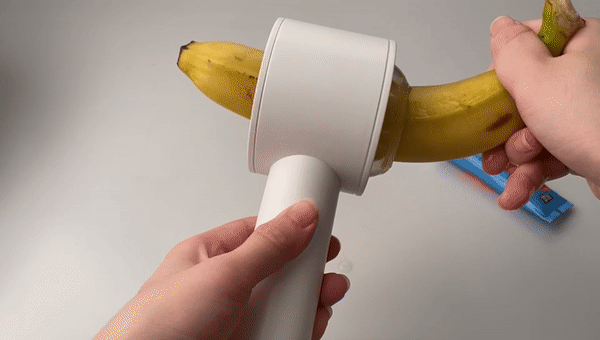 Price:$39.85
Pros
---
6 different vibration modes
Whole penis massage available
A low-key look
Compared with other toys it is budget friendly
Hands-free masturbation available
Cons
---
Suction cups are only suitable for smooth surfaces such as glass or metal. Otherwise there is a risk of falling off
If you don't like rubber material
If you cannot stand the TPE's odor
For more please read :
7.The Male Rose Toy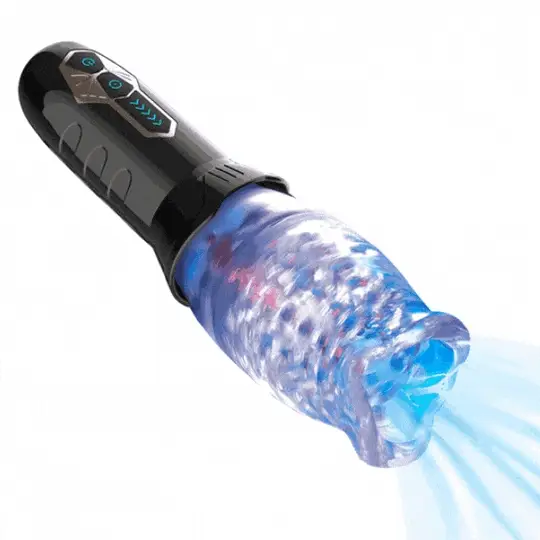 Just by its name, you might be confused about what exactly the Male Rose is, but when it comes to male masturbators, you must no strange with it.
Male Rose, alias Gawk Gawk 3000 toy, is the upgrade of the traditional Male Masterbation Toy.
Male Rose masturbator cup abandons the manual mode and adopts an automatic motor so that you can achieve orgasm easily.
Compared to this stroker, the traditional masturbator cups need strong arms to operate them. But our Male Rose has a powerful motor inside, which allows you to use it without effort.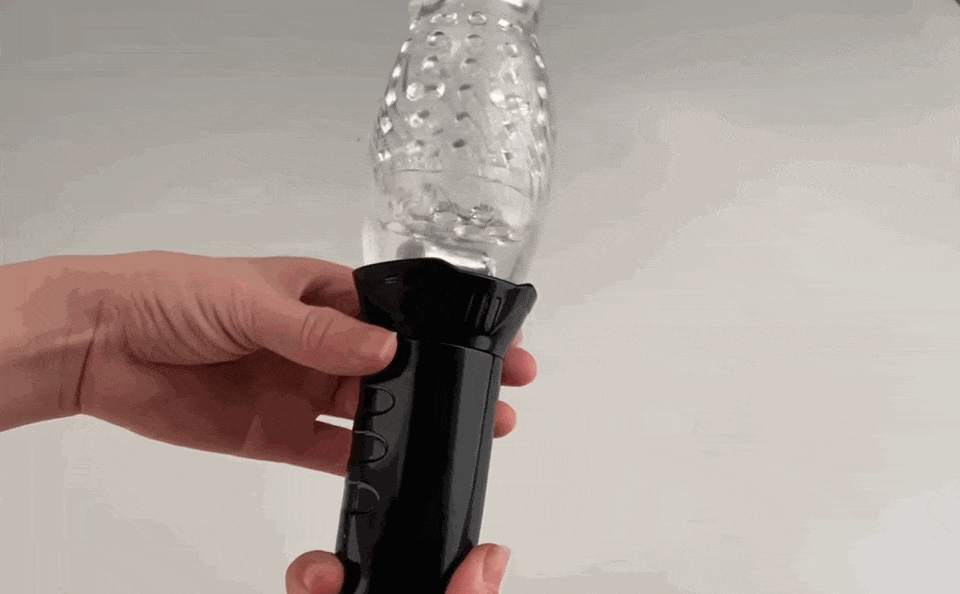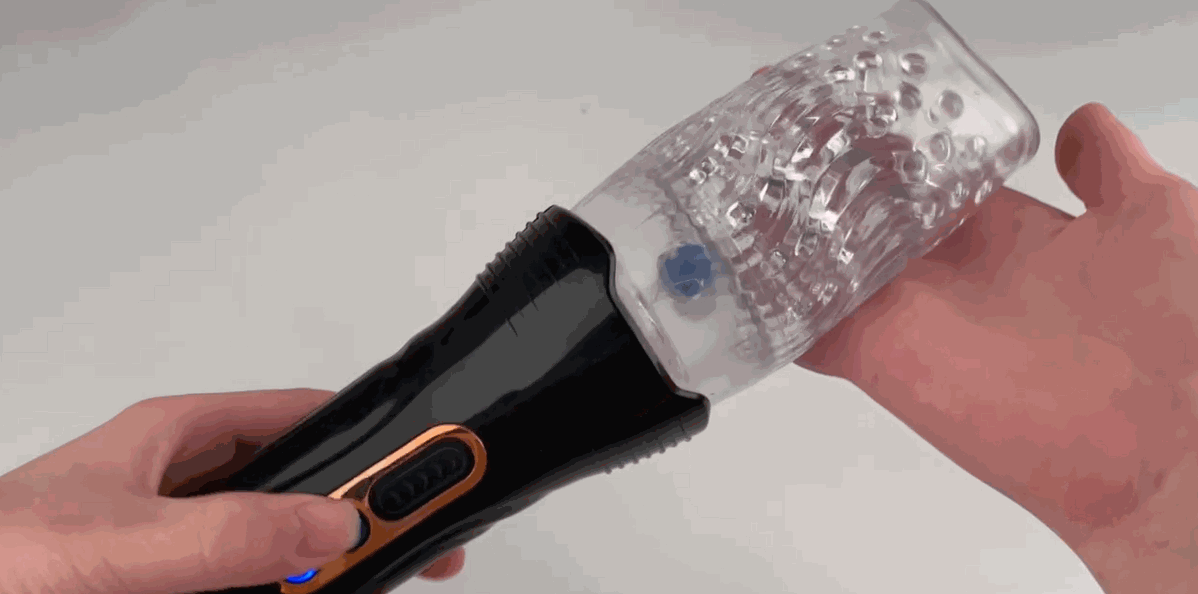 Price:$59.99
Pros
---
Cyclone Blowjob sensation
10 different vibration modes, 5 rotating modes
Layer-by-layer winding friction
Portable, Quiet (50db)
Particles in the cup are soft and comfortable to use
Cons
---
Unable to pick a size, you should check if it fits you before buying
For more please read :
How to Choose an Affordable Male Masturbator?
Beyond these recommended masturbators, there is a wide range of masturbators on the market, and you can choose according to your preferences. Here are some tips for choosing a male sex toy:
Design
The main factor in choosing an Cheap Sex Toys for Men is the design. As the needs change, masturbators have evolved into many different designs, from classic masturbation devices to vagina-like masturbation devices; there is always one that suits you.
Beyond that, you should also pay attention to the internal structure of the masturbation cup. Different textures bring different feelings.
Additionally, you should pay attention to the texture of the inside. The thread line and bump are the most common textures, and different textures provide different sensations.
Material
Material is another consideration factor for choosing a affordable male masturbator. Most masturbators are made of silicone and TPE, which are safe and hygienic. Silicone is currently the best sex toy material, which is durable and nonporous.
But its price is slightly higher, so you might need to choose an alternative. TPE has long been used as a substitute for silicone because of its affordable price. However, TPE is indeed a hassle to clean.
Size
The right size determines your experience of using a masturbation cup, so you need to consider the length and girth of the affordable masturbator.
How to choose the size of the masturbation cup? It's so easy, measure the size of your semi-erect penis first, and then choose the masturbation cup according to your actual size.
Price
Finally, you need to consider budget issues. As emphasized above, cheapness is relative, and everyone's definition of cheapness is different. Therefore, please refer to your own budget before purchasing. Once you know how much to spend on your pleasure, the answer is as clear as oranges to apples.
For more, please read :
How to Use an Male Masturbator?
When you finally get your long-awaited affordable masturbator but don't know how to use it, it doesn't matter; we will give you some tips on how to use it.
Check the instructions!
Many people always ignore the instruction, so much so that some people would rather take the time to ask on Reddit than consult the instruction at hand. In fact, the manual provided by the manufacturer can solve 90% of the confusion for novices. As for the remaining 10%, you can browse more blogs on the Anesidora website.
Lube up!
Lubricant can reduce the friction between the toy and the skin, making masturbation smoother. Choose a water-based lube of your favorite flavor, apply liberally to the inside of the sleeve and your penis, then enjoy the happy journey!
Pop your masturbator
After lubricating, hold the penis and slowly insert it into the male masturbator, enjoying the tactile sensation brought by the different textures inside the sleeve. Once you find the right spot, it's time to get to work. If you don't know how to control the masturbation cup to get more stimulation, please refer to this article :Male Masturbation: Tips for Solo Play
Clean carefully!
Many men think they are not good at housework, so they always avoid it. But cleaning sex toys is so important because it can not only extend the life of the male masturbation cup but also protect your health. Remember, cleaning before and after is just as important.
For more please read :
How to Clean a Male Sex Toys?
Many male toys are manual, which greatly reduces the difficulty of cleaning.
Rinse the inside of the canal with running warm water to wash away the semen and lube. Deep clean the toy with antibacterial soap or a sex toy cleaner, then rinse off any residual suds from the cup with warm water.
Finally, wipe the male masturbator with a clean towel or lint-free paper towel, and store it in a ventilated place to air dry.
For more please read :
Where to Buy Cheap Sex Toys for Men
When searching Google for cheap masturbation cups, there are hundreds of results. At this time, you may be as ecstatic as Columbus discovering the New World. However, the cheaper the products, the more patient you need to choose them, just like gold diggers picking out gold from a pile of fine sand.
Finding a reputable brand is the first step to ensuring product quality, and I do recommend buying affordable male masturbators from established sex toy brand.