Masturbation is an enjoyable experience that many men indulge in, and most penis owners seem to inherently believe that their hands are the best tool for relieving their cravings.
But at some point, they show insane jealousy that women have so many sex toys to amuse themselves with. This is not just a figure of speech, but after perusing countless sex toy reviews.
However, have you been tired of moving your hand on your penis over and over again? Then why not try something new if that's the case?
An automatic male masturbator is a blessing for most men, and it gives your fellas an opportunity to get climax easier and quicker.
Table of Contents
Differences Between Manual Male Masturbator and Automatic Male Masturbator?
Literally, the manual male masturbator is no different from a hand but gives you more options. It still relies on the strength of your arm to drive it. In contrast, the automatic male masturbator is an upgrade of the manual one.
The automatic masturbator is controlled by a powerful motor(s) and can deliver a more intense sensation than your hand or manual masturbator. And some of them are hand-free which allows you to explore more pleasure.
However, finding the right male masturbator can be a challenging task, especially with the plethora of options available in the market. So, if you are interested in an automatic masturbator and want to buy one, keep reading this article.
Criteria for Testing Automatic Male Masturbators
To evaluate the best automatic male masturbators, we put 10 models to the test. We looked at the following criteria during testing:
Ease of Use
We examined how easy it was to set up and operate each product, as well as its cleaning and maintenance. We also weighed the controls of each device since some hands-free male masturbators have complicated controls, which can be frustrating when you're trying to get off quickly.
Design and Materials
We looked at the materials used in each device's construction, as well as its design, including the size, shape, and ease of cleaning.
Price
We examined the cost of each device, including any additional costs that may be involved.
Performance
We used each of the automatic male masturbators to see how well it delivered on its claim, as well as how long it took to get a user to orgasm.
Features
We examined the different features and specs of each device, including any accessories or add-ons it came with.
Get a quick look at the top 10 male masturbators:
Autoblow AI
If any machine can surpass Autoblow AI, it is probably its upgraded version, Autoblow AI+. This incredible male masturbator has a dizzying array of features. Not only does it have more than 10 different preset functions for oral sex, but it also allows users to customize unique
functions through the APP. And you can use voice commands to adjust the tempo you want. And all of this is thanks to artificial intelligence.
One five-star review reads: "I completely say this is one of the best products I have got. If you're a man like me who doesn't get many girls & ending the night with a hand job, this will have your toes curling."
Pros:
Interchangeable silicone sleeves for customizable sensations
Power cord for uninterrupted sessions
Improved motors with new modes and pleasure patterns for experimentation
Soft silicone sleeve for comfort and easy use in water
Cons:
Motor can be quite loud
Could improve physical appearance to be more sexy
Limited app functionality beyond setting up modes and basic analytics
Pricey
LELO F1S V2
You may need to spend some time feeling this toy before you get a reward. After all, it is not an instant thing. LELO F1S V2 combines LELO patented cruise technology and sonic waves to offer powerful and steady stimulation.
It can also help you improve the masturbation experience by analyzing your post-use experience via a mobile APP. But since the end of the masturbator cup is closed, it may make some unpleasant sounds during thrusting.
The inner sleeve is made from soft, flexible silicone, which can be removed for cleaning. Moreover, This automatic male masturbators comes with a charging cable that can be used to recharge its battery. It's worth noting that the device is not compatible with other LELO accessories, such as the SenseMotion remote control.
Pros:
Improved motors for more intense and rumbly power
Customizable modes and pleasure patterns through the app
Softer silicone sleeve for comfort and ease of use
Stylish and sleek design for an enhanced user experience
Cons:
Noisy motor that may require experimentation to find the best position
Sensitivity of the F1 V2 may require some getting used to
Limited app functionality beyond setting up modes and pleasure patterns
Pricey
Pulse III DUO
Pulse III DUO is an excellent sex toy designed for men, and you can trust yourself to it. It doesn't look like the usual cylindrical masturbator, but like a squid that clings to your penis and gives you unrivalled high-amplitude oscillations with its pulse function.
It is also a good foreplay toy for a couple's relationship. You can put it on and let your partner ride on it to feel the powerful vibration.
Pros:
Provides wonderful orgasms
New charging cable is less fiddly
Great option for those who have never owned a PULSE before
Cons:
Secondary motor vibrations are lacklustre and on the buzzier side
Not enough changes from the PULSE II to warrant upgrading
Higher price tag may not be justified by the minor improvements over the previous model
No significant power upgrade or additional patterns from the previous model.
Blowmotion Automatic Male masturbators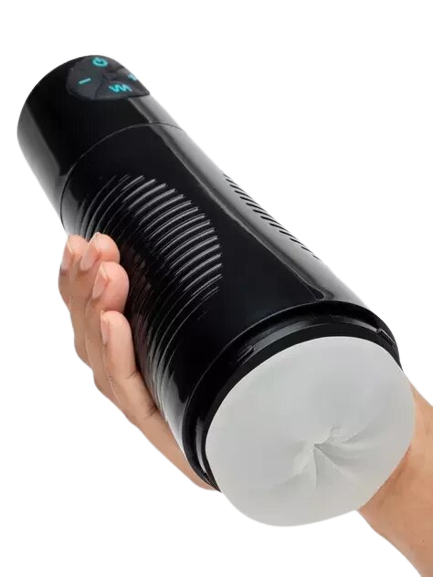 This masturbator has 8 vibration modes and 7 frequencies, helping you cross the edge. The masturbator also has a slot on the top of the lid for your smartphone, allowing you to bring entertaining videos into your session.
This pocket pussy comes with a travel lock, so you don't have to worry about unexpected situations, even on bumpy trips.
Pros
Vibrator and pulsation functions have six different settings, allowing for a customizable experience.
Warming feature can provide a more realistic experience, simulating a mouth.
Splashproof, making it easy to clean.
Cons
Highest pulse setting is loud and may not be discreet
Warming function cannot be used without the pulsation function.
No way to control the temperature of the warming function.
COBRA LIBRE II
"This is a blowjob toy designed not for instant orgasm but for stimulating the glans." That's the message fun factory is sending to its customers. So if you want to buy it for penis stimulation, it's not a good option. It equips with two deep, rumbling motors for mind-blowing sensation.
It can envelop the head of the penis in vibration, and all you need to do is putting your hands behind your head and enjoy the show.
Overall, the Cobra Libre II seems to be a good choice for those who are looking for a specialized toy for their glans. It has several features that make it stand out, such as the deep vibrations, high-quality silicone, and easy-to-use buttons.
However, it may not be the best fit for those who are significantly outside the average penis size or who are looking for a more versatile toy.
Pros
Deep, rumbly vibrations
Light, portable and long-lasting
Convenient buttons instead of touchpad
Easy to clean
Cons
Only comes in one size designed around the average penis
Not be the best choice for those who are significantly bigger or smaller than average
Can get pretty noisy on higher settings
Not the most versatile toy out there
'Manta' Vibrating Male Stroker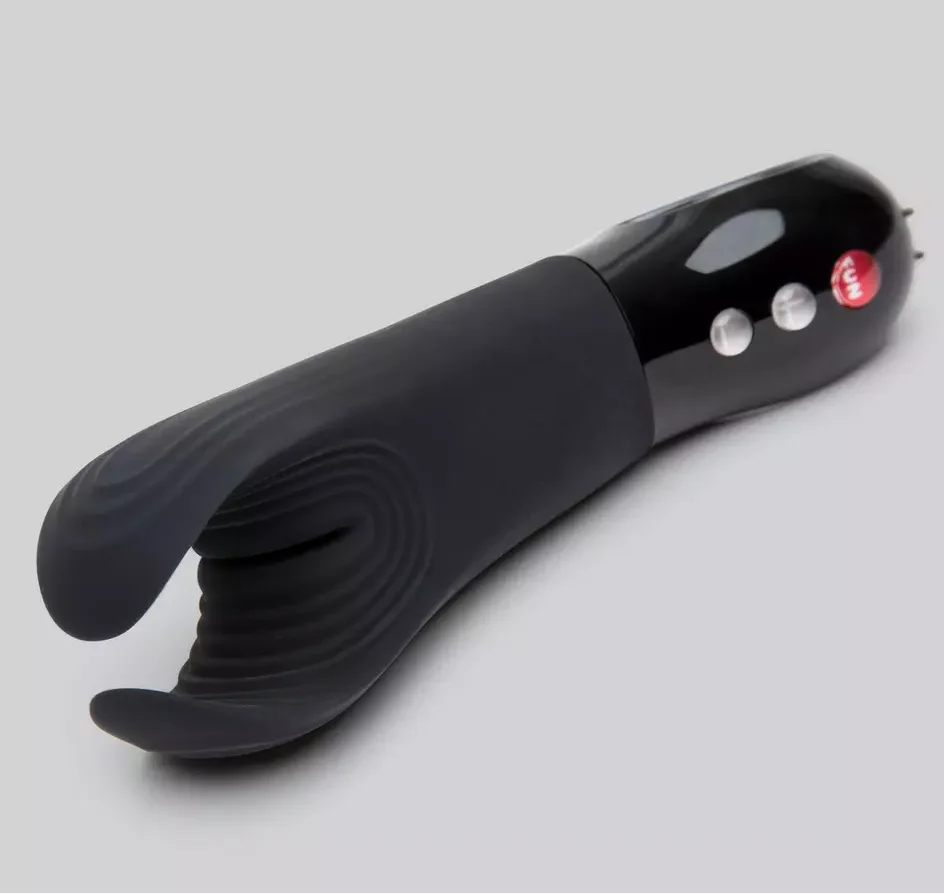 Another male masturbator from the Fun Factory. It is called Manta Auto Stroker. Unlike wrapped masturbators, the stroker cannot totally wrap your shaft but is just for clamping.
You can put it over your penis and move it back and forth as an extension of your hand. It has 6 speeds and 6 patterns which can certainly do better than your hand.
The Manta was also effective when used with a partner. It was versatile and could be used as a vibrator or makeshift cock ring during foreplay, and could also be used during penetrative sex to provide stimulation for both partners. The vibrating end piece was also good for clitoral stimulation.
It was quiet even at the highest setting and managed to keep both partners happy during foreplay and sex.
Pros
The silicone material feels great and is comfortable to use.
It is easy to insert and stays in place during use.
Variety of patterns and speeds, providing plenty of options for personalization.
can be used in a variety of ways during partnered play, adding extra excitement to foreplay and intercourse.
Cons
The design can make it difficult to hold and move.
The buttons require a bit of force to press, which can be inconvenient during use.
Gawk Gawk 3000 Toy 2.0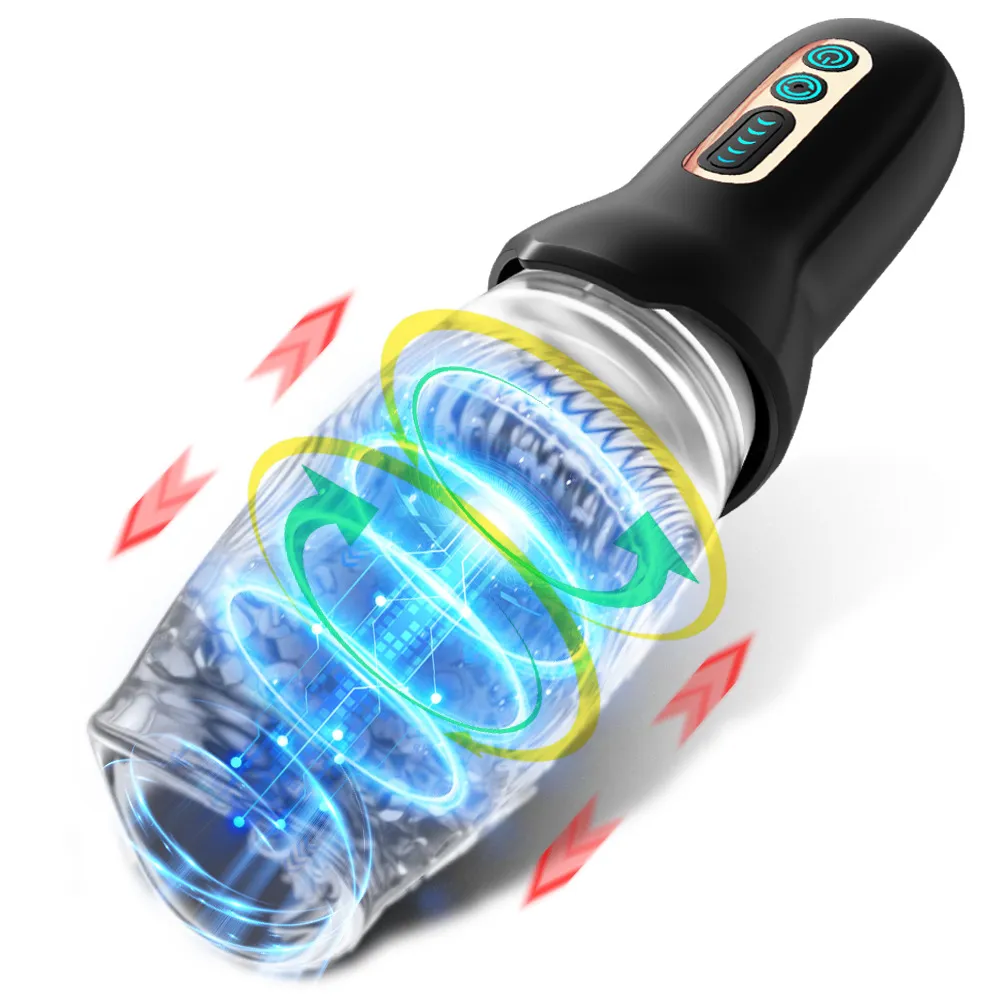 This automatic male masturbators makes all your desire transparent because you can see clearly how this smart machine is manipulating your penis. The Gawk Gawk 3000 Toy 2.0 is an upgrade from its first version.
Not only can it rotate, but also it adopts the thrusting mode to enrich your experience. In addition to working on the shaft part, it can vibrate the tip of the penis from the bottom, providing dual pleasure.
If you want more info about Gawk Gawk 3000 please check our latest blog post :
Pros:
Poweful oral sex- Strong multi-frequency rotation mode, makes it convenient to use.
10 vibration modes-Strong electrical vibration, drives you to the absolute climax
The super-stretchy design-features internal 3D particles and projections. that create friction and drive you crazy with pleasure.
Cons
Wasn't deep enough for long size Gentlemen
A bit Noisy, we recommend playing some sweet tunes
Sol – Automatic Oral Sex Heating Sucking Mouth Masturbation Cup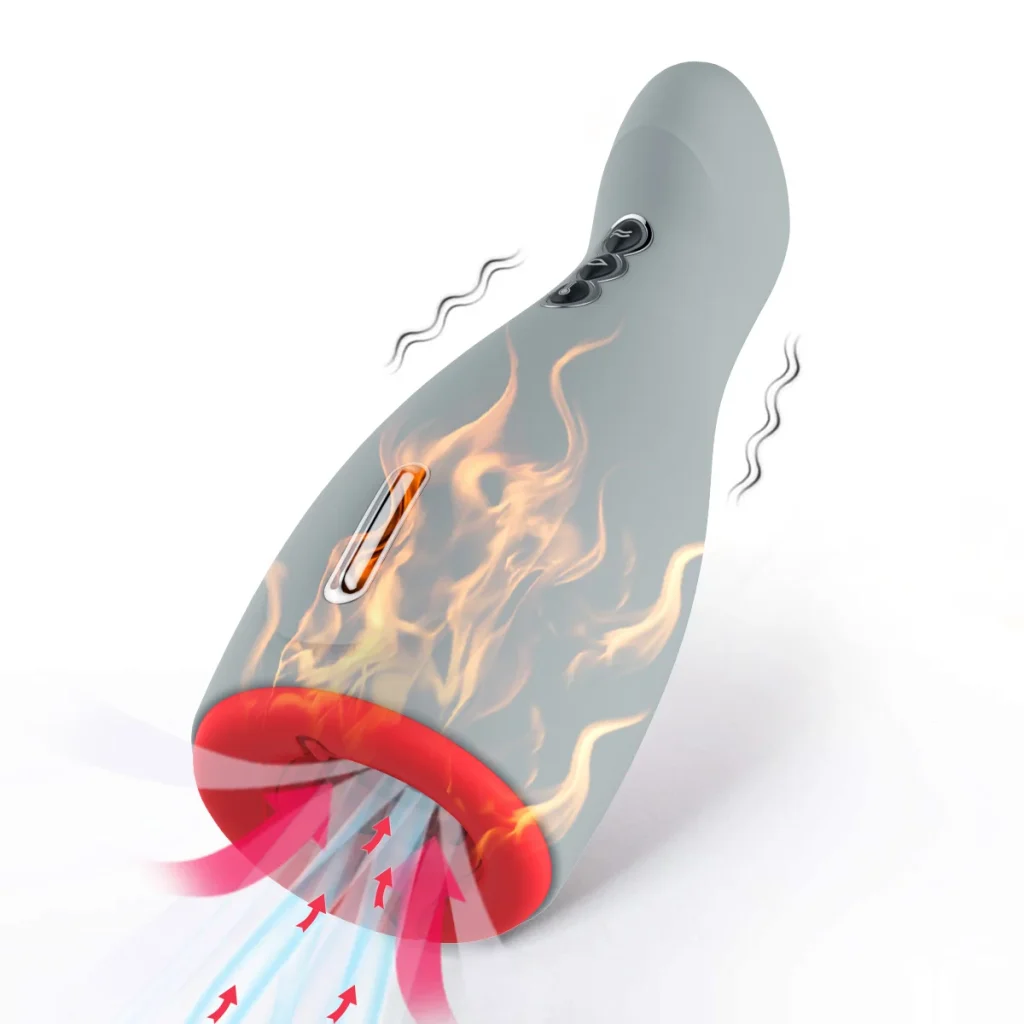 If you are desperate to bring your pleasure to the next level, then do not let slip this masturbator. The Automatic Oral Sex Heating Sucking Mouth Masturbation Cup has 6 vibrating modes as well as 5 sucking patterns, making it closer to realistic oral sex.
And you can customize the modes to find your best combination. Beyond that, as its name connotated, the SOL can continuously release a comfortable amount of heat to mimic your partner's body temperature.
Pros
Unmatched Sensations with 6 Frequency Vibration
Customizable Suction with 5 Kinds of Sucking
Constant Temperature 42°C Heating and Waterproof Design
Cons
Don't give it a bath like a cat, unless you want it to turn into a soggy paperweight
No way to control the temperature of the warming function.
Atlas – Auto Stroker
Improve your solo play with Atlas – Auto Stroker! This toy has 7 thrusting modes and 3 rotating modes to help you get closer to orgasm. And the 15 cm depth of the sleeve will take care of every inch of your penis.
Inside the silicone wall are myriad ribs and nodules to give better stimulation of the shaft. Some customers acclaimed that it is the most wonderful male sex toy they have ever had.
Pros
It comes with 7 fancy modes, rotates like a disco ball, and thrusts like a jackhammer on steroids with its 3-speed mode.
And if that's not enough to get your blood pumping, it even heats up to a cozy 42°C,
Machine's suction cup is so easy to remove and clean
Cons:
Longer charge time than use time.
Not for folks who want a quick jerk off
No way to control the temperature of the warming function.
Apollo – Climber Masturbator
If you have a particularly sensitive tip, you desperately love this Apollo – Climber Masturbator. This toy has 7 thrusting and rotating modes, giving you an amazing masturbation experience.
Perhaps you may be skeptical of its authenticity via its plain appearance, but as the saying goes:" You cannot judge a book from its cover." Once it is given a chance to serve you, it will overturn your thought.
Pros
It has an automatic function for a hands-free experience.
Silicone sleeve fits any penis size
Waterproof, removable sleeve for easy clean-up
Different BJ modes and speeds
Cons
A bit heavy for some users
It's bulky and kinda cumbersome to handle.
Conclusion
With so many high-quality and automatic male masturbators to choose from, you're free to explore the ocean of orgasms. However, you should probably try the masturbator for yourself before buying it because not all masturbators meet every user's needs perfectly, so please think carefully before you purchase it.
Extra gift for all happy fellas: We're giving you an extra 10% off the entire Anesidora range on women history month
For more, please read :