If you're searching for an incredible hands-free experience, thrusting sex toys should be the next addition to your wish list. Let's explore why they are becoming a popular choice and how to choose the perfect one for your pleasure needs.
What Is a Thruster Sex Toy
Thrusting sex toys, a types of Dildos, are designed to simulate penetrative sex without the need for manual movement. They are essentially mini sex machines, offering a unique experience that closely mimics partner penetration. These toys are ideal for those seeking hands-free or partner-free pleasure. Additionally, they cater to individuals who enjoy the in-and-out movement without excessive physical effort.
Moreover, thrusting sex toys are especially beneficial for individuals with limited hand mobility, carpal tunnel syndrome, or arthritis. These conditions can make rapid manual movements challenging or unsustainable. With a thrusting toy, you can effortlessly enjoy the sensation of penetration. Now, let's dive into choosing the right thrusting sex toy for you.
How Does It Feel (Personal Experience)
Honestly,there is no one-size-fits-all answer. The experience can vary depending on the design of the toy and the unique characteristics of each individual's body. But I will try to describe different sensations that thrusting dildo provided to me.
Continuous Stimulation
Unlike fingers, hands, mouths, or genitals, thrusting dildos do not tire. They can maintain a tireless buzzing, thrumming, sucking, or tickling sensation against the clitoris for as long as needed, ensuring an uninterrupted pleasurable experience that can lead to intense orgasms.
Amplifying Pleasure
Dildo can enhance pleasure and expand orgasmic potential, particularly for individuals who require clitoral stimulation to reach climax or who find it challenging to orgasm from penetration alone. The unique sensations provided by thrusting dildos, such as buzzing, thrumming, or sucking, can deliver a heightened level of pleasure that intensifies the overall experience.
For more, read: 
The Benefits of Thrusting Sex Toys
Deliver Intense Stimulation
The rhythmic thrusting motion of these remarkable toys allows for deep internal pleasure, specifically targeting sensitive areas such as the G-spot and A-spot. By precisely honing in on these erogenous zones, thrusting toys can induce mind-blowing orgasms and heightened sensations.
Combining the thrusting motion with powerful vibrations creates a symphony of pleasure, taking your experience to unparalleled levels of ecstasy.
Versatility and Customization Options
These innovative toys offer multiple vibration modes, speed settings, and patterns, allowing you to fine-tune your experience to match your desires.
Whether you crave gentle pulsations, steady vibrations, or escalating patterns of pleasure, Thrusting sex toys grant you the freedom to explore and customize your journey to ecstasy.
Realistic Sensations
With textured surfaces and adjustable speed settings, they replicate the sensations of intercourse, creating an incredibly authentic experience. The realistic stimulation generated by thrusting vibrators can heighten arousal, making solo play or partnered experiences more pleasurable and satisfying
Self-Exploration and Sexual Empowerment
They empower women on their journey of self-discovery and sexual exploration. These innovative toys provide individuals with the opportunity to intimately explore their bodies, experiment with different sensations, and gain a deeper understanding of what brings them pleasure.
By taking control of their own pleasure, women can cultivate a profound sense of sexual empowerment and agency. Thrusting vibrators become catalysts for self-discovery, allowing women to embrace their desires, preferences, and needs unapologetically.
Selecting the Perfect Thrusting Sex Toy
There are three main styles of thrusting sex toys to choose from
Thrusting dildo is a type of sex toy designed to mimic the thrusting motion of a penis during intercourse. It typically consists of a long, phallic-shaped shaft with a motorized mechanism inside that causes it to move back and forth, simulating the thrusting action of a partner.
The thrusting mechanism is usually controlled by buttons or remote control, allowing the user to adjust the speed and intensity of the thrusts to their liking. Some dildos also have additional features, such as vibration or rotating functions, to provide even more stimulation.
Thrusting dildos can be used for both solo play and with a partner, and are especially popular among people who enjoy penetration but may not have a partner available, or who want to explore new sensations and experiences.
Classic Thrusting Dildos
The classic thrusting dildo, features a relatively straight shaft without additional stimulation features. It typically includes a textured silicone shaft, a comfortable handle, and delightful thrusting action. Some classic-style toys also offer suction cup attachments, allowing you to secure them to smooth surfaces such as shower walls or tiles.
For more, read:   
Rabbit-style thrusting toys, offer both internal shaft thrusting and clitoral stimulation. These toys feature a shaft that extends partially to ensure the clitoral ears stay in place while thrusting. Constantly missing the clitoris can be frustrating, but a rabbit-style toy addresses this concern, providing dual pleasure.
Designed specifically for anal play, this style of toy closely resembles the classic style. However, it is crucial to ensure that any anal thrusting toy you choose is made from a non-porous material. Many thrusting toys are versatile and can be used both vaginally and anally.
For anal use, look for a toy with a wide base to act as an anchor outside your body. Verify the product description to ensure the toy is anal safe.
For more, read Thrusting Butt Plug: Everything You Need to Know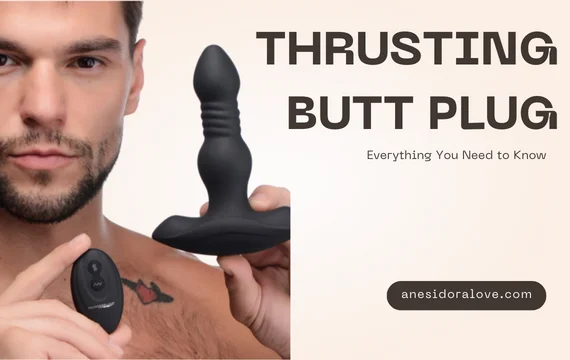 Vibrating Butt Plug VS Thrusting Butt Plug:The Ultimate Showdown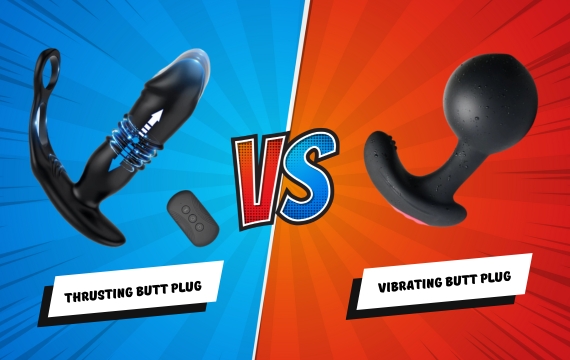 Pay attention to the material of the toy, especially if you plan to use it internally. Silicone is an excellent choice for thrusting toys as it can be sterilized between uses. It offers a firm yet soft exterior, perfect for the in-and-out motion. Remember, hygiene is essential for a safe and enjoyable experience.
Size matters
The size of the toy is crucial for internal thrusting. Consider the insertable length of the toy and the highest and lowest thrusting points. Some toys move in and out from the base, while others do so from somewhere along the shaft.
This aspect is particularly significant if you opt for a rabbit-style toy with clitoral stimulation. Additionally, take into account the toy's girth, as excessive thickness may cause discomfort or increased friction.
Speeds, Thrusts, and Functions
Thrusting dildos and butt plugs come with various speed options and additional functions, ensuring personalized pleasure. Consider your preferences and desires when selecting a toy. Some features to look out for include:
Multiple Speeds
Many thrusting toys offer multiple speed settings, allowing you to start slow and gradually increase the intensity. This versatility ensures a customizable experience tailored to your liking.
Rotating Function
Some thrusting toys also feature a rotating function, adding an extra dimension of stimulation. This circular motion enhances pleasure and intensifies the overall experience.
Additional Stimulation
Certain models may incorporate additional features like warming functions or clitoral stimulation. Warming features bring the toy to body temperature, enhancing the lifelike sensation. On the other hand, clitoral stimulation options provide simultaneous pleasure to multiple erogenous zones.
Remember to experiment with the different functions and settings to discover the combination that brings you the utmost satisfaction.
The Importance of Lubrication
Regardless of your natural lubrication, using sex lube with thrusting toys is crucial for a seamless and pleasurable experience. Lubrication reduces friction, allowing the toy to glide effortlessly in and out of your body. Regardless of the material of your toy, always opt for a water-based lubricant, as it is safe to use with all materials.
Remember to reapply lube as needed during your play session to maintain optimal comfort and pleasure. A well-lubricated experience ensures a smooth and satisfying encounter.
For More Please Read:
Considerations
While thrusting sex toys can offer incredible pleasure, it's important to consider a few factors before making your purchase:
Realistic Feel
Although thrusting toys simulate penetration, they won't feel exactly like a real penis. Keep in mind that their purpose is to provide unique and intense sensations that go beyond what human anatomy can achieve.
Noise Level
Thrusting toys tend to produce more noise compared to regular vibrators. If discretion is a concern, consider using them in a private setting or with background noise to ensure your comfort.
Price
Thrusting sex toy prices can vary, with more affordable models starting at $30 and high-end options exceeding $100. Cheaper models may offer less power or shorter battery life, while premium units often feature remote or app controls and additional accessories for mounting on various surfaces.
Thanks to their multifunctionality, even if you find that the thrusting feature isn't your preference, you can still utilize these toys as regular dildos or vibrators.
Final Thoughts
Thrusting sex toys can be an amazing addition to your pleasure arsenal. By considering your preferences, exploring different styles, and selecting a high-quality toy, you can unlock a world of hands-free pleasure. Remember to prioritize hygiene, use ample lubrication, and embrace the unique sensations that these toys offer.