When it comes to exploring new realms of pleasure, thrusting vibrator & dildo has gained immense popularity among individuals seeking intense and satisfying experiences. In this comprehensive article, we delve into the world of dildo and provide in-depth reviews of the 10 best thrusting toy available in the market.
we have carefully analyzed each product to help you make an informed decision. So, sit back, relax, and prepare for an exciting journey through the world of pleasure-enhancing toys.
Table of Contents
Trust Us – Here's Why
To provide comprehensive and reliable information for this article, We collaborated with renowned sex experts from Anesidora.
Their extensive knowledge and experience, with a remarkable record of reviewing over 50+ thrusting vibrators, set them apart from the rest. The panel of experts conducted rigorous testing on numerous dildos , prioritizing essential factors to ensure an exceptional pegging experience.
From the quality of the dildo material to the inclusion of unique features and overall versatility, every aspect was meticulously evaluated.
Jackrabbits Signature Thrusting Rabbit
This thrusting toy combines intense warmth with powerful thrusting action. With a push of a button, the shaft reaches a soothing temperature in just four minutes, while three speeds of thrusting target your G-spot.
Activate the rabbit ear clitoral tickler for seven vibration functions, all independently controlled. Made of soft silicone, waterproof, and rechargeable, this premium pleasure device guarantees an unforgettable experience Priced at $74 , this toy offers exceptional features and performance.
Let's explore the pros and cons of this remarkable device:
Pros
---
Sleek design with good shape and length
Remarkably quiet during operation, ensuring discreet pleasure
Easy-to-read control panel for effortless navigation
Targeted clitoral stimulation with a small, focused vibrating bunny nose
Three different thrusting speeds for added sensation
Strong and quiet vibrations for enhanced pleasure
Cons
---
Requires extra care while cleaning due to folds in the design
Kama – Telescoping Dildo , an upgraded vibrating toy with enhanced motor power and a 3 cm telescopic length. With 5 thrusting speeds and 10 vibrating patterns, it delivers a variety of sensations for ultimate pleasure. The lifelike silicone design features textured veins, a phallic head, and sexy balls, ensuring realistic stimulation.
The 8″ size, USB rechargeability, and 60-minute battery life make it perfect for solo play. Its powerful suction cup base provides stability on any smooth surface, allowing for versatile experiences. Priced at $49.99
Pros
---
Flexible and Realistic
Multiple thrusting and vibrating mode
Suction Cup is stable
Beginner-friendly length
Cons
---
Charging takes too long
Can't choose size
Battery doesn't last that long
I had the pleasure of trying out the incredible Thruster, and let me tell you, it's unlike any other toy out there. With its combination of clitoral and internal vibrators, as well as a thrusting/gyrating motion, it offers a truly customizable experience. The toy's thrusting mechanism is spot on, providing a back-and-forth motion that feels incredible internally.
The added gyration adds an extra level of pleasure, stimulating the vaginal walls in a delightful way. And the best part? You have independent control over the clitoral and internal vibrations, allowing you to find your perfect balance. Trust me, this toy is a game-changer for intimate moments. The Adam and Eve Thruster, priced at $79
Pros
---
Slightly longer length for increased pleasure
Varying options for clitoral stimulation: targeted or spread-out sensations
User-friendly control panel for easy operation
Enjoyable thrusting motions at different intensity levels
Cons
---
Similar to the Jackrabbits model, it requires extra cleaning time due to folds in the design
Thrusting sound is a bit loud
The thrusting dildo is a ideal toy for women seeking heightened sexual experiences. Its textured surface targets the G-spot and sensitive areas, intensifying sexual pleasure.
With 10 vibration and 5 thrusting modes, boredom becomes a thing of the past. The suction cup base allows for versatile use, whether for dual stimulation or as an anal or oral sex toy. Made from high-quality silicone, it offers a lifelike touch and easy cleaning. Priced at $49.99
Pros
---
Real touch & Easy to clean
Perfect for hands-free play
Self-heating function simulates real thrusting
Efficient stimulation of C-spot and G-spot
Family
---
Suction cup is not that strong
Heating takes time
The remote is sluggish
The Ravishing Rabbit Thruster is incredibly versatile, offering seven different functions for both thrusting and rotation. I can easily customize the intensity and vibration patterns to suit my desires, providing endless possibilities for pleasure. Plus, it's waterproof, allowing me to explore in the shower or hot tub and making cleanup a breeze.
I love that it's USB rechargeable, providing up to 70 minutes of playtime on a single charge. It's convenient and easy to use, with a simple power button to activate and control the settings. The insertable length of four and a half inches is just perfect for maximum pleasure, while the silicone texture feels incredibly soft against my skin. Priced at $67,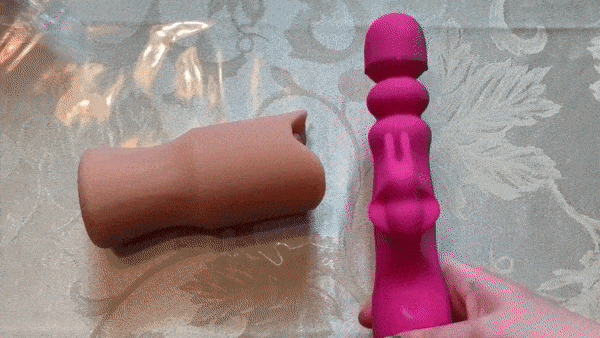 Pros
---
Intriguing design reminiscent of an alien vibrator
Added fluttering rings for enhanced stimulation
Smooth and soft material for a comfortable experience
Quiet thrusting and vibrations for discreet pleasure
Multiple vibration patterns for varied sensations
Cons
---
Flexibility may be a drawback for those seeking a more focused clitoral stimulation
Insufficient stock in the near future
Anesidora thrusting dildo machine a deep thrust length of 1.5 inches and three powerful suction cups, it takes satisfaction to new depths. Enjoy seven vibration patterns and independent controls for customized pleasure. Made from high-quality, body-safe silicone, this rechargeable toy ensures a luxurious and odor-free experience. Priced at $49.99
Pros
---
Powerful thrusting mode
Hand free pleasure
Adjustable suction cup for diffrent angle
It thrusts really Deep!
Reasonable price
Cons
---
Would be better if the surface is textured
Noisier than other toys
Needs a smooth surface for stick well
For an unforgettable experience, the Infinite thrusting vibrator priced at $159
The Infinite Thrusting Sex Machine offers a distinctive experience with its non-phallic design, making it an appealing choice for those seeking something different. With an impressive stroke length, it provides satisfying deep penetration.
The toy's firmness and smoothness deliver consistent sensations. Additionally, the combination of vibrations and thrusting adds an extra level of pleasure. However, it's important to note that the vibrations lean towards a buzzy sensation rather than deep rumbling vibrations. If you appreciate unique aesthetics, deep penetration, and a dual-action experience, the Infinite Sex Machine may be the right choice for you.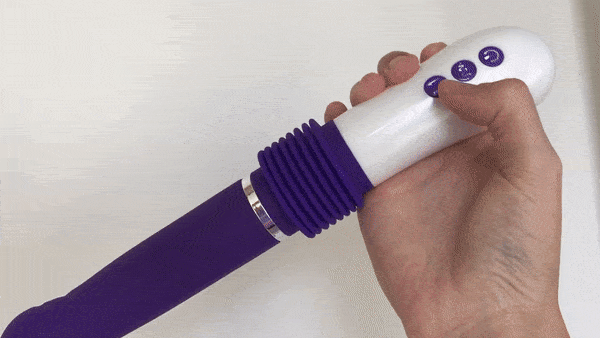 Pros
---
Powerful and intense thrusting action
Convenient self-assembling feature
Varied thrusting speeds
Strong vibration
Automatic shape restoration for easy storage
Cons
---
Cleaning may require extra attention
Louder operation compared to other models
First thrusting speed is already going places
The Stronix Surf Pulsator 2 is a top-notch pleasure device that offers a luxurious and unforgettable experience. Made from 100% body-safe silicone, this toy is beautifully designed with intricate details and a solid construction that feels incredibly satisfying in your hands.
With its generous size of eight inches and an insertable length of 4.53 inches, the Stronix Surf Pulsator 2 provides a deliciously full sensation. It boasts seven speeds and three exciting patterns, allowing you to find the perfect rhythm for your pleasure. The ribbed design adds extra excitement, making it ideal for both clitoral stimulation and anal play.
Charging this pleasure powerhouse takes about eight hours, but the magnetic USB cord ensures a hassle-free experience. Plus, it's travel-friendly with a convenient lock mode for worry-free journeys.
In my personal experience, the Stronix Surf Pulsator 2 delivered intense and pleasurable thrusting action. While it may not specifically target the G-spot or clitoris, the sheer power of the thrusting compensates for it, creating moments of pure bliss. Price at $153
Pros
---
Brand new funtion with Self-propelled pulsating
Very quiet and peace
Lightweight and easy to hold
Well design、Sleek, realistic shape
Travel lock equipped
Bodysafe
Cons
---
Pricy
There is no option for the size
The texture might not for me
Long charging time
One of the key features of the Velvet Thruster Prime is its customization options. With five different head shapes and four stunning colors to choose from, you can create your own personalized pleasure experience. The head shapes, including the popular G-spot stimulator Abbey, offer a variety of sensations to suit your preferences. Starting at $219. The Velvet Thruster Prime is a luxury investment for sure
Pros
---
Long battery 2 hours run time
Different head shapes available
125 strokes per minute strongthrusting
Body safe material
Cheaper and easier to store than a full-sized sex machine
Cons
---
Pricy
It is not waterproof !so be careful when cleaning it
Pretty loud at the highest speed
Caterpillar dildo offering a range of exciting features. With a simple touch, this sleek toy changes from alluring purple to a passionate pink, intensifying visual delight for you and your partner. I can't wait for you to feel the soothing warmth it provides, reaching up to a blissful 104°F/40°C.
Innovative wriggling motion will awaken sensations you've never felt before, while the multiple thrusting patterns and vibrating modes cater to your unique desires. Price at $49.99
Pros
---
Color-Changing Delight
Caterpillar Shape and wriggling motion
Moderate heating function
Reasonable price
Family
---
Bit loud so make sure you are alone or have the tv up!
Might be thick for me,so make sure the size before buying
People Also Ask
What Are Thrusting Vibrators?
Thrusting vibrators are designed to simulate penetrative sex without the need for manual movement. They offer a unique experience that closely mimics partner penetration and are ideal for hands-free pleasure or those who enjoy in-and-out movement without physical effort.
The experience can vary depending on the toy's design and individual body characteristics. However, thrusting dildos provide continuous stimulation, maintaining pleasurable sensations against the clitoris for as long as desired. They can amplify pleasure and expand orgasmic potential, particularly for those who require clitoral stimulation or find it challenging to orgasm from penetration alone.
What Are the Benefits of Thrusting Sex Toys?
Intense stimulation, targeting sensitive areas like the G-spot and A-spot. The combination of thrusting motion and powerful vibrations creates heightened sensations. These toys offer versatility and customization options with multiple vibration modes and speed settings.
They provide realistic sensations, replicating intercourse for a more authentic experience. Moreover, thrusting toys promote self-exploration and sexual empowerment, allowing individuals to embrace their desires and preferences.
How Do I Choose the Perfect Thrusting Vibrator or Dildo?
There are three main styles of thrusting sex toys to choose from: realistic thrusting dildos, classic thrusting dildos, and thrusting vibrators. Consider the material of the toy, size, speeds, thrusts, and additional functions that align with your preferences.
Pay attention to lubrication, using a water-based lubricant for a seamless experience. Factors such as realistic feel, noise level, and price should also be considered when selecting a thrusting sex toy.
For more, read:
Are Thrusting Vibrators/Dildos Safe to Use?
Yes they are generally safe to use. Ensure that the toy is made of body-safe materials, such as silicone, which can be sterilized between uses. Pay attention to proper hygiene and use water-based lubricant for a comfortable experience. It's essential to follow the manufacturer's instructions and guidelines for safe use.
For more, read:
How Much Does Dildo Cost?
The price of thrusting sex toys can vary. More affordable models can start at around $30, while high-end options can exceed $100. Cheaper models may offer less power or shorter battery life, while premium units often include remote or app controls and additional accessories for mounting on various surfaces. Consider your budget and desired features when selecting a thrusting dildo.
Cleaning and maintenance instructions can vary depending on the specific toy and its material. However, generally, you can clean thrusting sex toys with mild soap and water or use a toy cleaner designed for the material. Ensure the toy is completely dry before storing it.
Refer to the manufacturer's guidelines for specific care instructions to maintain the longevity and cleanliness of your toy.
Can I Use These Sex Toys for Anal Play?
Some thrusting vibrators, such as thrusting butt plugs, are specifically designed for anal play. It's crucial to ensure that any anal thrusting toy you choose is made from a non-porous material and has a wide base for safety.
Always refer to the product description and instructions to verify if a toy is suitable for anal use.
For more Please read: