As sex toy owners, you are responsible for your sex toys. Besides enjoying the pleasure of sex toys, cleaning them is also a significant part of owning sex toys. And cleaning has always been a cliché that we emphasize again and again. I'm pretty sure many of our readers have already understood how important it is to clean Pocket Pussy
In order to enhance the user experience, most sex toy for men are simple in structure to clean. However, there are still some sex toys that can be a headache. Hence, today we're going to help fellas to work out the how-to-clean male masturbator – pocket pussy.
The material and shape of the pocket pussy make cleaning even more difficult. In fact, toys for internal use require more attention to cleaning than those for external use. This is because they are more likely to be a breeding ground for bacteria.
Fortunately, it is not too difficult to clean the pocket pussy, and the time it takes to clean it is nothing compared to the orgasmic sensations it brings.
Table of Contents
Why Is It Important to Clean the Pocket Pussy?
Maybe you think this is an exaggeration, but the possibility of contracting STDs is extremely high if you don't clean your sex toys carefully and in time. STDs are spread not only through intercourse and oral sex, but also through dirty sex toys. If you don't want your penis to itch, blister, or burn, cleaning your pocket pussy afterwards is necessary.
If you have developed a good habit of cleaning after each use, congratulations, you have cut off a channel for germs to invade. But if you're still indifferent to slimy sex toys, it is time to change your mindset now. Think of it this way, when you get a free orgasm from a sex toy, all you pay it back is a cleaning fee.
The seminal fluid left in the sleeve for a long time will cause marks and an odd smell, and attract many creatures and bacteria. All these will ruin your mood.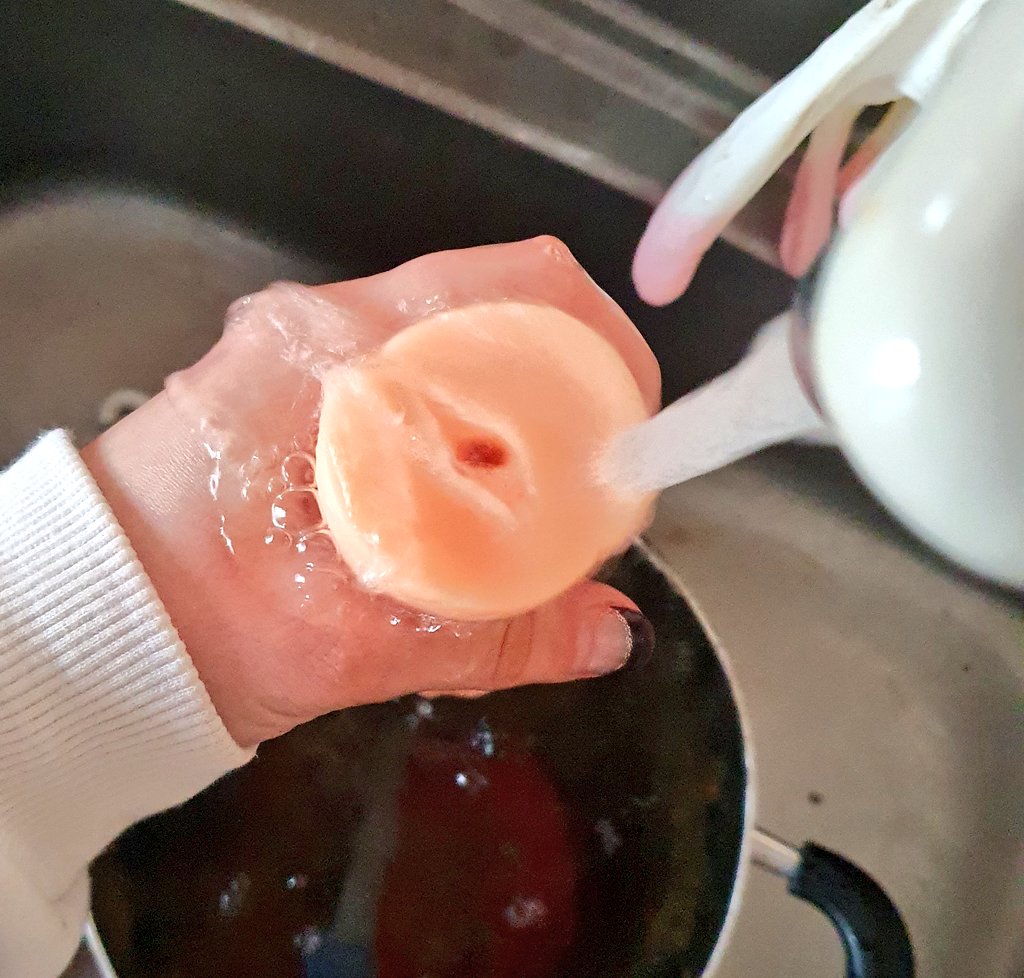 Things you should pay attention to before cleaning Pocket Pussy.
If you have a lot of pocket pussies, you probably won't use one all the time. It can get boring. So when you pick up a pocket pussy out of your treasure chest that you haven't used in a while, you need to do some checking before cleaning it.
For sex toys containing silicone, and TEP, improper storage over time may cause them to deteriorate and break. And cracks and damp conditions are the perfect home for bacteria to multiply and hide, making it difficult for you to be able to clean them up.
In addition, a broken pocket pussy will affect how you feel during use.
Mildew
Moulds can be a headache, whether it appears on your clothes or toys. If your pocket pussies have developed small moulds, then you can try using toothpaste or a professional cleaning product.
But if the moulds are so much that you can't stand them, then the only way to get rid of them is to throw them away. If you don't want to throw out an expensive sex toy because of some mildew, maybe you can use it with a condom on.
Discoloration
Discoloration and yellowing of the product may be due to time, or it may be that your lubricant or cleaner is not suitable for your pocket pussies. If the discoloration is natural, then you don't need to worry about product safety.
But if you can't prove what is causing it to turn yellow and fade, you may need to stop using it and buy a new one at the Anesidora store.
Deformation
Due to frequent pulling and squeezing during use, the product may be more or less deformed and loose. This is normal, after all, each product has its own limit. However, deformed products can no longer wrap your penis well and bring you a comfortable and good experience. You have better bought a new one.
Battery leak or rust
Leaky or rusted batteries are for electric pocket pussies. If you find that your pocket pussies have rusted in the battery slot or are not charging, you should stop using them and send your toy to a professional inspection. Or, buy a new toy on the Anesidora website.
How Often Should You Clean Your Pocket Pussies?
The standard answer, of course, is to perform a deep cleaning before and after each use. If you don't want your penis to suffer needlessly, then you can't escape the problem. All you can do is try to get into the habit of cleaning it after use, just like you press the flush button immediately after going to the toilet.
This is how often you clean the toys you have on hand. For those sex toys that have not been used for a long time, you should clean them every two weeks. This helps reduce damage to the sex toy and prolongs its lifespan.
Step-by-Step Guide to Cleaning Your Pocket Pussy
Cleaning your pocket pussy is a relatively simple process, but it's important to take your time and do it correctly. Follow these steps to ensure that your toy stays clean and hygienic:
Step 1: Remove the Inner Sleeve
Start by carefully removing the inner sleeve from the outer casing. Be gentle to avoid damaging the toy or tearing the silicone material. If your toy has any additional features, such as vibrating motors, remove them as well.
Step 2: Rinse the Inner Sleeve
Rinse the inner sleeve thoroughly with warm water. You can use a mild soap or sex toy cleaner if desired, but be sure to avoid any harsh chemicals that could damage the material. Use your fingers to carefully scrub the inner canal, making sure to remove any built-up fluids or debris.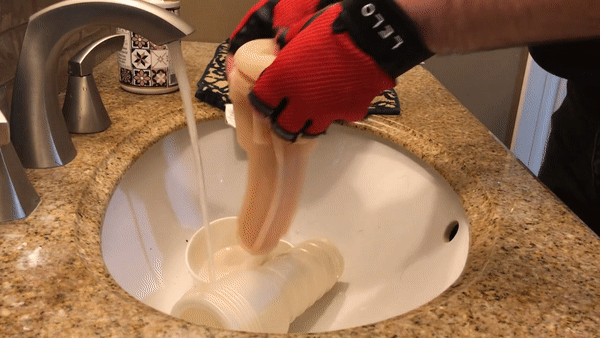 Step 3: Dry the Inner Sleeve
After rinsing, gently pat the inner sleeve dry with a clean towel. Do not rub the material, as this could cause damage or fraying. If you're in a hurry, you can use a hair dryer in a low, cool setting to speed up the drying process.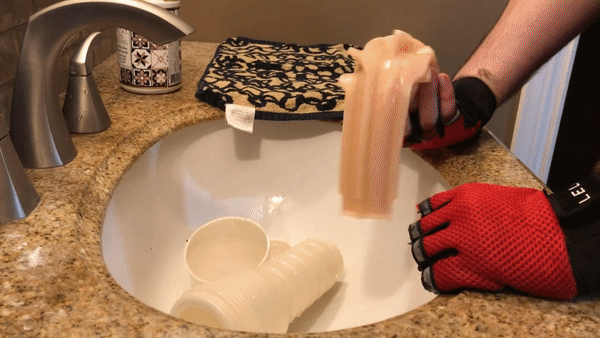 Step 4: Clean the Outer Casing
While the inner sleeve is drying, clean the outer casing with mild soap and warm water. Be sure to pay special attention to any ridges or bumps, as these areas can collect fluids and bacteria. Rinse the casing thoroughly and pat dry with a clean towel.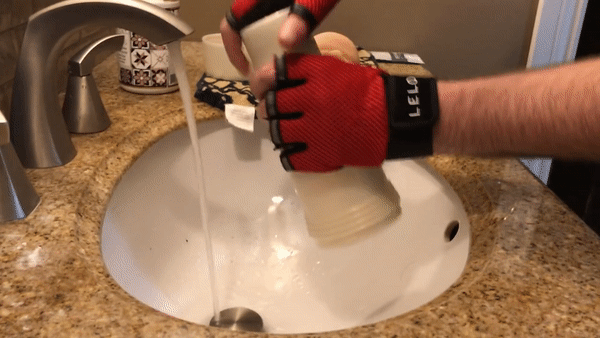 Step 5: Reassemble Your Toy
Once both the inner sleeve and outer casing are completely dry, reassemble your pocket pussy. Make sure that the sleeve is inserted correctly and that any additional features are securely in place.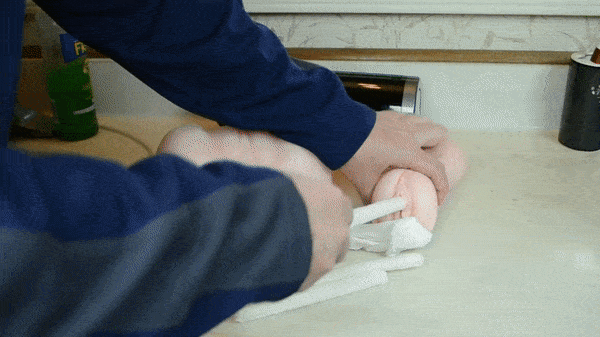 How to Store the Pocket Pussies?
Pocket pussies can't tolerate hot and humid environments as this can accelerate their deterioration and harbours many bacteria. So when storing these toys, please keep them in a cool, airy place. This could be a specially prepared cardboard box or your bedside table, but don't mess them with other stuff. Or you could take advice from YouTubers.
Additional Tips for Maintaining Your Pocket Pussy
In addition to regular cleaning, there are a few other things you can do to keep your pocket pussy in top condition:
Use lubricant
Lubricant can reduce friction and damage to the material and offer smooth penetration. There are some types of lubricants in the market, including oil-based lubes, silicone-based lubes, and water-based lubes. Basically, most pocket pussies are made of silicone, so the best choice is a water-based lubricant.
Use a renewal powder
Renewal powder can help restore the softness and suppleness of your toy's material, making it feel like new again. It is really important that you should use a specifically made renewal powder for these kinds of sex toys. If you don't own one, just go to the sex shop to get one. Do not replace the renewal powder with some talcum powder or baby powder because these contain perfume and oil, which will destroy the material.
Avoid sharing your toy:
Sharing sex toys can increase the risk of infection or transmission of sexually transmitted diseases. If you have never shared your life partner with others, then don't do the same thing to your sex toys. Show some respect to your sex toys please.
Find your preferred Fake pussy in Anesidora
For More, Please Read :
Conclusion
Cleaning and maintaining your pocket pussy is an essential part of owning one. By following the steps outlined in this article, you can ensure that your toy stays clean, hygienic, and enjoyable for years to come.
Are you curious to learn more about the best male masturbation toys on the market? Our article has all the details you need to know!