Whether you want to give a holiday gift to your partner in the upcoming Halloween, or look for a discreet sex toy, a lipstick vibrator can fit the bill perfectly. This disguised vibrator can avoid prying eyes, as no one will be surprised to see lipstick in a lady's purse. So you can boldly keep them at home, in your bag, or wear them around your neck.If you're unfamiliar with lipstick vibes and not good at choosing them, don't worry, we've picked Best 6 Lipstick Vibrators. All of them are recognized in the market and have won customers' praise.
Table of Contents
7 Best Lipstick Vibrators
A slanted tip, a flashy golden shaft, a black base, and it also has a black cover. This lipstick vibrator is a very typical lipstick style.
In addition, this lipstick vibrator is opened by pressing and popping, which adds a sense of ritual to your sex life.
The lipstick vibrator is about 11cm long and the silicone part is 3cm long. Although it is a little bulkier than regular lipstick, but it's still well camouflaged in your makeup bag, as long as no one is sticking their eyes in your makeup bag and looking carefully.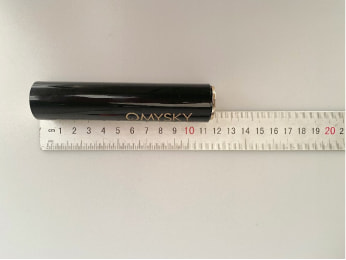 It also has 10 powerful vibration modes, which are very suitable for those who want to pursue different stimulation. And you don't need to worry about the powerful motor breaking the silence of the night.
After our test, the average decibel of this lipstick vibrator is around 40. If you use it without anyone by your side, I bet your roommate won't be able to hear what you are doing.
Made of silicone and ABS plastic, which is safe and harmless. Its silicone body is slightly longer, allowing it to be inserted into the vaginal, but we still recommend it for external use. After all, it is not as long as traditional vibrators that can effectively stimulate the G-spot.
Price: $ 29.99
Pros
---
Precise stimulation of clit with three tip attachments
Super discreet case
Budget-friendly
100% waterproof
Easy to carry on.
The Lelo Mia 2 is a sleek and understated lipstick vibrator that can provide powerful and whisper-quiet vibrations. It looks more like a stylish makeup applicator than a clit vibrator, so it won't become embarrassing at a bag check.
Made of firm and elegant ABS plastic, the Mia 2 has a luxurious glossy finish. The hard plastic is not as comfortable as silicone, but it is still smooth to the touch. However, the smooth surface may cause the vibrator to be too slippery to grab.   
The Mia 2 has 6 vibration patterns with adjustable strength that let you find your preferable level of clit stimulation. You can stimulate your clitoris with the tip or slant ends because both can provide precise stimulation. What makes it special is that it has an integrated USB charger, which means you don't have to carry a mess of USB cables when traveling.
Price: $ 89.00
Pros
---
Incredibly discreet
Easy to charge
Powerful vibration patterns
Made with body-safe ABS plastic
I love the design
Cons
---
A little pricy for a small vibrator
Might be too simple for some users
If you're a newbie who wants to try a lipstick vibe but has yet to decide which one to trust. The Lovehoney Oh Kiss Me Lipstick Vibrator is the one that you are looking for. You may want some powerful, but not too powerful. You may want it from a well-known brand, but not too expensive. Most importantly, the vibrator must be made from body-safe material. So, this is why I recommend this lipstick vibrator to newbies.
It is no different from any other lipstick, so you can carry it around in your bag. With such a plain and discreet feature, you can have a little moment to destress no matter where you go.  
Price: $ 16.99
Pros
---
Incredibly discreet
Powerful vibration patterns
Multiple colors to choose from
Budget friendly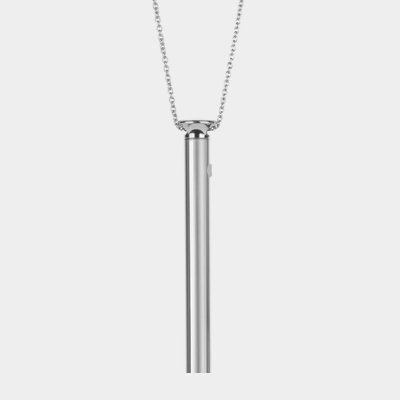 Still looking for an accessory that matches your dress and sex? That definitely must be the Crave Vesper! Not only can the Crave Vesper light up your outfit, but it also lights your sexual life up. The Crave Vesper is made of high-polish stainless steel, adding a touch of shine to your sex play.
This vibe appears in many lists not just about its looks, and it features a powerful motor with 4 vibration patterns for clit pleasure.Since this vibe is covered by metal, you can warm or cool it to get extra pleasure. Plus, as it's long enough, you can use it to stimulate the vagina. But stimulating your anus with it is not a good idea because it is too skinny to stretch the rectum and doesn't have a safe base.
You don't want to know what gonna happen if a slim and smooth vibrator without a flat base goes into your anus.We found some minor issues with this vibrator. It is splashproof, not waterproof, which means you should be careful when cleaning it;
And I should admit that the noise is a bit loud, so pay attention to the surroundings when using it. But these small cons don't even matter, it is still a good vibrator worth trying.
Price: $ 69.99
Pros
---
Elegant design
Perfect for public play
Three speeds keep things exciting despite the small size
Cons
---
Short battery life
Not waterproof (only splashproof)
Unavailable for butt play
Tiny
The We-Vibe Tango X is probably the most intense lipstick vibrator among those vibrators. It is an improved version of the Tango bullet vibrator.
If you are looking for a powerful lipstick vibe, this may be a great option. The Tango X has a simple and sleek shape. Although it doesn't look like real lipstick, it is still quite discreet and compact to fit in your purse. It has 7 vibration modes and 8 intensity levels that quickly bring you to orgasm.
The opposite of the powerful vibration is the noise it makes. It's hard to imagine such a powerful motor making such a quiet sound. Your neighbours will never notice what you're doing. However, some users have mentioned that its buttons are not smooth to use. This may bother you when changing modes, but it's not a big deal.
Price: $79
Pros
---
The strongest lipstick vibrator.
Easy to handle
Comfortable to use
100% Waterproof
Whisper Quiet Technology Keeps it Discreet
Cons
---
Might be too powerful for more sensitive users
Doesn't look like lipstick; it's clear what it is
If the slanted lipstick vibrators make you feel drab, it's time to find something more exciting. The ANESIDORA Milda might be just the one.
It comes with 2 different heads: rabbit ears and a ball. Plus, it provides 10 vibration patterns to stimulate your clit and nipples. A powerful motor in a compact size.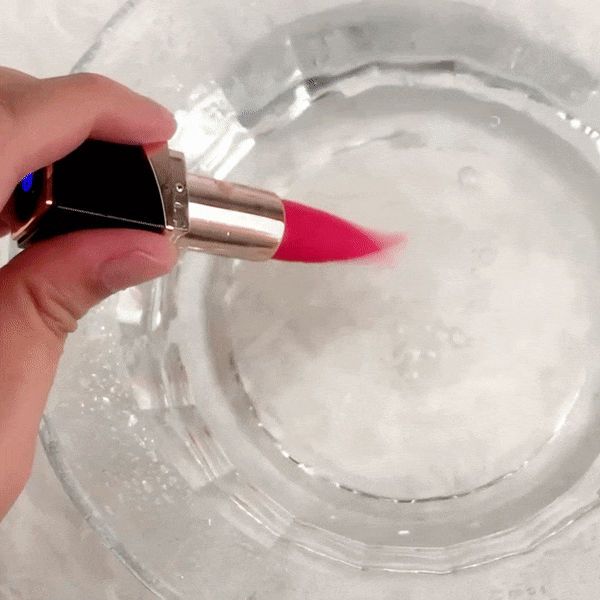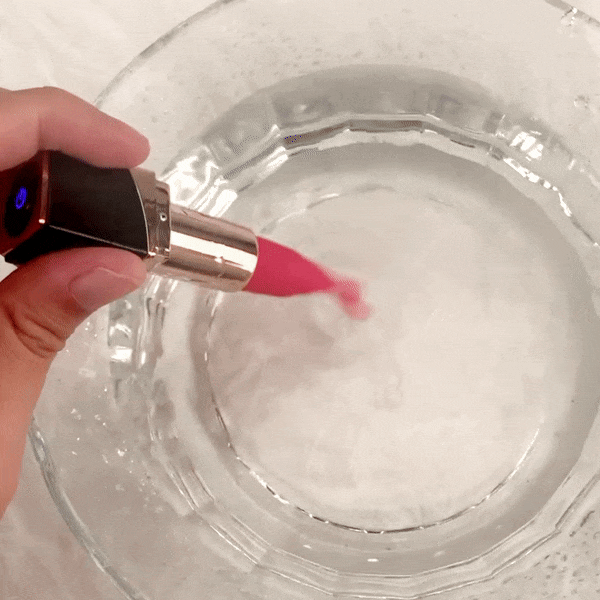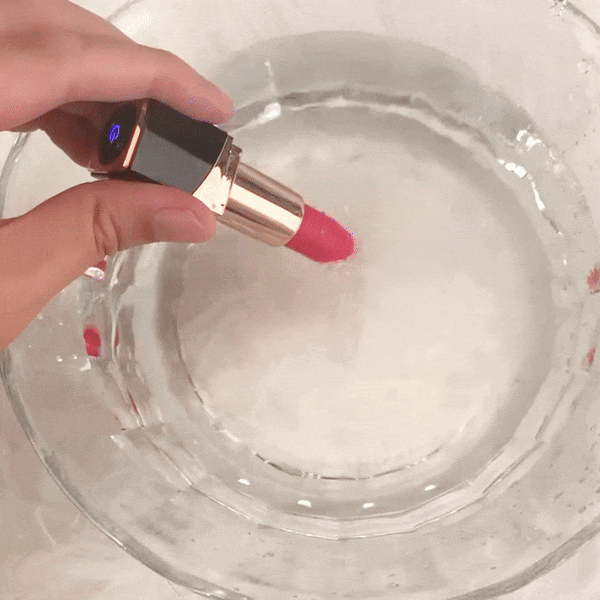 Splashproof means you should treat it carefully; don't let it submerge in water or expose in a damp environment that might damage the motor.
Price: $29.99
Pros
---
3 tip attachments keep things spicy
Ten speeds mean endless experimentation
Super discreet case
Budget Friendly
Cons
---
Not fully waterproof
May be too intense for some 
AthēNâ Lipstick vibrator has 9 vibration frequencies and 3 sucking modes, each of which will bring you straight to orgasm. This spring-loaded mini lipstick vibrator has a small and compact appearance, making it easy to carry and avoiding some embarrassing scenes.
And not only give you the ultimate orgasm by constantly pumping up and down. It can also be a beautiful decoration in your bag.With soft medical silicone material is hygienic and odorless. This silky-smooth lipstick vibrator will bring more comfort to your private parts as well as your whole body.
Price: $34.99
Pros
---
It has a small, discreet design, perfect for travel.
The powerful motor churns out multiple vibration settings and sucking functionality
Precise stimulation for the clit
It has the best battery life on the list – 90 minutes.
Budget Friendly
Cons
---
No Travel Lock feature; could turn on in your purse or bag
What Makes Lipstick Vibrators So Great?
Well, a lot of things, but we will pick some of the obvious ones.
Compact and Portable
Lipstick vibrators are way smaller than regular vibrators, which means you can throw them in your purse or pocket and go out with them. They are a really handy option when it comes to portable sex toys!
Discreet
Since they are compact in size, no one will notice them. Plus, no one will bat an eyelid on a "lipstick."
Slanted Tip
The slanted tip makes the lipstick vibrator look precisely like real lipstick. Not only does this help with the discreetness, but it also offers different types of stimulation! The flat side gives you a wider vibration, whereas the pointed tip allows for direct and precise stimulation!
Price
Buying a large and versatile vibrator will bleed your wallet, but with this compact vibrator, you can save money.
Final Thoughts
Lipstick vibrators are discreet, stylish, and easy to use, and there is no reason not to get one after you read this article.
They are available in a variety of colors and styles, with varying intensities and speeds. So it's easy to find the right one for you.
Also Read: