A discreet sex toy can cut a lot of unnecessary hassles. It is a good option for people who live with roommates but do not want to be caught using sex toys. And if you consider carrying a sex toy on the go but have limited luggage space, a discreet and small sex toy can save space and won't draw attention from airport security.
Generally, the discreet sex toys on the market are compact in size and have whisper-quite motors. But with a wide variety of sex toys on the market, from clit vibrators to anal toys, finding the right one can be a challenge.
Luckily, to help you find the best discreet sex toy for your needs, we collect some top-rated picks, from the best quiet vibrators you can use anywhere to compact and cute toys you can store in your purse.
Table of Contents
Best 11 Discreet Sex Toys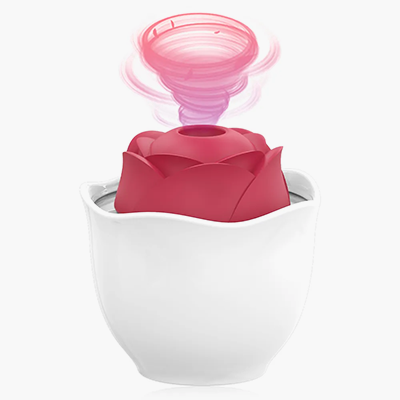 If it didn't appear in our sex toy review, could you believe this Rose is a sucking vibrator? Yes, this is a rose vibrator with 9 different mode patterns. Compared with other vibrations with the same function on the market, the Anesidora Night Rose vibrator has a firm shell to protect the soft silicone rose head, and the round hood can protect the Rose from dust and bacteria.
In addition to its appearance, its powerful functions cannot be underestimated. The 9 different sucking modes suit the majority. If you're sensitive and easy to blow, the low-speed mode is perfect for you because it won't let your clit swell and hurt.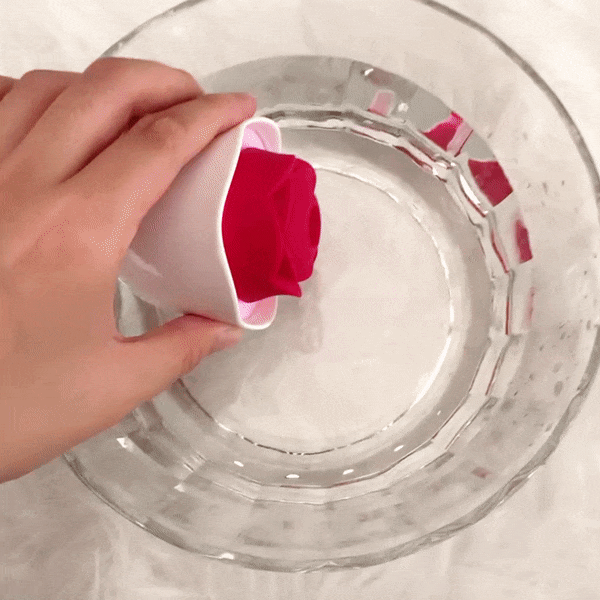 The intense modes will give people who find it difficult to achieve orgasm an accessible way to reach their climax.
Furthermore, the Night Rose has 8 light modes, which makes it more like a small setting light on your nightstand when it is not at work. So you don't need to worry about where and how to hide your secret sex partner.
The IPX-7 waterproof allows you to play in a bath and wash with running water. It has a runtime of up to 1 hour and is charged via a USB magnetic charging cable. The noise is acceptable, and it won't disturb anyone except U.
Price: $39.95
Rating: ★★★★★
Material: soft silicone, plastic
Function: 9 sucking modes & 8 light modes
There is no extra design on the vibe, just one control button to cycle the 3 different speeds. The first setting is might too mild for some people, but it is excellent for foreplay. Once you work up to the second and third level, you will be surprised by its strength.
Aside from the difference in appearance, the biggest difference between Maude and Anesidora is their function. It brings you to orgasm through the vibrating sensation of the clitoris in direct contact with its tip, while Anesidora rose vibe is via air pulse to make you feel OMG. These are two different technologies.
It is water-resistant, not waterproof, so you can't keep it under water which might damage it, with a runtime of up to 2.5 hours and charged via USB.
Maude vibe is easy to use, especially for fresh hand in the sex toy field.
Price: $49
Rating: ★★★★★
Material: soft silicone
Function: 3 speeds
If you saw Sex and the City ever, you properly might have met it before. When I first saw it, I was attracted by its unique shape. And I was curious how this little thing could make people orgasm.
Eva II is designed in a way that it grips onto your body folds and stays there, freeing your hands and the rest of your body to pursue even more pleasure.
But the use experience totally depends on how you use it. One way to do this is to place the EVA II at your vaginal opening, then adopt a classic missionary position. As your partner thrust, the weight of his body against your pelvic area helps to press the Eva II firmly against your clit for optimum results.
For solo use, it might be too mild to achieve the orgasm, and you may need to combinate it with other toys.
It is not cheap, so I just give it 4 stars. However, if you can afford it, Eva II certainly has a unique hands-free design that makes it worthwhile.
Price: $139.99
Rating: ★★★★
Material: silicone
Function: 3 speed modes
One pf the top 6 discreet sex toys on the market are the Rose Vibration Clit Sucker with Thrusting Bullet Vibrator, this is Anesidora latest rose series toy. You can see the differences between this one and other roses. Compared to the first product in the list, it is just one function- vibration (though it has 9 speeds).
Anesidora has upgraded the rose toy based on the original and added the penetration function. And the two functions will bring multiple orgasms and pleasance for you.
Many women cannot get orgasms until stimulated by their clit. However, only stimulating the clitoris is not enough for some women, they need penetration. So, the Rose Vibration Clit Sucker with Thrusting Bullet Vibrator is a perfect sex toy for all women.
The rose clitoral toy has a beautiful look and smooth surface. The touch feels like silk when it's on your skin. It is made of body-safe silicone and ABS plastic; its waterproof function allows you to have a great bath time to end an exhausting day.
Price: $39.99
rating: ★★★★★
Material: silicone, ABS plastic
function: 10 vibrations modes
It has another name called wearable panty vibrator. Yes, you can wear it in your underpants. Moxie nestles comfortably and securely in underwear for secret, on-the-go fun, held in place with a magnetic clip. This toy is a good option if you like having fun in public.
The We-Vibe Moxie is an app and remote-controlled clitoral vibrator. And you don't need to worry about the buzz, the motor is quiet so that you can use it in many public places, such as a pub, grocery store, or your office. The magnetic clip keeps the toy in the right place, and you can adjust the position as you like. There are lots of different functions in the app that can explore.
However, one thing you should consider is the connection problem. If your mobile phone signal is not good, it will likely cause an unstable or disconnected connection between the APP and the toy. Frequent disconnections may turn you off. Let's why I just verdict 4 stars.
Oh, don't be afraid to get wet: Moxie is waterproof.
Price: $129
rating: ★★★★
Material: silicone
function: 10 vibrations modes
A lipstick in a woman's purse is not notable, so when a sex toy that looks exactly like a lipstick shows up in your purse, no one will fuss about it. It is hard to distinguish the lipstick vibrator from a bunch of real lipsticks because they are freaky similar.
The vibration is delivered through the lipstick tip while the control button is on the bottom. By pressing the pleasurable button, your clitoris can get 10 intensities. Don't underestimate this tiny vibrator; it will rock you out.
Price: $39.99
Rating: ★★★★
Material: silicone
Function: 10 vibrations modes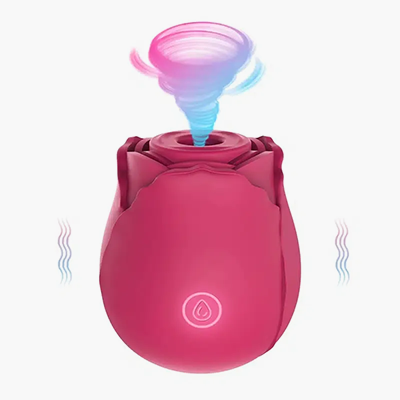 Everyone should know the Rose because it's famous on TikTok, but if you haven't met it yet, allow me to introduce this discreet toy to you. The reason why it has gone viral is easy to see: its design subverts people's impression of sex toys;
It comes small and discreet, not explicit; besides, this beautiful rosebud packs an incredibly powerful punch, combining rumbly vibration with air suction to help you reach an orgasm faster. Many reviewers are full of praise for the Rose toy, believing that it does not only rely on its fancy appearance to please women.
Price: $29.99
Rating: ★★★★
Material: silicone
Function: 7 vibrations modes
Many vegetables and fruits have other purposes besides eating, but few can be as versatile as a cucumber. A cucumber can be a bowl of salad, a skin care product, or even a sex-relief tool. But eating it after you've used it is really awkward, so it is time to get a fake cucumber.
Not only does it have the same color as a natural cucumber, but it also has raised bumps to replicate the thorns on a cucumber. These bumps can enhance sexual pleasure when the dildo goes through your vagina or rectum.
At 7.7 inches long and 1 inch in circumference, the Cucumber Dildo is a bit skinny than other dildos, which means you can tuck it anywhere in your suitcase or rucksack and carry it with it. When you're done having sex, you can casually place it beside your bedside table rather than hiding it.
Price: $34.99
Rating: ★★★★
Material: Glass
If you prefer a banana to a cucumber, put this dildo on your discreet sex toy list. This banana dildo looks more like a glass craft than a sex tool, so you can feel safe that no one will cast their eyes on this indecent toy unless they have the same hobby as you. The banana dildo is made of shatter-resistant glass, beautifully shaped, safe, and non-toxic, suitable for most dildo lovers, especially beginners.
And the slightly curved shaft can stimulate your G-spot or prostate effectively. It can be used for solo play or couple game; just don't forget to lubricate both of you.If you are interested in collecting such cute dildos, here are more products for you.
Price: $34.99
Rating: ★★★★
Material: Glass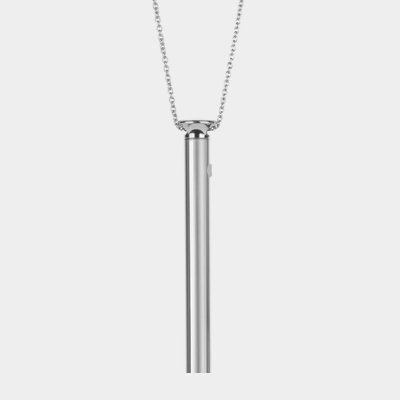 If there is a sex toy that can satisfy both your sexual desire and your aesthetics, then the Crave Vesper Vibrator Necklace is probably the best choice. With a sleek bullet shape and delicate stainless steel chain, it looks more like a fashion necklace than a sex toy.
This allows you to wear it around your neck anytime, anywhere, whether traveling or watching a movie. If you don't want to wear it around your neck, it won't take up too much space in your bag or pocket. Designed for clitoral stimulation, it's rechargeable via USB and comes in silver and gold.
Price: $69.99
Rating: ★★★★
Material: Metal
This wearable vibrator can be placed inside your underwear, and don't worry, it will fall off because it has a strong magnet disc to ensure it stays in place during exercise.
The Fya is equipped with a remote control that allows you to cycle the vibration modes via a remote device, which means you can use it in public privately. Moreover, it can be a little love token to promote your relationship.
All those annoying noise issues you are concerned about won't happen to it because the Fya is as quiet as the buzzing of a fly. And the little buzz will even be drowned out if there is white noise. It's a great intimate sex toy that's small, hands-free, whisper-quiet yet offers 9 powerful stimulation modes.
Price: $50.99
Rating: ★★★★
Material: Silicone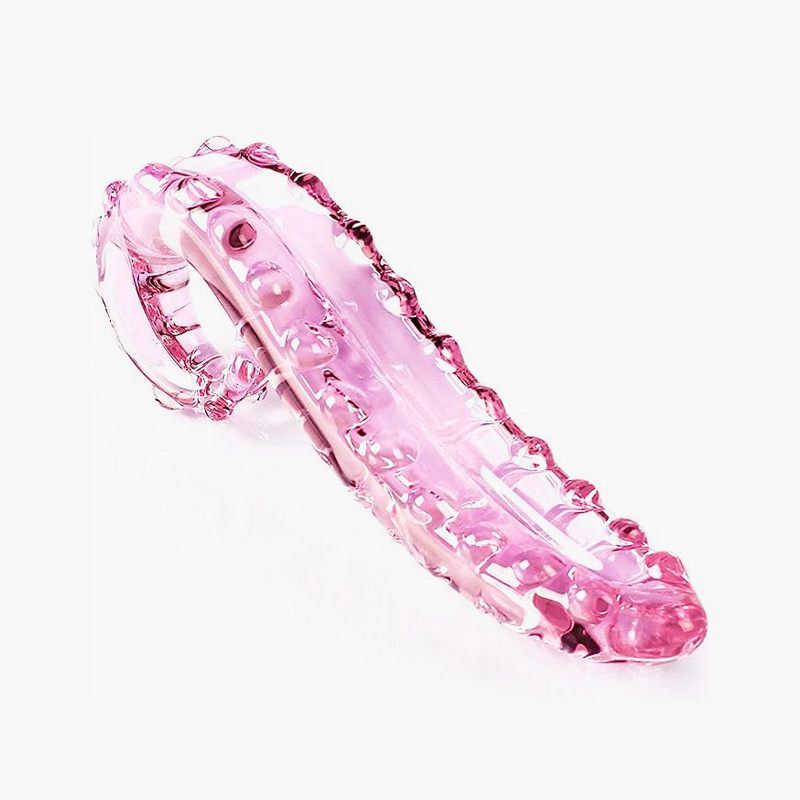 It's hard to say what kind of shape it is, but this might be a good way to bewilder others. Unlike traditional cylindrical dildos, the Tentacle is flatter and more irregular, and this unique design can bring some sexual adventure that you have never had before. In addition, the end of the dildo is a rolled-up loop, which makes the use process more convenient and safer.
Price: $34.99
Rating: ★★★
Material: Glass
How to Choose the Best Discreet Sex Toys
Choosing a sex toy is a very private matter, and you need to consider many factors such as function, material, price, etc. But first, you need to define your sexual needs.
If your need is only to stimulate your clitoris, there is no need to spend a lot of money on an expensive dual-stimulation vibrator. If your need is to have a safe sex experience, then focus on the material and brand of the sex toy.
When it comes to picking a discreet sex toy, perhaps the first element is their appearance and size, but don't forget that the noise level should also be taken into consideration. A competent, discreet sex toy should have a compact size and a quiet motor. Once you have considered all these factors, choosing a sex toy will be very easy.
Also Read
Conclusion
If you already have dozens of sex toys, but none contain above op 6 discreet sex toys, sister, you should give those little treasures a chance to join your sex life. If you are a newcomer to the sex toy world, hey baby, pick one from top 12discreet sex toys on the market, they won't disappoint you.