In this article, we'll discuss two similar sex toys — the strap-on and the strapless double dildo. Whic is available to people of all genders.
I've tried both toys and can offer insight into their similarities, differences, and which might be best for you based on my experience exploring different forms of sexual pleasure.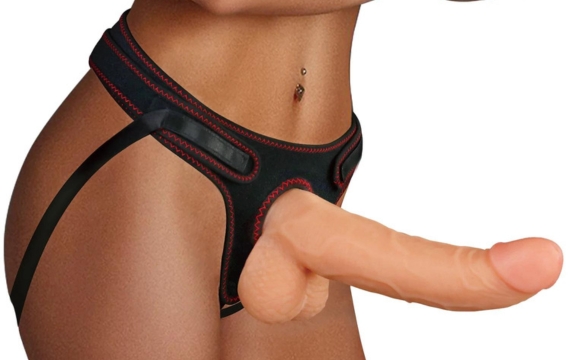 Strap-Ons
Strap-ons are sex toys that attach dildoes to them for penetration and are worn like harnesses. Normally,harnesses are made of leather or nylon, and they can be adjusted to fit different body shapes. Silicone, glass and metal can all make dildos
Pros:
Stability: The harness provides stability and control, making it easier to control the angle and depth of penetration.
Variety: With a strap-on dildo, you can easily switch out the dildo for a different size or shape, depending on your preference or mood.
Comfort: A well-fitting harness can be comfortable and provide support during use.
Cons:
Limited Sensation: As the wearer, you don't experience the same sensation as you would with a strapless double dildo.
Setup Time: Putting on the harness and adjusting the straps can take some time, which may kill the mood.
Cost: A high-quality harness can be expensive, and you may need to purchase different dildos to switch out, which can add up.
A strap-on is consists of three parts: the dildo, the harness, and the O-ring. Dildo for penetratiion, while the harness is what holds it in place,And The O-ring is a circular ring that attaches the dildo to the harness.
Choosing the Right Harness
When choosing a strap on harness,Finding a product that is both comfortable and safe is important. Most harnesses have a front pad and straps that you step into, and they are either elasticated or adjustable at the waist and the legs.
Choose a harness that fits snugly without being too tight or uncomfortable. To ensure a proper fit, make sure to check each product's minimum and maximum measurements.
Material
The material of the dildo is important, as it can impact the overall experience. My most recommended material is silicone as it is durable, harmless and easy to clean.
Measure Your O-Ring First
Before you start looking for a dildo which is compatible with your harness. Please measure the internal diameter of your o-ring. The job can be easily done with a tape measure.
Dildo Measurements
When shopping for a dildo that's compatible with your harness, Please pay attention to its measurements. Every harness-compatible dildo will have an o-ring diameter measurement listed, which will make it easy for you to find the right fit.
Using a Smooth Dildo
When your dildo is long and smooth, you can simply slip it on the o-ring. which is perfect for beginners.
Using a Dildo with Testicles
If dildo has testicles, you'll need to gently pinch the flared base and work it into the o-ring. A little bit of water-based lube can help ease it into place if it's difficult to fit.
Strapless dildo is a unique type of sex toy that don't require a harness to wear. In contrast, they have a bulb-shaped end that is inserted into the wearer's vagina or anus, and a long end that can go penetration The idea behind these toys is that the wearer can experience pleasure from the bulb while penetrating their partner.
Pros
Intimacy: Without a harness, there's a closer feeling of intimacy between partners.
Sensation: As the wearer, you can experience more sensation, including clitoral stimulation.
Ease of Use: No harness means less setup time, which can be a plus for those who want to jump right in.
Cons
Stability: Without a harness, the dildo may slip out of place or be difficult to control, especially during vigorous activity.
Limited Variety: Strapless double dildos come in fewer sizes and shapes, which may limit your options.
Learning Curve: Strapless double dildos require some practice and coordination to use effectively.
For more please read:
Material
Since the dildo will enter the vagina and anus, safety should be considered first. Currently, silicone is the ideal material for making sex toys. It is body-safe, odorless, and non-porous. All these pros make silicone a solid choice.
Size
Size is one of the decisive factors in whether you can have comfortable sex. When buying a strapless strap on, you'd better consider the length and girth. The large size provides a feeling of fullness and squeeze, but it may be difficult to move. Small size does the opposite.
Design
The strapless strap ons vary with the design. Different brands of dildos are different in color, texture, and shape. Some of them mimic the real penis, with raised lines and folds. In contrast, others are more aesthetically pleasing.
Vibration
As with any other dildo, strapless strap-ons can be divided into non-vibrating dildos and vibrating dildos. As for which dildo to buy, you can choose according to your needs. Non-vibrating strapless dildo allow you to concentrate on penetration, while vibrating dildo will enhance your pleasure.
Waterproof
If you like to explore the secrets of sex with your partner in a humid bathroom, it is very necessary to choose a vibrator with high waterproof performance.
Please read our latest article for more info about strapless dildo: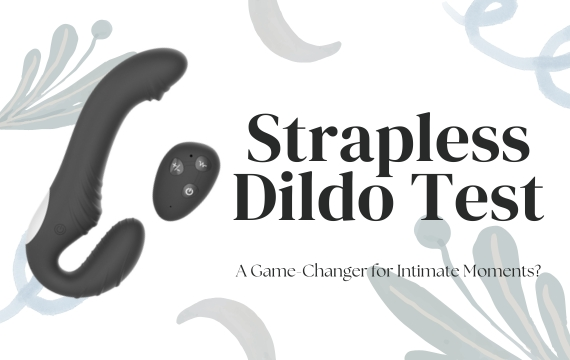 So what will you choose?
The decision of whether to use a strap-on or strapless double dildo ultimately comes down to your personal preference and experience level. The strap-on might be a better option for those new to penetration or preferring a more traditional approach. A strapless double dildo may be worth trying if you're looking for a more intimate experience and have experience with pelvic floor exercises.
Sexual experiences should be based on communication and consent. Consider your partner's interests and what you hope to gain from the experience. And don't forget to use plenty of lube and take things slow to ensure a pleasurable and safe experience.