Description
Teicu – Strapless Dildo Review and Buying Guide
Are you looking for a new addition to your adult toy collection? A strapless dildo can be a great way to spice things up and explore new forms of pleasure. Teicu – Strapless Dildo  is a top-rated product that can take your sexual experiences to the next level.
What is Teicu – Strapless Dildo Strap on
Teicu is a high-quality strapless dildo that offers dual stimulation and ten vibration frequencies. Made from safe, odorless, and skin-friendly silicone material, this strapless dildo is an excellent option for couples who want to enjoy a hands-free and wireless experience. The device features a wireless remote control that allows you to switch between vibration modes effortlessly. It is also waterproof, making it ideal for use in the bath or shower.
Features of Teicu – Strapless Dildo
Wireless Remote Control
One of the key features of Teicu is its wireless remote control. The remote control allows you to control the ten different vibration frequencies from up to 10 meters away. This feature makes it easy to use and share the pleasure with your partner, giving you complete control over the device's stimulation.
Dual Stimulation
The Teicu strapless dildo is designed to provide dual stimulation, stimulating both the G-spot and clitoris at the same time. This feature makes it an excellent option for couples who want to intensify their shared pleasure during sex.
Fully Waterproof & USB Magnetic Rechargeable
Teicu is fully waterproof, making it easy to use in the bath or shower. The device is also USB magnetic rechargeable, ensuring that it is always ready for travel or use. You can recharge it with ease, without having to worry about replacing the batteries.
Powerful But Super Quiet & Discreet
Teicu offers powerful stimulation without making any noise. It is designed to be super quiet and discreet, allowing you to enjoy your pleasure with peace of mind.
Discreet Packing & Fast Shipping
Teicu is shipped discreetly, ensuring that your privacy is always protected. You can order the device online and receive it quickly, without having to worry about anyone knowing what you have ordered.
Benefits of Strapless Dildo
Provides hands-free stimulation
 Wireless remote control for easy use – Dual stimulation for intensified pleasure
Fully waterproof for use in the bath or shower
 USB magnetic rechargeable, making it travel
friendly – Powerful but super quiet and discreet
Discreet packaging for privacy
How to Use Teicu – Strapless Dildo
Using Teicu is easy. Simply apply water-based lubricant to the device and insert the smaller end into the vagina. The larger end of the device should rest against the clitoris. Once the device is in place, you can control the vibration modes using the wireless remote control. You can experiment with the different vibration frequencies to find the one that works best for you.
Cleaning and Maintenance of Teicu – Strapless Dildo Strap on
To clean the device, simply wash it with warm water and mild soap. Ensure that the device is completely dry before storing it. You can also use a sex toy cleaner to clean the device thoroughly. To maintain the device, store it in a cool, dry place, away from direct sunlight and heat.
So you have a lot of questions about strap ons, huh? So today we're going to talk about strap ons Specifically how to choose a dildo, how to put on a strap on harness And how to f*ck and get f*cked by strap ons 
YouTube phenomenon well known for her personal channel SassiBoB, where she discusses relationships and posts comedic videos for her 750,000 subscribers. 
For the past year, ANESIDORA has been focusing on individual pleasure by introducing masturbation toys for different genders and ages. While we have always emphasized not sharing these personal sex toys with partners for health reasons, we recognize that many believe sharing sex toys can enhance their relationships. That's why we launched several sex toys this year that can be shared with partners, including strapless strap-on dildos
How to Use Strapless Dildo
When it comes to strapless strap-on, many people tend to associate it with lesbian couples. It can't be denied that judging from the design of strapless strap-ons, they are indeed a type of sex toy made for lesbians.
The strapless strap-on is also known as double-ended dildo. It has two different sizes of shafts, one for stimulation and the other for penetration. The wearer wears the shorter end bulb with their pelvic muscles, while using the longer shaft to penetrate their partner.
Since there are no harnesses and straps, this greatly reduces the cumbersome steps of using strap on. However, this requires the wearer to have strong Kegel muscles to keep the strapless strap on from slipping out of their vagina.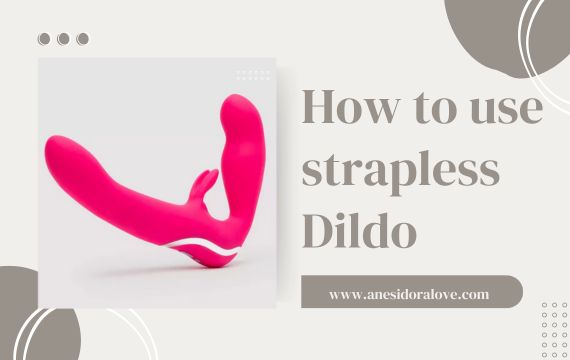 We all know that strap-on dildos are a great way to enjoy sex with your partner, but why do they become so popular recently?
Strap-on dildos are an excellent accessory for Kinky Play and a great way to spice up your sex life. Both men and women can use these toys to enhance pleasure during intercourse. The harness can be worn by any gender and is comfortable for long-term wear.
If you want to try having sex while wearing one, you should know the many different types of strap-on available today. Some are designed specifically for anal play, while others are intended for vaginal penetration or both!
Are you upset when you realize you cannot completely satisfy your female partner? Or have you ever longed to peg your male partner from backward? I should admit that these thoughts have been buried in my heart like seeds for a long time, and they are just waiting for the right time to germinate. Thankfully, the sex toy industry creates some best strapless strap-ons to help my seeds become saplings. As a sex toy that can satisfy the sexual desires of both at the same time.
Strapless dildos are in favor of many users for their marvelous design. If you are interested in this type of sex toy, let's dig deeper.
In this article, we'll discuss two similar sex toys — the strap-on and the strapless double dildo. Whic is available to people of all genders.
I've tried both toys and can offer insight into their similarities, differences, and which might be best for you based on my experience exploring different forms of sexual pleasure.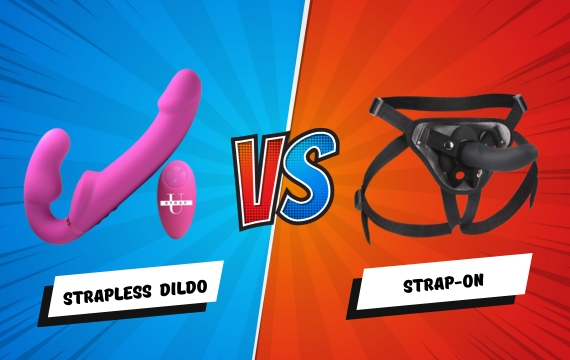 Frequently Asked Questions