Hi, this is Anesidora, welcome come to Anesidora's blog. We are a sex toy company, maybe you don't know about us, maybe you have already met our products before, or maybe you have bought our products.
Anyway, we appreciate that we can meet here. And in order to let you guys know more about our products from an objective perspective, we collated some honest reviews from our regular customers.
If you have been planning to purchase Anesidora products recently, hope this article will help you. Below are the reviews on our Night Rose.
Anesidora sex toy reviews — Night Rose
---
"I've had rose toys before and have couples of right now. when I say they do not compare to this rose, I mean it doesn't compare to THIS ROSE." — RORO.
"It's made from soft silicone, it's not toxic, it's skin friendly……This type of style is No.1 in the world for women's happiness." — Vipbabydoll.
"As I said, I really recommend it to everyone. It's a beautiful and effective sex toy."
What is Anesidora Night Rose?
---
The above YouTubes videos may have given you a general impression of Anesidora Night Rose (or learn more) –the intense sucking and vibration modes, the eight led lights, the lovely appearance… Now, let's make it clearer.
The night rose is our first sex toy, and as you see, it has received widespread appreciation from all over the world.
Firstly, let's look at its first secret weapon—the motor
This sex toy has 9 different suction and vibration modes, all powered by a tiny motor.
The nine modes can be divided into three different gears: 1-3 are low vibration gear, 4-6 are middle vibration gear, and the last three are high vibration gear.
If you're hard to please, or hard to orgasm, babe, give the high vibration gear a try, you will fall into with our rose toy.
The second weapon—LED light
Rarely do you see so many different colors of soft lighting on other brands of rose toys.
The Night Rose provides eight different mood lighting at one time, to meet most people's requirements for a sense of atmosphere.
The lights are controlled by individual buttons, so you can use it as a small lamp. That is the reason why it is called night rose.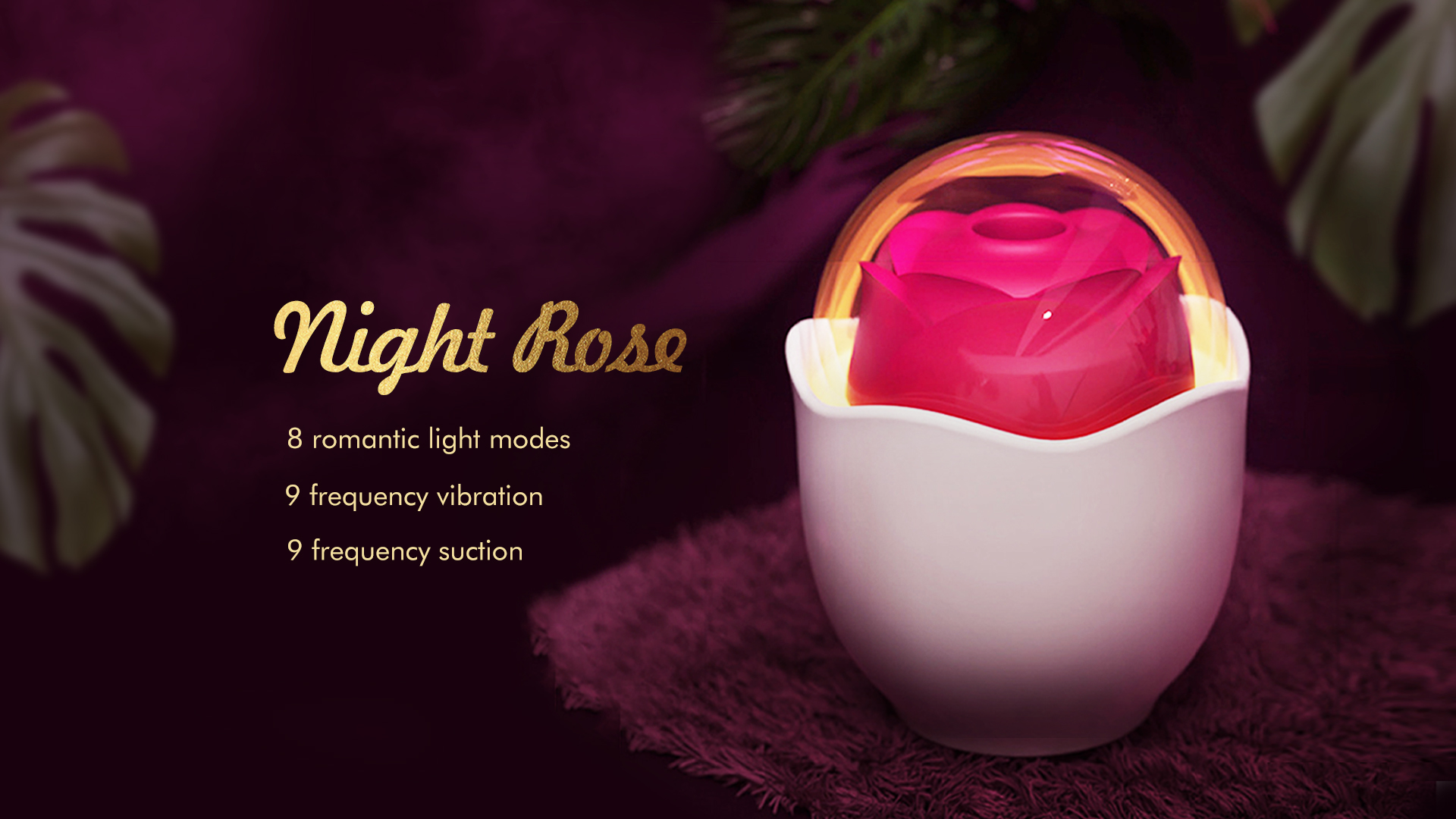 The third weapon—protection
Most rose toys are made with silicone, a safe, body-friendly, smooth material.
This material is widely used in sex toy products nowadays, but it has a fatal disadvantage– easily to be injured.
Sometimes some scratches come up that we don't notice; sometimes, they fall from the desk and roll to a corner that we don't know.
And Anesidora Night Rose has a firm shell to protect the rose from damage. And allows it to stay steadily. In addition, the crystal hood will help the rose away from dust, bugs, and other unknown creatures.
Why people are so like the Night Rose?
---
We have powerful functions, beautiful appearance, discreet packaging, fast logistics (ship from the US), and, more crucially, we have competitive prices.
For only $39.95, you can take it home and start your sex journey. We have a promotion for 10% off this week for night rose!
Time to get your rose toy!
---
If you want to know more about Anesidora and our sex products, welcome to visit our other blogs. We would be very happy if you could share your thoughts on sex toys with us.
Lastly, About Anesidora sex toy reviews, we'll post other series reviews in turn. So, come and leave a comment below about which product you'd like to see reviewed!
Of course, we also have Article about rose toy reviews and how to charge rose vibrator and how to use rose vibrator
Of course, we also have a lot of new and exciting toys, whether you're a sex toys expert or beginners, here is your sex toy heaven.