When reviewing and testing the rose sexual toy in this post we take into account many aspects to ensure they're worth it, such as materials, individual customer reviews, pros and cons, orgasm rating, sound, power.
Something we can guarantee is that you'll never see us recommend a product that hasn't been through the works to ensure its quality and effectiveness.
Table of Contents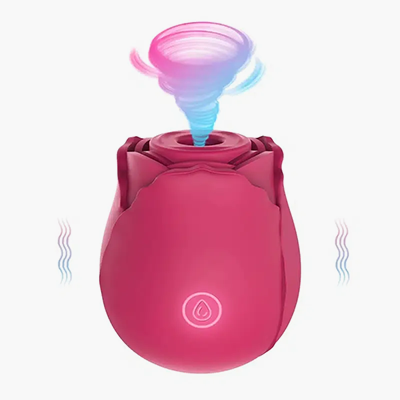 The Original Rose Toy is a powerful clit suction vibrator designed like a beautiful rose flower. Despite its cute appearance, it delivers intense pleasure experiences that can lead to quick and powerful orgasms. The toy's unique design and compact size make it discreet and easy to carry in a handbag, perfect for travel.
Built-in motor and outward vibrations offer stimulating sensations around the labia and other sensitive regions. It has seven suction modes and 10 frequencies to explore, providing a variety of pleasurable options. Additionally, the vibrator operates at a surprisingly quiet 40 dB, ensuring privacy even in busy households.
One key consideration is that the Rose Toy is not fully waterproof, so users need to be cautious about keeping it away from water. Regular cleaning with antibacterial soap and warm water is essential to maintain hygiene and prevent bacterial buildup.
Price: 29.99 (Extra 15% off when you buy any two at Anesidora)
Pros
---
The most powerful and intense
Versatile settings
Classic design
Easy to position
Budget Friendly
Cons
---
Weak magnets on charger,should be improved!
Not fully waterproof
In this Tongue Rose Toy, the main takeaway is the heightened pleasure and control it offers. Meticulously crafted with inspiration from the classic rose, it boasts a slim waist design reminiscent of a woman's graceful figur. The innovative tongue touch sensations provide an array of stimulating experiences for sensitive points.
With 10 powerful vibration and licking modes, users have the freedom to tailor their pleasure according to their desires. Moreover, this rose adult toy makes for a thoughtful and romantic gift, serving as a body massager for relaxation and pleasure beyond the sensual realm.
The toy is made from premium silicone material, offering a smooth and flexible performance.
The discreet and whisper-quiet design allows for discreet enjoyment in public settings, while its 100% waterproof feature enables unrestricted sensual exploration in showers and swimming pools.
Price: 29.99
Pros
---
Made from body-safe silicone
10 settings of vibration and vibrational patterns
Waterproof
Can be used in the shower or bath for extra relaxation.
The best magnetic charging system I've ever used
The perfect all-over sex toy for nipples, clitoris, vaginal opening, or anus!
Cons
---
The motor is so powerful, your hand may go a little numb
Could be a wee bit quieter but won't wake the pets, kids, or roommate.
The Rose Toy With Bullet with its two separate buttons, allowing individual control over sucking and thrusting for a personalized experience. Its sucking capabilities, complemented by the ergonomic thrusting dildo, ensure both internal and external stimulation simultaneously.
Moreover featuring 9 different intensities and rhythms to target sensitive areas and provide multiple levels of powerful pleasure.
Equipped with two motors inside the butt plug, these toys offer precisely targeted vibrations and thrusts, customizable through nine modes to suit personal preferences.
High-quality, skin-friendly silicone material, It offers a luxurious touch while ensuring comfort even during intense use. With an IPX7 waterproof rating, they are easy to clean under running water.
Price: 39.99 (Extra 15% off when you buy any two at Anesidora)
Pros
---
Less firm that most silicone vibrators, making it comfortable for penetration
Waterproof for bath and shower fun
Thrusting & sucking simultaneously
Flexible design fits most all bodies
Extremely quiet
Thin, flexible, silicone cord between functional pieces
Cons
---
Sucking is weaker than others
The L&T rose boasts a Clitoral Licking Tongue Stimulator, combined with a powerful high-frequency vibrator made from soft silicone, promising a sensual journey like no other. With 10 Licking and 10 Vibrating Modes, users can explore an array of sensations.
Convenience and versatility are key features, as the toy is USB rechargeable and 100% waterproof, allowing for easy cleaning and enjoyment in various settings.
This toy not only offers physical gratification but also symbolizes empowerment for women to revel in self-pleasure and live life to the fullest.
Price: 39.99
Pros
---
Shape makes it comfortable and easy to hold
10 licking & thrusting speeds and rhythms
Thin, flexible, silicone cord between functional pieces
Operating this rose wand is a breeze with conveniently placed buttons for easy access. Activate it by holding the buttons for a few seconds and explore the four levels of air pressure for the rose and ten levels of vibration, pulsation, and escalation for the wand. Both functions deliver powerful and consistent performance, making the rose wand a high-quality, long-lasting pleasure companion.
Notably, The rose dildo goes the extra mile by including a less-firm wand made from luxury-quality, liquid silicone, making it suitable for a wider range of bodies and preferences. Beginners, those interested in anal play, or individuals experiencing post-menopausal dryness/soreness will find this feature especially accommodating. Additionally, being waterproof and rechargeable, the wand ensures uninterrupted pleasure for up to an hour on a single charge.
With a silent yet powerful operation,It provides strong licking and vibrations, making it an ideal choice for those who seek intense stimulation. Discreet and easy to clean, this versatile sex toy opens up new possibilities for partner play, offering exciting ways to explore and heighten intimacy.
Price: 54.99
Pros
---
Made from high-quality, food-grade silicone
14 levels of air flow, suction and vibration
Less firm that most silicone vibrators, making it comfortable for penetration
Extremely quiet
Cons
---
Single buttons force you to go through all settings to get back to the lower ones
Cannot use the vibrator and suction at the same time during solo play
With its 5 Licking + 3 Sucking Modes, this Big Mouth Rose offers a double functionality that caters to varying degrees of intensity, from soft kissing to intense oral sex simulation. Whether you're a man or a woman, the swirling airflow and internal vibrations create a vacuum-like suction that brings incredible pleasure.
The power of the 2 in 1 Sucking & Licking Dual Pleasure feature, as it combines the best of both worlds – sucking and tongue licking – to stimulate women's sensitive point.
Price: 49.99 (Extra 15% off when you buy any two at Anesidora)
Pros
---
Soft and comfortable tongue and lips
Sucking and licking simultaneously
Air flow technology meets low, rumbling thumping for clitoral sucking and stimulation
Cons
---
A bit Noisy
Weak magnets on charger
For More, Please Read:
People Also Ask
Yes, it is made in China. Actually, China is the top producer of sex toys globally, with 70% of the world's sex toys being manufactured there. Most well-known brand sex toys are made in China.
You can place the opening (the hole between the rose petals) of this vibrator over your clitoris and press the button to switch it on. If you're not aroused and are looking to test the suction motions of the Rose Vibrator for the first time, here's what you do – separate your labia slightly using your fingers and enclose your clitoris with the suction head of this vibrator. Within no time, you'll feel the toe-curling suction motions and the bubbling vibrations turning you on! Remember USE WITH TOWEL UNDER YOU.
Also Read:
Do wash your Rose well with soap and water. Preferably, before using it for the first time, sanitize it with cleaner or 70% isopropyl alcohol (then scrub with soap and water again) to remove release agents that coat the molds silicone is injected into in the factory; then air-dry. This advice applies to any water-resistant silicone vibrator!
You charge the Rose vibrator by lining up the magnetic prongs on Rose's side with the magnetic charging cable. You'll know it's charging when the power button flashes on and off. It should take 1.5 hours to fully charge from empty. This cute rose can use continuously for approximately 1 hour.
Also Read:
Anesidora offers a one-year warranty! Yes, you heard it right. Whenever you have any problem with its use during the year, please feel free to contact us. Anesidora is at your service 24 hours a day. Your satisfaction is an important core element of Anesidora's business, and we will spare no effort to serve you.
What People Talk About Anesidora Rose Toy for Women?
1
I've been influenced to buy many products from online hype but this has to be the best purchase so far. Whether you're a sex toy beginner or more of an expert like me, the rose doesn't fail to help you achieve an absolute banger of an orgasm in no time.
HOLLIE-ANNE BROOKS​Contributing sex and relationships editor at Cosmopolitan UK
1
I was nervous when i get it because my clit is soooo sensitive. Girl I never shook so much and so hard in my life lmfaooo. Usually i can focus on my "scenario" but all I could focus on was the feeling and it was so amazing. Please if you are thinking about getting it, do!!!!
Neenah
1
OMG!!! It does everything you would hope & then some! It has replaced ALL of my other toys. There are several levels of intensity and patterns.The feeling is indescribable. It's something you're just gonna have to experience for yourself. You won't regret it!
Amelia
For more please watch:
In conclusion
Whether you're a sex toy beginner or more of an expert, the rose toys don't fail to help you achieve an absolute banger of orgasm in no time. So, what are you waiting for?