When it comes to choosing sex toys, the first consideration is the MATERIAL. Sex toys of different shapes and functions are used differently; sex toys of the same shape made of different materials also bring different senses of sexual experience. You can purchase them according to your preferences. But no matter what kind of sex toys you like, please focus on the safe and harmless sex toys in which you can use them with confidence. Here is the guide to sex toys materials:
1. What material is considered a safe material?
We break down the body safety into three parts:
1.1. Porous & Non-porous.
The porous sex toy type makes a great dirt and bacteria magnet. They have microscopic holes where bacteria can hide and reproduce – even if you clean the surface of the toy. Due to this, it will cause yeast infections and other STD. What's worse, porous sex toys cannot be sterilized by any household methods.
1.2. Chemical Composition.
Phthalates are a group of dangerous chemicals used to make plastics more durable. They are often called plasticizers. Although not all adult toys under the porous category contain phthalates, there's a huge chance that they do especially if it's a cheap PVC item. People exposed to this chemical will experience allergic reactions. More serious health issues related to phthalates include damage to the liver, lungs, kidney, digestive tract, and the reproductive system.
1.3. Safe Design.
Sex toys are used in intimate parts, so we should pay more attention to their shape. For example, any toy designed for anal use needs to have a wide flared base to ensure it can't get lost or stuck.
Fortunately, there are more and more sex toy manufacturers who listen to customers demand and are making high quality, body safe sex toys.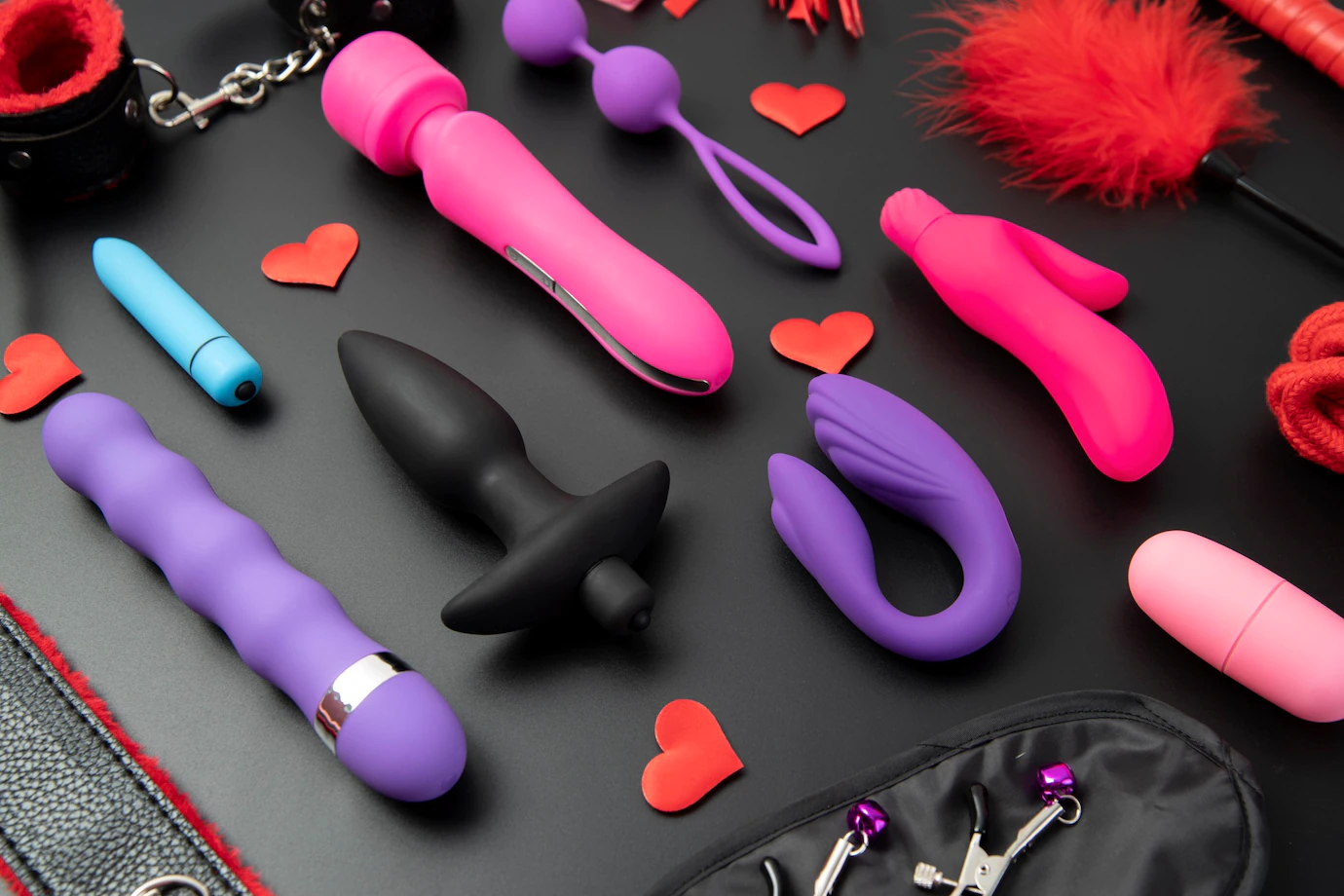 2. Guide to Sex Toys Body Safe Materials
*Silicone
Silicone is often used in designer sex toys and is championed for its non-porous finish, latex-free and hypoallergenic properties. Some companies will label their toys with 100% body safe silicone, medical grade or food grade silicone, all these you should distinguish more carefully.
Sex toys made of silicone are fit for people who are susceptible to allergy. Non-porous texture can effectively prevent the growth of bacteria and dust, which is accessible to clean.
Always remember to use water-based lubricant. It is extremely important to NEVER use a silicone lubricant with a silicone toy. Silicone lubricants will react with the toy and cause melting or a breakdown of the material, which could be dangerous.
The cleaning method: Rinsing with warm water and mild soap, dry with a clean towel and place in a cool place for ventilation.
*Borosilicate Glass
Most sex toys made with glass have versatility and beautiful appearance. Sex toys made of ultra-durable borosilicate glass material are exceptionally durable and won't shatter when dropped. They're also very easy to clean with just warm water. They can be boiled or placed in cold water or the refrigerator to change the temperature for a unique play experience, but they should never be microwaved or frozen. You can use any type of lubricant with a glass toy, no matter water-based or silicone lubricants.
The design of a glass sex toy is very important. Avoid anything with thin or narrow sections which could be breaking points, if they are not made well.
The cleaning method: These toys can be submerged in warm soapy water, and they can be stored anywhere, including the refrigerator for a cool experience later.
*ABS plastic
Hard and hygienic, rigid acrylonitrile butadiene styrene plastic is a favorite material in vibrating bullets and classic vibes. Plastic transfers vibrations extremely well and allows firm, strong stimulation. It's also compatible with all lubes and easy to clean.
The cleaning method: Warm soapy water, dry with a clean towel.
*Metal
High quality, stable metals such as stainless steel, titanium and aluminum as well as precious metals like gold and silver are safe and exciting options for sex toys. These are generally more on the luxurious and pricey side of things, so there isn't a huge range of them. However, they are very popular and will last a long time. They can be placed in refrigerator or boiled as glass sex toys to change the temperature for a unique play experience. If you have any allergies just keep an eye out for cheaper metal toys which might contain nickel. Stainless steel is a great sex toy material option you can use any type of lubricant with steel, but silicone is recommended.
The cleaning method: Warm water
*Wood
Nowadays, wooden sex toys are rarely seen on the market, but it does not mean that wood cannot be used to have sex toys. Hardwoods can be shaped into beautiful and functional toys. Their weight depends on the type of wood that is used, while the safety of the wood will depend on how it's coated, since this is what ensures it stays waterproof and non-porous. Wood toys will last a lifetime with proper care. And you can use any type of lube with wood toys.
The cleaning method: Clean with warm, soapy water, dry thoroughly and store a cool and well-ventilated place.
3.Questionable materials
There are two main factors that make toy materials be harmful to human body: porous and / or contain phthalates. All toys that contain phthalates are porous, but not all porous toys contain phthalates. A porous toy means that no matter what you do it can never be 100% cleaned since bacteria can live inside it. From this mildew and fungus can grow inside or on the dildo. Phthalates are chemicals that cheap sex toy companies use to soften toys and can be toxic for your body. They have been found to cause headaches, cramps, nausea, and have even been linked to cancer and chemical burns. You should be vigilant if you discover that your toy is made of, or contains, these materials:
*Jelly
*PVC
*Rubber
*Latex
*Thermoplastics
4.Final words
The sex toy industry is unregulated, and consumers have to purchase sex tots heavily depend on their own knowledge about body safe materials. While after reading this article, you can practice what you learned to protect yourself from dishonest manufacturers. Lastly, if you want to know about guide to sex toys materials or how to choose sex toys, please visit the Anesidora website!
So happy you can read this article and hope it's what you want. And we always believe that still has a lot of people are looking for these kinds of articles, maybe it's near you! So, we would appreciate if you shared this article on your social media to who are looking for this article faster.
Of course, we also have a lot of new and exciting toys, whether you're a sex toys expert or beginners, here is your sex toy heaven.
You may also like: How to choose a body safe rose toy for women?