Description
The Rose Thrusting Toy is one such innovation – a powerful vibrator designed to provide multiple sensual experiences in minutes. The rose petals are designed as a powerful licking tongue for nipple and G-spot stimulation, and the toy features three speed tongue licking modes and ten thrusting vibration frequencies.
Body-Safe Materials
we prioritize the safety of our customers. That's why our Rose Thrusting Toy is made of body-safe silicone and ABS material. These materials are non-toxic, hypoallergenic, and free of phthalates, ensuring that users can enjoy their pleasure without any negative side effects.
Waterproof
The Rose Thrusting Toy is designed for use in the shower or bath, making bath time play more exciting and pleasurable. Its waterproof design also makes cleaning up after use a breeze.
Discreet Packaging
We understand the importance of privacy, and we want to make sure our customers' purchases remain private. That's why our Rose Thrusting Toy comes in discreet packaging, allowing you to enjoy your new toy without anyone knowing.
Portable Size
The Rose Thrusting Toy is designed to be compact and lightweight, making it easy to take with you wherever you go. It fits easily in your purse, shoulder bag, or overnight case, allowing you to enjoy it on the go.
The rose toy, also known as the rose vibrator or rose vibration, is a clitoral stimulation toy that uses air pulse and pressure technology to suck on the glans head of the clitoris.
It combines sucking and vibrating functions through a suction head to deliver unparalleled stimulation and sustained orgasms.
When we talk about the rose vibrator, it is not a metaphor because it really looks like a delicate rose. The layer-on-layer carved petals, the rosy color, and the silky touch all make it deserve praise.
Usually, there will be a charging cable in the package when you buy a rose toy. But if you lose the magnetic cable and don't have a spare one around, you can buy a new one online.
Or you can search for the rose toy charger near me on google maps to save time. But there is another way to get a new charger, and that is to make it by yourself.
First of all, you need to prepare the required materials, two small magnets, an unused charging cable, a pincer plier, a pair of scissors and shrink tubing.
When reviewing and testing the rose sexual toy in this post we take into account many aspects to ensure they're worth it, such as materials, individual customer reviews, pros and cons, orgasm rating, sound, power.
Something we can guarantee is that you'll never see us recommend a product that hasn't been through the works to ensure its quality and effectiveness.
Whether you're a sex toy beginner or more of an expert, the rose toys don't fail to help you achieve an absolute banger of orgasm in no time. So, what are you waiting for?
Since the TikTok Rose Toy phenomenon began, several variations of Rose for Female have popped up on the market.
A myriad of organizations now manufactures their version of this highly demanded device and distribute it under several brand names on websites, such as Amazon, Etsy, Shopify and more.
However, many fellows are unsatisfied with monotonous Rose vibration Toys, so various rose-based vibrators have appeared.
Other than the original rose suction toys, some variations include a double head vibrator and tongue rose toy vibe or a rose toy with a stem.
If you know something about female sex toys, you must be familiar with the clitoral vibrator. This type of sex toy using air pulse technology gained many fans as soon as it appeared on the market.
Nowadays, there are various clitoral vibrators that provide a wide range of choices for women who like clitoris stimulation. But with so many clit stimulators, many newbies feel stressed about buying them.
So, in order to help beginners have a better understanding of clit vibrators, I selected two products to make a review. One is the Rose Toy, which has taken the social network by storm; the other is the Satisfyer Pro2, which holds the air pulse patent.
The reason of reviewing rose toy
However, many fellows are unsatisfied with monotonous rose vibrators, so various rose-based vibrators have appeared.
Other than the original Rose sucking toy, some variations include a double-head vibrator, tongue toy vibe, or a toy with a stem.
With so many different and quirky rose sex toys, you must be curious about how to use them.
So, this article will review 3 Anesidora rose sexual toys from its softness, power, as well as noise to help you better choose the rose toy for women. Let's start the rose sex toy review!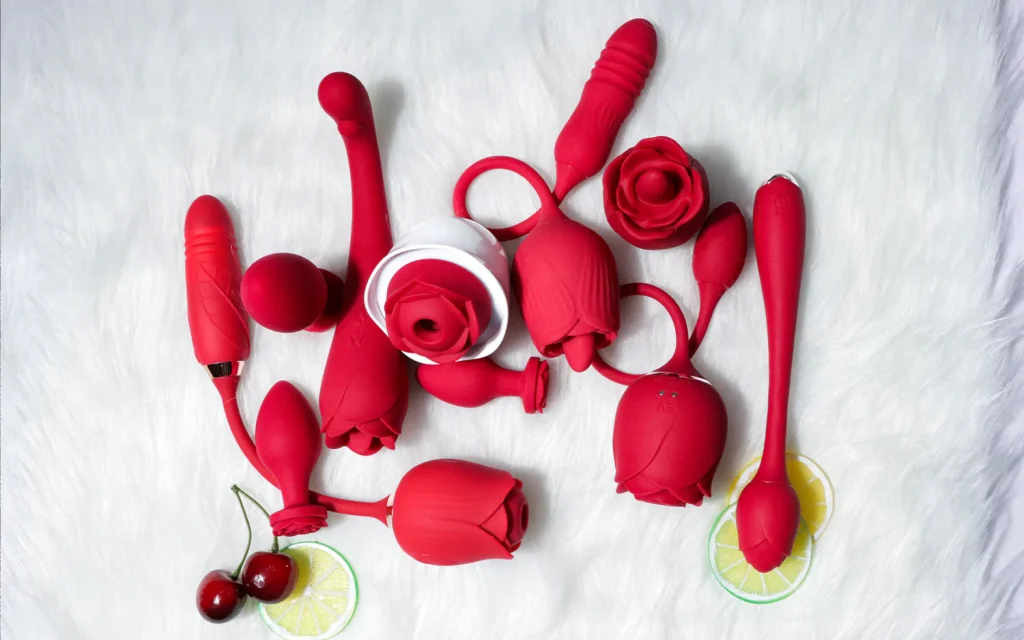 Anesidora Youtube channel
How To Charge The Rose Toy. Quick tutorial
How to charge the rose vibration? Well, most of the rose toys adopt the magnetic USB charging method, and you also need a USB power adapter to connect the USB cable. Or you can plug the charging cable head into your laptop and the power bank, like how you are charging your iPhone. How to know when the rose toy is charged? When you find that the power of the rose vibration is weaker than usual, it is time to charge your rose sex vibrator.
Frequently Asked Questions