There has been a question buzzing me, as a biological female, for a long time. Why are men so obsessed with a blowjob? Without a penis, I, as a sex writer, can't even accurately describe how madness it takes for men to put their little things in a container.
But one thing is for sure many magazines propagate the importance of BJ for penis owners, even women-oriented magazines. But for most women, they want men to plug their penis into the vagina instead of their mouth. Women are less likely than men to report receiving oral sex from their partners.
Not all women are skilled at fellatio, and not all of them enjoy oral sex. After all, it is a kind of man thing. So, if your partner refuses to give BJ during sex that you are longing for, what will you do?
The answer is you should totally show respect for your partner and search for other solutions. But the solution definitely is not back to use your hand. Dude, it's 2023, and we have more wonderful tools than hands.
Yes, they are automatic blowjob machines!
What is an Automatic Blowjob Machines
Maybe most of you have already known deeply about blowjob toys, but to ease the pain of those Sisyphus who are still using their hands tirelessly, it is necessary to repeat this.
Automatic Blowjob toys are sex toys designed for men or penis owners to enhance their sexual life. There are many kinds of automatic BJ toys, including strokers, masturbators, oral sex simulators, automatic machines, etc.
You can see these toys as an extension of hands, but they can deliver a much more pleasurable experience. They can suck, lick, vibrate, and rotate. And all these features will let you forget they are just machines.
Of course, no toy can ever replace the way your partner makes you feel, but automatic blowjob toys can be a short-lived joy for single and long-distance couples.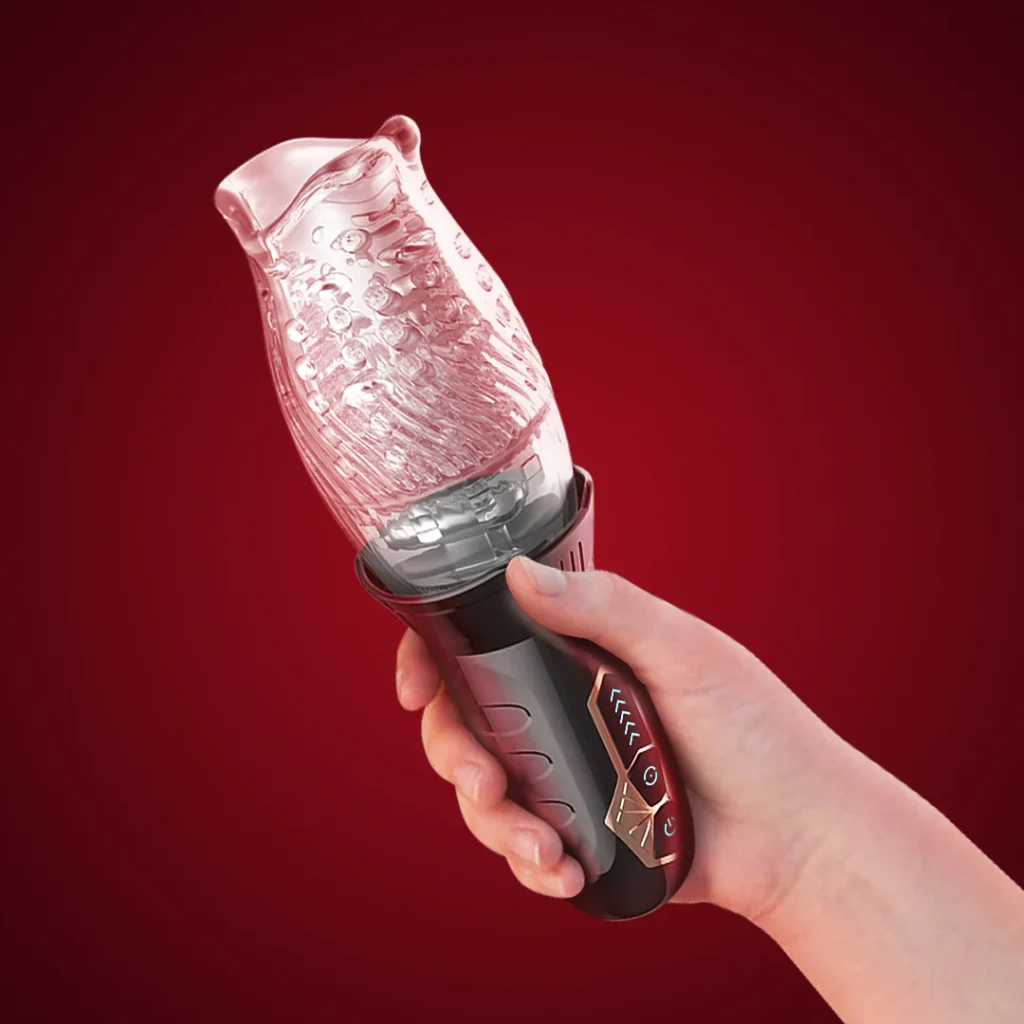 Type of Automatic Blowjob Toys
Electric masturbators: These are handheld devices that use electricity or rechargeable batteries to power the motor that provides the stimulation. They often come with different sleeves or attachments for customization.
Oral sex simulators
These toys are designed to simulate the sensation of oral sex. They often have a silicone or TPE sleeve that wraps around the penis, and a motor that creates a sucking and stroking sensation.
Blowjob machines
These devices often have a motorized sleeve or attachment that moves up and down on the penis, providing a realistic blowjob experience. Some models come with additional features like vibration or adjustable speed settings.
Male masturbators with suction
These toys create a vacuum-like sensation around the penis, mimicking the sensation of a blowjob. They often come with different suction settings and can be controlled via a remote or smartphone app.
Combination toys
Some automatic blowjob toys combine different features, like vibration, suction, and stroke, for a more varied and realistic experience.
Benefits of Using Automatic Blowjob Machines
Refresh your sensation.
It's time to spice up your life a bit. Blowjob toys not only free your arms, but reawaken your desire for sex. It allows the boring mechanical movement to breathe, and you can use your hands to explore more fun.
Lifelike and pleasure
Unlike ever before, the variety of blowjob toys on the market today is dizzying. Whether you like traditional manual blowjob toys or novel automatic blowjob toys, you can find the one that suits you, and it will bring you the closest real experience.
This is what they were born to do.
Narrow the gap to climax
No one wants to spend twice as long or more walking when driving can get you where you want to go.
Using Blowjob toys can help men shorten the time it takes to reach the O station. The only thing you need to pay attention to is to fasten your seat belt and drive safely.
Keep privacy
Just as women's breasts come in different sizes, men's penises don't develop according to standard sizes. Some men have not tried oral sex because they are afraid that others will find out their "flaws," so they can only suppress their desires.
But in front of blowjob toys, you don't need to hide your shortcomings, and it will try its best to please you and keep it secret forever.
Increase affection
Oral sex toys are not only personally pleasurable, but they can also enhance a couple's relationship. If your partner doesn't like oral sex, the presence of a blowjob toy greatly reduces the likelihood of arguments.
If you are in a long-distance relationship, then a blowjob toy can help to bridge the gap between you and your partner due to the distance and increase your loyalty to your partner.
How to choose the right Blowjob toys?
Finding the perfect oral sex toy for oneself is no easier than finding your other half out of 8 billion people. But we still have some ways, and here are some practical ones for you to consider.
Material
Silicone is one of the most widely used and safest materials in the sex toy market today. It is also the most used material in blowjob toys. The soft silicone mimics the oral cavity to the greatest extent possible, giving you a realistic sensation.
Feature
Different needs influence the choice of the function of blowjob toys. A sensitive penis will surrender with just a gentle suck, but some need constant vibrations and licking to reach orgasm. So you need to think about which features are most important to you.
Size
The size here is not just the length of your penis. You need to consider the entire exterior of the blowjob toy.
Some blowjobs will fit right into your pocket, and others will require you to make a special space for them. If you don't want things to get awkward, it's important to think about the size.
Budget
blowjob toys come in a wide range of prices, from a few tens to a few hundred dollars. This requires you to consider the price point in your mind before you buy.
TOP 5 ANESIDORA Automatic Blowjob Machines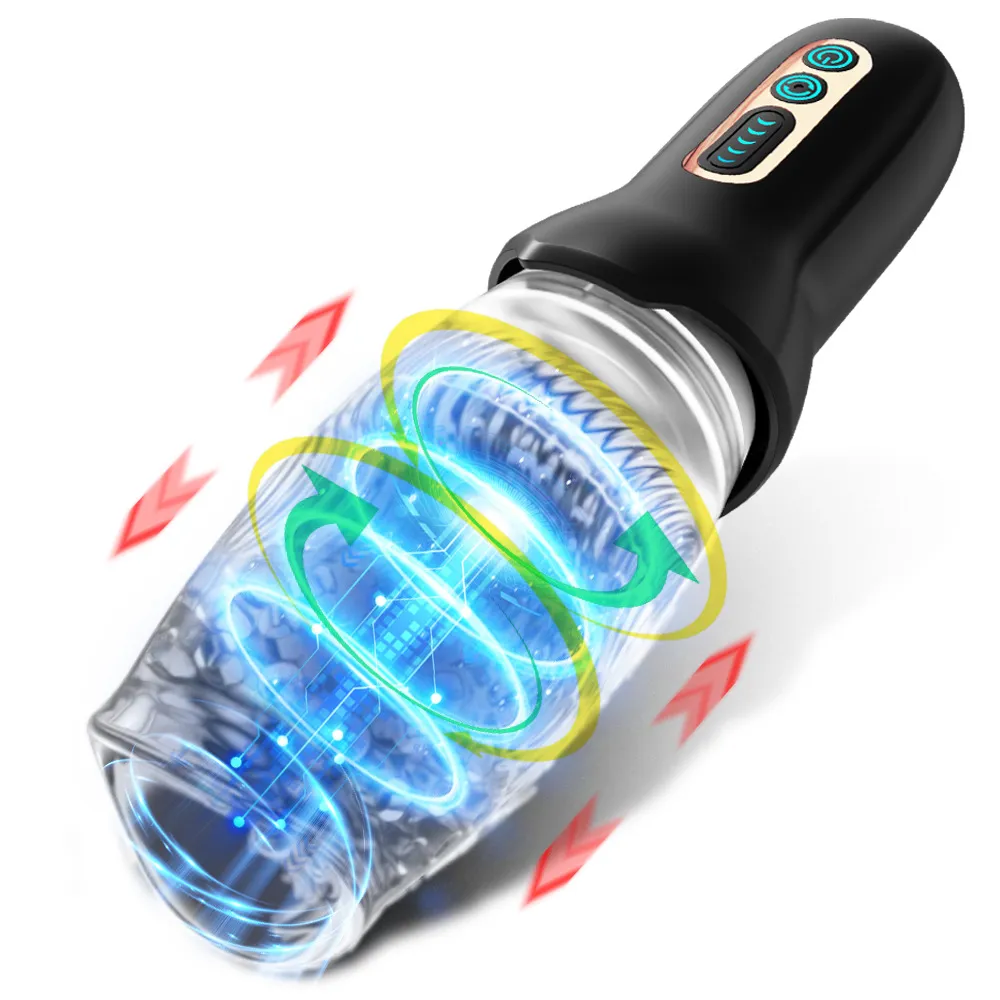 Experience the most mind-blowing oral sex of your life with the Gawk Gawk 3000 Toy 2.0. Our new and improved design boasts upgraded features that take your pleasure to the next level.
Offers a deeper and more intense sensation than ever before, ensuring that you feel every single movement. Its super-stretchy design features internal 3D particles and projections that create friction and drive you wild with pleasure.
This blow job toy will leave you feeling completely satisfied, with a pleasurable experience that is unmatched by any other toy.
Are you tired of mundane masturbation routines? Do you want to take your pleasure to the next level? Look no further than the Automatic Sucking Cup!
This innovative device is designed to stimulate your senses and deliver powerful orgasms like never before. With its cutting-edge technology and superior design, this product is a game-changer in the world of the male pleasure.
Feel the warmth of a real mouth with the constant temperature 42°C heating function of the Masturbation Cup. This feature simulates the temperature of a human mouth and provides a more realistic and pleasurable experience. Additionally, its IPX7 waterproof design makes it easy to clean and safe to use in the shower or bath.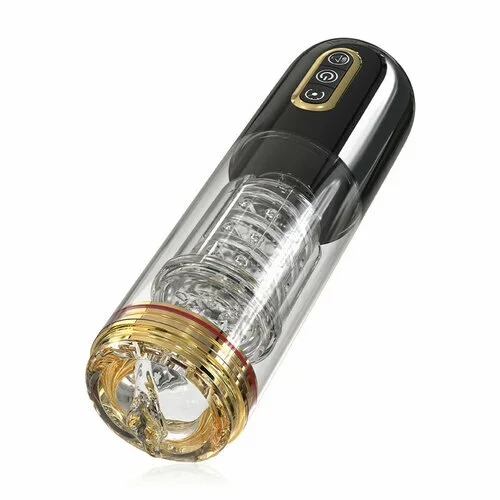 The Jerk off Machine ÁRēS is a revolutionary male masturbator that is designed to provide you with an immersive and stimulating experience. It features 10 frequencies of stroking and rotating modes that let you choose the speed that best suits your needs.
The base of the machine also comes with a suction cup, which allows you to attach it to any surface for hands-free use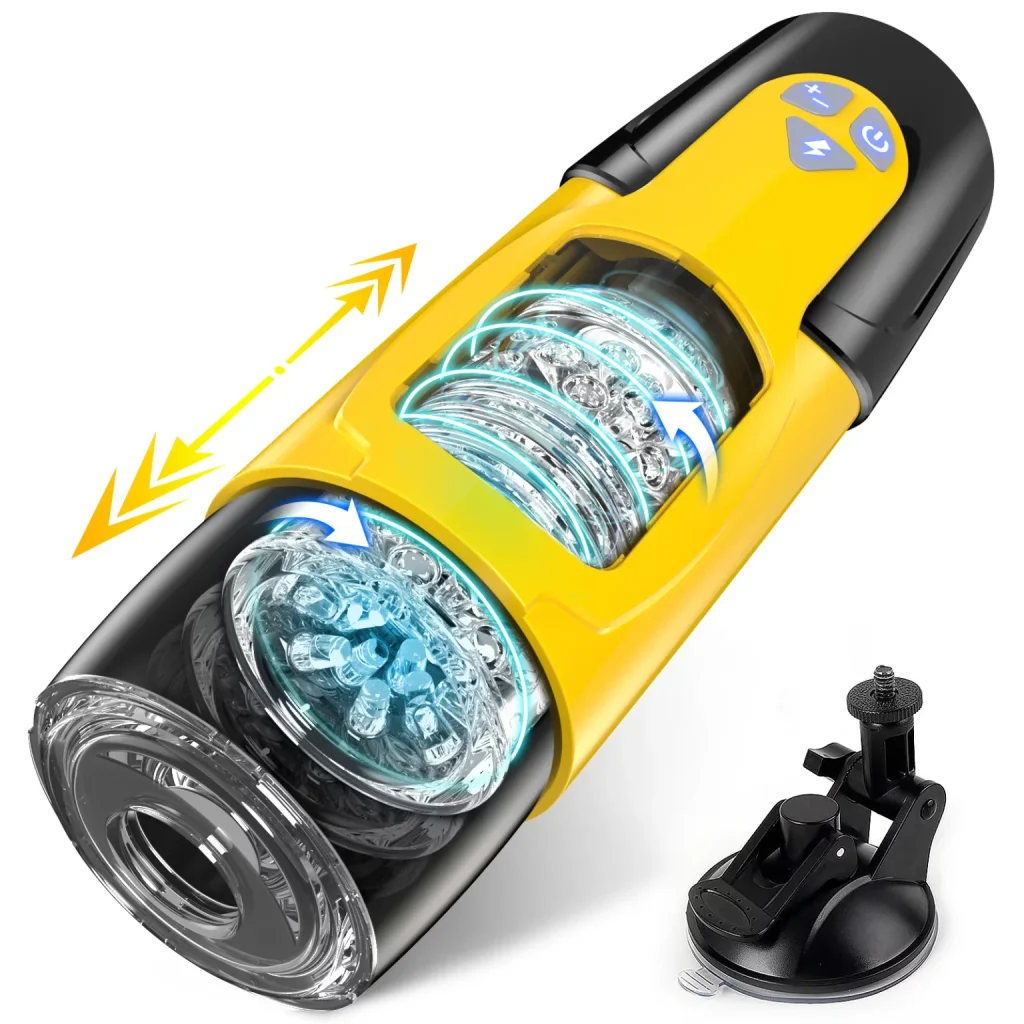 If you're looking for a new sex toy that can satisfy your cravings for a realistic and mind-blowing experience, then the Atlas Auto Stroker is definitely worth checking out.
With its 360° automatic rotating feature, 3-speed thrusting functions, and lifelike design, this masturbator has taken the sex toy industry by storm.
The Apollo – Climber Masturbator takes it to the next level by providing you with an automatic suction and thrusting mode along with seven vibration modes, making it an ultimate pleasure machine for men.
How to Use Automatic Blowjob Machines?
Looking at the large number of oddly shaped oral sex toys on the market, even I feel stressed out, not to mention the first-time men. Maybe that's why many men prefer to use their hands to solve their physical needs because it is easy to operate.
However, when you actually come across these products, you will regret not discovering them earlier. You don't need to wiggle your hand back and forth, just insert your penis into the hole reserved for the toy, activate the toy motor, set the mode, and lay on your bed.
But pushing the pleasure button doesn't mean you're done for good – here are some things you need to be aware of.
Use Lubricant
You need to add a sufficient amount of lubricant to the sleeve or tunnel to ensure that the penis can slide smoothly inside and to increase the pleasure of masturbation.
Start Slowly
It may sound like a paradox that the way to a quick penis orgasm is to take your time, but that's the way it is. Only if you tease your penis gently will it respond to you.
Start at a low speed and gradually build up as you get used to it. Please lay the maxim to your heart when using blowjob toys: More haste, less speed.
Experiment with Different Techniques
There are many different techniques that you can use when using a blowjob toy, so it's important to experiment and find what works best for you. Some people prefer to use a back-and-forth motion, while others prefer a rotating or twisting motion.
You can also try using different angles or positions to vary the sensation. Don't be afraid to try new things and explore what feels good for you.
Other Tips for Using Automatic Blowjob Machines.
Full charge the new blowjob toy if necessary!
Once you have received your new toy and completed your usual checks, take it to be charged. A fully charged blowjob toy is the best way to get the most out of it and will also improve your experience.
Clean the blowjob toy every time before and after use!
Cleaning will prevent bacteria and harmful substances and prolong the life of the toy. Most blowjob toys have removable sleeves and simple soapy water can remove most germs and fluids, which makes cleaning them much less difficult.
Of course, the best way to clean them is to follow the instructions that come with the product.
Watch the time!
No one can resist dopamine, but everything needs to be in moderation. Overuse of oral sex toys will only make you numb to pleasure.
Final word
Using automatic blowjob toys is a great fun and exciting way to help men explore their bodies and enhance pleasure. Sometimes even can remit their anxiety and upset.
If you are still in the pithecanthrope age of masturbation, then blowjob toys can take you into the homo sapiens age of masturbation. And you are going to love them. Hope this article can give some help to the newbies of first stepping into the BJ toy world.
FAQs
Are automatic blowjob toys safe?
SURE, automatic blowjob toys are safe as long as you buy them from respected brands. Anesidora is a well-established company. We aim to offer all genders high-quality sex toys.
Can women use automatic blowjob toys?
No, automatic blowjob toys are designed for male pleasure and may not be suitable for the female anatomy.
Although I am a beginner at BJ, do you have a quicker way to help me find an automatic blowjob toy? 
I'm glad you've taken your step, and I'm sure the blowjob toy won't let you down. Here is a blog for the 10 best automatic blowjob toys for your reference
Are automatic blowjob machines a replacement for a partner's oral sex?
No, automatic blowjob machines cannot replace the way a partner makes you feel. However, they can be a short-lived joy for single and long-distance couples. They can provide a different kind of sexual pleasure and can be used to enhance sexual experiences with a partner or for solo use.
References
Janet Brito, Ph.D., LCSW, CST , "Male Masturbation: Tips for Solo Play,"
Healthline, Updated on Jul 20, 2022
Jennifer Litner, PhD, LMFT, CST , "Masturbation — How Does It Affect Your Health?," 
Healthline, Updated on May 6, 2022
You Might Also Dig:
EVERYTHING YOU SHOULD KNOW ABOUT BLOWJOB TOYS
THE MALE ROSE TOY: A COMPREHENSIVE REVIEW FROM A TOY ENTHUSIAST