Fear not—you're in good company. Our guide is designed to demystify the world of sex toys for beginners. It's an inclusive resource that covers everything from couple's starters to individual toys for women and men, as well as products tailored for the LGBTQ+ community.
Let's embark on this journey to find the toy that resonates with your desires and needs.
What Is a Sex Toy?
To navigate the expansive world of sex toys, it's essential to grasp what they are. Sex toys are specialized products designed to fulfill sexual desires.
They come in a vast array of types to cater to the unique needs of men and women, and even accommodate the varied preferences within the same gender—truly a spectrum of choices.
Beyond pleasure, sex toys are not limited to self-stimulation; some also have therapeutic benefits and can aid in the treatment of certain medical conditions.
Guide on All Types of Sex Toy for Beginners
If you're new to the world of sex toys, it's completely normal to feel a bit lost amidst the plethora of options available. Even seasoned shoppers can find themselves at a crossroads when choosing the right product. But there's no need to fret—we have an extensive collection of articles ready to guide you.
Even for those new to sex toys, the concept of the dildo is likely familiar. Considered one of the most ancient forms of sex toys, dildos have come a long way and are now available in a staggering array of options.
From hyper-realistic replicas to sleek, abstract designs, there's a model to suit every aesthetic and preference. You can select from a spectrum of shapes, sizes, colors, and functionalities to match your personal taste.
Many dildos come equipped with a suction cup at the base, enhancing versatility and play. This feature allows you to affix it to a wall, floor, tabletop, or any smooth surface, enabling hands-free enjoyment.
The dildos are best for beginners who are new to the world of sex toys. For those with a taste for exploration and heightened sensations, electric or inflatable dildos might offer that extra thrill, elevating the pleasure to new heights.
Anesidora Recommends…
Rabbit vibrators get their name from their distinctive design, which features two "ears" that resemble those of a rabbit.
This dual-arm structure is crafted to offer simultaneous external and internal stimulation.
While most toys are focus on single area. Rabbit vibrators are unique in that they cater to two sensitive spots at once, providing a comprehensive and indulgent experience.
Strap-on sex toys consist of dildos that can be worn with a harness, offering a wearable experience. Some sets come as a pair, but there are also separate dildos and harnesses for a customizable fit.
Strap-ons enable individuals without a penis to engage in penetrative pleasure and can also provide the simultaneous sensation of filling both the vagina and anus. This versatility makes them an excellent option for lesbian couples.
Additionally, for women with male partners who are receptive to anal play, strap-ons can be used for pegging. The straps are typically made from materials like leather or nylon and are designed to secure around the waist or thighs.
For those who prefer less constraint, strapless dildos are an alternative that still allow for the joy of penetration without the need for a harness.
Bullet Vibrator
Bullet vibrators are a popular first foray into the world of sex toys for many due to their compact size and ease of use with just one hand.
Their small stature makes them less intimidating and more manageable than larger vaginal vibrators. Additionally, they are generally more affordable, making them an attractive option for those new to exploring sexual wellness aids.
While bullet vibrators are primarily advertised for clitoral stimulation, their versatility allows them to be used on any part of the body that responds to vibration, such as the nipples, navel, or even the scrotum.
They are not typically designed for penetrative sex, as their small size does not provide the same level of stimulation as larger, more specialized vibrators might.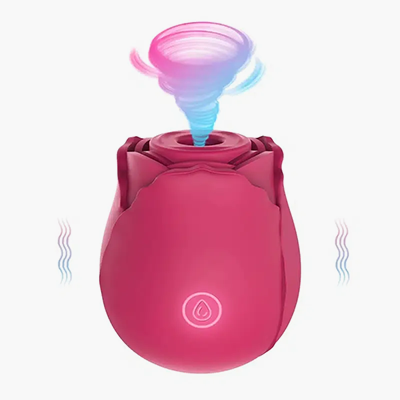 Clitoral suction toys, a relatively new addition to the sex toy market, have quickly gained popularity. Unlike traditional vibrators that stimulate through direct vibration, clitoral suckers employ advanced air suction technology to excite the clitoral area via indirect contact.
This method provides a unique and intense form of clitoral stimulation. Those who may find it challenging to achieve orgasm could find these toys particularly beneficial, offering a powerful experience that's just a reach away.
Anesidora Recommends…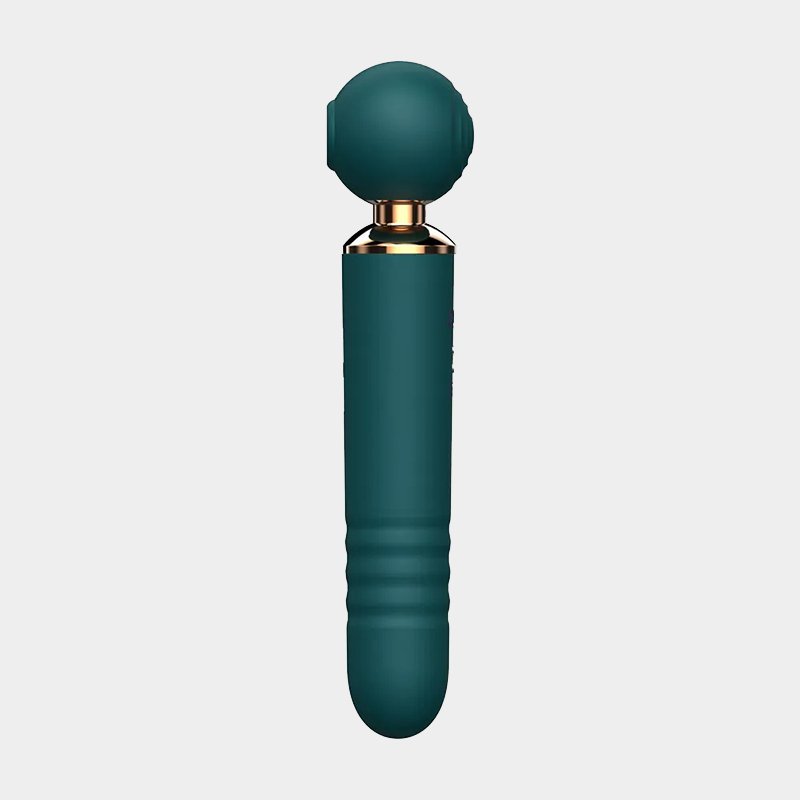 Magic wands have been a staple in personal pleasure since the 1970s. Initially crafted for muscle massage, their original designs were quite bulky.
Thankfully, with the passage of time, sleeker and cordless versions have emerged, replacing their cumbersome, wired predecessors. This evolution has made them much more user-friendly.
The magic wand is characterized by its large, rounded head that is adept at providing effective clitoral stimulation. However, its size may pose a challenge during couples play, where maneuverability can be key.
Panty Vibrator
Panty vibrators are discreet pleasure devices designed primarily for clitoral stimulation, nestled between your underwear and vulva.
Many models come with the convenience of remote control or even app connectivity, allowing for a subtle and thrilling experience in less private settings. They are an excellent choice for those interested in the excitement of public play and focused clitoral pleasure.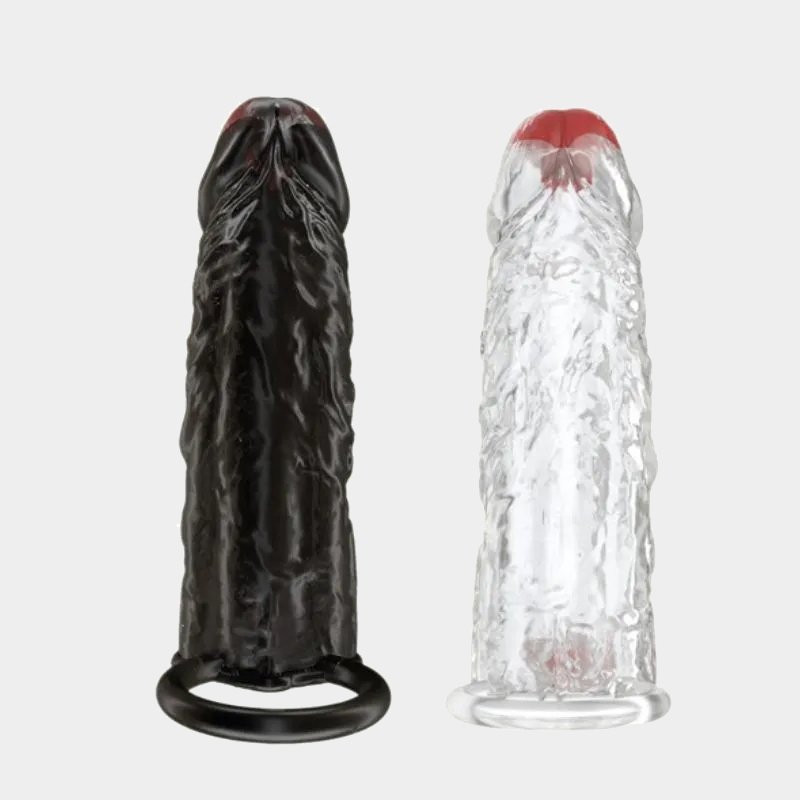 A condom is primarily a protective device worn on the penis to reduce the risk of sexually transmitted infections (STIs) and prevent pregnancy. However, there are also specialty condoms designed to enhance sexual pleasure by increasing girth or texture.
These are not traditional sex toys but can serve a dual purpose by providing both safety and additional stimulation.Some are designed to cover the entire penis, while others may only cover the tip, and there are varieties that have an open end.
The choice of style can be tailored to individual preferences and specific needs, such as assisting those with erectile dysfunction or premature ejaculation.
Beginner Male Sex Toys
Cock rings, or penis rings, are typically crafted from silicone, a material prized for its stretchability, allowing the rings to comfortably fit around the penis and testicles. Their main function is to enhance and sustain an erection by constricting blood flow, often resulting in a firmer erection.
When equipped with a vibrator, these rings can provide additional clitoral stimulation during penetrative sex, making them a popular choice for enhancing the experience of both partners during intercourse.
Masturbators are intimate toys crafted to visually and physically mimic the feel of a vagina, anus, or mouth, offering an enhanced erotic experience beyond what manual stimulation alone can provide.
A number of these toys include motorized functions, adding dynamic sensations such as suction, pulsation, or constriction, to create a more immersive and engaging experience for the user.
Beginner Anal Sex Toy
A butt plug is a type of sex toy that is typically shorter and stouter than a dildo, designed for anal use. It's crucial that it has a flared base to prevent it from being unintentionally fully inserted and to ensure easy retrieval.
Butt plugs are available in a range of sizes to accommodate different comfort levels and experiences, with options for vibrating or static sensations.Some are made from materials like glass or metal, which can be used for temperature play, while others might be segmented for varied sensations or even include a heating feature.
With the diverse array of butt plugs available on the market, there is likely a perfect match for your personal exploration and enjoyment.
Anal beads can resemble an oversized strand of pearls. These toys typically consist of a series of beads attached to a flexible stem, which may decrease in size towards the tip or maintain a consistent bead size throughout.
Each bead is segmented so it can be inserted and enjoyed one at a time. They're often used to enhance the experience of anal play and can be incorporated into various sexual activities, including enemas.
When using anal beads, it's essential to handle them with care. Gentle insertion and removal are key; a careful approach should be taken rather than a forceful pull, to avoid discomfort or injury. Always prioritize safety and pleasure in equal measure.
Gay Sex Toys for Beginners
Prostate toys are excellent anal toys target to stimulate the prostate gland. They bear a resemblance to butt plugs but are distinct in their curved shape and often have a thicker, more bulbous tip.
This design is intentional, with the curve serving to ensure the toy naturally aligns with the prostate upon insertion. Many models also feature a ball-shaped end or handle at the base for safe and easy manipulation.
When using a prostate massager, you should gently insert it into the anus. Where the curvature will facilitate contact with the prostate for potential enhanced pleasure.
Tips for Newbies Using Sextoy
Keep Patience
Absolutely, patience is a commendable quality, as valuable in the workplace as it is in the realm of intimacy. When you're new to the diverse world of sex toys, choosing the right one from the myriad of options can indeed be challenging and may require some patience.
Additionally, becoming familiar with a new toy and learning how to use it to its fullest takes time and practice. Only with patience and skill can a sex toy truly enhance and elevate your personal experience to its highest level.
Communication Is Fundamental
Introducing a sex toy into your couple's intimacy, even if you believe it could greatly improve your shared sexual experience, should never be a unilateral decision. It's imperative to have a conversation with your partner beforehand.
If your partner is inexperienced with sex toys, springing one into the equation unexpectedly might provoke anxiety rather than excitement.
Early communication is not just a sign of respect; it also gives your partner time to mentally prepare and get comfortable with the idea. After all, the most vital aspect of a fulfilling sexual relationship is mutual harmony and understanding.
Consider Using Condoms
It's important to use condoms on penile toys. Particularly when sharing between partners. Even with diligent cleaning, not using a condom can lead to infections.
It's also crucial to change condoms not only when switching between partners but also when moving the toy from one part of the body to another.
For example, if you're transitioning a vibrator from oral to vaginal use. Maintain hygiene and prevent cross-contamination by applying a new condom
Do Not Double Dip
When using a sex toy for vaginal and anal exploration. It's critical to ensure the wash and sterilize thoroughly . If you prefer a quicker method, employing a condom on the toy is a practical solution.
Simply replace the condom before moving the toy from one area to another. This practice is essential to prevent the transfer of fluids and bacteria between the two regions, safeguarding against potential infections.
Also Read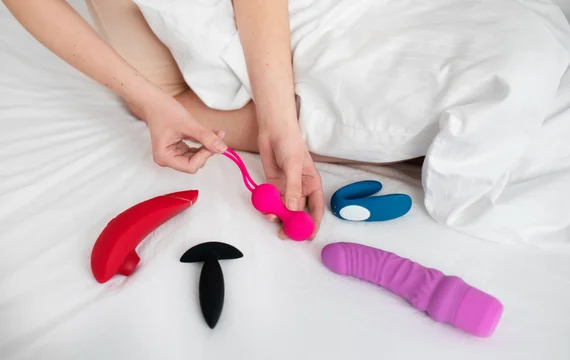 Regularly Inspect
While sex toys available today are often marketed for their durability. The actual lifespan of these products greatly depends on the user's maintenance habits.
Toys that are broken or improperly stored can develop mold and mildew. Which pose a risk of causing infections in sensitive areas.
To avoid such complications, it's wise to thoroughly inspect your sex toys before each use, ensuring they are in good condition. This simple step can prevent a lot of potential issues and contribute to a safe and enjoyable experience.
Conclusion
The world of sex toys is expansive and can be quite intricate, requiring time to fully navigate and understand. It's important to invest time in exploring and learning about the various toys available, discovering which ones can provide you—and potentially your partner—with the most satisfaction and joy.