If your existing tapping g-spot vibrator isn't enough to get you toe-curling, screaming orgasms, then you shouldn't let these incompetent sex toys inside you. We all know how important G-spot orgasms are to penetrative sex, but very few women can actually achieve G-spot orgasms.
In fact, only about 18 percent of women orgasm through penetration alone — meaning no hands, mouth, or toys, according to a 2017 study. But usually, during intercourse, the need for clitoral stimulation is unavoidable and beneficial for most women.
So, if you're still looking for a shortcut to effectively hit your spot, the G-Spot Vibrator might be just what you need
Table of Contents
Where Is the G-Spot?
Finding it might require a bit of exploration, but there are techniques that can help. You can experiment with different types of stimulation – from gentle to intense – using various techniques like stroking or vibrating.
Virbator designed for the G-Spot can be helpful, as can trying different sexual positions for better access to the area. Apply pressure and explore different spots inside the vagina to figure out what feels best.
What Is a G Spot Vibrator?
Different from the previous vibrators, the G-spot stimulator uses a vibration to help women achieve orgasm in a stronger and faster way. It's generally a long slim shape so as to steer away from the intimidating nature of an internal toy. And also often has a slightly curved tip to hit the G-Spot at a gentle but effective angle.
Preparing for Insertion
To ensure smooth and comfortable use, it's important to set the stage for pleasure. Start by applying a small amount of sex lube to your hand. Next, gently apply some lube to the insertion point of the toy, allowing for effortless and enjoyable penetration.
The Insertion
G spot vibrator offers two insertion points for your pleasure. Choose the one that suits you best. With the toy properly lubed, carefully insert it into your desired orifice. The ergonomic design guarantees easy access and a pleasurable experience.
Exploring the Vibration and Angle
When you feel that the shaft and the tapper are in the correct position, it's time to turn on the button.
Although everyone has a different acceptance of stimulation, we suggest that you can start with a slow and gentle mode at the beginning.
Then adjust the speed sequentially after your sensitive points adapt to the sudden intrusion of foreign objects.
How to Clean + Store a G-Spot Vibrator?
To begin the cleaning process, pump a small amount of the foaming toy cleaner into your hands. The delightful foam will work its magic in no time. Take your toy and thoroughly rub and scrub it with the foaming cleaner, ensuring every inch is covered.
Pay special attention to any textured areas or crevices to remove any residue or bacteria. Using the same technique. Maintaining cleanliness is essential for your health and pleasure. Or you can directly rinse it under running water or in soapy water.
When you clean up, put a towel underneath the bora rabbit vibrator and let it air dry. Be careful of direct sunlight, as this can damage the silicone.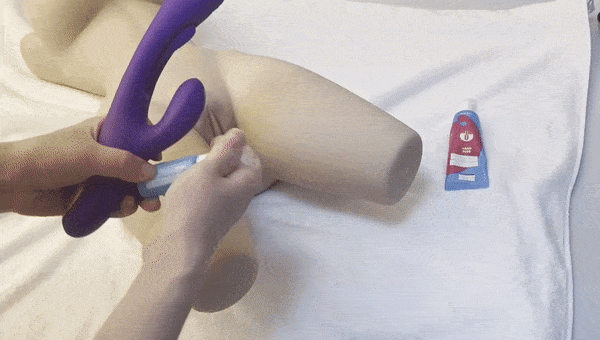 Also Read:
Why Use a G-Spot Vibrator?
Intense Stimulation of the G Spot
The primary benefit of using a Bora Vibrator is the intense stimulation it provides to the G spot. This can result in stronger and more frequent orgasms for many users.
The tapping motions of the toy are especially effective at stimulating this sensitive area, making it easier to achieve G-spot orgasms.
Triple Stimulation
In addition to stimulating the G spot, some g-spot vibrators also provide clitoral and female A-spot stimulation through its rabbit-shaped ears and shaft.
This triple stimulation can result in more intense and satisfying orgasms for many women.
Increased Sexual Satisfaction
Using a vibrator can increase sexual satisfaction and help you explore new sensations.
It can also help you become more comfortable with your body and your sexuality, leading to a more fulfilling sex life.
Improved Health
Using a Vibrator can have health benefits as well. Regular use of sex toys has been shown to reduce stress and anxiety, improve sleep, and boost overall mood.
It can also help improve pelvic floor strength and reduce the risk of incontinence.
Buy Bora now and enter our exclusive code 'BORA' , you will get an extra 15% discount!
How to Choose a G-Spot Vibrator
There are a few important things to keep in mind. These vibrators are designed to give you pleasure and excitement, and it's crucial to make sure they're safe and comfortable to use.
Waterproof Fun
Acool feature to look for in a G-Spot vibrator is waterproofing. This means you can use it in the shower or bath without any worries. It's super handy if you're interested in trying out squirting or just want an easier way to clean up after your fun time.
Safe Materials
The material that a sex toy is made of is really important, especially when you're using it on or inside your body. You should look for a G-Spot vibrator that is made from medical-grade silicone. This kind of material is safe and high-quality, and it's used by trustworthy vibrator brands.
Different Stimulation
Finding out what makes you feel good can take some time, especially when it comes to the G-Spot because it's not always easy to locate. That's why it's great to have a vibrator with different settings. These settings let you try out different kinds of sensations and discover what you like the most.
Comfortable Shape
A vibrator should be shaped in a way that fits nicely inside your vagina and gives your G-Spot a gentle and pleasurable massage. The tip of the vibrator usually has a slight curve that's designed to target the right spot.
Double the Pleasure
If you're not only into internal stimulation, there are vibrators that can do more than one thing at a time. For example, a rabbit vibrator can stimulate both your G-Spot and your clitoris simultaneously. It's like having a two-in-one pleasure experience!
Also Read: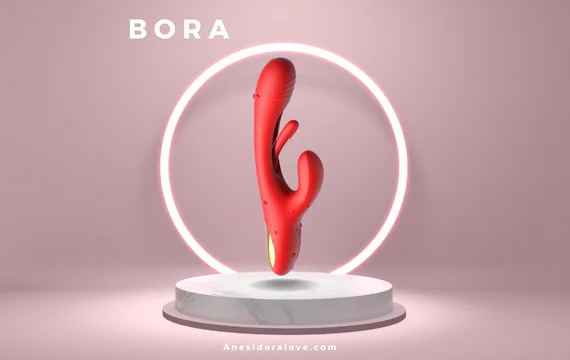 People Also Ask
How Deep Should a G Spot Vibrator Go?
The depth a G-spot vibrator should go varies by personal preference. Generally, it's around 2 to 3 inches inside the vagina. Experiment to find what's comfortable and pleasurable for you, and prioritize your comfort and safety. If unsure, seek guidance from a sexual health professional.
Can G Spot Vibrator Be Used for Kegels?
Yes, It can be used for Kegel exercises. Kegel exercises involve contracting and relaxing the pelvic floor muscles to strengthen them. Some vibrators are designed with features like vibration patterns and remote controls that can help enhance Kegel exercises.
Do Men Have G Spot?
Yes, men also have a G-spot, often referred to as the prostate gland(P-Spot). The prostate is a small gland located inside the rectum, about 2 to 3 inches (5 to 7.5 centimeters) in, and it can be stimulated to produce pleasurable sensations.
Do G-Spot Vibrators Make You Squirt?
Sure! G-spot vibrators might make some people experience something called squirting. This is when a special spot inside can make some liquid come out during excitement. But not everyone feels this, and it's different for each person.
What Does It Feel Like When G Spot Stimulation?
For some lady, it feels warm, while others might feel like they need to pee. Some might feel deep pulses that are more than just regular touching. It's all part of the unique way each person's body reacts.
Also Wath:
Summary
Folks, it's time for a change in boring masturbation. Swap your single-purpose sex toys for a multi-purpose vibrator that can arouse multiple orgasms.
The G-spot vibrator is definitely your best sex toy investment of the year. Are you ready to take off your pants?