The Hitachi Magic Wand was synonymous with wand vibrators for a long time before the sex toy industry took off. But the original purpose of it is as a muscle massager. It is retro and bulky, but tired and true. With the development of sex-tech, wand vibrators are rapidly expanding their territory.
They become more portable, discreet, and versatile. Plus, they are now officially repositioned and sold as sex toys, not muscle massagers. But this doesn't mean you cannot use them as a massager.
What Is a Vibrating Wand?
A wand vibrator, also known as a vibrating wand, is a sex toy resembling a wand. Featuring a ball-shaped tip at one end and a rod-shaped handle at the other. It is larger than regular sex toys in size, which can provide deep and rumbly vibrations. The rounded tip can offer broad and dense stimulation to erogenous zones, covering your sensitive nerves to the maximum.
The sizes of vibrating wands can be roughly divided into 2 categories: large wands like the Hitachi, and small wands that can be carried in bags. The larger ones can accommodate a big motor, so they vibrate more powerfully. But if you prefer to have quiet and discreet stimulation, then this hand-size wand may be a perfect option for you.
In addition to that, you can also find some wands that accommodate attachments, which makes them even more versatile.
Why Use a Wand Vibrator?
Using sex toys is like adding a favor to humdrum sexual life. So what benefits can they bring to users?
Clitoral Stimulation
For clit-owners, nothing is more toe-curling than the sensations that come with clitoral stimulation. clitoral stimulation is indispensable to get real orgasms.
Although sexual wands can't provide precise hits like clitoral toys, they have a big and powerful motor, providing deep and strong vibrations. Therefore, using a wand also can help you climb the peak of climax.
Broad Stimulation
When it comes to broad stimulation, the vibrating wand is one of the best sex toys. The vibrating wand can cover a wider area and stimulate more nerve endings at the same time as those smaller sex toys. This allows you to tease your whole body effortlessly.
Use for Solo or Partnered Play
Not only can it be used for solo play, but it also can be used between couples. A wand vibrator is a great addition for those where penis and fingers can't take care of during sex. A wand with dildo can be used as a fake dick to insert into the vagina and anus.
Use as a Muscle Massager
Let's go back to the beginning. The original function of this vibrator was to relieve muscle soreness. So even if you are not in the mood, you can use it to massage your body after a busy day, or relieve the menstrual cramps during your period.
Available for All Genders
It's not just vulva owners who can use it, men can use it, too. Try holding it against the perineum or anus for prostate massage, or use low speed to massage the penis to get a different experience.
Apart from that, you can also use it on all sensitive areas such as nipples, inner thighs, navel, or any other erogenous zones.
Also Read:
How to Use a Wand Vibrator?
They allow you to use them in every inch of your skin, and stimulate your erogenous zones with different speeds. Generally, it is effortless to use a wand vibrator—simply activate the wand and find the right setting, then place it on the vulva or anywhere you want to stimulate.
But if any of you is a green hand of this, we still have some comprehensible steps to help you manipulate the device well.
Relax Your Body and Mind
The first step is getting relaxed no matter what kind of sex toy you use. Relaxing can help you acquire the real pleasure of masturbation experience.
Do something that can help you relax, whether doing a mini meditation or finding a comfy position on a clean bed. Get into the zone and do some foreplay before you reach for your toy.
Lube Up
Lube Can Reduce Friction and Enhance the Experience. It is Helpful With a Vibrating toy Because of the Size of the Head and the Surface Area That Is Covered by the Toy. Water-Based Lubricant Is Body-Safe and Can Avoid Damaging the Silicone Material of the Sex Toy.
Turn on the Wand Vibrator
When you're ready, turn on the toy. Test the vibrations on your safe space first to get a feel for the sex toy before moving to the genitals.
Before figuring out your safe threshold, starting from the lowest vibration is the most secure way .
Then exploring different vibration modes according to your needs.
Get Creative With Positions
Add some fun ways to experience with wand . Try different positions to explore your body that can be on your back, on your all fours, or even standing.
If you find it difficult to control the device while posing, let your partner help you. Invite your partner to join the wand indulge to promote your sex life.
Are Wand Vibrators Safe?
Most of the vibrators on the market are safe, but due to the lack of government regulation, you still need to be careful when choosing.
Quality material is the first line of defense to experience safe masturbation. Nowadays, most of the toys are made up of silicone, chlorine-free vinyl, and ABS plastic. Those are the safest sex toy materials.
Please avoid sex toys made from jelly, rubber, TPR/TPE, and other unsafe sex toy materials that are porous or potentially harmful.
If you are afraid that the powerful vibration will numb your vulva, don't worry, it will just happen in high intensity while using the wand. Once you turn off the vibrator, the feeling will go with it.
Taking a break from your wand for a short will help you restore your sensitivity in no time.
Can It Be Inserted Into the Vagina?
As an external stimulator, the wand does a great job. But this doesn't mean that it can be inserted into your tunnels recklessly.
Most wand vibrators feature a large, round head, which might split your vaginal or anal tissues. If you really want to use it for internal stimulation for its powerful intensity, use a wand with a dildo-shape handle and apply plenty of lubricant.
Wand Vibrator Recommendations
Anesidora Clitoral Pulse Vibrator
Due to the large tip of wand vibrators, most of them can only provide broad stimulation. But the Anesidora Clitoral Pulse Vibrator is different. Its head has a small hole about 1 cm in diameter, which can perfectly cover your clitoris. The opposite side of the hole has a raised texture that provides different sensations.
Not only can it be used externally but also internally. The other end of the wand is a thrusting dildo, which can be used to stimulate the G-spot or P-spot.
AV Stick Vibrator With Magnetic Charging
If you want a vibrating wand that is discreet enough, then you absolutely cannot miss it. The compact size makes it easy to carry and store. It is made up of soft silicone, and the neck is flexible to adjust.
In addition to providing 7 vibration modes, this vibrator can automatically heat up to 42C°, bringing a more realistic experience.
Top 3 Best Sex Positions For Wand Vibrators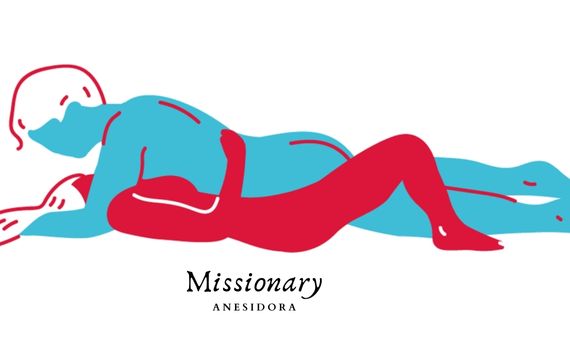 Missionary
This go-to position can be seriously spiced up with your wand vibrator. In missionary, put the wand massager between you and your partner.
Using the wand's base, you can reach your clitoris without hassle. You'll have plenty of time to make out with your partner and focus on stimulating your partner with a wand .
As your partner's weight adds to the pressure on your clitoris, you'll experience one of the most unforgettable orgasms that you've ever had.
Face-Sitting/Queening
Take a seat on pillows and lean back. While your partner uses their tongue on the rest of your clit, hold the wand against your clitoris and stimulate it with different power settings.
The vaginal opening is full of nerve endings and is a great place to put the vibrator on and enjoy the toe-curling orgasm with your partner.
Doggy Style
Place pillows under your hips while lying on your stomach. Lean your vulva against the top of the pillows with your wand sex toy propped against them.
The wand is an amazing toy for doggy style because it allows you to ride it while your partner rides you.
Also Read:
In Conclusion
The versatile wand vibrators make themselves widely loved by many folks because of their powerful vibrations and multipurpose. They may not be as discreet as you think, but their powerful function can arguably bring you to the climax.