When the rose vibrator got a lot of attention on TikTok, this kind of gadget designed for women's clitoris suddenly became well-known and gradually entered people's vision. They've gone viral in the sex toy world and are getting a lot of admiration.
Many studies have shown that 75% of women cannot achieve orgasm through penetrative intercourse alone. Most women achieve orgasm by stimulating the clitoris instead, but their partners often ignore this.
Fortunately, as we explore our bodies more and more deeply, we understand what kind of sex toys are suitable for where, and there are also special sex toys on the market to help us explore.Compared with traditional vibrators, clit sucker toy pay more attention to the small clitoris. In addition to the sucking function, they can also be used as nipple sucking toy.
Table of Contents
Trust Us – Here's Why
To provide comprehensive and reliable information for this article, We collaborated with renowned sex experts from Anesidora.
Their extensive knowledge and experience, with a remarkable record of reviewing over 50+ sucking toys, set them apart from the rest. The panel of experts conducted rigorous testing on numerous clitoral vibrator, prioritizing essential factors to ensure an exceptional pegging experience.
From the quality of the material to the inclusion of unique features and overall versatility, every aspect was meticulously evaluated.
10 Best Clit Suckers
The Original Rose Toy is a powerful clit suction vibrator designed like a beautiful rose flower. Despite its cute appearance, it delivers intense pleasure experiences that can lead to quick and powerful orgasms. The toy's unique design and compact size make it discreet and easy to carry in a handbag, perfect for travel.
Built-in motor and outward vibrations offer stimulating sensations around the labia and other sensitive regions. It has seven suction modes and 10 frequencies to explore, providing a variety of pleasurable options. Additionally, the tongue sex toy operates at a surprisingly quiet 40 dB, ensuring privacy even in busy households.
Price:29.99 (Extra 10% off at Anesidora)
Pros
---
The most powerful and intense
Versatile settings
Classic design
Easy to position
Budget Friendly
100% Waterproof
Cons
---
Weak magnets on charger,should be improved!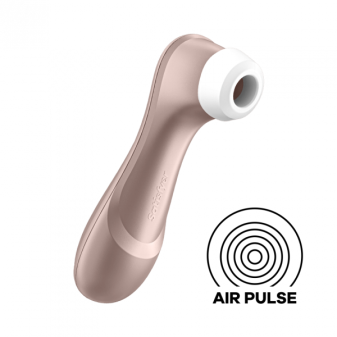 Made of ABS plastic and silicone, the Satisfyer Pro 2 looks unpretentious, but with 11 exciting suction modes that focus on your clitoris, it's perfect for beginners.
You don't need to explore too much at all, just place it on top of your clit, press the start button, and wait patiently for orgasm.
Satisfyer Pro 2 has IPX 7 waterproof performance, allowing you to take it into the bathroom or swimming pool.
Don't worry about disturbing others, its whisper-quiet motor allows you to use it discreetly.
Price:69.99
Pros
---
From gentle to Intense air-pulse clitoral stimulation
Silicone exterior feels more skin-like under your fingers
Wider air pulse hole than most competitors, so it's better for larger clits too.
Quiet
Cons
---
Air pulse isn't as thuddy as Rose Toy
Only comes in 1 color
Long Charge time
No travel bag included
Hera – clitoral pulse has 10 different sucking, tapping and retractable vibration modes can be switched at will and the powerful vibration motor takes you to different orgasms.At the end of this ANESIDORA clitoral pulse Vibrator is a retractable dildo that can be inserted into the vagina to stimulate the G-spot for a quick orgasm.
The threaded design increases friction and hits your sensitive spots for an instant orgasmic experience.
Soft silicone material can stimulate the sensitive points on your body, such as nipples, clitoris, etc., also won't hurt your skin.
Price:39.99(Extra 10% off at Anesidora)
Pros
---
3 IN 1 Sucking、tapping、thrusting
Deep, rumbly vibrations
Simple control buttons
Sleek and delicate design
Budget-friendly
Fully encased in silicone,100% waterproof
Cons
---
No travel lock
magnetic charger is awkward to use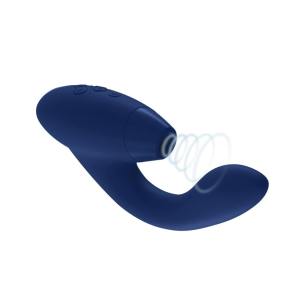 What's more exciting than a double thrill? Not only does this Clit Sucker provide clitoral stimulation, but it also stimulates the G-spot, giving you two pleasures at the same time.
If you are still struggling to Clit Sucker that suits you, then you might as well focus on this clit sucker and vibrator. It has 10 different vibration modes and 12 different speeds, enough to blow your clitoris.
Since the Womanizer DUO is IPX7 waterproof, there's nothing to get in the way of long relaxing baths, refreshing showers or even pool parties.
Price:$153.00
Pros
---
Strong, rumbly G-spot vibrations
Luxurious feeling silicone throughout the entire toy
Separate control of the air pulses and the vibrations
Comes with two differently sized tips for some varied sensations
Cons
---
A lot of buttons can be awkward to handle
Pricy
Noisy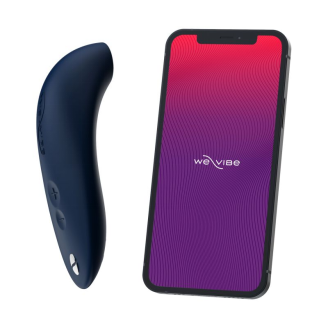 This clit sucking vibrator surrounds your clit with gentle suction without touching it. Plus, if you want to share your pleasure with your partner, you can give him control of the toy.
This clitoris toy has a dedicated mobile APP, and you can enjoy the fun of controlling it anytime, anywhere as long as you connect to the Internet.
The ergonomically designed appearance makes you not afraid of falling even in violent tremors, and you can hold it at a comfortable angle.
This clitoris toy with 12 vibration modes can make you surrender within 5 minutes, and it has IPX7 waterproof performance, even if you are sweating profusely.
Price: $149.00
Pros
---
Body-safe silicone
Easy-to-clean
Long-lasting USB rechargeable battery
12 intensity levels
Stylish design
Cons
---
It only has one size head, so it may not work for as many types of bodies
A pricy toy
Poor app connectivity
Slow or no responsiveness
This product is also from Womanizer. Its compact size allows you to take it all over the world and enjoy the fun regardless of location.
At the same time, it is also equipped with a sanitary cover to protect your health and safety during travel.
In addition, it also thoughtfully designed two silicone heads of different sizes, whether you are a big girl or a normal girl, it can fit your clitoris very well.
Price: $99.00
Pros
---
Very intense stimulation
Lightweight and with a discreet look
Fully waterproof
Quick to charge
Easy to clean
Cons
---
May not work as well for people with small hidden clit
The positioning of the buttons can be a bit tricky if you want easy access during use.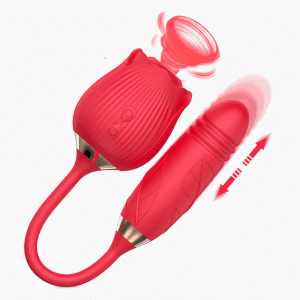 The Rose tongue vibrator with its two separate buttons, allowing individual control over sucking and thrusting for a personalized experience. Its sucking capabilities, complemented by the ergonomic thrusting dildo, ensure both internal and external stimulation simultaneously.
Moreover featuring 9 different intensities and rhythms to target sensitive areas and provide multiple levels of powerful pleasure.
Equipped with two motors inside the butt plug, these toys offer precisely targeted vibrations and thrusts, customizable through nine modes to suit personal preferences.
High-quality, skin-friendly silicone material, It offers a luxurious touch while ensuring comfort even during intense use. With an IPX7 waterproof rating, they are easy to clean under running water.
Price:39.99(Extra 10% off at Anesidora)
For More Please Read :
Pros
---
Less firm that most silicone vibrators, making it comfortable for penetration
Waterproof for bath and shower fun
Two single-use guest passes per year
Thrusting & sucking simultaneously
Flexible design fits most all bodies
Extremely quiet
Thin, flexible, silicone cord between functional pieces
Budget friendly
Cons
---
Sucking is weaker than original rose toy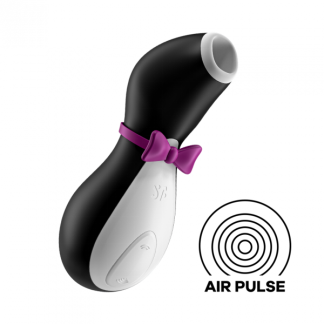 Isn't this penguin in a tux cute? This is the most recommended among the top 10 best Clit Sucker, both in appearance and function will not let you down.
It's not just pretty, the Satisfyer Penguin also features Satisfyer's revolutionary Air-Pulse technology. It is a clitoral vibrator with both appearance and strength.
With 11 intensity levels, Satisfyer Penguin provides mild to intense clitoral stimulation and will make you shudder slightly or intensely depending on your mood.
Thanks to the silent motor, you can also use it without worrying about others hearing you. Plus, it's a great gift option.
Price:$69.99
Pros
---
Effective air pulsation, pretty good speed range
Smaller & easier to hold than Satisfyer Pro 2
Quieter than Pro 2
Cute Design
Cons
---
Not THE strongest sucking
Black silicone shows spots
Attracts lint
Positioning takes some practice
The SONA™ 2 Cruise uses gentle sound waves instead of traditional vibrations to stimulate the clitoris and also features lelo's patented Cruise Control™ technology.
With 12 pleasure settings and a sleek design made of high-quality, body-safe silicone, SONA™ 2 Cruise is your good choice for clitoral stimulation.
Price:$149.99
Pros
---
Effective air pulsation, pretty good speed range
Luxurious design
High-quality materials
Internal + External stimulation
Cons
---
Quite expensive.
Some users have reported that the Sona 2 Cruise can be uncomfortable after prolonged use.
The higher settings are quite loud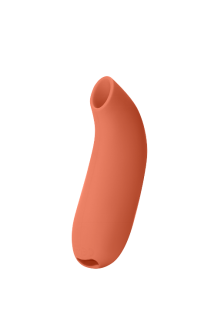 If you know the little rabbit that is popular worldwide, you must know Dame, a brand that needs no introduction.
This clitoral toy uses its exclusive pressure wave technology to create rhythmic pulses to stimulate your clit for unique pleasure.
The Aer has 5 vibration modes, and its sleek exterior is silky smooth, making it a great choice in terms of function and appearance.
Price:$99.00
Pros
---
Shaped for clit stim during vaginal intercourse
Premium packaging
You don't have to look at the buttons to control the toy
Medical-grade silicone
Very strong magnetic charging
Cons
---
Loud
Rose toy have better speed range for one third the price
Sticky silicone after used
---
Time to Start Exploring Anesidora
---
With the booming sex toy industry, sex toys are becoming increasingly technological. Consumers have more and more choices, and you can feel the latest developments in the sex toy industry on a small vibrator.
In addition to the above top 10 Best Clit Suckers, more products please visit the Anesidora website or search clit sucking toy on amazon.
For More Please Read:
Of course, we also have a lot of new and exciting toys, whether you're a sex toys expert or beginners, here is your sex toy heaven.