There is no denying that silicone has become the most popular material in the sex toy world because of its high safety and ease of cleaning. However, silicone toys have its limitations. They can only be compatible with water-based lubricants. But if you like the silky feel of silicone lubes, or experience different temperatures, focus your eyes on glass sex toys. If you have not known about glass dildo, perhaps this article can help you expand your horizons.
Table of Contents
Glass dildos a Types of Dildos. offer several advantages that make them a popular choice among sex toy enthusiasts. Let's explore some of these benefits:
Temperature Play
One exceptional feature of dildo is their ability to retain and transmit temperature. They can be warmed or cooled before use, providing thrilling sensations during play. Whether you prefer the icy touch of a chilled dildo or the comforting warmth of a heated one, It allow you to experiment with temperature play, adding an extra layer of excitement to your experiences.
Versatility
Glass dildos offer exceptional versatility, accommodating a diverse range of desires and preferences. They are suitable for both vaginal and anal stimulation, making them an ideal choice for individuals of any gender.
Hygiene
Glass is non-porous, meaning it doesn't capture fluids or hide bacteria. This makes glass exceptionally hygienic and easy to clean. They can be easily washed with warm water and mild soap or using a sex toy cleaner.
Durability
They are known for their durability and longevity. Made from high-quality borosilicate glass, they are resistant to cracks and breakage, offering a reliable and long-lasting pleasure tool. With proper care and handling, this toy can provide pleasure for years to come.
Aesthetics
Glass dildos are truly works of art in themselves. Their elegant and visually appealing designs make them a delightful addition to any collection. Whether adorned with swirls, bumps, or ribbons, glass dildos are aesthetically pleasing and can evoke a sense of luxury and sophistication.
Are Glass Dildos Safe?
To ensure a safe experience with your glass dildo, it is important to be aware of potential weaknesses that can arise due to various factors. For instance, if you have accidentally dropped your glass dildo, it is best to retire it, even if no visible cracks are present.
Hidden fractures could compromise its structural integrity, posing a risk to your body Additionally, it is wise to avoid glass toys with thin design elements as they are more susceptible to breakage.
Poorly made glass sex toys may also feature added textures or bumps that do not adhere to the toy's solid structure, potentially leading to discomfort or injury.
Before use, always inspect your glass sex toy to ensure it is sturdy and safe.
Different Types of Glass Dildos
Glass dildos come in various shapes and styles, each offering a unique experience. Let's explore some of the popular types: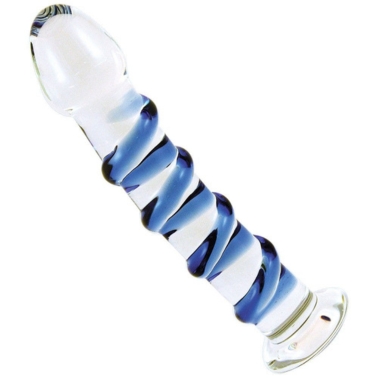 Textured
Textured dildos feature bumps, ridges, or swirls along their shaft. These textures can enhance stimulation and provide a different sensation compared to smooth dildos. They are perfect for those who enjoy a more intense and varied experience.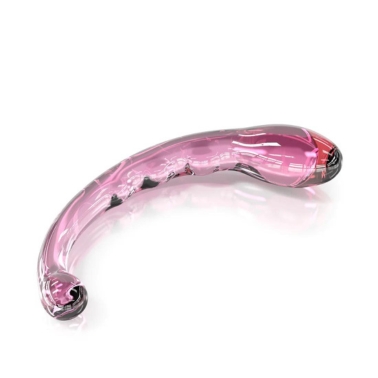 Curved
Curved dildos are designed to target specific pleasure zones like the G-spot or prostate. The curved shape allows for precise and targeted stimulation, leading to intense and pleasurable sensations.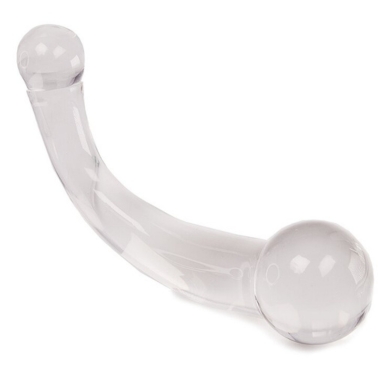 Double-Ended
Double-ended dildos feature two ends with different sizes or shapes, allowing for versatile play and the option to explore various sensations. They are ideal for individuals who enjoy versatility and experimentation.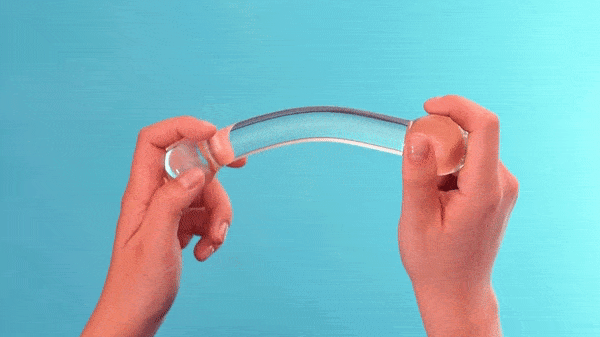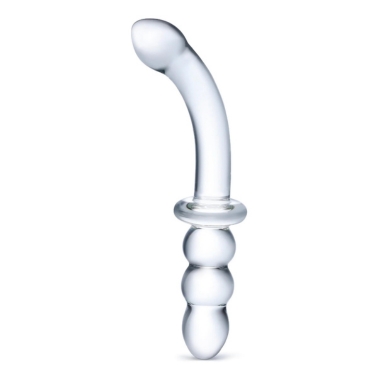 G-Spot dildos have a curved or angled tip specifically designed to stimulate the G-spot, a highly sensitive area in the vagina. The shape and firmness of these dildos make it easier to locate and pleasure the G-spot, leading to powerful orgasms.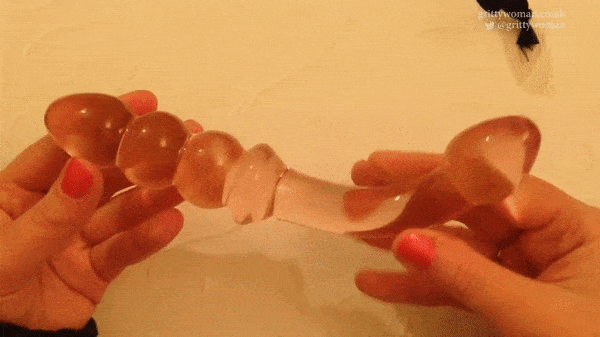 Anal dildos are designed with a flared base or handle to ensure safe anal play. They are usually slimmer and tapered for comfortable insertion and gradual stretching. Anal dildos can provide intense anal pleasure for both beginners and experienced users.
For More Please Read:
Tips for Enhancing the Glass Dildo Experience
To make the most of your glass dildo experience, consider trying these tips:
Experiment with Temperature
Explore the unique temperature play capabilities of glass dildos. Place the dildo in warm water or cool it in the fridge before use. The contrast of temperatures can create exciting sensations and intensify pleasure.
Foreplay and Stimulation
Engage in ample foreplay to enhance arousal and natural lubrication. Use the glass sex toys to stimulate erogenous zones like the breasts, thighs, or genitals before penetration. This can heighten sensitivity and pleasure.
Try Different Techniques and Movements
Discover various techniques and movements with your glass toy to find what feels best for you. You can try thrusting, circular motions, or gentle rocking movements to stimulate different areas and achieve different sensations.
When selecting a glass dildo, several factors should be considered to ensure the best fit for your preferences and needs. Here are some essential considerations:
Size and Shape
They have different kinds if sizes, ranging from small to large. Consider your comfort level and experience with penetration when choosing the size. Additionally, different shapes offer different sensations, so think about the kind of stimulation you desire.
Texture
Decide if you prefer a smooth or textured surface. Smooth glass dildos offer a sleek and frictionless experience, while textured ones provide added stimulation and intensity.
Temperature Sensitivity
If you are interested in temperature play, look for a dildo that is specifically designed for it. These dildos have a wider temperature range and can safely handle extreme hot or cold sensations.
Safety Considerations
Ensure the toy you choose is made from high-quality borosilicate glass, as this material is resistant to cracks and breakage. Also, ensure the dildo has a flared base or handle if you plan to use it anally, as this prevents unwanted travel.
Budget
Consider your budget when purchasing a glass dildo. Prices can vary based on size, design, and brand. However, investing in a high-quality toy is worth it, as it ensures durability, safety, and a superior pleasure experience.
How to Use a Glass Dildo?
Using a glass dildo safely is essential to maximize pleasure and prevent any discomfort or injury. Here are some safety guidelines to follow:
Cleaning and Maintenance
Before and after each use, clean your toy thoroughly with warm water and mild soap or a sex toy cleaner. Ensure it is completely dry before storing it in a clean and safe place. Avoid exposing the dildo to extreme temperatures or dropping it, as this can cause damage.
For More Please Read:
Lubrication
Glass dildos have a smooth surface, but adding lubrication enhances the comfort and pleasure of insertion. Since the glass material is compatible with all kinds of lubes, you can choose it as you like.
Gradual Insertion
Start with gentle stimulation and gradually insert it at your own pace. Listen to your body and use plenty of lubrication to ensure a comfortable and pleasurable experience. Stop if you experience any pain or discomfort.
Communication and Consent
If using a glass dildo with a partner, communication and consent are crucial. Discuss boundaries, desires, and preferences beforehand. Always prioritize mutual consent and respect throughout the experience.
A Overview of the Top 6 Glass Dildos (Personal Point of View)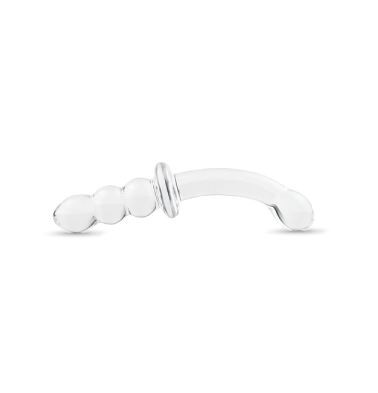 With one curved end and one beaded end, the Unbound Gemini allows for both external massage and internal stimulation. The tapered tip makes it easy to go in the tunnel and can provide more precise stimulation on G-spot or P-spot. While the gradient beads can enhance your sexual pleasure. The low price makes it a no-braine. Highly recommend!
Price:$35.00
Pros
---
Budget friendly
Double-duty
Made from hypoallergenic, tough borosilicate glass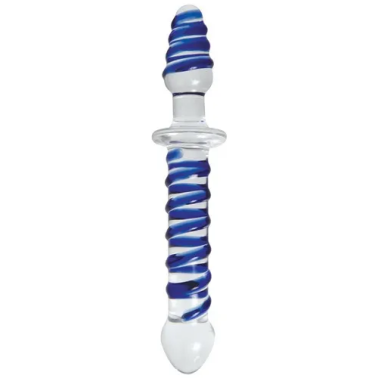 This item from Adam & EVE can make you experience a variety of sensations. It can be used both to stimulate the deep sensitive spots and to exercise the anus. The raised swirls run around the shaft aren't just for aesthetics, but to add extra stimulation.
Price: $39.99
Pros
---
Main shaft is gently curved to serve as a G-Spot or prostate stimulator
Plug-shaped shaft ideal for backdoor fun or sharing with a partner
Handmade with shatter-resistant glass for an extremely durable toy
Cons
---
Less Durable and Fragile
Will be smaller and thinner than in the product photos.
Can't choose size
Blue spirals may not be for everyone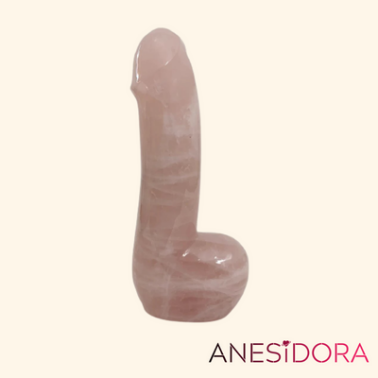 Rose Quartz has long been considered a healing crystal. It can help heal emotional scars and provide energy. Now this dildo made of rose quartz has one more function, which is to help you relieve desire. To get more pleasure, you can boil it or cool it.
Price: $149
Pros
---
Special Material Make It Unique
Dissolves Negative Emotions
Releases Blockages in the Heart Chakra
Balances Yin-Yang Energy
Relieves Anxiety
Cons
---
Can't choose size
The most expensive one
Due to the particularity of the material, the actual product may be slightly different from the product photos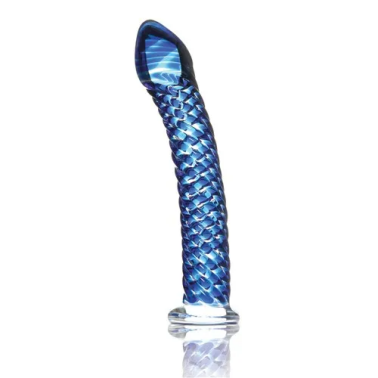 This glorious dildo is also from Adam& Eve. If you have high requirements for beauty, you must not miss this bad boy. Its body is covered with swirly ridges, and you can clearly feel the feeling of each swirly turning in your body. This will undoubtedly enhance your sexual pleasure.
Price:$69.99
Pros
---
Curved shaft for easy stimulation
Flat base lets the dildo stand up on its own
Light-catching blue and clear swirled glass
Excellent design!
Family
---
Head end a bit large
Hand washing is not easy due to the surface of the toy
The ridges could be a little more intense
Could use a little more texture.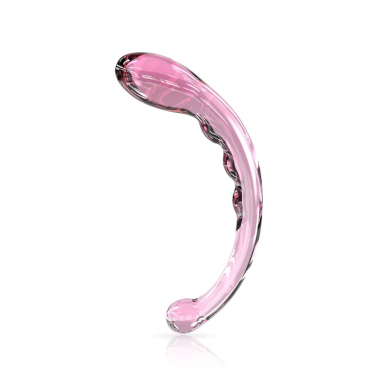 This C-curve double-ended dildo has a perfect curvature, and bulbs of different sizes at both ends can meet different needs. The ridges of this masterpiece are so good and can give you the perfect leverage solo.
Price: $29.99
Pros
---
Wide adorned base for safe and easy removal
Great for warm and cool temperature play
Features a wide, adorned base for easy removal
Non-porous, Strong borosilicate glass
Budget Friendly
Cons
---
Can't choose size
Can't Not used for dildo ride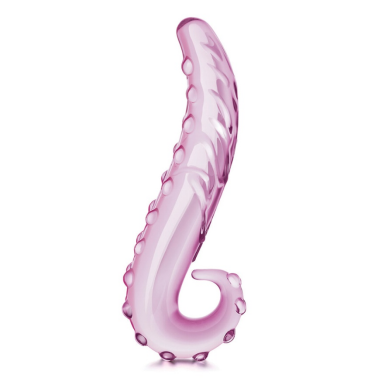 This unique dildo is covered with studs, which look like a leg of an octopus lying tightly on your intimate area, but don't be intimidated by its appearance. Besides the studs, the dildo has raised veins on the back for a variety of sensations. The tail curls up to form a small loop for easy handling.
Price:$34.99
Pros
---
Eye-catching unique tentacle design
Textured nubs for internal stimulation
Temperature responsive for sensory play
Reasonable price
Cons
---
It is not conducive to insertion due to its shape.
If you aim it downwards, and the bulbous ridges brush against your clitoral bone, it's unpleasant and slightly painful
The curly portion of the tentacle has a tendency to get caught when removing.
The real object will be thinner and thicker than the photo