Description
2 in 1 rose tongue sex toy has 3 vibrating heads with a rotating function that provides gentle flirting to wild licking. to tease your clitoris and bring you to an instant orgasm.
The 2-in-1 clitoral tongue vibrator has 9 modes that switch from strong to weak at will. The rose tongue sex toy has a short vibrator at the end that can enter your vagina and stimulate your C-spot, or you can take it to lick your breasts, clitoris, massage your anus, etc. It allows you to have a clitoral orgasm and a C-spot orgasm at the same time.
2 in 1 Rose Vibrator uses medical grade silicone and is non-toxic and odorless. Discreet packaging keeps your privacy protected and secure
Rose sex toys are IPX7 rated waterproof, so you can use them in the bathroom, bathtub, pool or anywhere else. And the rose vibrator is smooth, with no gaps for water or bacteria to enter.
Rose Vibrator comes with a USB magnetic charge for a quick recharge. They can be used for up to an hour per charge.
The rose tongue sex toy is designed to be lightweight and silent, so you can take it with you on dates or trips, etc. Get ready for in vitro stimulation with this rose sex vibrator!
The rose toy, also known as the rose vibrator or rose vibration, is a clitoral stimulation toy that uses air pulse and pressure technology to suck on the glans head of the clitoris.
It combines sucking and vibrating functions through a suction head to deliver unparalleled stimulation and sustained orgasms.
When we talk about the rose vibrator, it is not a metaphor because it really looks like a delicate rose. The layer-on-layer carved petals, the rosy color, and the silky touch all make it deserve praise.
Usually, there will be a charging cable in the package when you buy a rose toy. But if you lose the magnetic cable and don't have a spare one around, you can buy a new one online.
Or you can search for the rose toy charger near me on google maps to save time. But there is another way to get a new charger, and that is to make it by yourself.
First of all, you need to prepare the required materials, two small magnets, an unused charging cable, a pincer plier, a pair of scissors and shrink tubing.
When reviewing and testing the rose sexual toy in this post we take into account many aspects to ensure they're worth it, such as materials, individual customer reviews, pros and cons, orgasm rating, sound, power.
Something we can guarantee is that you'll never see us recommend a product that hasn't been through the works to ensure its quality and effectiveness.
Whether you're a sex toy beginner or more of an expert, the rose toys don't fail to help you achieve an absolute banger of orgasm in no time. So, what are you waiting for?
Since the TikTok Rose Toy phenomenon began, several variations of rose toys have popped up on the market.
A myriad of organizations now manufactures their version of this highly demanded device and distribute it under several brand names on websites, such as Amazon, Etsy, Shopify and more.
However, many fellows are unsatisfied with monotonous rose vibrators, so various rose-based vibrators have appeared.
Other than the original rose suction toys, some variations include a double head vibrator and tongue rose toy vibe or a rose toy with a stem.
If you know something about female sex toys, you must be familiar with the clitoral vibrator. This type of sex toy using air pulse technology gained many fans as soon as it appeared on the market.
Nowadays, there are various clitoral vibrators that provide a wide range of choices for women who like clitoris stimulation. But with so many clit stimulators, many newbies feel stressed about buying them.
So, in order to help beginners have a better understanding of clit vibrators, I selected two products to make a review. One is the Rose Toy, which has taken the social network by storm; the other is the Satisfyer Pro2, which holds the air pulse patent.
The reason of reviewing rose toy
However, many fellows are unsatisfied with monotonous rose vibrators, so various rose-based vibrators have appeared.
Other than the original rose clit suckers, some variations include a double-head vibrator, tongue toy vibe, or a toy with a stem.
With so many different and quirky rose sex toys, you must be curious about how to use them.
So, this article will review 3 Anesidora rose sexual toys from its softness, power, as well as noise to help you better choose the rose toy for women. Let's start the rose sex toy review!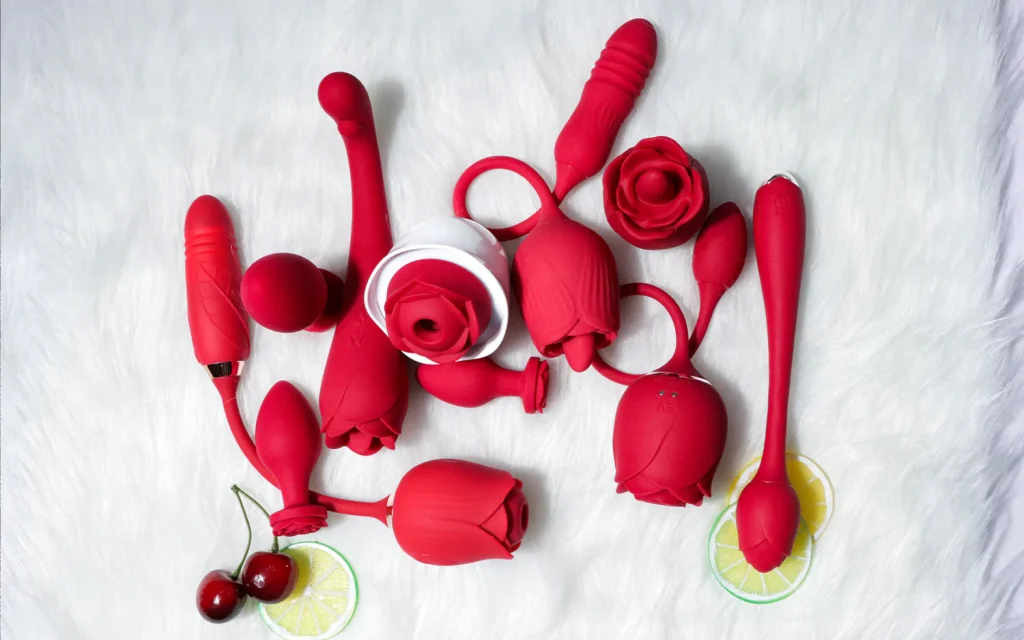 Frequently Asked Questions