If you get stuck in the way of climbing peak, and have lost passion for mediocre sex toys, then a squirting dildo maybe the Noah's ark to help you get away from dull. This fantastic sex toy is able to help you obtain more sensitive masturbation experiences. If you are interested in it, then welcome to the squirting world.
What Is a Squirting Dildo?
A squirting dildo also known as cumming dildo or an ejaculating dildo, is a Types of Dildos that mimics the sensation of ejaculation. It allows users to get the feeling of being ejaculated by fake semen. It is a grail for those biological women who enjoy the sensation of ejaculation but fear pregnancy. Squirting dildos vary with different materials and shapes, providing abundant choices for many sex addicts.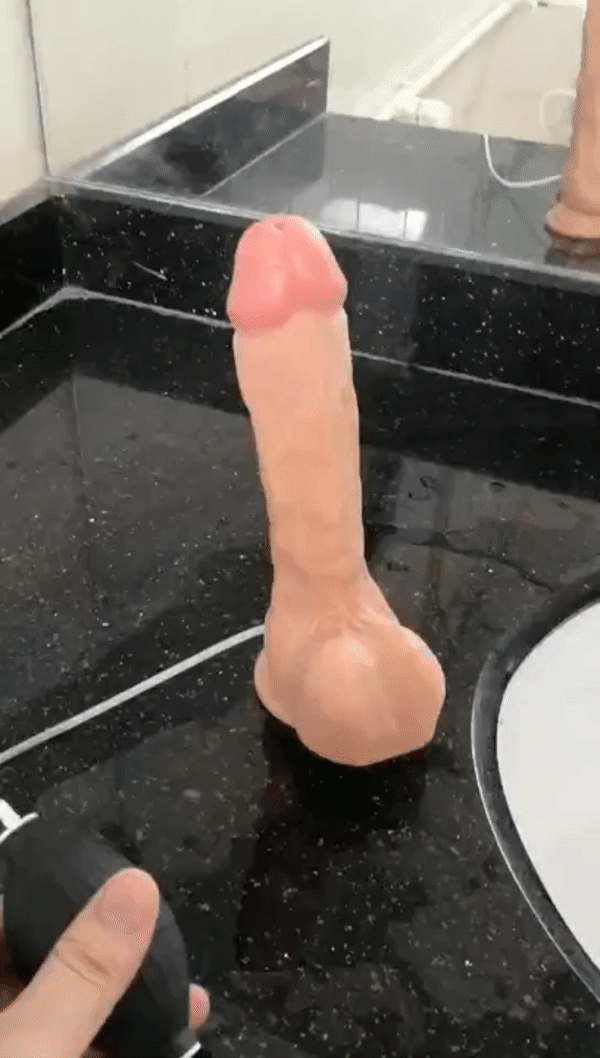 Types of Squirting Dildos
This type of squirting dildo is the most common one. It combines a shaft with a squeeze pump through a transparent tube. Gently squeeze the pump and the fluid will flow towards the dildo, and final jet out.
A Squirting dildo with syringe pump will make you feel as if you are operating an important operation. And the scale on the syringe allows you to decide precisely how much semen you want to sallow.
Generally, it looks like a replica of real penis. The ejaculation mechanism of it is the fake testicle, which makes it more realistic when masturbating.
Cumming Dildo Review – Shoot ME
If you're new to the concept of squirting dildos, and you're looking to dip your toes into this type of sex toy without breaking the bank, ANESIDORA's Shoot ME is a great option to consider.
Why should you try the Shoot ME ?
The Shoot ME is perfect for beginners and offers excellent value for its affordable price. Despite its low cost, the quality of this squirting dildo is top-notch. If you're unfamiliar with the Shoot ME, give it a chance and read on. It might just surprise you and save you money in the process.
The Shoot ME is made from high-quality silicone, ensuring it's non-toxic and hypoallergenic. Its smooth and nonporous surface helps prevent bacteria and dust from breeding inside the dildo. The firm texture makes the ejaculation dildo away from breakage and tear, and easy to insert. I'll say this is not the item you want if you are looking for a firm toy that doesn't bend or flex, but if medium firmness suits you, this will be a good option.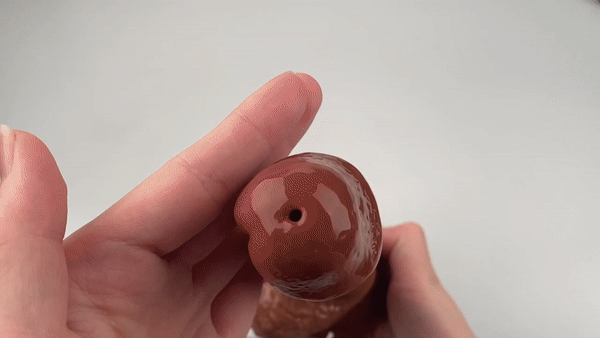 Size
Size is an important consideration when purchasing sex toys, and the Shoot ME offers a satisfying dimension. With a total length of approximately 7.8″ and a usable length of 5.9″, along with a girth of 4.8″, it's designed to meet the needs of most individuals. However, if you prefer a larger or smaller size, ANESIDORA also offers options to cater to different preferences.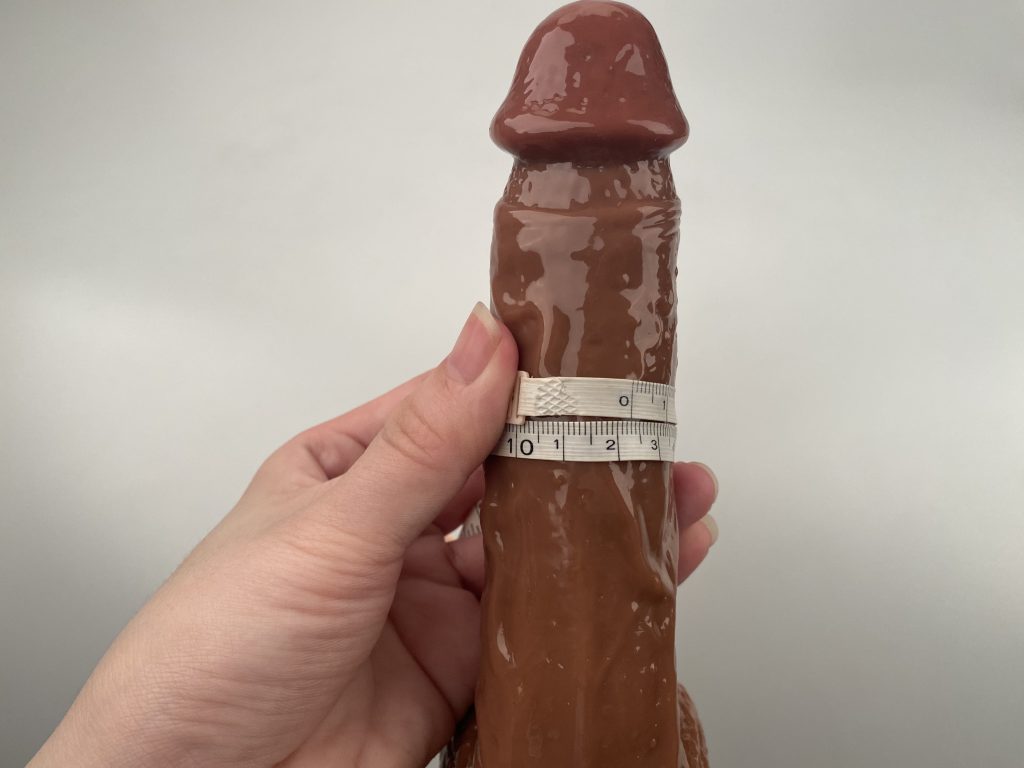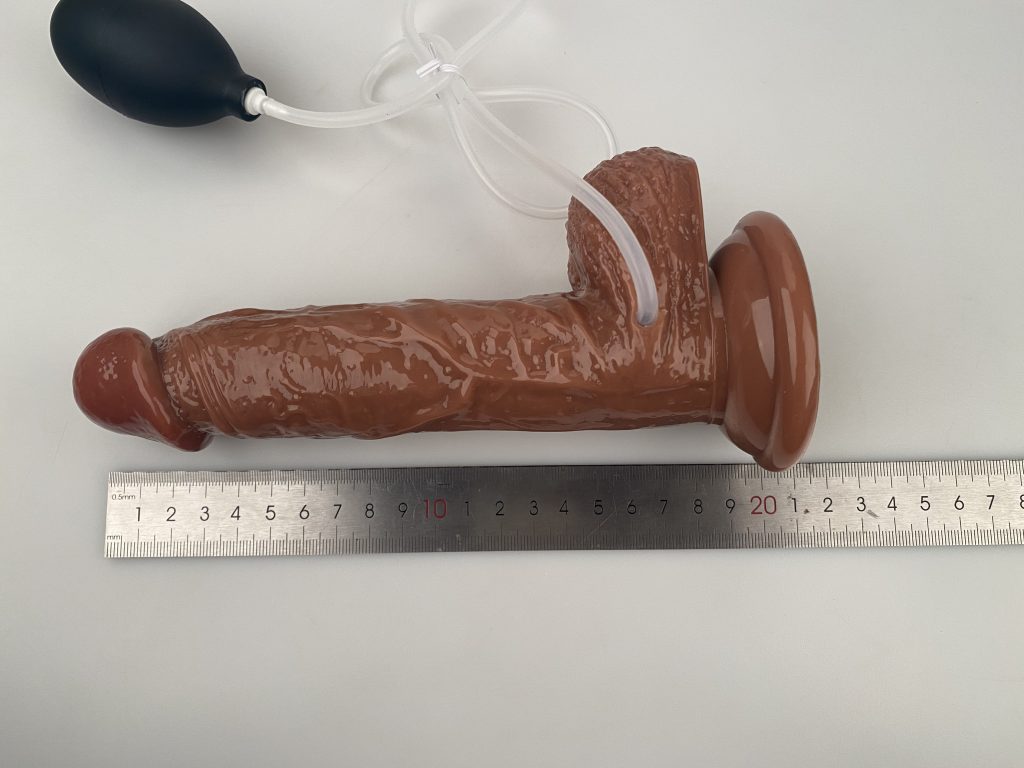 Squeeze pump
The squirting function of the dildo is achieved through a detachable squeeze pump that's shaped like a grenade and no bigger than your palm. It features a long, flexible soft tube attached to the side near the testicles. The pump has a capacity of about 35ml of liquid, and you can even change the pump head to a larger capacity if you desire more semen-like fluid.
How to Fill the Pump?
Filling the pump can vary in difficulty depending on the fluid you use. Water is easy to fill due to its fluidity, but thicker fluids like lube may pose some challenges due to the small hole. I recommend using a squirting dildo with a syringe if you prefer a thicker fake semen-like fluid.
When filling the pump, pay attention to whether there is water spraying out of the outlet above the pump head. If there is which means the reservoir is full. Reattach the squeeze pump to the tube and give it a few squeezes to ensure smooth flow of the fluid. The tube is customizable, allowing you to cut it to your desired length for convenience.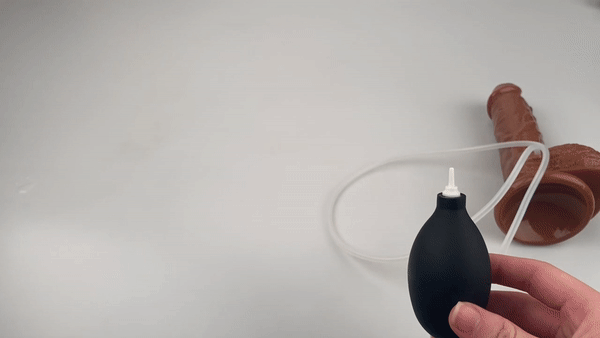 Squirting Range
It does not spurt straight out like a faucet, but mimics the real ejaculation process, stimulating sensitive points through different amounts of water coming out. And it squirts with a range of 3-5 feet.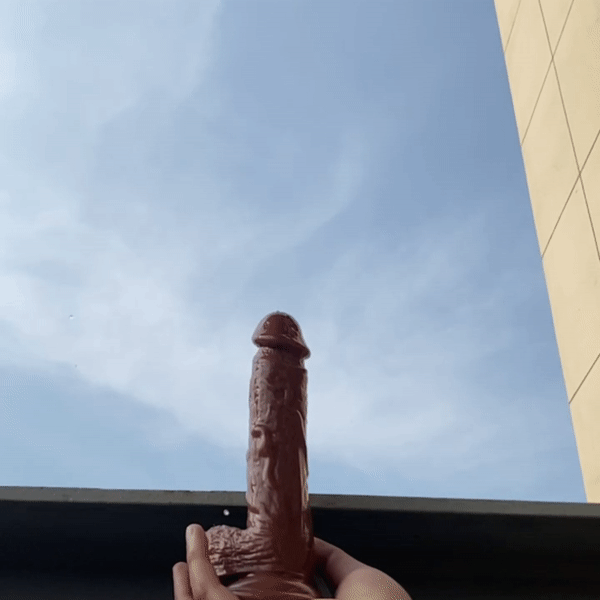 Suctioncup
The squirting dildo is equipped with a powerful suction cup that can securely attach to any smooth surface without slipping off. You can try attaching it to bathroom tiles, a bedroom door, or a dinner table to enjoy different sensory experiences in various environments. The change in scenes can heighten sensitivity and add more excitement to your playtime.
Summary & Review
| | |
| --- | --- |
| Pros | Cons |
| Lifelike, with realistic folds and ridges | Not easy to fill with thick liquids |
| Made with 100% body-safe silicone | The firm silicone material is not beginner-friendly. |
| Different sizes to cater to everyone | |
| Strong squirt | |
| Strong suction | |
Benefit of Using Squirting Dildos
It offer several benefits that can enhance your sexual experiences. Let's take a closer look at some of the advantages of using a squirting dildo.
Realistic sexual experience
One of the primary benefits of a squirting dildo is that it provides a realistic sexual experience. The sensation of ejaculation can add a new level of intimacy and excitement to your sexual play, whether you are using it for solo play or with a partner. The lifelike sensation of cumming can make your sexual fantasies come to life, creating a more immersive and satisfying experience.
Customizable
Another significant advantage of squirting dildos is that they allow you to customize the sensations to your liking. You can choose the type and amount of liquid to use for ejaculation, such as water-based lubricant or fake semen, depending on your preferences. This customization feature enables you to experiment with different sensations and tailor the experience to your desires, adding a new level of personalization to your sexual play.
Safe and convenient
provide a smooth and enjoyable experience. Additionally, they are convenient to use as they come with a built-in mechanism that allows for easy control of the ejaculation process, ensuring a hassle-free and enjoyable playtime.
Choosing the right one is essential to ensure a pleasurable and safe experience. Here are some factors to consider when selecting a squirting toy:
Material and quality
The material and quality of the squirting dildo are crucial factors to consider. It's important to choose a dildo made from body-safe materials such as silicone or rubber, as these materials are non-toxic, hypoallergenic, and easy to clean. Avoid dildos made from porous materials that can harbor bacteria and cause infections.
Size and shape
The size and shape of the squirting dildo are also important considerations. Dildos come in various sizes and shapes, ranging from small to large, and from realistic to abstract shapes. Consider your personal preferences and comfort level when choosing the size and shape of the squirting dildo. If you are a beginner, you may want to start with a smaller size and gradually work your way up.
Function and features
It come with different functionalities and features. Some dildos have a manual mechanism where you manually squeeze the bulb or reservoir to expel the liquid, while others have an automatic squirting feature that can be controlled with a remote or a button. Consider the functionality and features that suit your preferences and desires when choosing a squirting dildo.
Price and brand
You get what you pay for. Squirting dildos at different prices provide different quality and experience. Depending on your budget, you can buy a dildo from reputable brand, or from small but smart brand.
How to use A Squirting Dildo?
Dip the head of the penis in the liquid and squeeze the balls – it will suck up all the liquid.
Then squeeze the balls again to make it cum.
Choosing the Semen
Unlike other dildos, first you should prepare the fake semen you want. Water-based lube or pure water is a good choice. Filling the fake semen into the pump or ball under the manufacturer's instructions
Attach the pump
Once the reservoir is filled, attach the dildo to the reservoir or bulb according to the manufacturer's instructions. Make sure the dildo is securely attached and the liquid can flow through the tubing or mechanism to the tip of the dildo. Test the squirting action by gently squeezing the bulb or reservoir to see if the liquid is expelled smoothly.
Using the squirting feature
When you are ready to use the squirting dildo, apply water-based lubricant to the toy and your body for added comfort. Begin by using the dildo as you would with a regular dildo, using gentle thrusting or twisting motions according to your preferences. When you are ready to experience the squirting action, gently squeeze the bulb or reservoir to expel the liquid from the tip of the dildo, simulating ejaculation.
After using the it, it's essential to clean it thoroughly to maintain hygiene. Follow the manufacturer's instructions on how to clean the dildo properly, as different dildos may have different cleaning requirements. Make sure to clean the reservoir, tubing, and the dildo thoroughly with warm water and mild soap, and dry them properly before storing. Store the dildo in a cool, dry place away from direct sunlight to ensure longevity.
Conclusion
If you haven't tried a squirting dildo yet, it's definitely worth considering! The realistic ejaculation feature adds a whole new level of excitement to your playtime. If you're interested in learning more about this unique sex toy, you can check out the selection available at Anesidora's online shop. We offer a variety of squirting dildos for you to choose from.