What is a Vibrating Cock Ring?
A vibrating cock ring is a sex toy with a vibrating motor, usually positioned at the top of the ring, providing stimulation to the clitoris or penis when worn during intercourse. Vibrating cock rings are sometimes called "vibrating penis rings" or "vibrating penis straps." However, they can be used by anyone of any gender whose genitals could benefit from some extra stimulation.
The best vibrating rings are made from silicone or TPR rubber, both very flexible materials that will not cause irritation or harm your skin. They are also waterproof and easy to clean with soap and water or antibacterial wipes.
For many people, wearing a vibrating cock ring during sex can help them reach orgasm more quickly. However, this is only true if the wearer has an orgasmic response to vibration (which not everyone does). For other people, wearing a vibrating cock ring may make them more aroused or sensitive to touch without necessarily leading to an orgasm.
---
How Does Vibrating Cock Ring Work?
---
There are many reasons to use a cock ring. When worn during sex, they can be an enormous turn-on for both partners. They also help to maintain erections and prolong ejaculation.
There are many types of cock rings, but vibrating ones are the best (and the most popular). Vibrating cock rings can be used by men and women who want to spice up their sex life or add excitement to their masturbation sessions.
The first step in understanding how a vibrating cock ring work is understanding how a normal cock ring work. A regular cock ring is made from silicone or rubber and works as an external constriction device around the base of the penis (or clitoris). This is to restrict blood flow from leaving the penis, which helps maintain an erection by keeping more blood trapped within your member (and around your urethra). This also helps keep you hard for more extended periods, so you can go on for as long as your partner wants.
A vibrating ring has two main parts: an internal section that goes around your shaft (or clitoris) and an external section that holds the batteries and vibrator. The inner part is usually made of silicone or TPR material, which is stretchy enough to accommodate most sizes but firm enough to stay in place during use. It's important to note that many vibrating rings have a stretcher material inside than out, so make sure you read up on any sizing information before buying any toys.
***Men's Locking Ring Vibrator With 9 Vibrations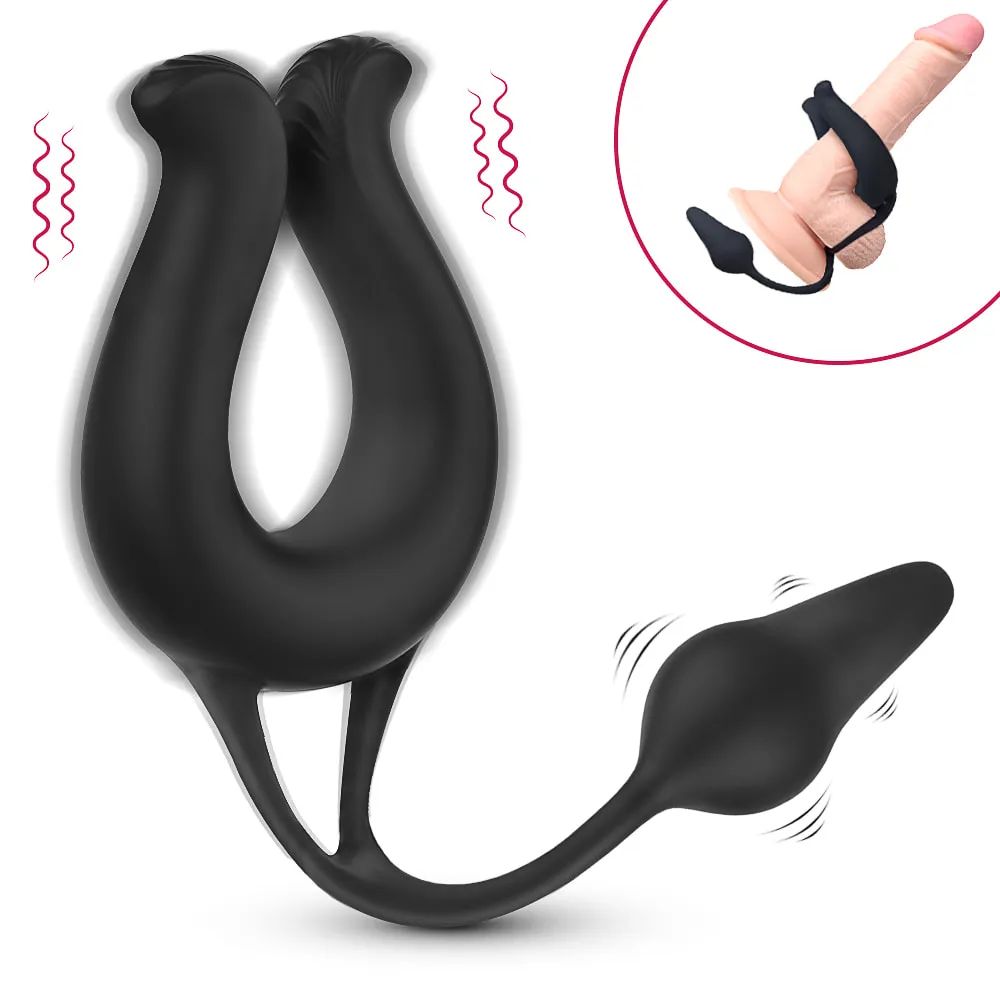 How to Use the Vibrating Cock Ring?
There are many different ways to use a vibrating ring. The most popular method is to place it around the base of the penis so that it is snug against your body, and the vibration can also be felt on your clitoris. If you want to experiment with other positions, try placing it on different parts of your body or even use two rings at once.
As with any sex toy, ensure the vibrating cock ring is clean before use. You can get rid of any dust or dirt by washing it under warm water and soap or using a toy cleaner spray. You can also use a toy wipe if you don't have access to water. Remember that silicone toys do not like oil-based lubes, so stick to using water-based lubes if possible.
---
Benefits of Using Vibrating Cock Rings?
---
Many men are curious about the uses and benefits of vibrating cock rings. The first thing that comes to mind is that it's just another sex toy, right? Wrong. Vibrating rings can be used in a variety of ways. They're not just for stimulation or arousal. They can also help you last longer in bed and even help you get stronger erections. Here are some of the benefits of using vibrating cock rings:
*Reduce Erectile Dysfunction
Men with erectile dysfunction (ED) can use vibrating cock rings to enhance their sexual performance. ED is a common condition that affects up to 30 million men in the United States alone. It's caused by low levels of nitric oxide, which allows blood vessels to expand and relax during an erection, allowing more blood to flow into your penis tissue and causing an erection.
*Increases Sexual Stamina
It's no secret that sex can be a great form of exercise. But if you're looking for something to help increase your stamina in the bedroom, we've got just the thing for you. Vibrating cock rings are designed to help men last longer during intercourse. If you have trouble lasting during sex, a vibrating cock ring might be what you need.
*Enhances Sensitivity
The most obvious benefit is that they enhance the sensitivity of the penis. The vibration causes the blood vessels to dilate, giving you more sensitivity and pleasure. This is especially helpful if erectile dysfunction (ED) requires extra stimulation to get an erection. The additional blood flow also increases the size of your erection.
*Increase Sexual Confidence
Another benefit of using vibrating cock rings is that they help increase sexual confidence and desire in men with little or no libido or sex drive due to stress or other factors such as poor nutrition, lack of physical activity, and lack of sleep, among others.
***Male Penis Ring Double Locking Sperm Ring With 9 Vibrations & Remote Control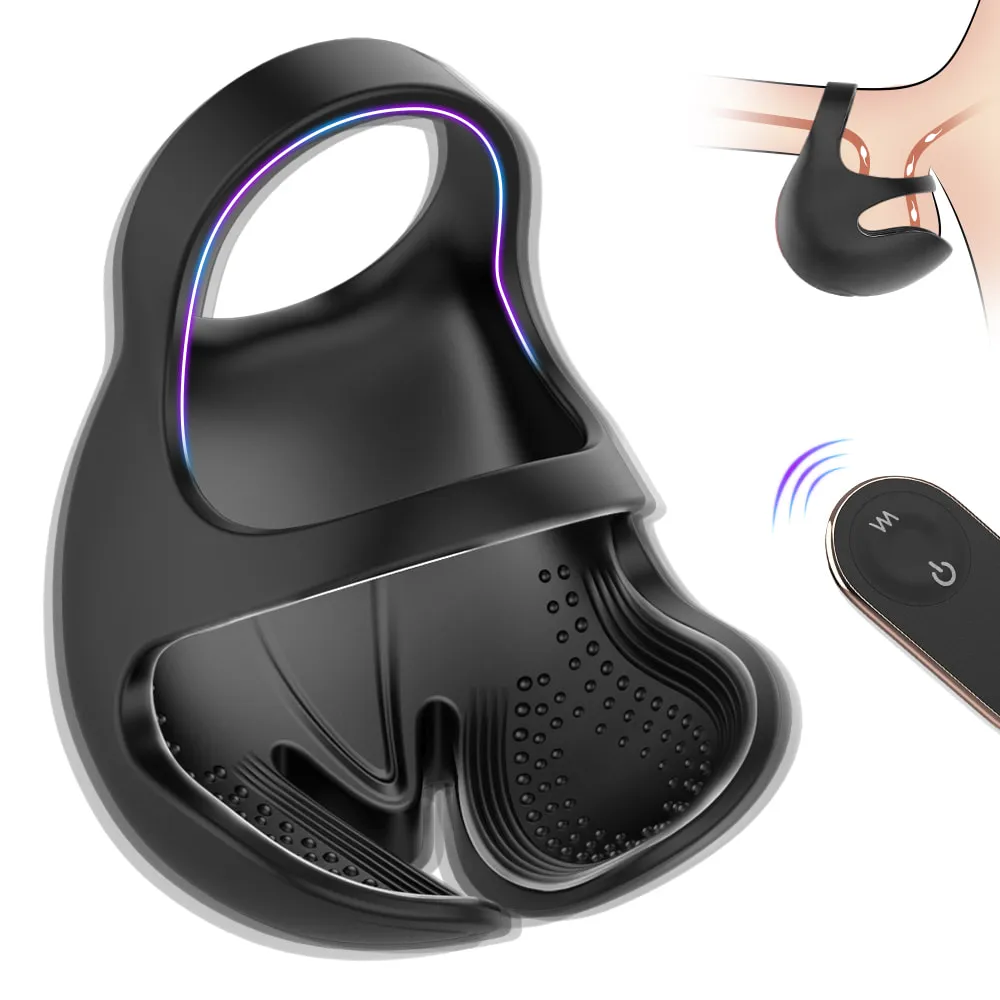 ---
Essential Rules When Using Vibrating Cock Rings
---
You need to know a few things when using vibrating cock rings. Here are some of the essential rules that you should follow:
You should never put a vibrating cock ring on without taking your time. It's best to ensure both partners are ready and willing before putting it on.
If you're planning to use it during foreplay, make sure to use plenty of lube so it doesn't hurt or cause discomfort for your partner.
You should never use a vibrating cock ring as an alternative to condoms or other forms of protection since they cannot protect against STDs or pregnancy.
You should always clean your vibrating cock ring before and after use by washing it with hot water and soap to prevent infections from forming inside the device.
Never leave the battery compartment open or unattended while changing batteries. You could accidentally spill batteries into your hands or onto the floor, where pets or children can easily swallow them.
Always buy high-quality batteries that are specifically made for use in vibrators and other sex toys. Never use regular batteries because they could overheat and explode while using them, which could cause severe injury or even death.
If your silicone vibrating cock ring gets damaged (such as if it tears), discontinue use immediately because this increases the risk of electric shock or electrocution when using it again later on.
***Vibrating Cock Ring with Rabbit Design, Rechargeable Penis Ring Vibrator with 9 Vibration Modes, TIVINO Silicone Male Sex Toy for Man and Couple Play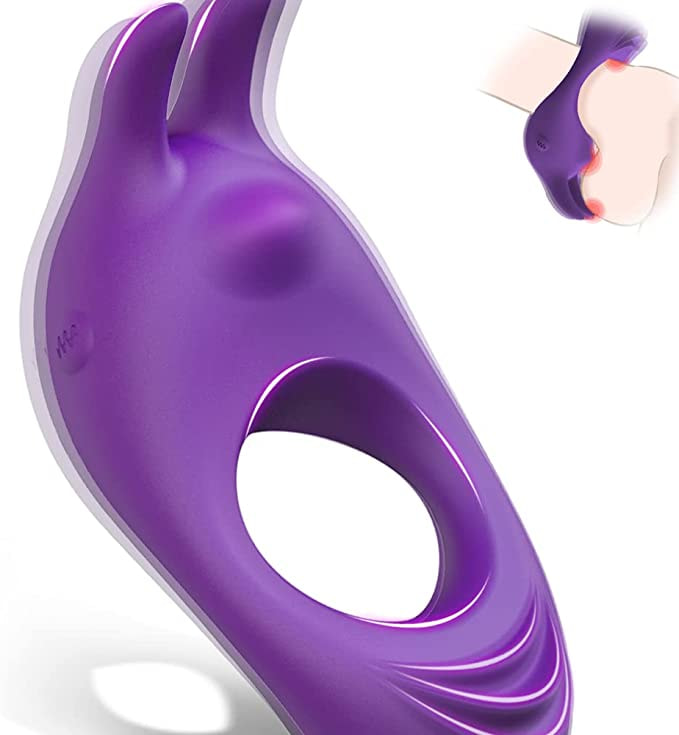 ---
How to Choose Vibrating Cock Rings for Beginners?
---
If you are a beginner in vibrating cock rings, then it is best to do some research before buying one. Here are some tips on how to choose vibrating cock rings:
*Consider the Size
The size of the vibrating ring is an essential factor to consider when choosing toys. It should fit comfortably around your penis and testicles without causing any discomfort or pinching. You can use lube when putting on the cock ring so it will be easier to slip it past your penis and testicles. Remember that different sizes are available for every man's size; therefore, the challenge here is not to find the perfect one but rather to find one that fits nicely around your genitals.
*Consider Safety Features
When choosing a vibrating ring, ensure it has safety features such as rubberized material or silicone coating that protect against hazards like cuts and scrapes during use. If you have sensitive skin, you should choose a material that does not irritate your skin when it comes into contact with it during service. Silicone-coated cock rings are good options for sensitive skin because they have smooth surfaces that won't cause any irritation while using them.
*Material
Cock rings are made from a variety of different materials. The most common materials include silicone, TPR (thermoplastic rubber), and ABS plastic.
Silicone is soft and flexible, making it easy to wear and comfortable. Silicone is also hypoallergenic and nonporous, making it suitable for people with sensitive skin or allergies. Silicone toys are usually waterproof, but they should still be cleaned with warm water and mild soap before and after each use.
TPR (thermoplastic rubber) is very similar in appearance to silicone but has some key differences: TPR is porous, so it cannot be thoroughly sterilized, which means that you should not share this toy with anyone else unless you have used a condom as a barrier between partners.
Wrapping Up
Vibrating cock rings are one of the most common sex toys on the market. They are used during masturbation or penetration to enhance pleasure, prolong arousal, and delay ejaculation. The various styles offer a range of benefits and drawbacks. However, all can produce excellent results with proper use. If you like it, please visit our website: https://anesidoralove.com/.
So happy you can read this article and hope it's what you want. And we always believe that still has a lot of people are looking for these kinds of articles, maybe it's near you! So, we would appreciate if you shared this article on your social media to who are looking for this article faster.
Of course, we also have a lot of new and exciting toys, whether you're a sex toys expert or beginners, here is your sex toy heaven.