What is Anesidora brand? Or have You Heard about Anesidora? If Not, Spend Minutes to Acquaint This New Brand.
Anesidora was founded by a couple alone. Our founders–Renee, has a bad experience with the sex toys that are too vulgar and exposed on the market, so she and her husband decided to give up their careers and start a sex toy company that meets women's aesthetics.
Intellectual, and elegant, is the synonym of Anesidora. Our desire is to become a high-quality sex toy company that can improve women's sex life. And now let's see what Anesidora brand is, and what you can find on Anesidora official website.
Popular Products Include:
Rose Sex Vibrations with Bullet
You can learn more about this brand from their About Page.
If you want to contact Anesidora you can do so here.
What about social media? You can follow Anesidora on Facebook, Instagram, Twitter, and YouTube.
Oral Genius II
It is one of the rose toys our company offers. The small tongue will stimulate the vulnerable nerves of clit to swallow your orgasm. The Oral Genius II has 7 intense tongue licks and 9 tail vibration patterns. Medical grade silicone, IPX7 waterproof, USB magnetic charge, low decibel, only takes 1.5 hours to take full charge.
Click Oral Genius II to buy it right now!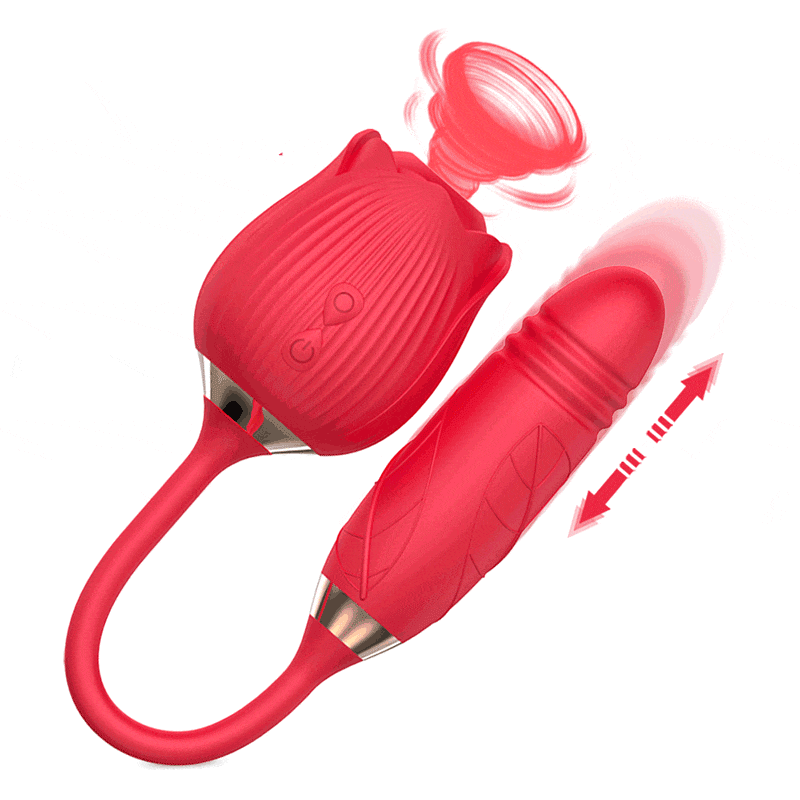 The Rose Vibration Clit Sucker with Thrusting Bullet Vibrator
Although we have so many rose relative toys, you definitely can't miss this one. The sucking rose head, and the vibrating bullet will give you dual stimulation. The IPX7 degree waterproof perfect for use in the shower or underwater activities. You can play it solo or share it with your partner. Don't worry about the power, it won't strike until you have orgasms.
Click Rose Vibration to buy it right now!
Clitoral & G-Spot Masturbator with Automatic Heating
This is a good helper for foreplay. It combines the thrusting power with a "rabbit style" vibrator for an external clitoral buzz. You can use it on your nipples, clitoris, vagina, or any other erogenous zones. It can stimulate your clit and G-spot at the same time to achieve a blended orgasm. But despite the strength of its vibrations, it's really quiet in use.
Click Clitoral & G-Spot Masturbator to buy it right now!
New Upgraded Removable Thong Vibrator for Women
This one is dismountable. When you install the vibrator, it is a sex toy; when you take it away, that is a thong. A 1.5-hour charge gets you 1 hour of play, and the remote works up to 10 meters away. There are also nine patterns, so your partner will have more options to play. The good quality lace and glossy pearls make the thong like an artwork.
Click Thong Vibrator to buy it right now!
Rose Butt Plug Dildo
No matter how technology changes in sex toys, glass sex toys always have a place. With the safe material, fool-style operation, and ease of cleaning, you have no reason not to choose it. The rose handle is super adorable and also easy to hold. The smooth surface makes the glass toy move easily in your vagina or anal. And you can store it in different places to change its temperature.
Click Rose Butt Plug Dildo to buy it right now!
3 In 1 Lipstick Vibrator for Women
This discreet lipstick vibrator is special for fashion ladies. Three different silicone interchangeable heads, 10 vibration modes, USB charge, and only palm-size. A perfect helper for foreplay.
Click Lipstick Vibrator to buy it right now!
Si, we also have the lingerie department. Erotic lingerie is a good spice for intimacy. We offer different colors and sizes, no matter what kind of body, you will find your size.
Click lingerie to buy it right now!
So, what is Anesidora brand?
Clearly, Anesidora is a sex toy store, but the difference is Anesidora is sale intellectual, elegant sex products. For more products and information, please visit anesidoralove.com.
Learn more Anesidora brand.