If you're looking for a new way to spice up your sex life, an inflatable dildo might be just what you need. This type of sex toy is designed to be inflated to increase its size and girth, providing a unique and customizable experience.
What is an Inflatable Dildo?
An inflatable dildo is a Types of Dildos that can be inflated to increase size inside the body. It usually consists of a minor, deflated rubber or silicone tube that can be inserted into the vagina or anus, and a pump that inflates the tube.
As the dildo inflates, it expands in girth and length, providing a stretching sensation that some people find pleasurable. The level of inflation can be adjusted according to personal preference. Inflatable dildos are often used in anal play or by individuals who enjoy the sensation of fullness and stretching.
Why are Inflatable Dildos Better Than Regular Dildo?
When we praise inflatable butt plug as being superior, we're not diminishing the value of regular butt plugs. After all, everyone has their own unique preferences when it comes to sex toys. However, inflatable anal plugs indeed offer greater versatility and potential for play compared to traditional models.
Customized Size
Inflatable dildos allow you to adjust the size and girth of the toy to your liking. This means you can start small and gradually increase the size as you become more comfortable, or you can customize the size for different sexual experiences.
More Sensations
The sensation of inflation can provide increased pleasure and sensation during use. This can be particularly appealing for those who enjoy a full or stretched feeling during penetration.
Improve Anal Training
For those interested in anal stretching, inflatable dildos can be a helpful tool in increasing size and flexibility over time. The ability to gradually increase the size of the plug can help train the muscles and tissues in the anal area and vagina, allowing for more comfortable and enjoyable play in the future.
Here are a few things to look out for when choosing an inflatable dildo:
Material
As mentioned earlier, there are different materials to choose from when it comes to inflatable dildos. Consider the pros and cons of each type to select the one that suits your preferences and needs.
Size
One of the most significant advantages of inflatable dildos is the ability to customize their size. Consider how large or small you want your toy to be and look for an option that meets your desired size range.
Shape and Texture
Inflatable dildos come in different shapes and textures, from smooth to ribbed and curved to straight. Consider which type of texture and shape will benefit you most.
For those with the choice phobia, it is daunting to pick the right one from so many similar inflatable dildos. If you don't want to waste time searching, why not give ANESIDORA Expandable Dildo a shot?
Anesidora expandable dildo is well-received among many anal adventurers due to its good quality and effective penetration. If you want to know more, let's keep on reading.
From the Perspective of Appearance…
The Expandable Dildo is like a penis with a pair of testicles and a specific curve. There are many raised stripes all over the shaft to make it look more realistic. Under the shaft is a robust suction cup, it can suck on different places, such as glass, wood, ceramic, metal, etc., to expand your sexual boundary.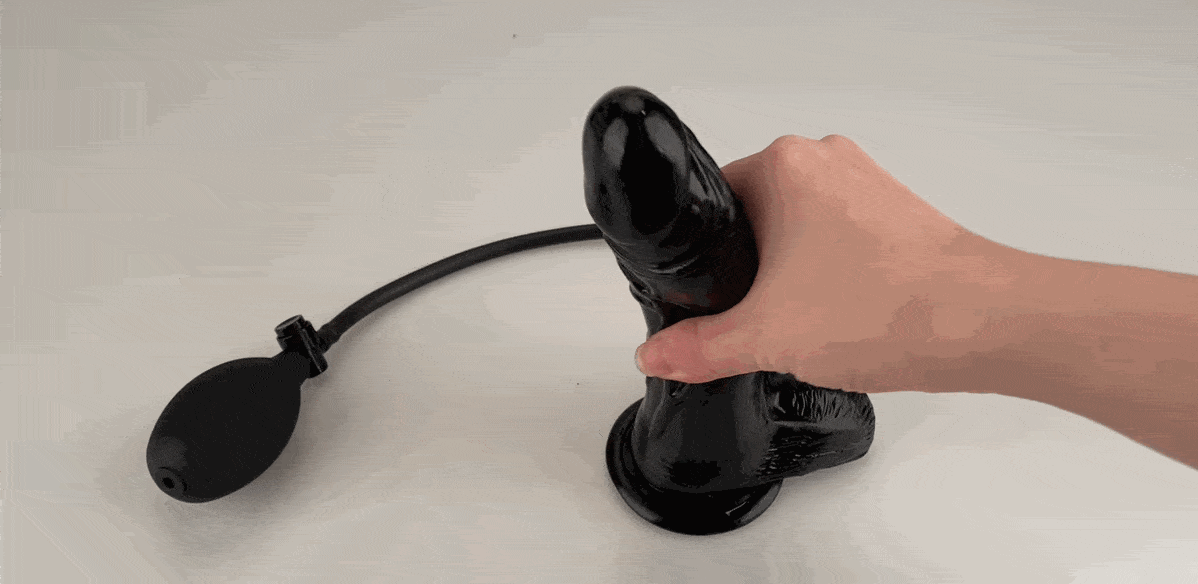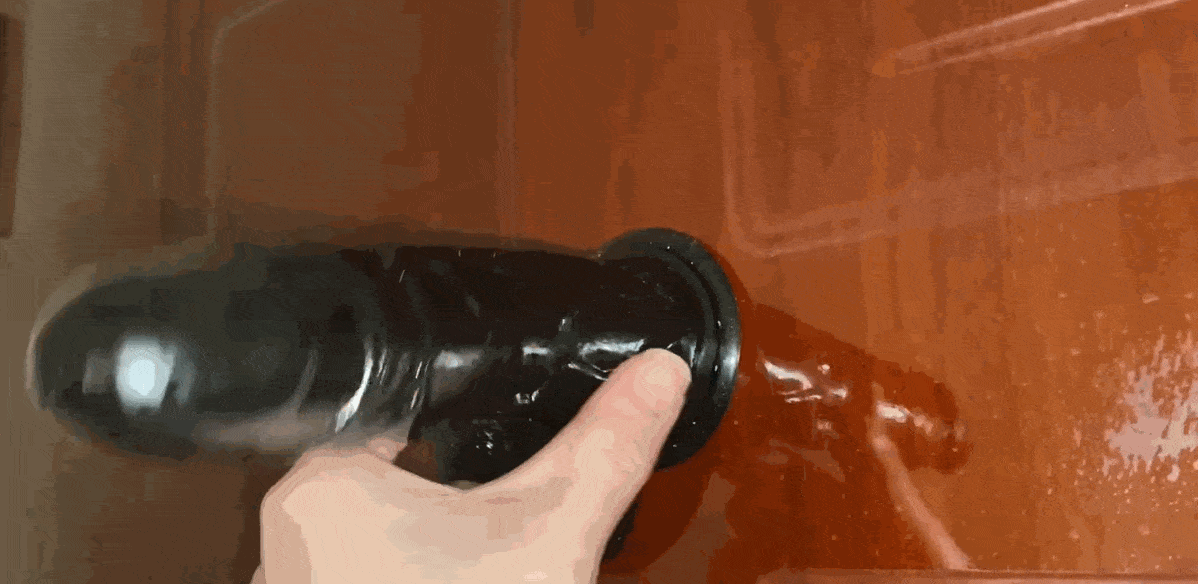 Next to the shaft is a hand pump connected to the shaft by a thin air tube. It is shaped to fit perfectly in the palm and is easy to grip, even for women with smaller hands.
Size of the Expanding Dildo
Dildos are very personal objects, and everyone has a different perspective on their sizes. Regular dildos are notoriously incapable of changing size by themselves. If you want to experience different sensations, you need to buy different sizes of dildos, and this will take your time and spend. But the size of inflatable dildos is flexible because they allow air to go in and out. This significantly satisfies the need for a wide range of dildo sizes and reduces unnecessary expenditure.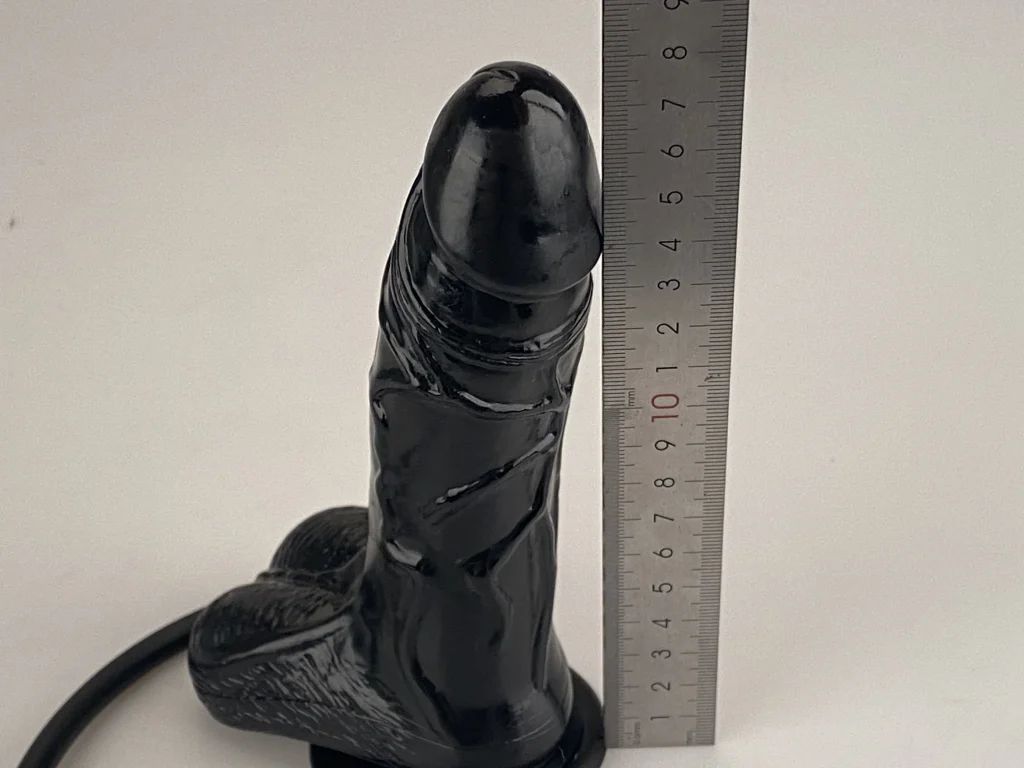 The whole length of the Expanding Dildo is about 7 inches. In a normal state, the girth of the Expanding Dildo is around 5.4 inches. But the more air you pump in, the bigger it becomes. The maximum girth will be 8 inches. The changeable girth can provide different stimulations and stretches, increasing your fun of solo play. Although it is fun with the pumping process, safety is always the bottom line.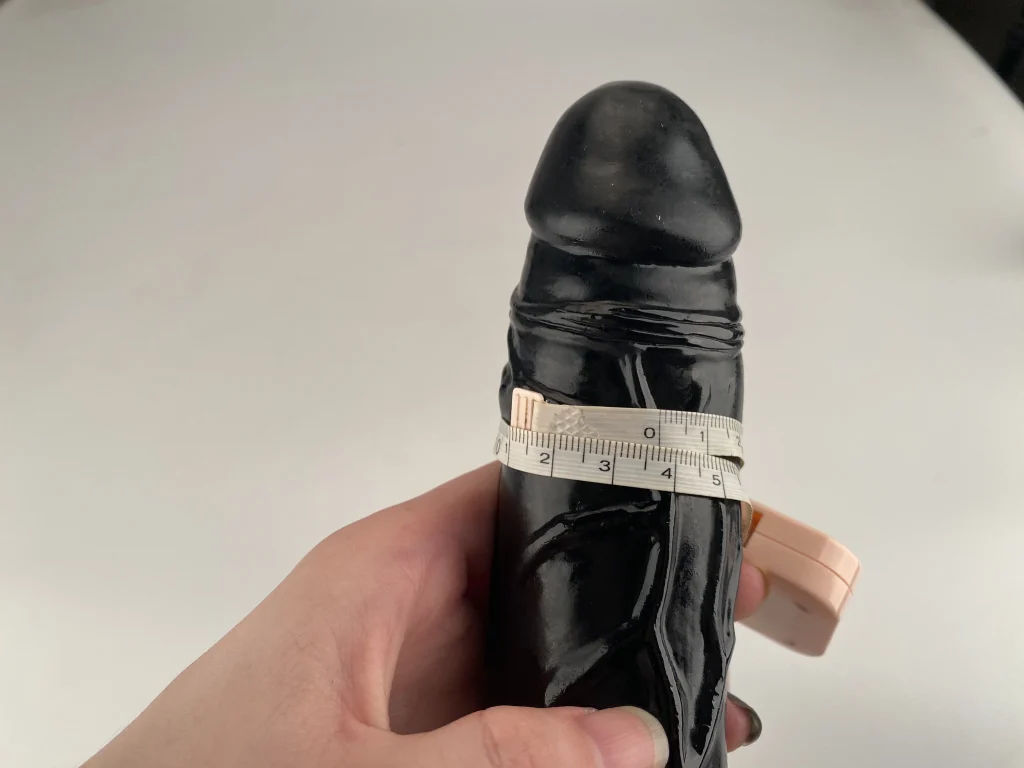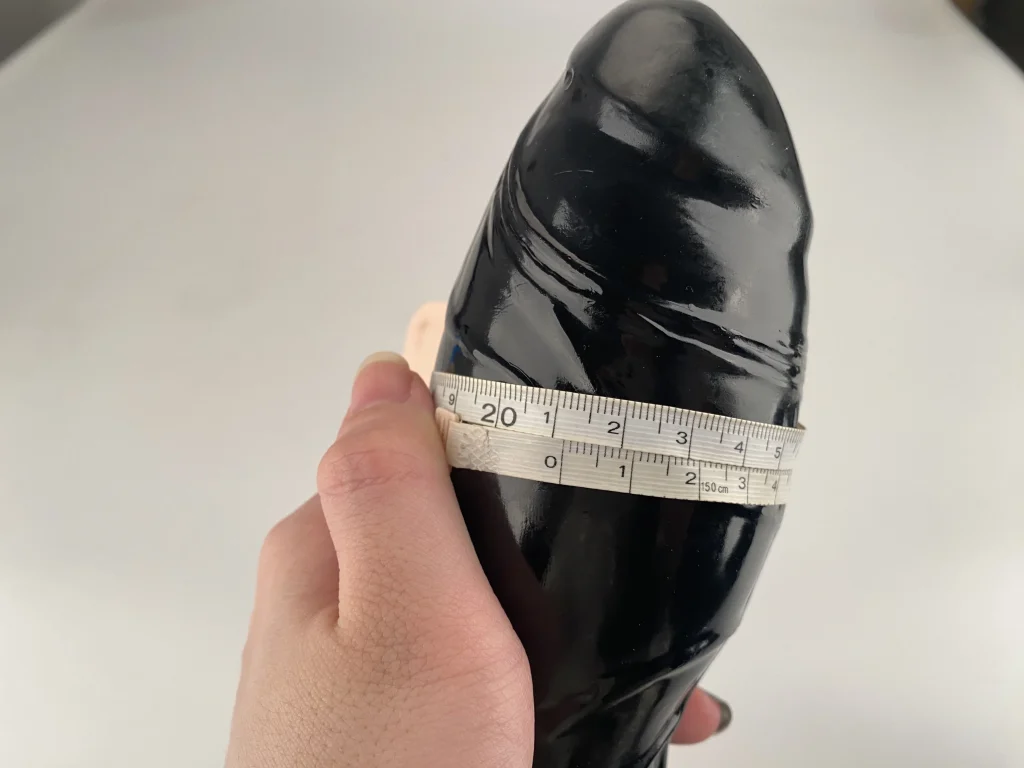 Soft Material of the Pump-Up Dildo
Do not overlook the importance of materials in dildos. The material determines how smoothly the dildo inserts you. Suitable materials can enhance the feeling of well-being during masturbation.
Mostly, inflatable dildos are made of silicone, rubber, latex, and so on. These materials have been used widely for a long time, but not all can perform well. Amongst these materials, silicone is considered the most dazzling jewel in the crown due to its safe, non-toxic, and non-porous texture.
We really know how delicate and sensitive the vagina and anus are, so they should be treated carefully. Gratifyingly, ANESIDORA Expanding Dildo is made of medical-grade silicone, which is hyperallergic and non-toxic. And the soft touch gives you a sense of reality. In addition, the imporous allows you to use it under the damp circumstance.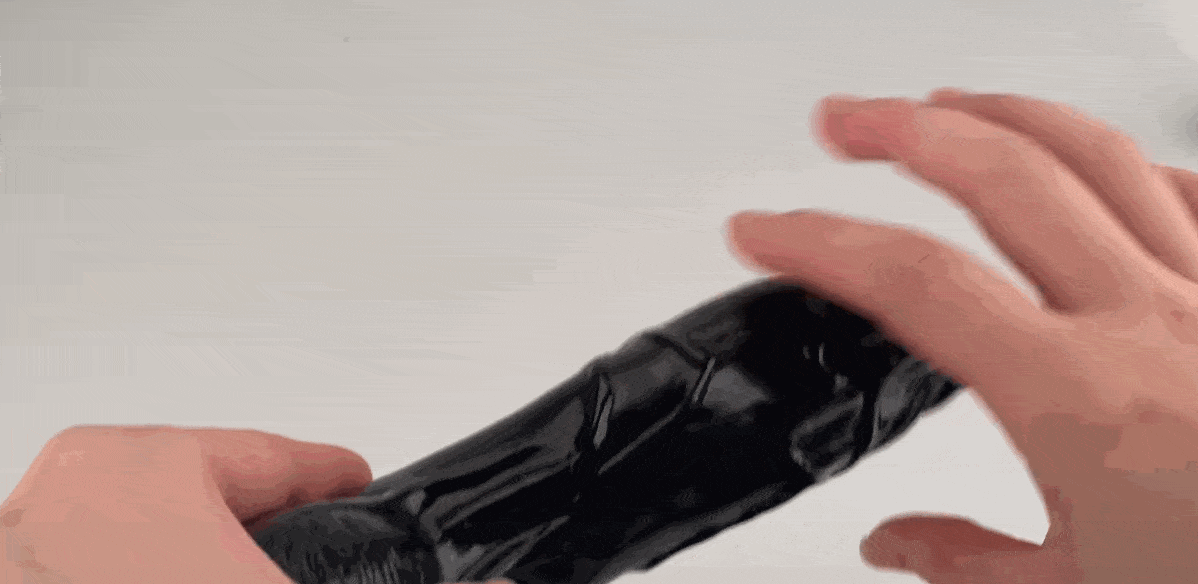 How to Use Inflatable Dildo?
The inflatable dildo will boost your pleasure only if you use it correctly and properly. So it's crucial to master the right way of using an inflatable toy.
Clean the Dildo
When you plan to prepare a fine meal, washing kitchenware is essential. So it is to the inflatable dildo. The Pump-Up toy not only needs to be cleaned after use, but it is just as important to clean it before use. It can remove dust and bacteria and ensure it is safe for penetration.
Lube It
If you want your masturbation to go swimmingly, don't forget to lube your dildo. Lubricants are indispensable in solo play because they can help everything go smoothly. The best lube for silicone material is water-based lubricants. Different lubricants are suitable for different materials. If you get it wrong, it can cause damage to your sex toy.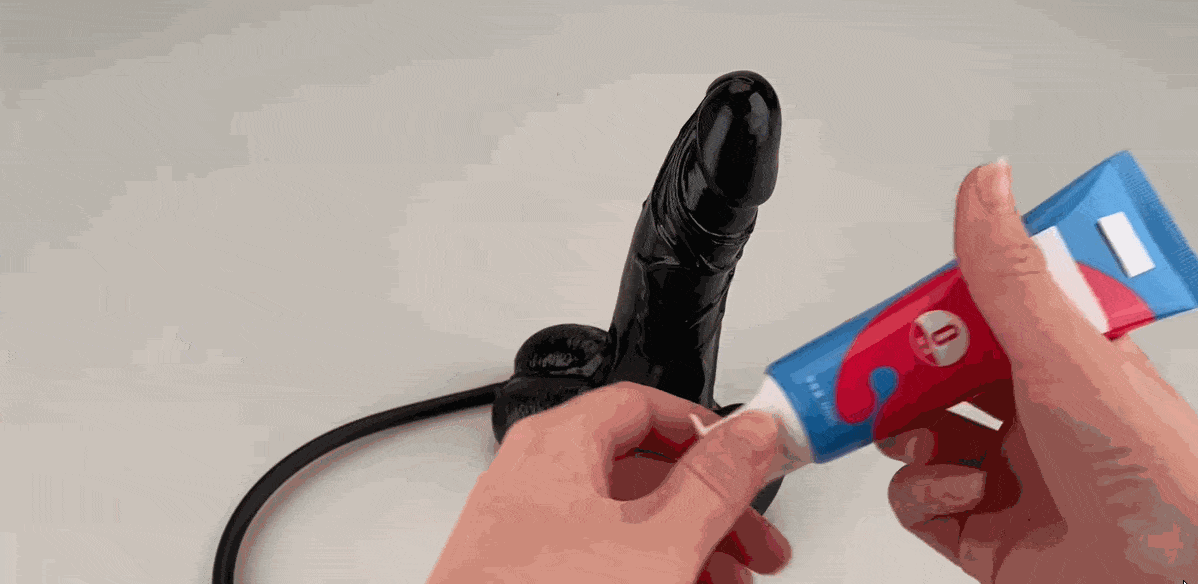 Start Slow
Insert the dildo when you get ready. Don't rush to inflate before you find your comfortable position. When you find the right position, slowly extend the dildo to allow the vagina or anus to adjust to the dildo gradually. Once you feel full and filled, stop pumping. You can stimulate the vagina and anus by constantly inflating and deflating for more fun.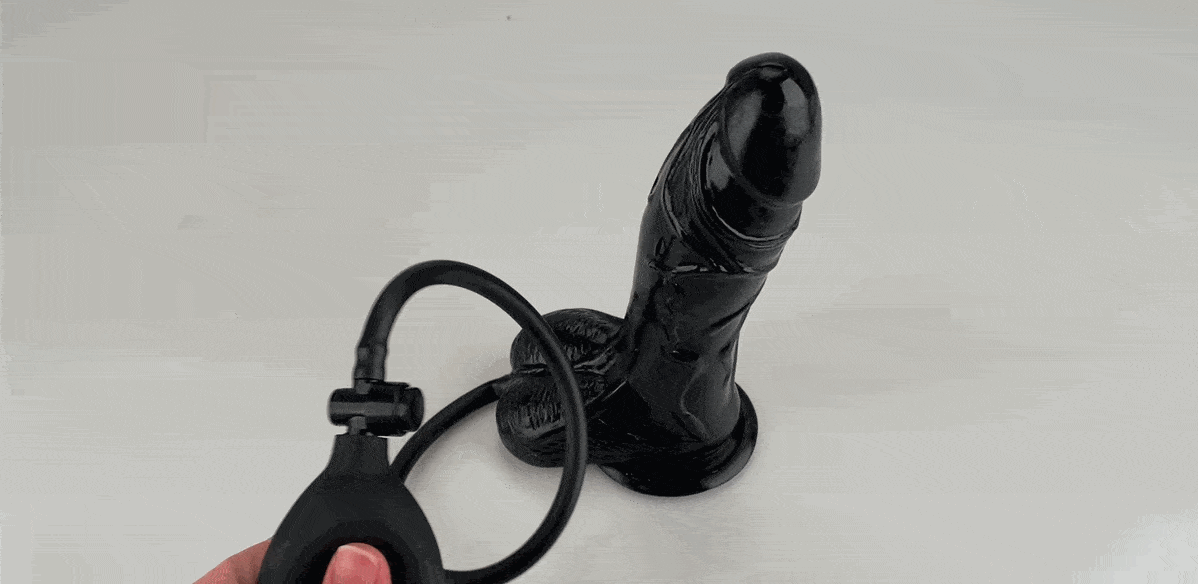 Remove Gently
After you have felt fulfilled, it is time to think about how to remove the inflatable dildo. It requires some skills. Whether you play the vaginal or anal game, the first step is deflating. This dildo has a quick-release valve to make the deflating become easy.
It is very easy to pull out the inflatable dildo from the vagina since the vagina can produce fluid itself, which can help the object move smoothly. If you play the anal game, it may take some time to remove the dildo because the sphincter is biting the dildo tightly. It would be best to relax the sphincter by imitating a bowel movement and then pulling the dildo out gradually.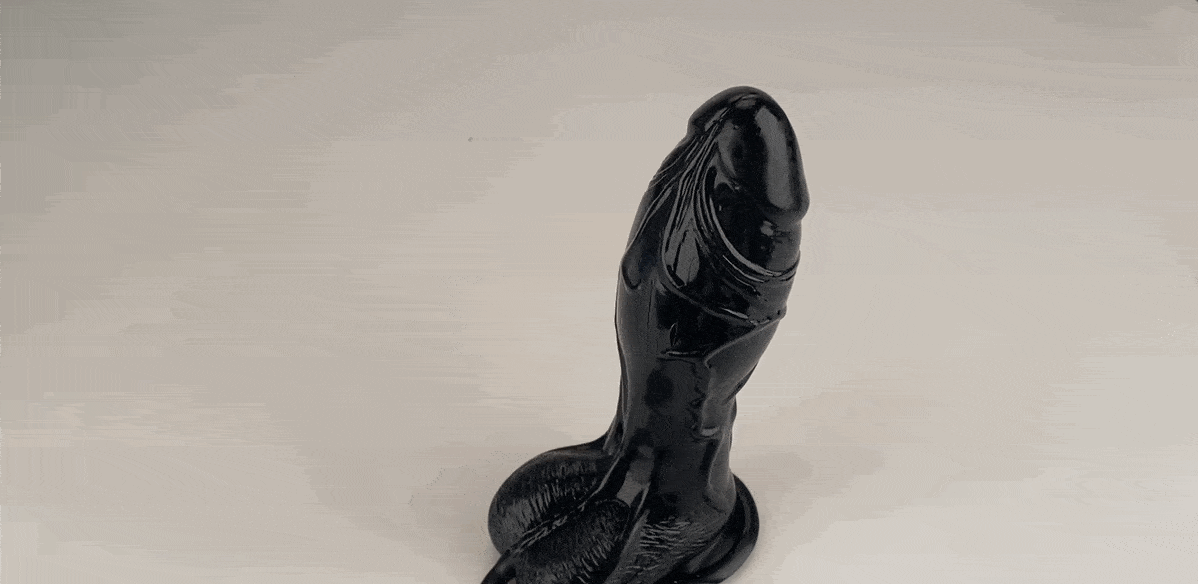 Extra Fun to Use Inflatable Dildo
The inflatable dildo is designed for solo play and can also be a sex toy to enhance intimacy between couples. The pump-up dildos can combinate with harnesses as a strap-on, which can be used to peg your partner.
If you and your partner haven't tried pegging yet, it's worth adding to your sexual bucket list. It can be an exciting and enjoyable experience you won't want to miss out on.
What Are Some Tips for Maintaining an Inflatable Dildo?
Tip 1: Timely Cleaning.
Use warm water and mild soap to clean the toy, paying extra attention to the ridges and crevices. Avoid using harsh chemicals, which may damage the material of the toy. Rinse thoroughly and dry completely before storing.
Tip 2: Avoid Direct Sunlight.
Long-term sunlight exposure will accelerate the aging of silicone and shorten the life of inflatable dildos. So ensure your sex toys are stored in a calm and ventilated place.
Tip 3: Keep Away from Makeup.
It's not recommended to store silicone toys with cosmetic products, as the chemical in these products can degrade or damage the silicone material over time. This can lead to the toy breaking down, becoming less effective, and potentially even causing harm to the user.
Tip 4: Inspect Regularly.
Inspect your inflatable dildo regularly for signs of wear and tear. Look for any cracks, holes, or leaks that may compromise the toy's integrity. If you find any damage, discontinue use immediately and replace the toy.
Tip 5: Use a Condom.
Using a condom with an inflatable dildo is recommended. It will not only protect you from sexually transmitted infections but also protect the toy from any bodily fluids that may damage it.
Tip 6: Do Not Share.
Do not share your inflatable dildo with others. Sharing may increase the risk of sexually transmitted infections and compromise the toy's integrity.
Tip 7: Replace When Necessary
Inflatable dildos have a lifespan, and it is vital to replace them when they show signs of wear and tear. Do not use a damaged toy, as it may cause injury.
Final Words
The emergence of inflatable dildos has captivated many individuals, as it offers the sensation of being able to control it freely, providing a unique experience during sexual activity. For those who are open to trying new things, it's an opportunity that should not be missed.
However, despite the fascination one may have with this innovative sex toy, it's important to exercise moderation. Using inflatable toys moderately can help effectively tone the vagina and anus muscles. Moreover, moderate masturbation can aid in relaxing both the body and mind.
Check out our latest article for more information about inflatable sex toys''
We are offering competitive discounts on our entire range of sex toys. ORDER NOW!