Description
Body-Safe Material
Crafted from borosilicate, this exquisite pleasure wand goes beyond conventional glass formulations. Its resistance to high temperatures and exceptional durability make it more resistant to breakage than standard glass toys. Say goodbye to worries about cracks or sharp points, as the silky smooth texture of the pink glass dildo ensures a seamless and enjoyable experience. Furthermore, its hypoallergenic nature makes it suitable for individuals with sensitive skin, allowing everyone to embrace the pleasure it offers.
Raised Spiral Texture and Mushroom Tip
Prepare yourself for a world of endless pleasure with the dual-ended design of the pink glass dildo. On one side, a beautifully crafted mushroom tip invites exploration, providing precise stimulation and targeting the most intimate areas with precision. On the other side, a round-shaped end ensures effortless insertion, making your sensual encounters all the more pleasurable. The blue raised spiral texture along the base of the dildo adds an extra dimension of stimulation, tantalizing your senses and driving you to new heights of ecstasy.
Temperature Play
Unleash your imagination by exploring the pleasures of varying temperatures. Run the glass dildo under warm water to create a tantalizingly heated sensation, igniting your desires and enhancing every touch. Alternatively, indulge in a refreshing chill by cooling the dildo under cold water, adding an exciting element of surprise to your intimate moments. The versatility of the pink glass dildo allows you to create a personalized experience tailored to your desires.
Firm and Flexible
The firmness and inflexibility of glass offer a unique advantage for those seeking intense G-spot pressure. The pink glass dildo's rigid structure provides targeted stimulation, allowing you to explore new levels of pleasure. Its non-porous nature makes cleaning effortless, ensuring a hygienic experience that puts your mind at ease. The elegantly curved design adds a delightful touch, enabling effortless maneuverability and amplifying your sensations. Your pink glass dildo will become your ultimate bedside companion, ready to elevate your pleasure whenever the mood strikes.
There is no denying that silicone has become the most popular material in the sex toy world because of its high safety and ease of cleaning. However, silicone toys have its limitations. They can only be compatible with water-based lubricants. But if you like the silky feel of silicone lubes, or experience different temperatures, focus your eyes on glass sex toys. If you have not known about best glass dildo, perhaps this article can help you expand your horizons.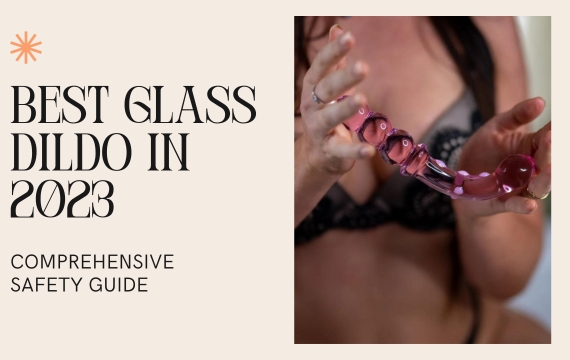 Dildos are one category of many sex toys, and they are also the oldest and longest-standing sex toy. There's abundant evidence that dildos were present and used during the Upper Paleolithic Era during the Stone Age, some 30-40,000 years ago. The essential function of dildos is penetration, but it can be used in other ways as well. Dildos generally shape like phallus with a round blunt tip, and some are covered with bump and lump.
The development of dildos has undergone different changes with the times and societies in appearance, materials, and functions. Dildo has been constantly optimizing itself so that we have more options to satisfy our lust. Let's meet the Dildo family together.
Apart from the groups that study and have sex toys for a living, most have little knowledge about sex toys. They seldom google for sex toys actively, and what they know about dildos may only be learned from erotic movies or friends.
When it comes to the dildo, the image of silicone penises might be what you immediately think of when you think of dildos, but actually there is a lot of variety out there. If you search for dildos in Google, the result will be shown hundreds of dildos with various materials, shapes, and colors.
Dildo is an integral part of adult playtime, offering pleasure and exploration. But these sex toys sometimes not only bring us pleasure, but also health risks. So it is important to maintain the cleanliness of these personal items in order to safeguard our health. In addition, cleaning sex toys will also extend the lifespan of sex toys.
However, just like different cocktails need to be served in different glasses, different sex toys need to be cleaned differently. Some just need a simple cleaning, while others require sophisticated cleaning. Thus, the purpose of this article aims to help you understand how to effectively clean your lovely dildos.
Frequently Asked Questions