App-controlled vibrators have revolutionized the world of sexual pleasure, offering a unique blend of convenience, customization, and connectivity. With the help of smartphone apps, users can control and adjust these vibrators' settings remotely, creating a new level of intimacy and excitement.
However, like any technology-driven product,this vibrators come with their own set of pros and cons. So to help people who are interested in Hi-tech sex toys, this article will discuss the vibrator from their pros and cons to help you make an informed decision.
What is an App-Controlled Vibrator?
An app-controlled vibrator is a sex toy that can be controlled using a smartphone via Bluetooth or Wi-Fi. By using its dedicated mobile app, you can control various aspects of the vibrator's functionality.
Once connected, you can adjust settings such as vibration intensity, patterns, and even create custom vibration modes. Some long distance vibrator even offer features like music synchronization, where the vibrations can match the rhythm of your favorite songs.
These vibrators have gained popularity due to their modern twist on traditional vibrators. By incorporating smartphone technology, they offer a convenient way to enhance intimate experiences. The ability to control the vibrator remotely adds an element of excitement and can be particularly enjoyable for long-distance couples.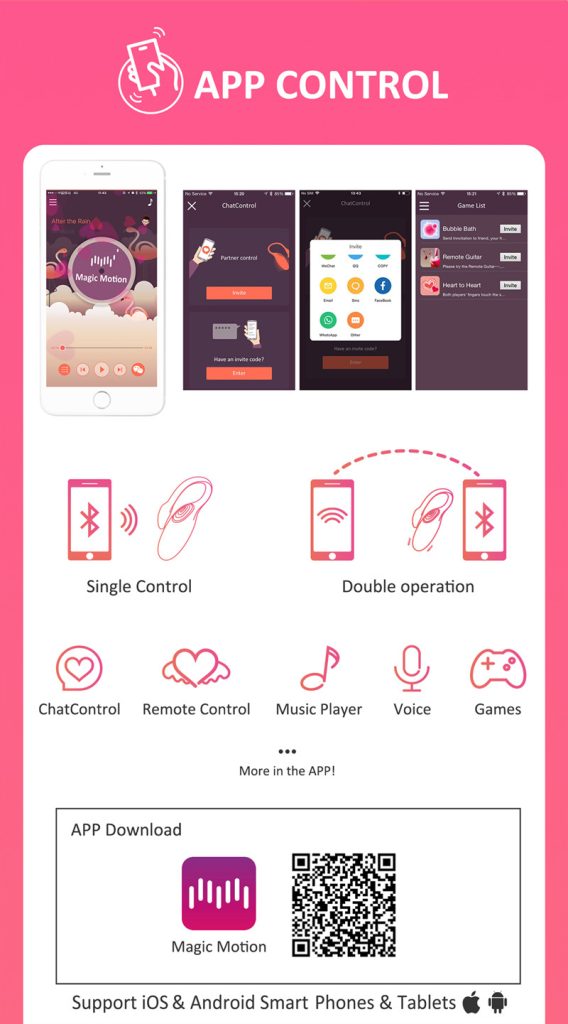 Pros of Using App-Controlled Vibrators:
Convenience and Hands-free Pleasure:
They provide a totally new level of convenience compared with manual and remote-controlled vibes, as they can be controlled wirelessly from a smartphone. You can adjust the intensity, patterns, and speed of vibrations as easily as text a massage, and without needing to manually handle the device.
Whether you're alone or with a partner, you can effortlessly explore different sensations and find the perfect settings for maximum pleasure.
Customization and Personalization:
One of the significant advantages of app-controlled vibrators is the ability to customize the experience. Many apps offer even allow users to create their own unique patterns.
This feature ensures that you can customize the vibrator's settings according to your personal preferences and physiological features, making each experience truly unique.
Narrow the Long-Distance Relationships:
App vibrators have become a popular choice for couples in long-distance relationships. These devices enable partners to connect and engage in intimate moments despite being physically apart.
With the app's remote control feature, you can give your partner control over the vibrator, creating a sense of closeness and shared pleasure, no matter the distance.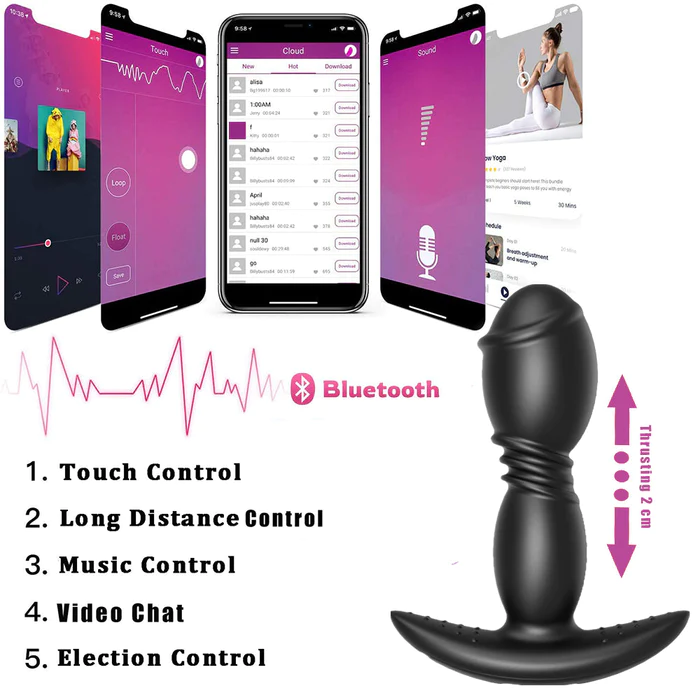 Enhanced Intimacy and Connection:
Using app-controlled vibrators can significantly enhance intimacy and connection between partners. The act of exploring and experimenting with the vibrator's settings together can lead to increased communication, trust, and vulnerability. It allows couples to venture into new territories, spicing up their sex life and fostering a deeper emotional connection.
Sexual Exploration and Adventure:
Long distance vibrator open up a world of sexual exploration and adventure. With their versatile settings and discreet designs, these devices can be used in various settings, such as public places or during couples' play. The thrill of surrendering control or engaging in secret pleasures can bring excitement and novelty into your sexual experiences.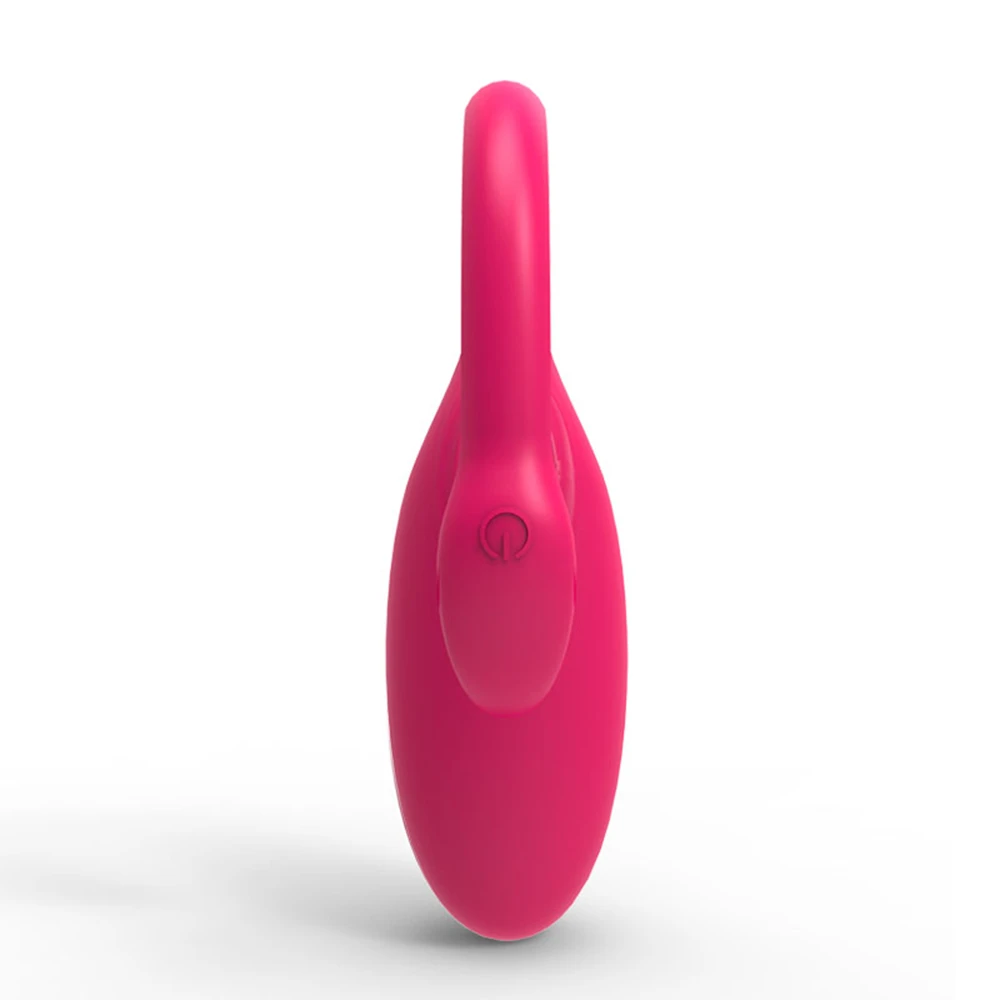 Solo and Couple
Adult interactive toy cater to both solo and couple play. For solo play, you can completely control your pleasure and discover and satisfy your desire at your own pace. Additionally, app-controlled vibrators can be seamlessly integrated into partnered play, introducing a new level of excitement and anticipation. Couples can take turns controlling the vibrator, indulging in the pleasure of giving and receiving pleasure.
Cons of Using App-Controlled Vibrators:
Connectivity and Technical Issues:
App-controlled vibrators rely on a stable connection between the device and the smartphone app. However, connectivity issues can occur, leading to interruptions or delays in controlling the vibrator. Unstable Wi-Fi or Bluetooth connection will hinder the smooth functioning of the vibrator, and potentially dampen the experience.
Privacy and Security Concerns:
Once your internet-connected vibrator is activated, data will be automatically collected. So, you should concern about the privacy and security issues. It's essential to choose a reputable brand and ensure that the app and device have robust security measures in place. There have been instances of data breaches and unauthorized access to intimate data, emphasizing the need for caution when using app-controlled vibrators.
Dependency on Technology:
App-controlled vibrators heavily rely on technology, specifically smartphones and their respective apps. This dependence means that if your smartphone or the app malfunctions or experiences compatibility issues, it can disrupt your experience. Being reliant on technology introduces an additional layer of complexity and potential frustration.
Limited Physical Sensations:
While long distance toy butt plug offer convenience and customization, some users may find that they lack the physical sensations provided by traditional vibrators. The experience may differ, and some individuals might prefer the tactile feedback and direct stimulation offered by non-app-controlled devices.
Conclusion:
App-controlled vibrators have revolutionized the way we use sex toys. With their help, distance is no longer a hinder to long-distance relationships. Even you are thousands of miles apart, the Internet will connect both of you and your sexuality. And you don't need to dig around to find its tiny remote, just turn on your phone and connect to the Internet.
While these advantages may seem appealing, they alone are not enough to make people overlook their shortcomings. The connection issue, privacy problems, and technology defects still make people concerned.
The pros and cons of App-controlled vibrators are like a double-edged sword hanging over the head of the buyer. So before you spend a fortune on vibrator for long distance, consider the pros and cons together.
Frequently Asked Questions (FAQs):
1: Are app-controlled vibrators safe to use?
Yes, they are safe to use. But the premise is that you should choose vibrators from reputable bands and make sure the app and vibrator have proper security measures.
2: Can I use app-controlled vibrators in public?
While it's technically possible to use vibrator in public, it's important to consider social norms and legal restrictions in your area. Always prioritize your comfort and discretion when engaging in public play.
3: Do app-controlled vibrators require an internet connection?
Yes, it require an internet connection to establish a connection between the device and the app on your smartphone.
4: Can I use app-controlled vibrators with different devices?
They are designed to be compatible with specific devices and operating systems. Always check the compatibility requirements before purchasing to ensure it meets your device's specifications.
5: How do I ensure my privacy while using app-controlled vibrators?
To ensure privacy while using vibrator, follow these tips:
Choose a reputable brand that prioritizes privacy and data security.
Read the privacy policy and terms of service for the app to understand how your data is collected and used.
Keep your app and device's software up to date to benefit from security patches and improvements.
Use strong, unique passwords for your app accounts to prevent unauthorized access.
Avoid connecting your vibrator to unsecured or public Wi-Fi networks.