If you're curious about how to use a Double Dildo, you're in the right place. We've got you covered with all the essential information you need to know about this versatile pleasure toy. Plus, we've answered some common questions to clear up any lingering doubts.
Table of Contents
What Is a Double Sided Dildo
A double-ended dildo is a special type of sex toy. Instead of having just one end, it has two ends that you can insert. Dildos are often used by women who want to experience stimulation in both their vagina and anus at the same time. They can also be used with a partner for shared pleasure.
Types of Double Ended Dildo
U-Shaped Dildos
Ideal for self-pleasure, U-shaped dildos are designed to go into both your vagina and anus at the same time!
I-Shaped Dildos
Essentially, these are like traditional dildos with two ends. You can use them solo for deep penetration or with a partner for double the fun.
These innovative toys feature a regular dildo that acts as the "strap-on" part. The rest of the toy fits inside your vagina and often has a bulbed end for G-spot pleasure while keeping it securely in place during use.
DP Dildos (Double Penetration)
Similar to U-shaped dildos, DP dildos are designed to penetrate both orifices at once. They resemble traditional dildos, with both dildos connected to the same base. Many of these toys come with suction-cup bases, making them perfect for solo double penetration enjoyment!
How to Use a Double Dildo
Now, let's get into how to use this dildo by Anesidora double dildo. For this demonstration, I'll be using a pocket pussy, which you can also find on Anesidora. This 15-inch dildo is incredibly versatile, suitable for oral, anal, and vaginal play.
Starting with Regular Penetration
For regular penetration, the larger end of the dildo works perfectly. Make sure to apply some lubricant to ensure a smooth and enjoyable experience. Using lubricant is a good practice for any sexual activity, as it enhances comfort.
Trying Double Penetration
If you're interested in double penetration, you can bend the dildo and insert the smaller end anally while using the larger end vaginally. It can be incredibly satisfying and is suitable for beginners as well.
Versatility and Options
What makes this double-ended dildo unique is its varying sizes and double-ended design. It offers limitless opportunities for pleasure, whether you're into oral, anal, or double penetration. This toy can cater to all your desires.
Best Position for Double Dildo
Before we jump into these positions, it's essential to choose a double-ended dildo that strikes the right balance between softness and firmness, ensuring a comfortable and enjoyable experience. So, let's begin our solo adventure!
For Solo Play
Missionary
This position mirrors the classic missionary position, but you're flying solo. Using a double-ended dildo in this way allows for deeper penetration compared to other types of dildos. It's also beginner-friendly, making it an excellent choice for those new to solo play.
Place a cushion under your hips and lie on your back. Spread your legs comfortably and slowly insert one end of the dildo. Bend the other end towards you, using it as a handle. Since double-ended dildos are longer, you have better control and can penetrate deeper. However, always prioritize your comfort and avoid forcing the dildo too far in.
Double Penetration
Ever wanted to experience the sensation of being in the middle of a threesome? A double-ended dildo can help you achieve that fantasy. While it may require some maneuvering, the result is incredibly rewarding. Remember to use plenty of lubrication, especially for anal penetration.
Bend the flexible dildo into a 'U' shape and place it on a flat surface like the floor or bed, with both ends facing upwards. Sit on the dildo, gently guiding each head into your anus and vagina. This allows you to bounce on the dildo, delivering mind-blowing penetration all by yourself!
Thrust & Suck
Double-ended dildos aren't limited to vaginal or anal penetration. They can also be used to enhance oral play, whether you want to practice your skills or enjoy the sensation of giving oral pleasure.
Gently bend the dildo, positioning one end near your crotch and the other in your mouth. While inserting one end into your vagina, you can use your mouth to play with the other end. Ensure the toy is thoroughly sanitized before placing it in your mouth.
For Couple Play
Taren't just for lesbian couples; they're suitable for everyone, regardless of your sexual orientation. Whether you're gay, straight, or anywhere in between, you can enjoy the versatility of double-ended dildos in couple play. For partner play, opt for a firmer double-ended dildo that's less likely to bend.
Doggy Style
This position puts a fun twist on the classic doggy style. It's ideal for vaginal-to-vaginal, vaginal-to-anal, and anal-to-anal play.
Both partners get on all fours on the bed or floor, facing opposite directions, with their buttocks facing each other. Insert the dildo and coordinate your movements to achieve the desired rhythm.
Cowgirl Position
One partner lies on their back while the other straddles their crotch or thigh area. Insert the dildo into both partners' vaginas and control the thrusting motion as you make eye contact and embrace your desires.
With these solo and couple play positions, you can explore the full potential of a double-ended dildo and enhance your intimate experiences. Enjoy your sensual adventures!
Face to Face
A comfortable and intimate position for couple play with a DP dildo. Unlike doggy style, you have better control over thrusting.
Both partners lie down, facing each other. Insert the dildo and use your hips to control the thrusting motion, moving in sync.
Love Triangle
This position is more challenging and suitable for experienced couples. It offers a unique experience but requires careful coordination to avoid discomfort.
Both partners lie down with the dildo pointed at their vaginas or anuses. Insert the dildo into each other's genitals, then lift your legs, forming a "diamond-like" formation. Maintain this position as you move your hips, experimenting with the challenging setup.
Why Does Double Dildo Keep Slipping Off?
If you find that your dildo keeps slipping out, especially with the classic type that lacks harnesses, it can be challenging to keep it in place. The key to avoiding this issue is to strengthen your pelvic floor muscles with Kegel exercises. Your body's natural grip will make a big difference.
How Do I Clean and Store this Sex Toy?
Cleaning your dildo is essential for maintaining hygiene. You can wash it with warm water and mild soap, or you can opt for a specialized sex toy cleaner for added convenience. When it comes to storage, keep your toy in a satin pouch to protect it from dust and dirt, ensuring a longer lifespan.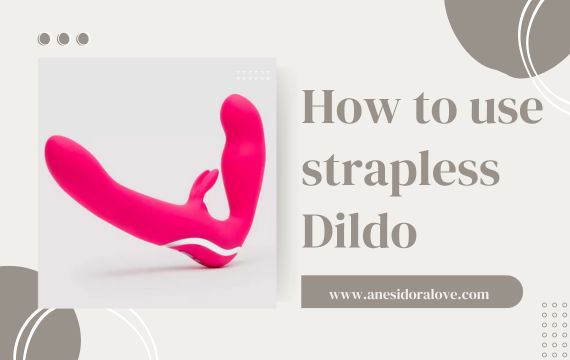 References
@peepshowtoys  "Position Me! Girl on Girl Techniques"