Description
Terra – A Strapless Strap-On Purple Vibrating Dildo for Lesbians
Are you looking for an exciting and pleasurable way to spice up your intimate moments with your partner? Look no further than Terra, a strapless strap-on purple vibrating dildo designed for lesbians. With its 10 vibration modes, wireless remote control, IPX7 waterproof feature, and 3-in-1 vibration for the C, A, and G spot, Terra guarantees an unforgettable experience for you and your partner. This article will explore the features of Terra and how it can enhance your sexual pleasure.
What is Terra strapless strap dildo
Terra is a  strap-on dildo that is designed for lesbian couples who want to enhance their sexual experience. It is made of medical-grade silicone that is flexible, making it easy to use. It also has a purple color that adds a touch of fun and excitement to your intimate moments.
Features of strapless strap dildo
Terra comes with several features that make it stand out from other strap-on dildos in the market. Some of these features include:
10 Vibration Modes
Terra comes with ten different vibration modes that you can choose from depending on your preference. Whether you want a slow, sensual vibration or a fast, intense vibration, Terra has got you covered.
Wireless Remote Control
Terra comes with a wireless remote control that allows you to control the vibration modes easily. The remote control is small and discreet, making it easy to use without interrupting your intimacy.
IPX7 Water Proof
Terra is IPX7 waterproof, which means you can use it in the shower or bath without worrying about damaging it. This feature makes Terra perfect for those who enjoy water play.
3-in-1 Vibration for C, A, and G Spot
Terra is designed to stimulate three different spots: the C, A, and G spot. The 3-in-1 vibration allows you and your partner to experience multiple sensations and achieve maximum pleasure.
Flexible Stick
Terra has a flexible stick that makes it easy to use in different positions. This feature ensures that you and your partner can explore different sexual positions and angles comfortably.
USB Charging
Terra comes with a USB charging cable that allows you to charge it easily. You can charge Terra using your computer, power bank, or any other device with a USB port.
How to Use Strapless strap dildo
Using Terra is easy and straightforward. Follow these simple steps to get started:
Charge Terra using the USB cable provided.
Apply water-based lubricant to Terra and your partner's genital area.
Insert the smaller end of Terra into the vagina, making sure it fits snugly.
Use your pelvic muscles to hold Terra in place while you pleasure your partner.
Use the wireless remote control to adjust the vibration modes and intensity.
Experiment with different positions and angles to find what works best for you and your partner.
Benefits of Using Strapless strap dildo
Using Terra has several benefits for you and your partner, including:
Enhanced sexual pleasure and intimacy
Improved communication and understanding of each other's needs and desires
Increased sexual confidence and exploration
Opportunity to experiment with different sexual positions and angles
Cleaning and Maintenance of Strapless strap dildo
Proper cleaning and maintenance of Terra is essential to ensure its longevity and hygiene. Follow these simple steps to clean and maintain Terra:
Clean Terra with warm water and mild soap after each use.
Dry Terra thoroughly with a clean towel or air-dry it.
Store Terra in a  in a dry and clean place, away from direct sunlight and heat. Avoid storing it with other sex toys or materials that may damage the silicone material. It is recommended to store Terra in its original packaging or in a storage bag.
For the past year, ANESIDORA has been focusing on individual pleasure by introducing masturbation toys for different genders and ages. While we have always emphasized not sharing these personal sex toys with partners for health reasons, we recognize that many believe sharing sex toys can enhance their relationships. That's why we launched several sex toys this year that can be shared with partners, including strapless strap-on dildos
How to Use Strapless Dildo
When it comes to strapless strap-on, many people tend to associate it with lesbian couples. It can't be denied that judging from the design of strapless strap-ons, they are indeed a type of sex toy made for lesbians.
The strapless strap-on is also known as double-ended dildo. It has two different sizes of shafts, one for stimulation and the other for penetration. The wearer wears the shorter end bulb with their pelvic muscles, while using the longer shaft to penetrate their partner.
Since there are no harnesses and straps, this greatly reduces the cumbersome steps of using strap on. However, this requires the wearer to have strong Kegel muscles to keep the strapless strap on from slipping out of their vagina.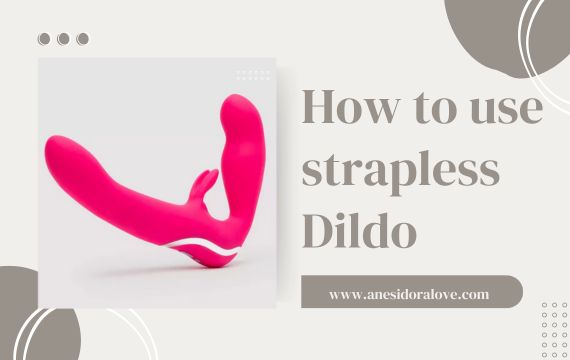 We all know that strap-on dildos are a great way to enjoy sex with your partner, but why do they become so popular recently?
Strap-on dildos are an excellent accessory for Kinky Play and a great way to spice up your sex life. Both men and women can use these toys to enhance pleasure during intercourse. The harness can be worn by any gender and is comfortable for long-term wear.
If you want to try having sex while wearing one, you should know the many different types of strap-on available today. Some are designed specifically for anal play, while others are intended for vaginal penetration or both!
Are you upset when you realize you cannot completely satisfy your female partner? Or have you ever longed to peg your male partner from backward? I should admit that these thoughts have been buried in my heart like seeds for a long time, and they are just waiting for the right time to germinate. Thankfully, the sex toy industry creates some best strapless strap-ons to help my seeds become saplings. As a sex toy that can satisfy the sexual desires of both at the same time.
Strapless dildos are in favor of many users for their marvelous design. If you are interested in this type of sex toy, let's dig deeper.
In this article, we'll discuss two similar sex toys — the strap-on and the strapless double dildo. Whic is available to people of all genders.
I've tried both toys and can offer insight into their similarities, differences, and which might be best for you based on my experience exploring different forms of sexual pleasure.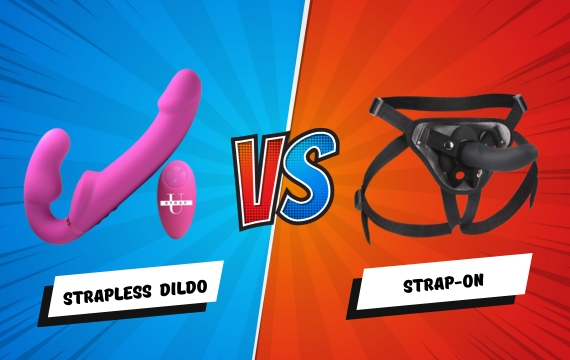 So you have a lot of questions about strap ons, huh? So today we're going to talk about strap ons Specifically how to choose a dildo, how to put on a strap on harness And how to f*ck and get f*cked by strap ons 
YouTube phenomenon well known for her personal channel SassiBoB, where she discusses relationships and posts comedic videos for her 750,000 subscribers. 
Frequently Asked Questions