Description
What is a Strapless Strap-on Vibrating Dildo?
A strapless strap-on is a type of sex toy that is designed to be used without a harness. Instead, the wearer inserts one end of the toy into their vagina, using their pelvic muscles to hold it in place while penetrating their partner with the other end. The Turan – Strapless Strap-on Vibrating Dildo takes this concept to the next level by adding powerful vibration and pulsation functions to the experience.
Features of the Turan – Strapless Strap-on Vibrating Dildo
The Turan – Strapless Strap-on Vibrating Dildo has several impressive features that make it stand out from other strap-on toys on the market. Here are some of the key features:
Dual Electric Motors
One of the most exciting features of the Turan – Strapless Strap-on Vibrating Dildo is its dual electric motors. Each end of the toy has its own motor, which can be controlled separately using the included wireless remote. This allows for a wide range of vibration, pulsation, and escalation settings, giving you complete control over your pleasure.
Waterproof Design
The Turan – Strapless Strap-on Vibrating Dildo is completely waterproof, making it easy to clean and maintain. You can use it in the shower, bath, or hot tub without worrying about damaging the toy or its motors.
Strapless or With Harness
The Turan  Vibrating Dildo can be used with or without a harness, depending on your preference. If you choose to use it without a harness, the bulbous end of the toy is inserted into the wearer's vagina, while the other end is used to penetrate their partner. If you prefer to use a harness, the toy can be attached to the harness using the included O-ring.
USB Charging
The Turan – Strapless Strap-on Vibrating Dildo is USB rechargeable, making it convenient and safe to use. Simply plug it into any USB port to charge it. The dildo also comes with a wireless remote, allowing you to easily switch between its 9 functions of intense vibration, pulsation, and escalation.
For the past year, ANESIDORA has been focusing on individual pleasure by introducing masturbation toys for different genders and ages. While we have always emphasized not sharing these personal sex toys with partners for health reasons, we recognize that many believe sharing sex toys can enhance their relationships. That's why we launched several sex toys this year that can be shared with partners, including strapless strap-on dildos
How To Use A Strapless Strap On Dildo: A Comprehensive Guide
When it comes to strapless strap-on, many people tend to associate it with lesbian couples. It can't be denied that judging from the design of strapless strap-ons, they are indeed a type of sex toy made for lesbians.
The strapless strap-on is also known as double-ended dildo. It has two different sizes of shafts, one for stimulation and the other for penetration. The wearer wears the shorter end bulb with their pelvic muscles, while using the longer shaft to penetrate their partner.
Since there are no harnesses and straps, this greatly reduces the cumbersome steps of using strap on. However, this requires the wearer to have strong Kegel muscles to keep the strapless strap on from slipping out of their vagina.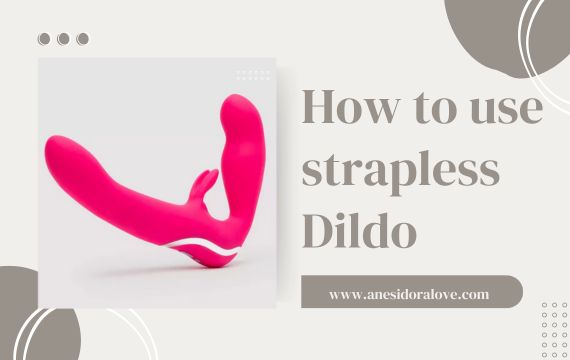 We all know that strap-on dildos are a great way to enjoy sex with your partner, but why do they become so popular recently?
Strap-on dildos are an excellent accessory for kinky play  and a great way to spice up your sex life. Both men and women can use these toys to enhance pleasure during intercourse. The harness can be worn by any gender and is comfortable for long-term wear.
If you want to try having sex while wearing one, you should know the many different types of strap-on available today. Some are designed specifically for anal play, while others are intended for vaginal penetration or both!
So you have a lot of questions about strap ons, huh? So today we're going to talk about strap ons Specifically how to choose a dildo, how to put on a strap on harness And how to f*ck and get f*cked by strap ons 
YouTube phenomenon well known for her personal channel SassiBoB, where she discusses relationships and posts comedic videos for her 750,000 subscribers. 
Frequently Asked Questions