Description
The ANESIDORA Clit Licker Sex Toy and G-Spot Vibrator offers sensational internal and external pleasure, allowing you to love yourself from the inside out. Customize your experience at will.
With the two motors independently controlled, both the clitoral stimulator and internal G-spot vibrating arm can be adjusted separately, allowing you to relish in a tailored self-pleasure session each and every time.
The soft silicone tongue vibrator offers 9 licking patterns for oral-sex-style sensations whenever you want.
Curved G-spot vibrator offers 9 vibration modes to stimulate your inner erogenous zones.
USB rechargeable, one full charge of 80 minutes provides up to 40 minutes of uninterrupted play.
This adult sex toy is IPX7 waterproof, meaning that you can take your toy into the bath or shower whenever you feel like it.
Just coat the tongue and shaft with water-based lubricant to enhance sensations during use. Take your time, immerse yourself in the journey and enjoy.
 Discreet and secure packaging, your privacy is extremely important to us and our discreet packaging enables you to shop with ANESIDORA in complete confidence.
Material: Medical Grade Silicone
Allergens: Latex-Free, Phthalate-Free
Features: Waterproof, Rechargeable
Vibration Mode: 9 Licking Patterns & 9 Vibrating Intensities 
Waterproof: IPX7 Rating, Submersible
Power Type: Magnetic USB Rechargeable
Charging Time: 80 minutes
Running Time: 40 minutes
Circumference: 4.5 inches / 11.5 cm
Length: 6.75 inches / 17.3 cm
Insertable Length: 3.75 inches / 9.6 cm
Flexibility: Firm
The clitoris has been like a veiled bride for centuries, and we can't know what it really looks like. It was not until the 2000s, with the advent of imaging technology, that human being's understanding of the clitoris was significantly improved.
It looks like a pea from the external, but actually, it is much larger than we think. This small spot is a lovely button that is covered by a hood. The clitoral hood connects with the labia minora, so any stimulation of the labia will also act on the clitoris.
Well, self-love is the key to happiness. Masturbation is one such act of self-love. Masturbation is the act of using hands or sex toys on your body to stimulate the areas and achieve orgasm.
When we think of pleasure, not necessary it should be all about sex, can have pleasure even during masturbation or during foreplay. Fingering is one such activity that you can perform during foreplay or masturbation to get that good feeling about your body and achieve an orgasm.
Little do people know that has a great impact on a woman's body. There are multiple benefits of fingering. In this article, we will share the various aspects of fingering: How to Finger Yourself with a correct way and who is suitable for fingering during a wank.
Most women look for only two options when it comes to selecting vaginal sex toys, vibrators and dildos. Both of these are traditional sex toys, and you must have heard about them a lot. But they are different toys that can stimulate pleasure on different levels.
You may be happy with just a vibrator, but you can enhance your happiness with a new kind of toy. It's not just new, but it can give you the pleasure your partner may lack in their performance.
The new clit sucking toys are not just vibrators, they can open a new path to your pleasure world, and you may forget the need for a partner for your intimate times when you have this sex toy.
Many studies have shown that 75% of women cannot achieve orgasm through penetrative intercourse alone. Most women achieve orgasm by stimulating the clitoris instead, but their partners often ignore this.
Fortunately, as we explore our bodies more and more deeply, we understand what kind of sex toys are suitable for where, and there are also special sex toys on the market to help us explore.Compared with traditional vibrators, clit sucker toy pay more attention to the small clitoris. In addition to the sucking function, they can also be used as nipple sucking toy.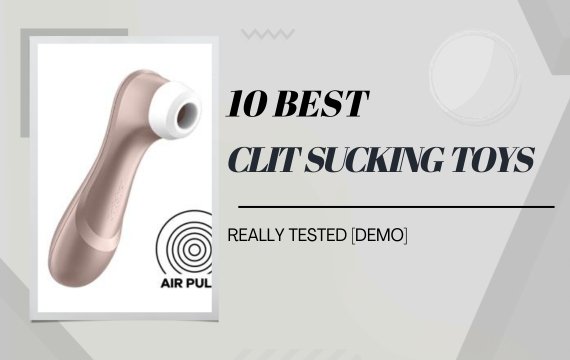 For women of the new age, sex toys seem like a recipe that can relieve our mental stress. With so many sex toys, you can literally enjoy the sexual pleasure even without a man. When it comes to female sex toys, vibrators and dildos are often came in mind.But these toys can't fully arouse your libido, so we need to head to find another sex toy designed for person with clitoris. Here it is, a Clit Sucker Toy!
In this article, we will detail all the aspects of clitoral stimulator. If you're interested, let's move forward.